Smart devices have moved from our palms to our homes creating domiciles that continue to get more intuitive, with better eyes, ears, and even voices. The unmistakable result is that living spaces are rapidly becoming greener, safer and more centralized versions of themselves.
As you decide which technology you may want to prioritize in your pad, you'll have a wide range of choices from both tech giants and indie darlings. Here's a breakdown of the technology aiming to keep you safe, entertained and well-fed today.
---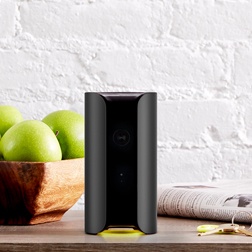 Intelligent Security
Far from bulky cameras hidden inside stuffed teddy bears, the nanny cams of old have grown up to become more well-rounded and dependable home security systems with the added benefit of being controlled and viewed directly from your internet-enabled devices. HD security camera company Canary raised $10 million on Kickstarter for its innovative and attractive system, and companies like SimpliSafe offer full systems, including motion and glass break sensors, that users can set up on their own. Doors are also getting retrofitted with standouts like SkyBell turning them into command centers where you can see and speak to visitors from a thousand miles away.
---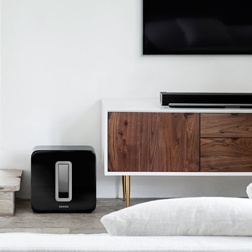 Wireless Sound
In the entertainment department, wireless sound systems are racing to make sure you and your guests can enjoy Spotify and Pandora from every part of your home. With the newest products evolving from Bluetooth-dependent to Wi-Fi enabled, systems have become more refined and able to play different music, or video sound, in each space. So, say goodbye to pesky wires and stream your latest playlists with great options from Sonos and Samsung.
---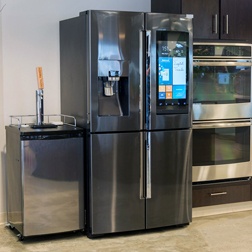 Internet of Things
The much-hyped Internet of Things continues to move from fantasy to reality, allowing you to gain increased mastery over the various gadgets and appliances in your life. Lights, coffee machines, blinds — all of them are within your control, taking us from The Clapper to the home of the future in a mere 30 years. We're especially fond of the ultra-high-end smart kitchen appliances like Jenn-Air's connected ovens that allow you to control temperatures and doneness from your phone and the Samsung Family Hub refrigerator (made famous by real-life husband and wife Kristen Bell and Dax Shephard) that lets you peek inside from the grocery store.
---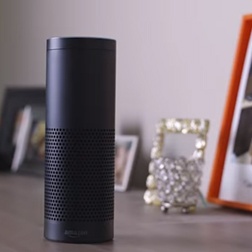 Voice Activated Control Platforms
As the number of gadgets for a smart, connected home grows, so does the need for efficient control hubs. Amazon Echo, a voice-activated speaker that evokes "The Jetsons," easily integrates all of your other home tech, giving you the power to remotely dim or turn off your lights and adjust the temperature with simple voice commands. Echo is also a faithful assistant, able to quickly queue up your favorite song, remember your long grocery list and even offer its services as a virtuoso cooking assistant. Nest, meanwhile, starts with a thermostat, smoke alarm or camera and allows you to add a multitude of compatible devices. The Nest system also enables those devices to learn from one another — turning lights on or off based on your thermostat's home or away setting, for instance — or to come under your control via smartphone.
---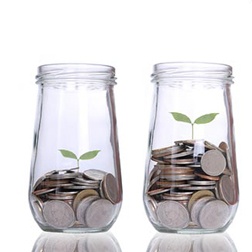 Advanced Analytics
Part of the beauty of turning your home into a den of connected smart devices is the potential gains delivered from the device analytics. With all of your appliances on the grid, it becomes easy to manage energy usage, for example, in turn allowing you to cut down on your utility bills while living more comfortably and sustainably.
---