Can't get enough thrills and chills during the Halloween season? We've scared up 10 of the best local haunted houses and scary scenes to keep your goosebumps bumpin' all month long. Boo-yah!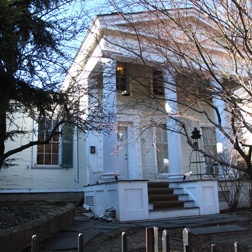 Clinton Hill: The Lefferts-Laidlaw House in Brooklyn
The Greek-revival style house at 136 Clinton Avenue, near the Brooklyn Navy Yard, experienced its first "haunting" in 1878. The long nights of knocking, banging and doorbell ringing (even with policemen on guard to confirm that no human was making these noises) were described by the New York Times with more than a hint of skepticism. Nevertheless, it's still listed as one of the most haunted places in New York City, so it's worth strolling past. Afterward, check out a more dramatic Clinton Hill haunting … if you dare!
---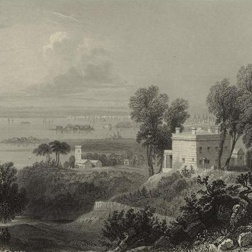 Cobble Hill: Intersection of Court and Pacific Streets
Originally built for the Revolutionary War and then refurbished for the War of 1812, Cobble Hill Fort once stood near this intersection. As it fell into disrepair, it became known as a haunt to be avoided at all costs. One evening in the late 1820s, a rowdy group of revelers from a nearby tavern sent a buddy named Boerum (likely of the same family for which bordering Boerum Hill is named) a half-mile up Red Hook Lane on a beer-run. The route took him right past the old fort, but being more than slightly sloshed, he cockily ventured out. When Boerum hadn't returned two hours later, his now-sober friends went looking for him. "... Their companion was discovered lying senseless on the road, with features horribly distorted." Boerum never spoke again, and he died three days later. No one knows what happened, but you can wander the last remaining block of Red Hook Lane, and let us know what happens. Don't forget the beer!
---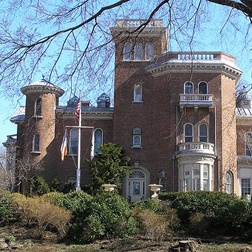 The grand mansion towering over Prospect Park West and 5th Street was once home to a demonic possession. As told in "The Ghosts of Brooklyn," Mrs. Margaret Cahill, a friend of the Litchfield family and aggrieved mother of a son lost to the Civil War, held a séance at the Litchfield home in 1864. The table vibrated, the lights flickered, plates and framed portraits crashed to the floor. Then, as suddenly as it began, it stopped. Of the five who attended the séance, four died within a year and one, a Mr. William Woodruff, vanished from the historical record completely. It is said that he was seized by the Devil himself that night and taken to hell. Edwin Clark Litchfield, the home's owner, said he never felt any paranormal presence in the home, but he also said he was happy to unload the house on the Brooklyn Parks Commission in 1868. It's now home to several offices for the parks department, but the gargoyles that are said to appear in the uppermost windows are possible remnants of the possession.
---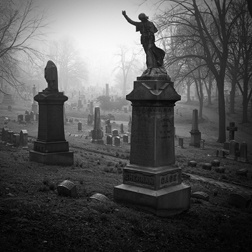 Greenwood: Green-Wood Cemetery
Just south of Park Slope is the lush and legendary Green-Wood Cemetery. It was a major conflict site during the Battle for Brooklyn, one of the largest battles of the Revolutionary War. In August 1776, 25,000 British and Hessian troops landed in Brooklyn from Staten Island, surprising the mere 10,000 Continental soldiers left to defend Brooklyn. The Americans fought bravely, but were severely beaten, and at least 250 of them are said to be buried in a mass grave near what is now 3rd Avenue and 8th Street in Park Slope. The cemetery welcomes visitors and even gives Halloween tours of some of its most famous "residents" every year.
---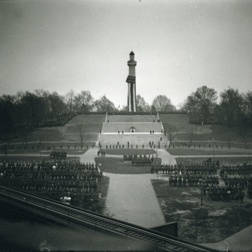 Fort Greene: Prison Ships Martyrs' Monument
Continuing with Revolutionary War theme as we travel north to Fort Greene, we find the large pillar that looms atop the mound in the center of Fort Greene Park. During the war, the British held their prisoners under dreadful conditions on ships anchored in the East River. More than 11,500 American men and women died of starvation, disease, overcrowding and contaminated water aboard these ships, and they were unceremoniously buried by the British on the river's edge. Years later, the remains of a small fraction of them were excavated and are now buried in a crypt beneath the base of the monument. No hauntings have been reported here, but with 11,500 souls with a 240-year-old chip on their shoulder about how they died, you can bet at least one of them is looking to make a friend among the living.


---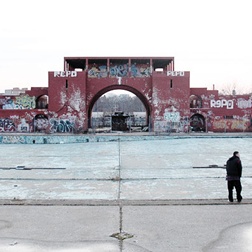 Williamsburg: McCarren Park Pool
It looks like an oasis on a hot summer day, but it has a sordid history indeed. Three men are said to have died in the pool: one murdered and two drowned during an illicit midnight swim. Other rumors say a little girl haunts the pool causing cold spots, orbs and disembodied voices to swirl around swimmers. Locals report that there's also a little boy who causes warm spots – but we're not sure that's ghostly.
---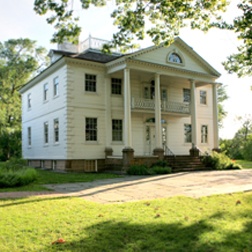 Built in 1765, this stately mansion is the oldest house in Manhattan. It also housed George Washington, Aaron Burr and both the Royal and Continental Armies during the Revolution. Now, the home is both a national landmark as well as an educational and modern art venue, but that's not all guests will find there. Visitors have reported sensing the presences not only of Madame Eliza Jumel, but also of her husbands. A medium who claimed to have contacted her first husband Stephen's spirit says the ghost accused Eliza of his murder. Her second husband, a fellow known as Aaron Burr (AKA New York Senator, American Vice-President and vilified killer of Alexander Hamilton) is said to haunt not only the Morris-Jumel mansion, but also the West Village and the New Hope, Pennsylvania home he fled to after the famous duel in New Jersey. Speaking of Weehawken …
---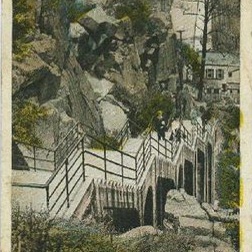 Weehawken denizens are quite familiar with Shippen Street, the twistiest turniest street in Hudson County. But what they may not know is that the stairs that lead from Hackensack Plank Road down the Palisades Cliffs to Park Avenue are known to be haunted by the ghosts of a pregnant woman who fell down these stairs in the mid-to-late 19th century (losing both her life and her baby's) as well as by a Shippen Street resident who was rumored to have committed suicide at the top of the steps. Please descend the stairs with caution!
---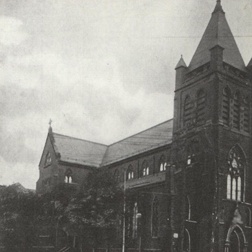 Jersey City: St. Joseph's Church
Parishioners have suspected there's something fishy going on in the steeple of this church for over 100 years. A pair of strange, oval "eyes" appear at the top of the bell tower on unpredictable evenings, glowing a florescent yellow, sometimes with red streaks. Priests have sprinkled flour in the belfry in order to capture the footprints of a prankster, but with no luck. While no practical reason has been found for the phenomenon, known as The Eyes of St. Joseph's, a former sexton's last words were reportedly, "I'm going to the tower with the others."
---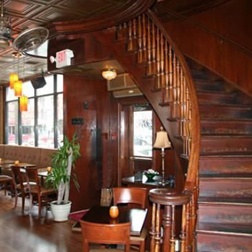 Built in the early 1900s, the Brass Rail has been a popular watering hole for over 100 years – apparently for the living and the dead. Rumor has it that an unfortunate bride tripped and fell down the tavern's spiral staircase, breaking her neck and likely ruining the party. To add to the misery, her groom hanged himself in the utility closet. Their spirits are said to haunt the place to this day, occasionally taking the blame for overturned trays and even making appearances on the staircase itself. In their defense, you'd be upset too if your Aunt Mabel absconded with your chip-and-dip set.




---
Looking for a spooktacular time in the big city this Halloween? Well, read on grown-up guys and ghouls as we run down the top five All Hallows' Eve events for the 21-and-over crowd in and around the big city. It's sure to be a boo-tiful time! Read More