In Bushwick, Brooklyn — six L train stops from Manhattan — a thriving arts scene is nurturing the next generation of New York artists, gallerists and curators, and elevating the surrounding neighborhood in the process.
Throughout history, and around the world, artists have often been the scouts and early adopters who signal that a neighborhood, or even an entire city, is ready for the-next-big-thing status.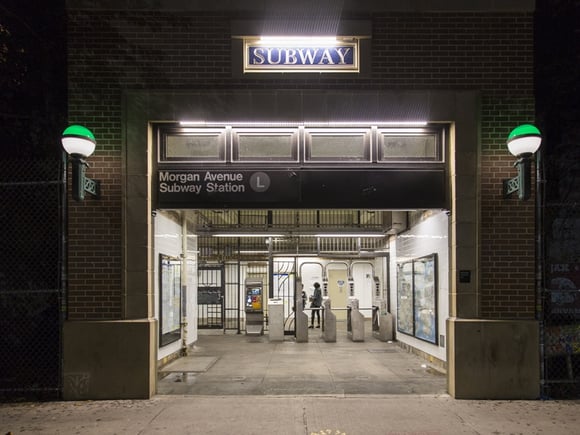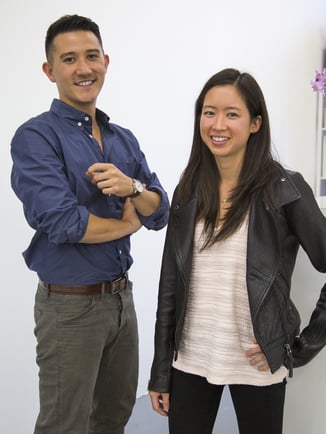 Partly due to economic necessity and a need for large spaces, and largely guided by an innately artistic worldview, makers and creatives are known to discover and beautify neighborhoods in their own distinct ways. And just as they transform the unwanted to the coveted, those same artists are frequently priced out when the rest of the world catches on in the oft-reviled process of gentrification. As an opinion piece in The Guardian put it, "Hipsters and artists are the gentrifying foot soldiers of capitalism."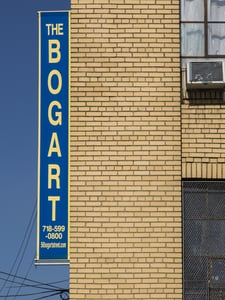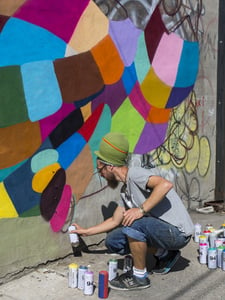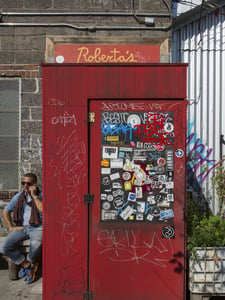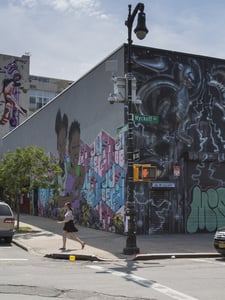 The quintessential example of this process is, of course, right in our own backyard: A burnt-out manufacturing hub south of Houston became SoHo — the world's fanciest outdoor shopping mall — in a mere 30 years' time. The same process is happening now in downtrodden sections of Detroit and Baltimore. And, a decade ago, it happened in Williamsburg, where glossy towers and capitalism have pushed trailblazing artists eastward to Bushwick, the present-day center of Brooklyn's art scene.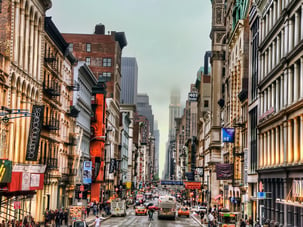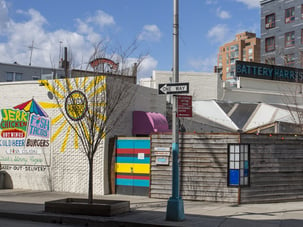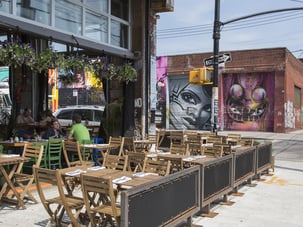 In 2012, The New York Times began championing Bushwick art, noting that, while the area's art interests were certainly not new, the neighborhood had "turned a corner" and was poised to become "the city's next gallery district."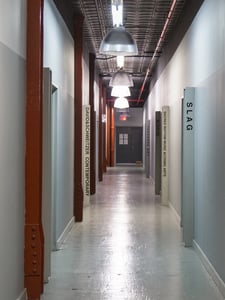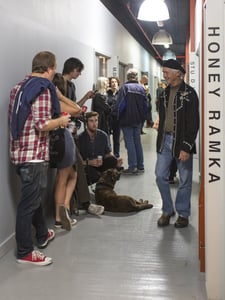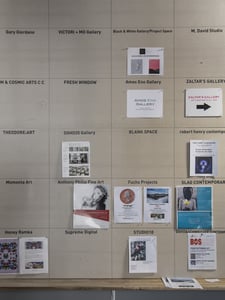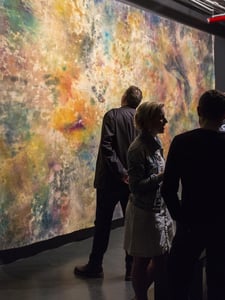 56 Bogart, also known as The BogArt, has acted as the neighborhood's de facto arts center for more than a decade. The building currently houses 18 galleries and numerous artist studios and workshops in a massive, five-story warehouse stretching from Harrison Place to Grattan Street. Owner Ted Hovivian acquired the warehouse in 1983, and while small manufacturers populated the building early on, as those industries became rarer, he welcomed in artists. By all accounts, he genuinely likes having artists and galleries in the building. He told The New York Times, "The personal benefit is that they produce beautiful works, and tend to be really nice people." And, frankly, the plan makes good business sense. Having experienced the shock of losing a large tenant, without notice, in another building, Hovivian knows that leasing smaller spaces to more tenants is a less risky approach.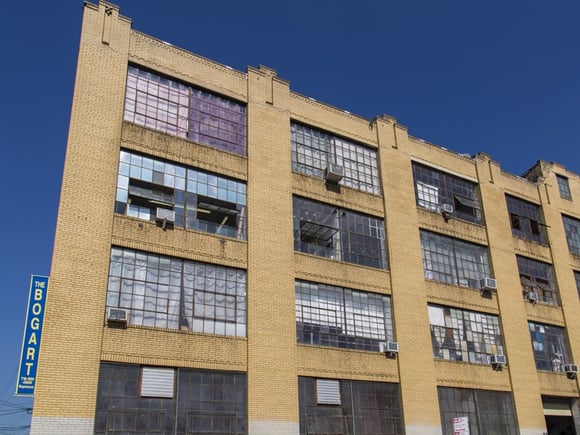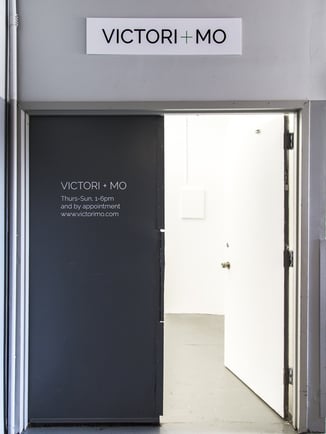 As Ed Victori, co-founder of the Victori + Mo gallery at 56 Bogart, puts it, "Artists came to this building because it had available studios and the rent was right, and galleries started coming in because it had proximity to restaurants and to the art itself. And that revitalized [Hovivian's] mission." Today, Hovivian is developing another building adjacent to 56 Bogart that will house additional art spaces. Billed as a "collaborative effort among dealers, curators, collectors and artists" the Victori + Mo gallery is emblematic of the cooperative spirit found throughout Bushwick, and within 56 Bogart, specifically. Created by Victori and partner Celine Mo, the gallery focuses on emerging and mid-career artists.

"We look for artists who have an interesting concept and tell a story that is relevant to our world and the bigger world," says Celine.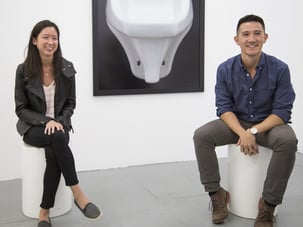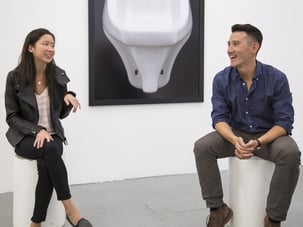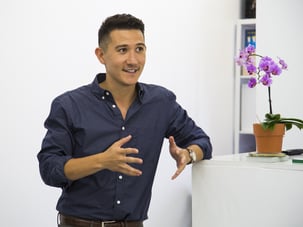 "I think the theme throughout the space is pushing the artist to create an immersive experience that is their art," explains Ed. "Some shows are social, political commentaries. Some are about the histories of the artist's life. Others are commentaries on art history versus contemporary politics. But I think the unifying thesis of our vision is to push the artist to create an environment that is solely them."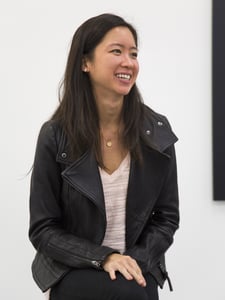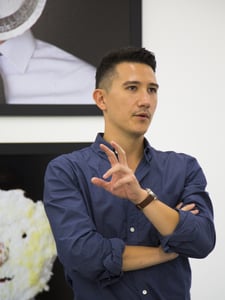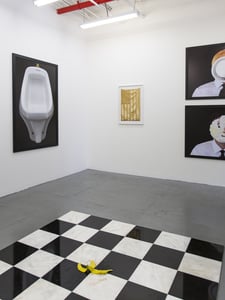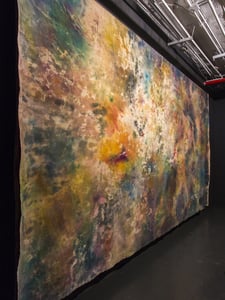 Celine agrees, "I think it's a better way to view art. You're basically stepping into the artist's brain, and it's not just looking at pieces hanging individually."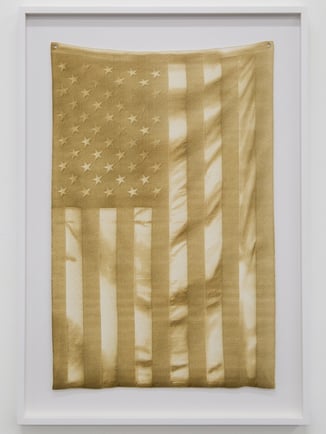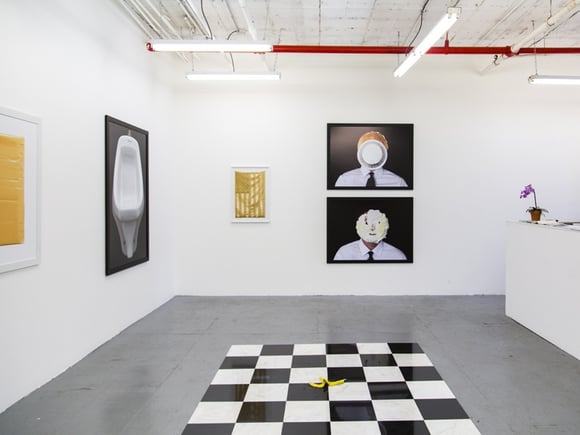 A recent exhibit at the space, the thought-provoking American Vanitas by Joe Nanashe, depicts everyday objects and food — a slice of American cheese, a discarded banana peel, a urinal and refrigerator — as a commentary on the state of the country, consumerism and politics. "It was a political commentary on the landscape of our system today and sort of poking at it in a comical, but also pretty cynical way," says Ed. "It exists on all these different planes."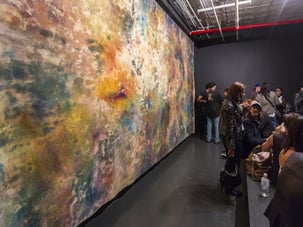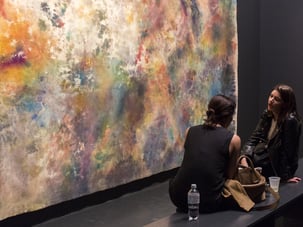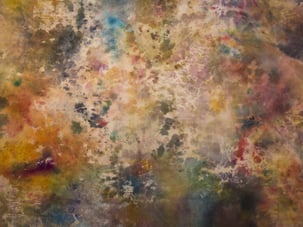 In contrast to the brightly colored American Vanitas, which was arranged against stark white walls under bright lighting, the tranquil The Captive saw the gallery transformed into a dark, womb-like space with a single bench from which to contemplate the single, massive piece — a 16-foot by 10-foot ink and watercolor painting wrought on layers of un-primed, un-stretched canvas. The artist, Myles Bennett, has been working in Bushwick for a decade, placing him among the area's earlier art pioneers. Although as he puts it, "I think that depends on who you talk to. Ten years ago I was the new guy."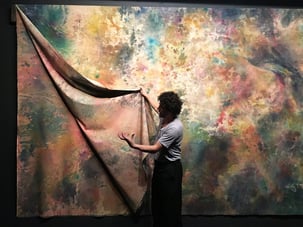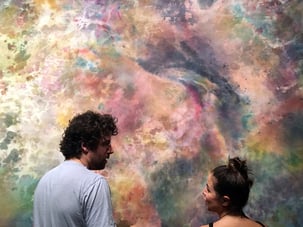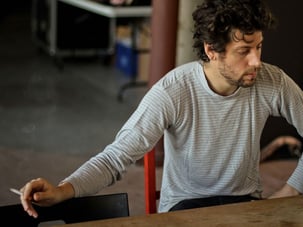 Drawn to the area primarily by the price, he appreciates the arts community that's been active, and growing, throughout his tenure in the neighborhood. "It's nice when you go to a local bar and see other artists, and have that dialog and feedback."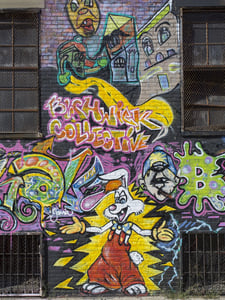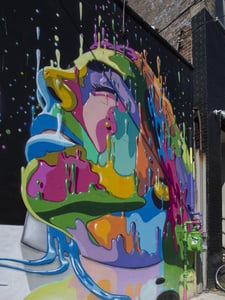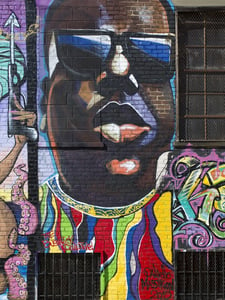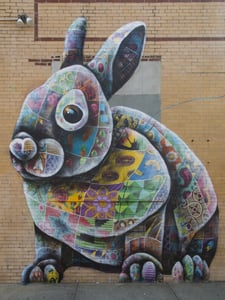 Less than a mile from 56 Bogart, a different type of artistic expression has been changing the face of the neighborhood, literally.
The Bushwick Collective is a vast gathering of street art running along Troutman Street near St. Nicholas Avenue and the surrounding blocks.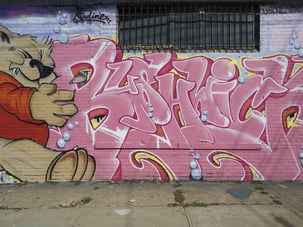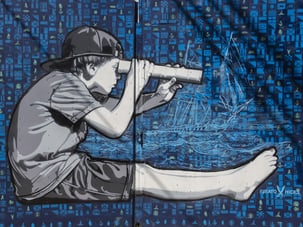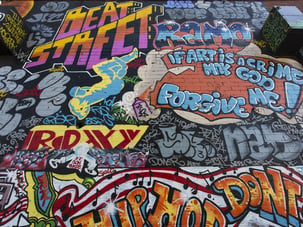 Bushwick native Joseph Ficalora operates as the de facto curator of the collective —which has grown to become a full-fledged nonprofit organization— using the neighborhood's expansive warehouse walls to create a stunning gallery of outdoor art and graffiti in an area once gutted by riots, looting, gangs and drugs.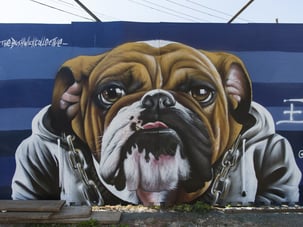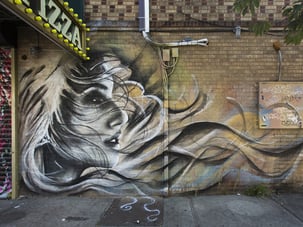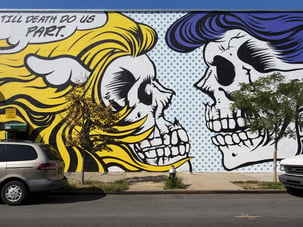 Joe's own father fell victim to Bushwick crime in 1991, and in 2011, a brain tumor claimed his mother's life. Depressed and surrounded by bad memories on every block, he began to make an effort to cover the area's graffiti by reaching out to artists and building owners. He found the artwork so healing, both for himself and for the community, that he quickly set out to arrange for more murals in a grassroots effort that now draws artists, and thousands of tourists, from around the world. That first year, the Collective painted 65 murals, earning the neighborhood comparison to Queens' 5 Pointz building and Miami's famed Wynwood Arts District.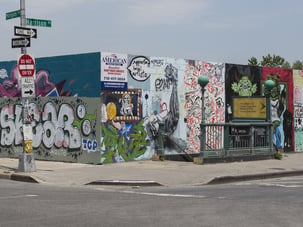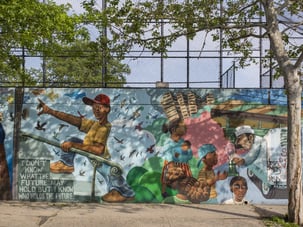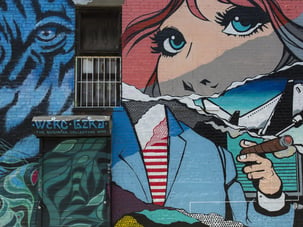 In the documentary short "No Free Walls: Art and Gentrification Collide in Bushwick," artist L'Amour Supreme calls Joe "a neighborhood kid who transformed this whole neighborhood." Today, streets that once contained rows of burned-out buildings and blocks where children weren't allowed to play outside are now welcoming chic cafes and revitalized parks. And despite the international roster of artists involved in the Collective, the attitude throughout the work is decidedly Brooklyn. City Council Member Antonio Reynoso remarks in the film, "I keep saying it's not art coming to Bushwick. It's Bushwick Art. The art that you're going to see is related to what's happening today in our world, and I think that does bring a sense of community."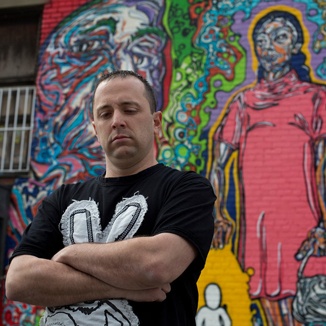 But locals and artists alike realize that while, at this moment in time, new and old Bushwick are coexisting in an exciting, multicultural state, the neighborhood and its street art won't remain untouched by the process of gentrification for long. L'Amour Supreme points out, "Everything in New York changes and you have to come to terms with that or accept it. Otherwise, you'll just be some old bitter guy."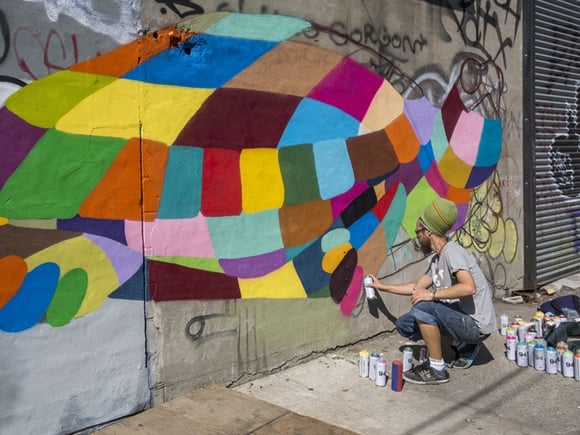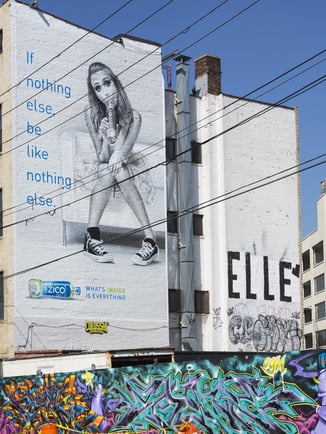 For the Collective itself, the current threat isn't coming from an influx of hipster bars or condo buildings, but rather from advertisers drawn to the Collective's massive viewing audience. Several building walls that the Collective had claimed or was pursuing, are now instead clad in sky-high advertisements, some being installed directly on top of existing murals.

For Joe, the fight to keep the Collective alive to beautify the neighborhood and provide free space for artistic expression is ongoing. And, while time marches on, Joe hopes the Collective will find a place in future Bushwick, whatever that future may look like. "I know I ain't gonna live forever," says Joe. "But I want the soul of the Bushwick Collective to live forever."
---
Ready to start planning a visit to the neighborhood that Vogue Magazine has recognized as one of the world's coolest neighborhoods? Check out our Bushwich Neighborhood Guide for our recommendations on where to eat and what to see.