Dixon turns its ample design and construction talents inward to create a sophisticated, employee-friendly office space that accommodates its growing team and menu of services.
Bathed in gorgeous natural light and arresting high-floor views, the new Dixon office at 140 Broadway in Manhattan's Financial District is a far cry from the office the team had formerly occupied in New Jersey. The company had grown so quickly that their Jersey City offices had become cramped, and the team had to establish temporary offices in a Dixon-owned Brooklyn townhouse to accommodate some staffers.

Now ensconced within the entire 28th floor of a Skidmore Owings & Merrill-designed glass tower, the Dixon Advisory team — which encompasses Dixon Leasing, Dixon Projects, the New York New Energy Solar team and members of the Cordish Dixon Private Equity team — has room to grow.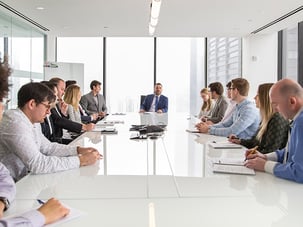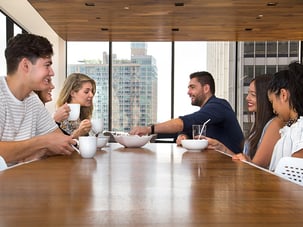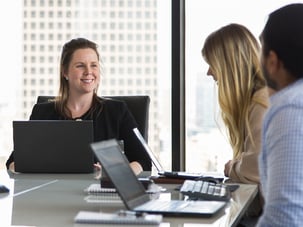 Moving offices is a notoriously challenging project, particularly in an environment where the regulatory regime is so complex. As a first step, Dixon had to consider what tax incentives or grants might be available depending on the location chosen. After extensive work, it was determined that Jersey City, Downtown Brooklyn and Downtown Manhattan were the best candidates.
From there, the next step of the process began with an employee survey that gathered feedback on everything from potential locations to desired amenities. It's an employee-focused attitude and approach that would carry through the entire process of creating the new Dixon digs.
Armed with this important employee feedback, the taskforce scoured numerous properties and Dixon Architectural Designer Vicente Dela Rosa drafted floor plans for each of the prospective Dixon office locations. The team eventually selected 140 Broadway for its proximity to generous transportation options for employees, especially the new Fulton Center and World Trade transportation hubs, and its ideal full-floor layout.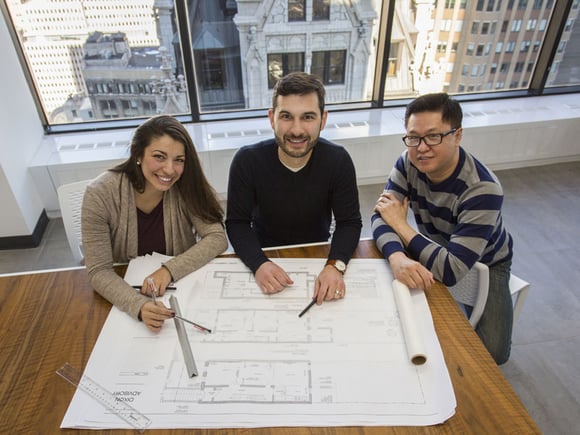 "The objective for me was to make the flow open and accessible, but at the same time allow control on areas that needs to be restricted, if need be," explains Vince. "I had to consider how people would move through the space and encourage friendly interaction where possible. It's a workplace, but it's also a place of fun and inspired team dynamics. I think we have achieved that and more."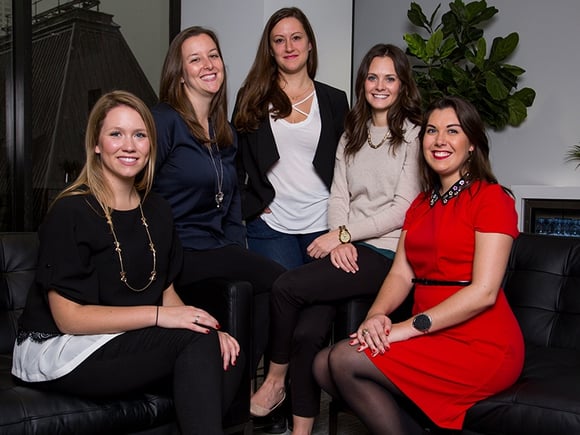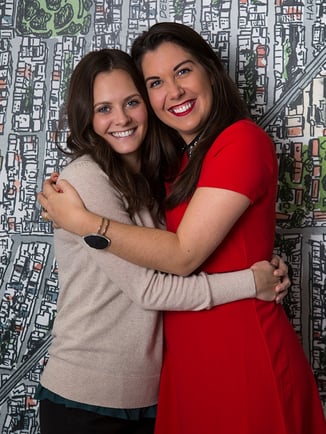 Once the completely gutted space was secured and floor plans finalized, the next step was design. Considering Dixon's deep roster of interior design talent, a contest seemed like a great way to give everyone a shot at contributing ideas. Interested design team members submitted plans for everything from furnishings to fixtures, and the entire company voted, eventually selecting submissions from designers
Rian Smith
and
Marybeth O'Haire
. The two then created a cohesive plan that combined the best attributes of each other's work, including Rian's color scheme and furnishings and Marybeth's solid finishes and layout concepts. The result is a chic and modern space that merges impressive design with a comfort and livability that appeals to hardworking Dixon employees. "Your workspace is one of the most important parts of your life, and I really wanted to see something driven by our amazing team," Alan Dixon points out. "They created something that truly exceeded all my expectations."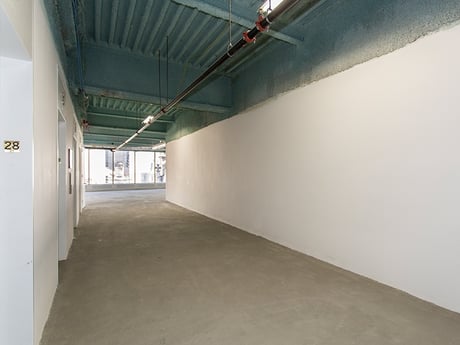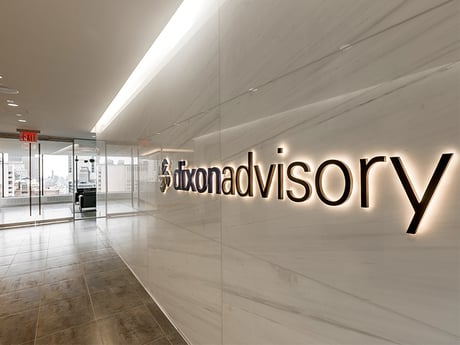 With the design concept, creating a strong first impression was paramount, and the public spaces within the office do just that. Immediately off the elevator, visitors and employees are greeted by a lobby that conveys restrained, sophisticated taste. Cool marble lines the walls, providing an uninterrupted expanse punctuated by a backlit Dixon Advisory sign. Subtle floor and ceiling lighting creates added drama, while the use of glass and walnut cladding nods to the prominent role each material finish plays throughout the office as a whole.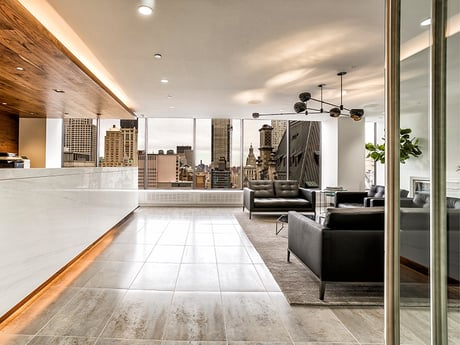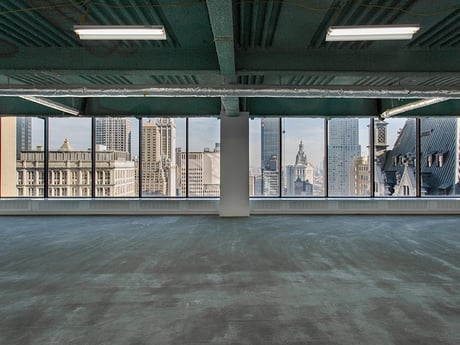 Glass walls surround the reception area, creating uninterrupted sight lines of the office's stunning northern views, particularly of Liberty Tower, a Gothic masterpiece located just across the street. The landmarked building's copper-clad roof begins right outside Dixon's windows, placing its watchful lion and eagle statues at eye level — a vantage point few in the city have the chance to enjoy.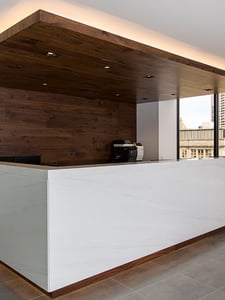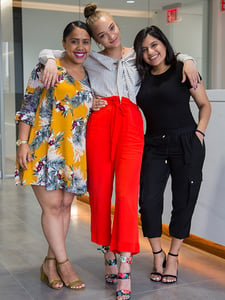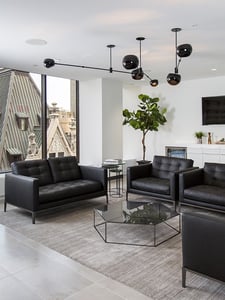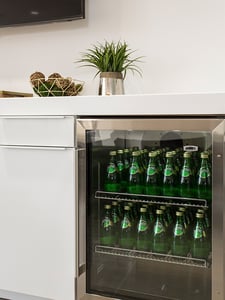 The oversized L-shaped reception desk makes a powerful statement in marble, while walnut climbs the rear wall and ceiling. The reception team — who also do an amazing job running the office and keeping it in perfect running order — enjoys ample desk and storage space, while guests can choose to linger on chic leather sofas and chairs. Tables provide space for impromptu meetings and refreshments are available in the well-stocked beverage centers nearby.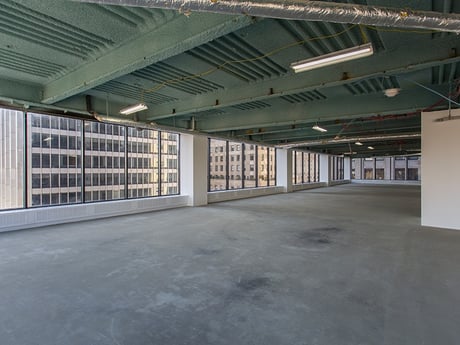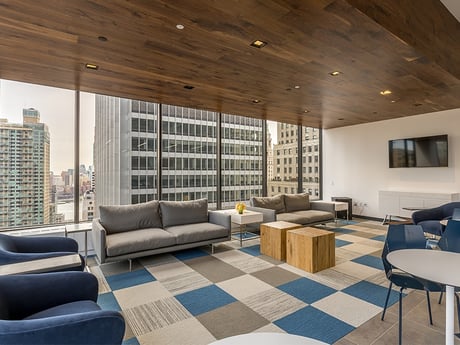 Spacious meeting areas were an oft-mentioned wish list item among staff and management who had limited space in their former accommodations. The new office doesn't disappoint with 11 enclosed meeting rooms and two large lounge spaces devoting much of the office's total useable floor to collaboration areas.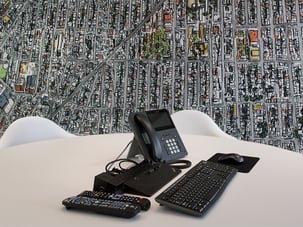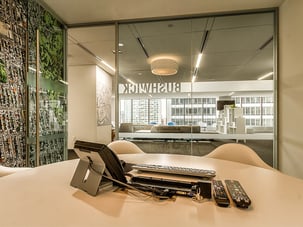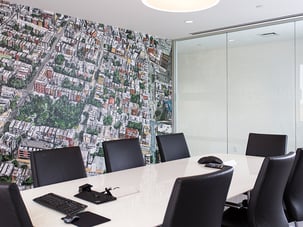 These areas are offered in a number of configurations meant to accommodate both large, public meetings and small internal gatherings, and each one features stylish designer touches rooted in Dixon's core mission. Etched glass walls are inscribed with the name of each room — selected for the neighborhoods in which Dixon does business — and most feature floor-to-ceiling mural walls depicting those same neighborhoods. Created by Simon Fieldhouse, an Australian artist known for his pen and watercolor architectural drawings, the murals provide a lively contrast to the run-of-the-mill white box conference rooms found in other less inspired offices.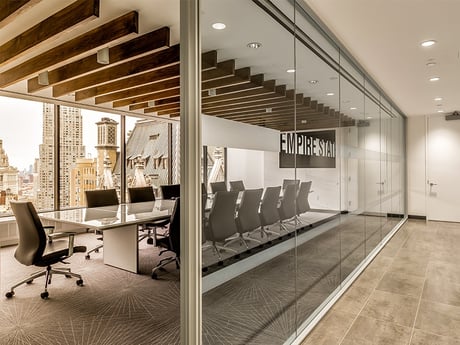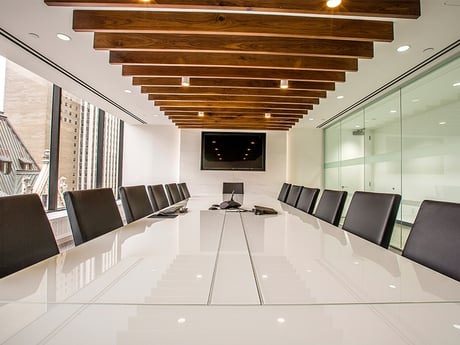 Five external conference rooms provide access to meeting space without ushering guests through the office's main employee area. The grandest of them all is Empire State, a sumptuous board room anchored by a 16-person table. Exposed walnut joists provide visual interest that accentuates the scale of the room, while the extra-large video display is set in a commanding wall of marble. Beverage centers and cabinetry offer refreshments and additional storage.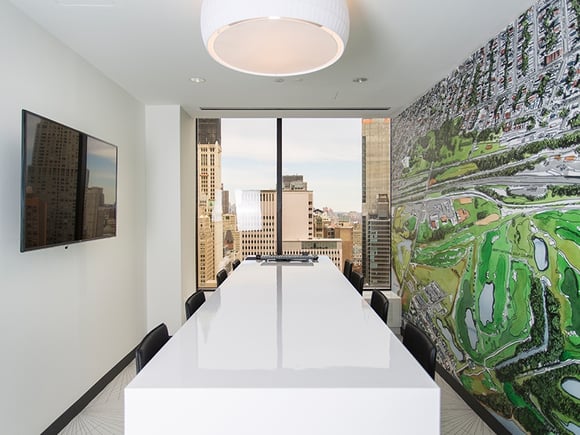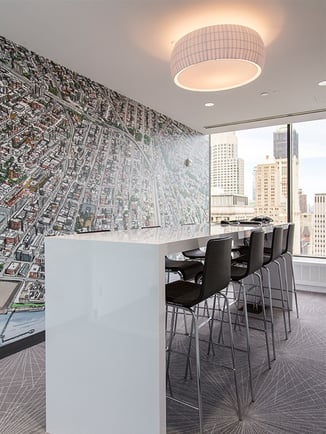 Down the hall, the Van Vorst Park and Bedford-Stuyvesant rooms offer tables for eight, large video monitors and Fieldhouse murals, while further on, the Harlem and Williamsburg rooms are outfitted with custom-made high-top tables. These handsome tables posed one of the first challenges in outfitting the office as Project Manager
Gabriele Felici
recalls, "The approved drawings didn't take into consideration the internal dimensions of the freight elevator. So, we had to quickly formulate a plan with the millworker to make one of the legs of each table removable, so the tables could fit the elevator and then be put back together on site."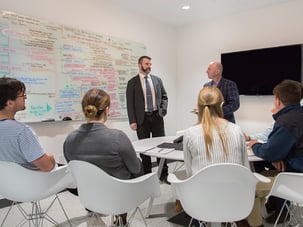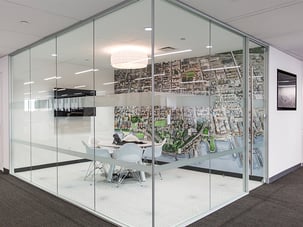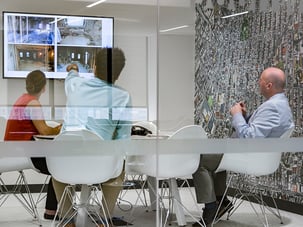 Six more meeting spaces are located within the employee area. Greenville is another high-top room, and four interior rooms — Park Slope, The Heights, Hoboken and Bushwick — feature round tables perfect for small team meetings and collaboration.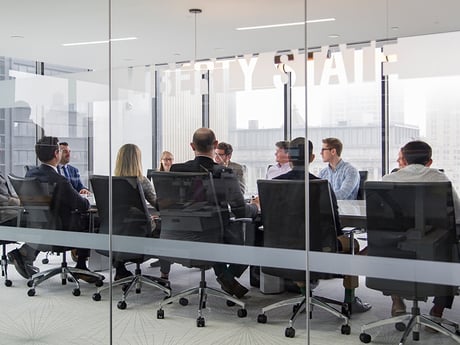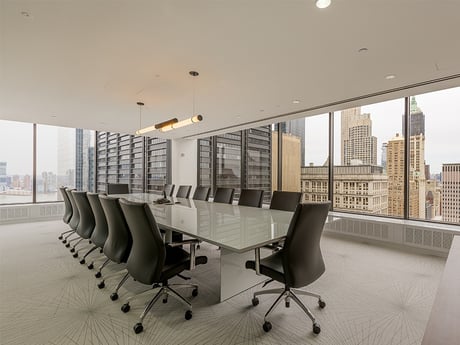 Meanwhile, Liberty State is an impressive corner boardroom, with two side-by-side video displays and views that skim over Zuccotti Park and Brookfield Place to the west, while the Woolworth Building and 1 Centre Street can be seen to the north.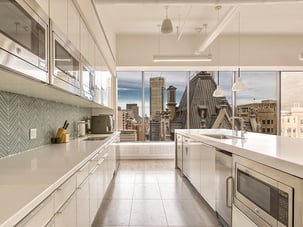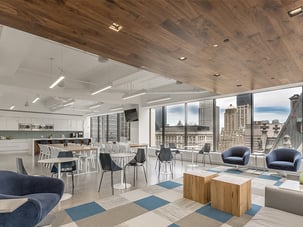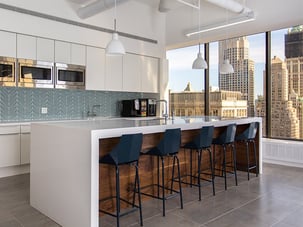 Amidst the wide variety of impressive communal areas, the office's premier gathering space is the massive kitchen. The primary design directive here was to create an inviting space where employees could enjoy their breaks, but that would also accommodate large all-staff meetings when necessary. The well-equipped kitchen is outfitted with four commercial Summit refrigerators, four microwaves, four Bosch dishwashers, two sinks, two beverage centers, two high-tech coffee machines and tons of cabinet space throughout.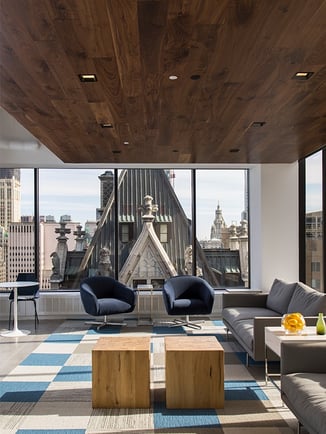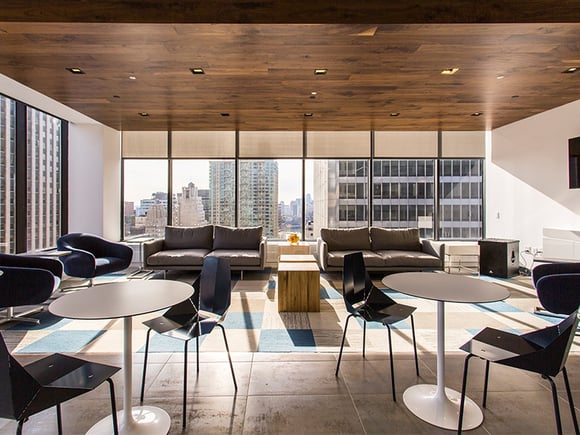 At the other end, a lounge area is paved in colorful carpet tiles and features comfy couches and chairs for casual seating. Here, the office's signature walnut cladding adds warmth and a sense of symmetry with the breakfast counter at the opposite end.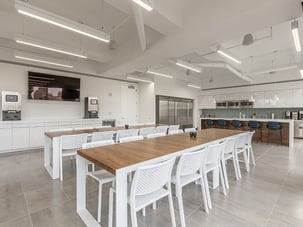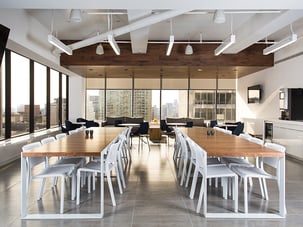 In between, custom-made tables can be pushed together for communal dining or broken out as needed, and smaller café tables provide more intimate dining areas. Walls of windows surround the space with iconic views, and the ceilings were left open to accentuate the grand proportions of the room. "It's a great place to relax, whether you're eating or gathering with co-workers," says Rian. "We wanted everyone to feel there was a place for them to hang out," adds Marybeth.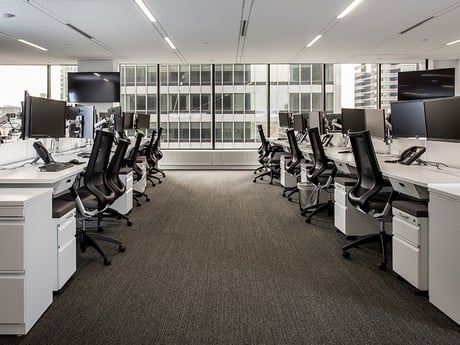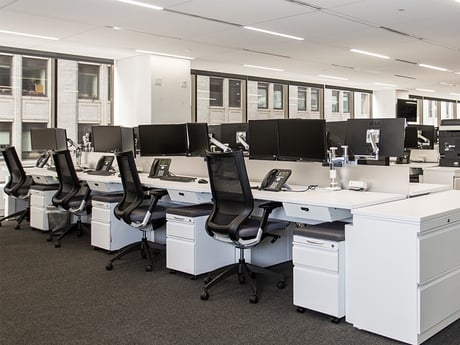 The same care that went into crafting handsome, multi-use meeting rooms was deployed in the employee workstation area that stretches around the building's eastern, northern and western exposures. There are no private offices at Dixon, instead, rows of stand-up desks are positioned to capture direct views of windows and light. Functional teams are sectioned together and rows of desks are capped with large lateral files and printers.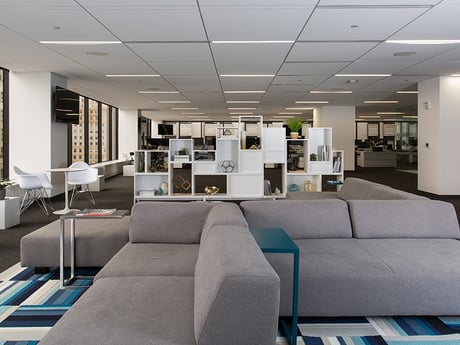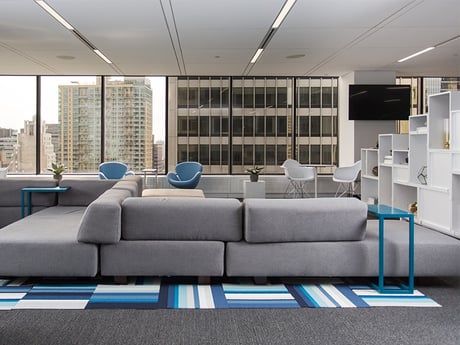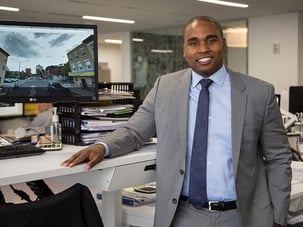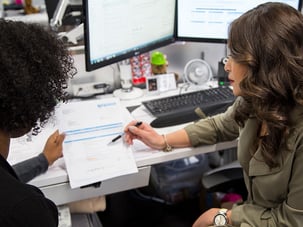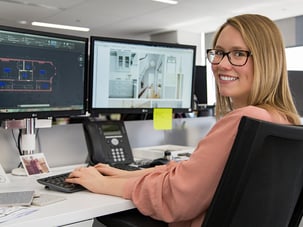 There's also room to grow into an additional lounge area that can be rearranged to accommodate more desks if needed. While the space is massive and filled with workstations, the cohesive use of a black-and-white color palette, uniform furnishings and a sleek drop ceiling with integrated lighting and ventilation keeps the space looking neat and harmonious throughout.
In fact, the office's organic response lighting system by Armstrong Ceiling Systems is mentioned over and over again as a favorite feature by employees. This innovative Australian system is controlled entirely by advanced motion detection — there are no wall controls and the system "learns" from regular traffic patterns to control the lights accordingly.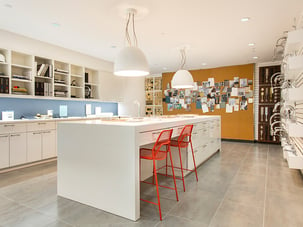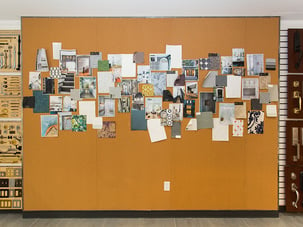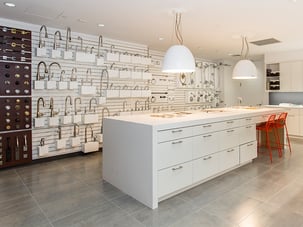 Several storage closets are placed conveniently at the office's center to neatly hideaway office supplies and larger items. Here, the Dixon Projects showroom is an organizational dream with a wall system that easily accommodates dozens of shower heads, faucets and fixtures for convenient access and inspection. A huge center island provides plenty of room for designers and project managers (the room's primary inhabitants) to stretch out and plan, while a corkboard wall plays host to perfectly composed swatches and inspirations. Dozens of drawer pulls, outlet covers and door hinges await review, books upon books of wallpaper and paint samples line shelves and stacks of stone, hardwood, carpeting, and even turf samples, stand ready to impress visiting Dixon Projects clients.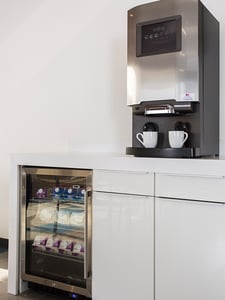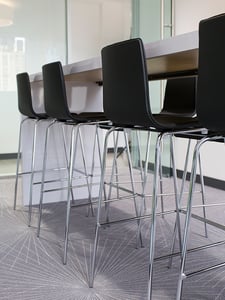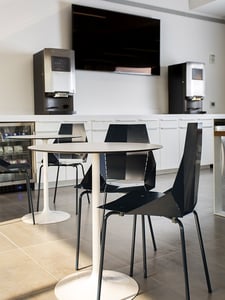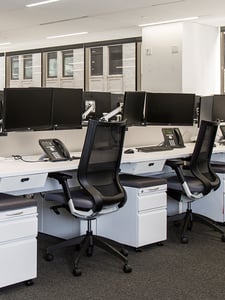 Throughout the office there are few details that weren't employee vetted and approved. The team tested more than five different coffee machine brands before selecting the models that now adorn their high-tech kitchen. A number of different office chairs were tested and voted on. The team even experimented with different computer monitor arms to see which ones worked best for their desk configurations.
"It's an amazing space, and the best feedback I've had is from our many employee partners," reports Alan. "They are so pleased that we've invested in the way our team lives — and how our office reflects that."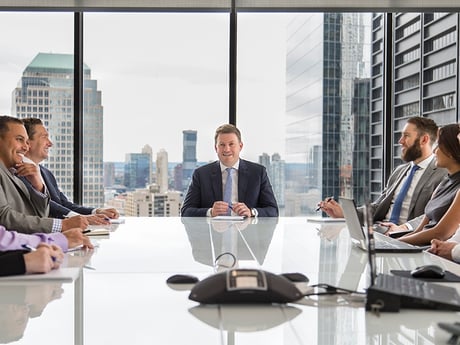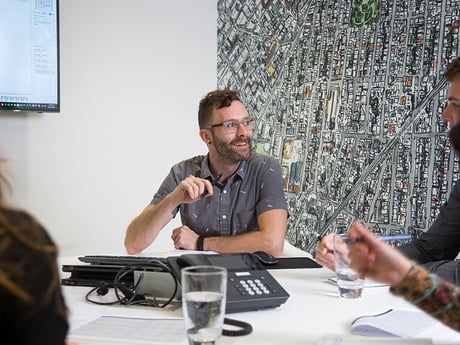 However, creating this level of sophisticated, employee-centered design was no easy feat. Perhaps most impressive, the team built out the entire floor in just four months — over the holidays, no less — opening on Leap Day 2016. It was an endeavor made even more challenging by the fact that there is only one service elevator in the large building. Gabe credits teamwork and communication with overcoming this challenge and other obstacles. "There was a tremendous amount of coordination upfront, and a lot of collaboration between project management, construction management and procurement to make sure everything was going to arrive when we needed it," he says.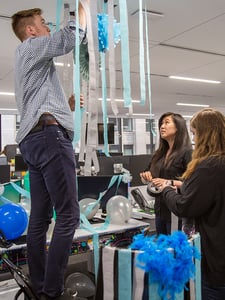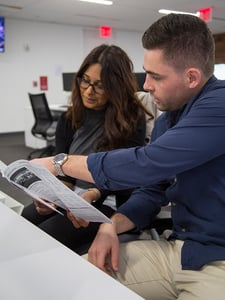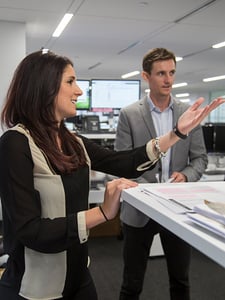 The result of this concerted team effort is a contemporary and comfortable space that accommodates Dixon's growing services and creates an inviting work environment for the important team members supporting that growth. As Alan sums it up, "Our new office reflects Dixon incredibly well. We are an amazing set of people doing amazing things."

VIEW THE FLOORPLANS OF 140 BROADWAY: