The Dixon team creates a tour de force fit for the modern era by updating a stately 19th century corner brownstone with enviable new amenity spaces and a luxurious transitional design scheme.
On Harlem's upper Fifth Avenue, just across from Marcus Garvey Park, a four-story corner brownstone was left gutted and vacant long enough that a large family of cats had taken up residence. Designed in 1878, this Neo-Grec diamond in the rough was originally part of a row of 11 homes that filled the eastern block front. In its heyday, more than a century before its feline occupants, the residence was home to a prominent merchant and a two-generation family of dentists, among others.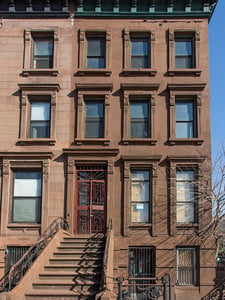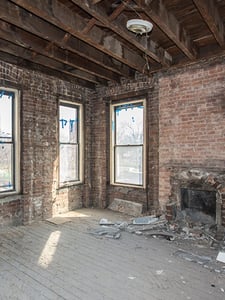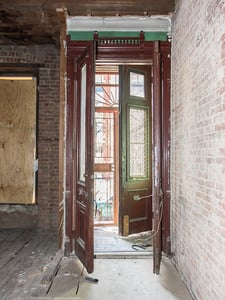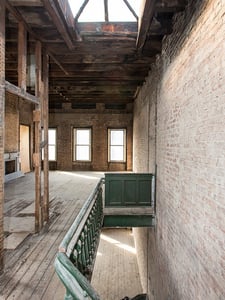 When Dixon acquired the structure in 2013, it was gutted to exposed brick and subfloors, leaving an open shell with very little architectural detail to be restored. The central staircase was breathtaking, but beyond repair, and grand marble mantelpieces that once dotted each floor had been reduced to rubble. Outdoors, where most townhouses would feature a back garden, the Fifth Avenue property was burdened by a dilapidated garage.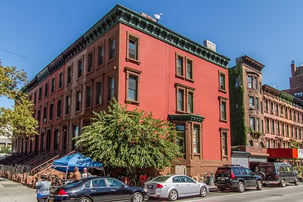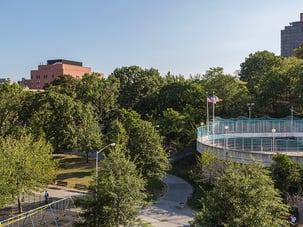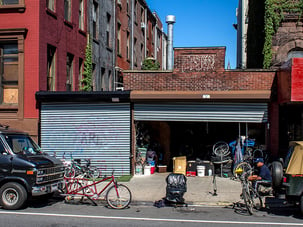 After gently re-homing the kitty interlopers, the Dixon team began planning a renovation that would take advantage of the oversized footprint, grand bones and stunning Marcus Garvey Park vistas. Unencumbered by historic districting and with a considerable amount of buildable area available on the lot, building up and out was the primary goal for the architectural plans. Meanwhile, without significant restoration needs, the design team settled on a transitional theme that would effortlessly straddle traditional origins, while adding nearly every contemporary convenience that a modern resident could want.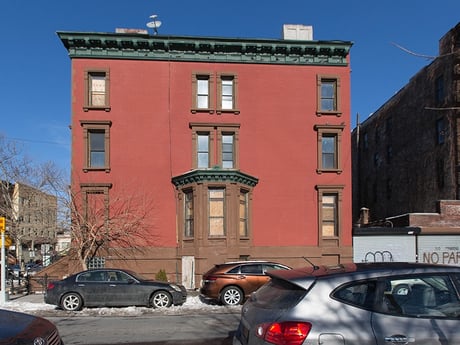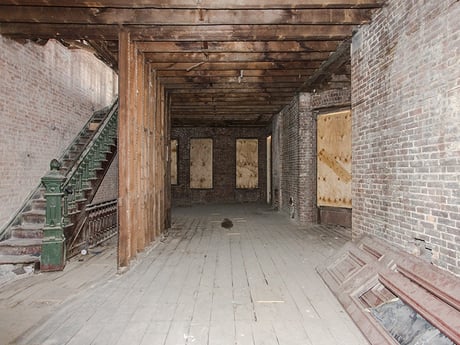 Today, the northernmost four buildings of the original span are gone, including the mirror opposite of our subject property. These once-matching corner units not only benefitted from additional exposures along their respective side streets, they also included extra width and an added front window. The result is seven extra-tall exposures, including a dramatic bump-out bay, creating light-filled living spaces unmatched in most city townhouses. For the Dixon team, it also meant careful consideration on how to position rooms and amenities without blocking the coveted sunshine and views.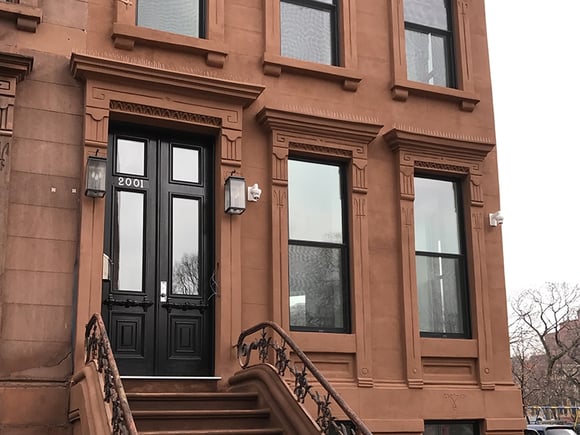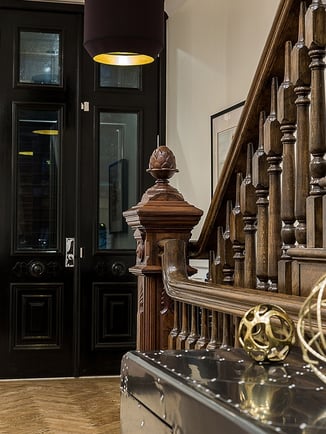 Residents and guests arrive via high stoop to a striking set of doors that are emblematic of the home's old-meets-new approach. While the original doors were found on the property, they were unusable in their aged state. Dixon commissioned copies and added salvageable details from the originals, seamlessly melding historic and modern.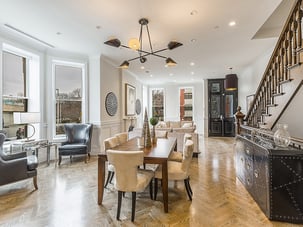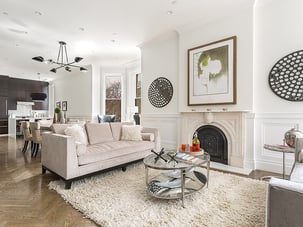 Inside, the sweeping parlor floor presents an elegant, slightly masculine design scheme where pops of dark accents including the front doors, black light fixtures and the open kitchen's cabinetry — provide a sense of momentum and cohesiveness.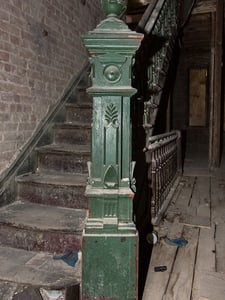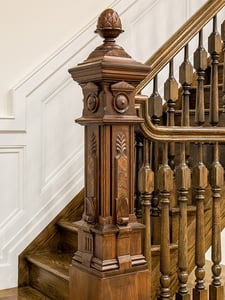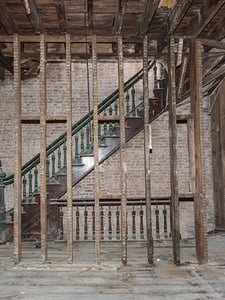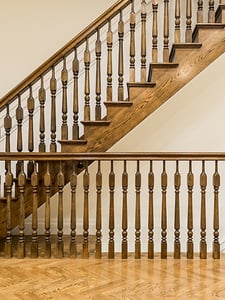 Of the original grand staircase, only one piece could be salvaged and restored. "We kept the original newel post and we recreated the railings and spindles all to match what was originally there," explains Dixon Senior Project Manager,
Megan Eisenberg
. "It was really important to retain the style of the original staircase because it goes throughout the house. When you walk in, it's a grand element that grabs your attention right away."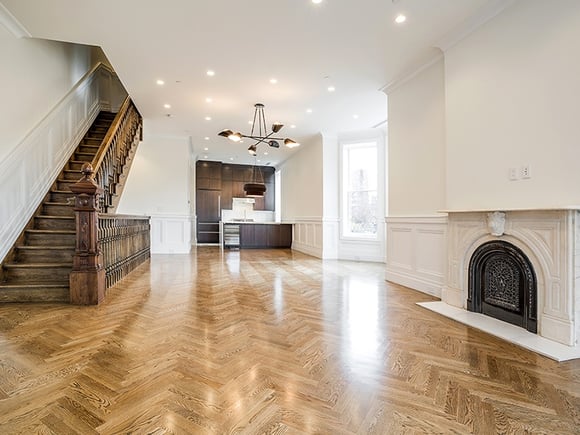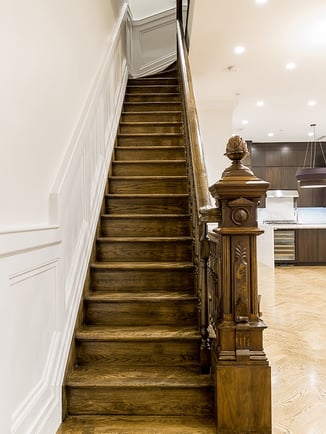 Herringbone floors — historically appropriate, but not original to the home — add to the drama of the parlor floor as does the decorative marble fireplace. Several original mantles were on-site, but left in pieces. As luck would have it, the Dixon team salvaged a similar mantelpiece from another renovation and repurposed it within the Fifth Avenue home. Another nod to the history of the home, white wainscoting wraps the parlor floor and ascends the staircase. Combined together, the result is a refined room that accommodates sophisticated dining and living areas alongside the ultra-modern kitchen.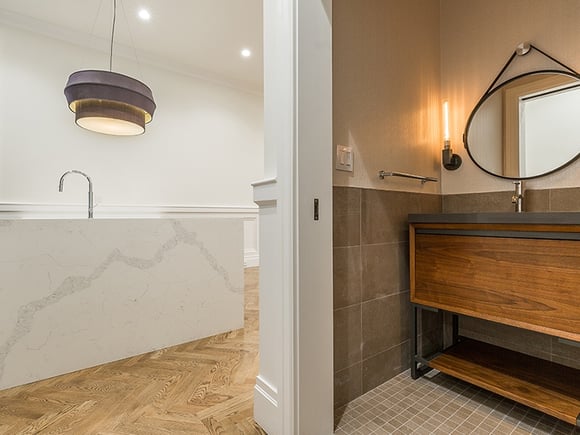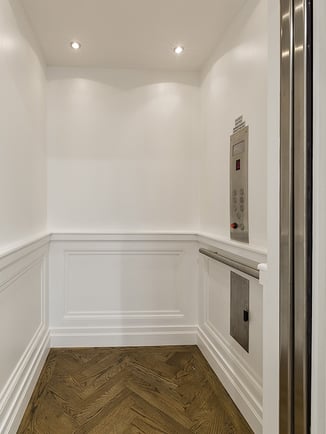 The Dixon design team has built quite the reputation for creating stunning, expansive kitchens. At the Fifth Avenue home, the same space also needed to accommodate an elevator and powder room, so meticulous planning was critical. The first solution came in the form of a massive quartz island, which was built large enough to house cabinetry front and back, as well as a sink, integrated dishwasher drawers, a beverage center and breakfast counter seating.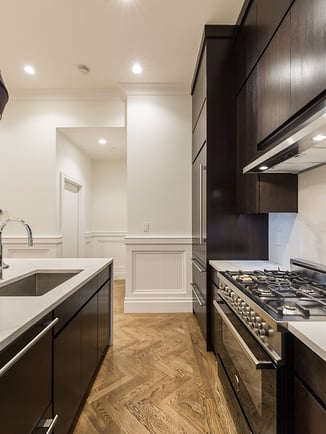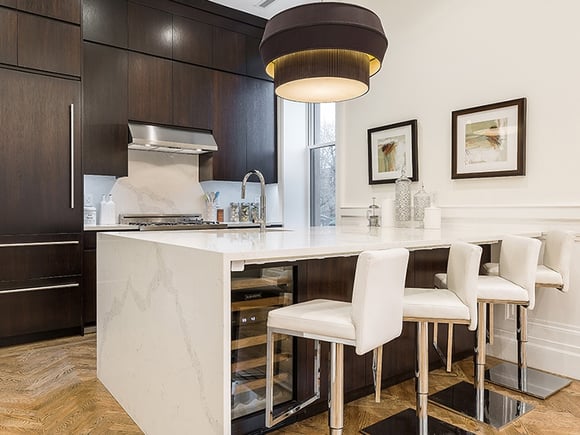 Along the back wall, cabinet space stretches to the ceiling for additional storage. The integrated refrigerator adds to the minimalist design while the Bertazzoni range creates a stylish centerpiece. Two more wet bars in the cellar and penthouse ensure plenty of room for entertaining and housewares.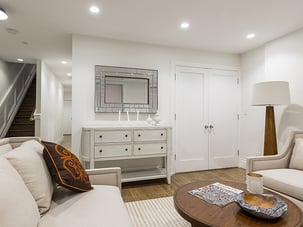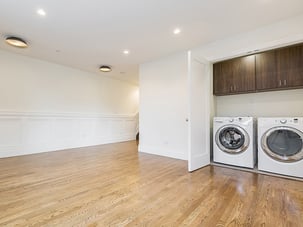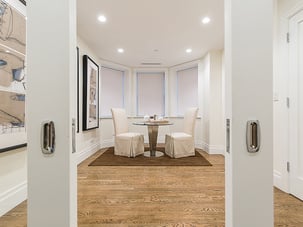 The reimagined layout of the brownstone purposefully offers a number of flexible spaces suited for a variety of uses by future occupants. This is particularly evident on the garden level where a front-facing room with a private entrance and laundry facilities works equally well as a family/media room or home office. Further on, a room created in the bay window space includes a closet and pocket doors. Imagined as a home gym, it could also serve as a formal dining room or guest suite. Next door reveals a true bedroom suite with an adjoining bathroom, while just across the way you'll find access to the brand-new two-car garage — making this perhaps the only single-family home with parking on all of Fifth Avenue.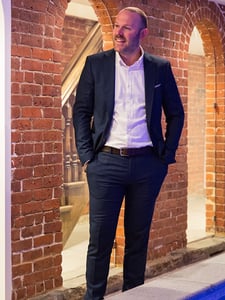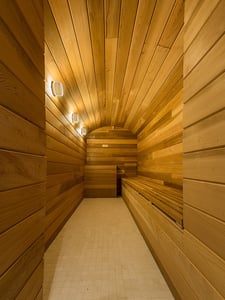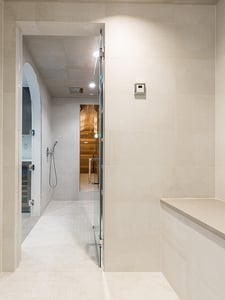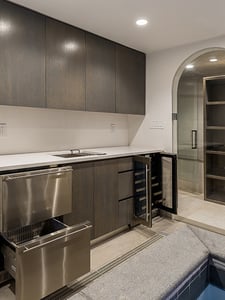 The first of many brand-new amenity spaces at Fifth Avenue, the cellar is a cozy cocoon bedecked in indulgent comforts in every direction. Originally described by Dixon Creative Director, Steffen Ringelmann, as, "A cold, dark, damp cellar where people kept mechanical equipment and not much else," this below-ground level is now a premier swim/spa/steam/sauna oasis. The centerpiece of the space is the Hayward SwimJet saltwater pool and adjoining hot tub that allows for both lap swimming and deep-soaking relaxation. A gorgeous cedar sauna and a spacious steam room flank an oversized cool-off shower/changing room, and the convenient wet bar boasts dishwasher drawers and a beverage center.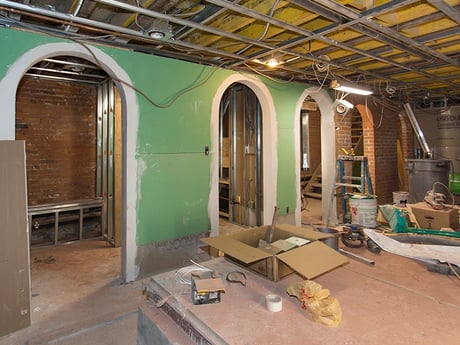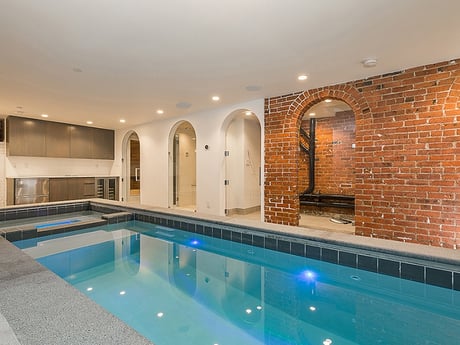 As the first cellar-level swimming pool space in the Dixon portfolio, it's not surprising this floor presented a few challenges along the way. While the original plan was to excavate deep enough to place the pool flush with the floor, the digging soon hit the water table. Plans were reconfigured to set the pool 18 inches above ground and surrounded by an attractive tiled curb. The handsome brick archways here are original and served as the inspiration for the added arched doorways. While the initial intention was to leave all the cellar brick exposed, the poolside wall was painted to provide additional waterproofing.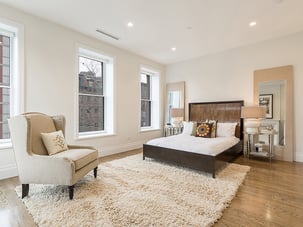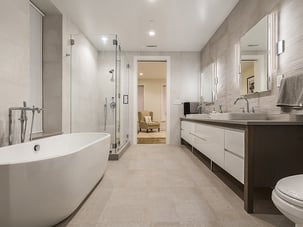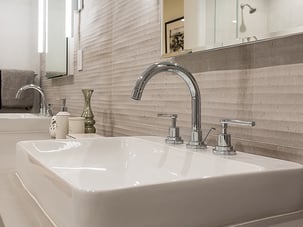 Take the elevator — which runs through all six levels of the sprawling home — to the fourth floor to find one of the loveliest full-floor master suites in all of Manhattan. Windows facing west and south wrap the generous sleeping chamber where a decorative fireplace adds drama and appeal. Bathrooms throughout the home embrace a modern sensibility with polished chrome fixtures and floor-to-ceiling porcelain tiles that mimic poured concrete. In the large en-suite, a freestanding soaking tub is joined by a frameless glass walk-in shower and an extra-long dual sink vanity.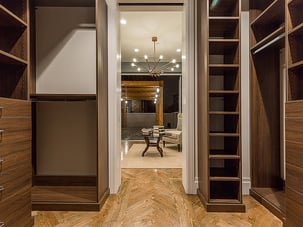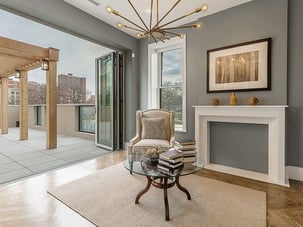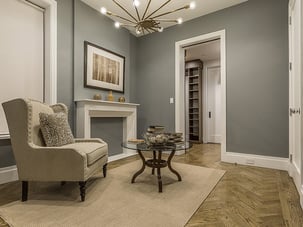 Just ahead lies a custom walk-through closet which leads to a delightful private sitting room. Formal herringbone flooring, another decorative fireplace, a grand gold chandelier and a pop of slate blue paint set this serene space apart from the rest of the home and make it a suitable entrée to the first of the home's oversized outdoor spaces.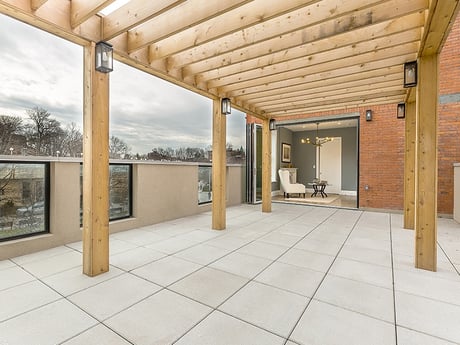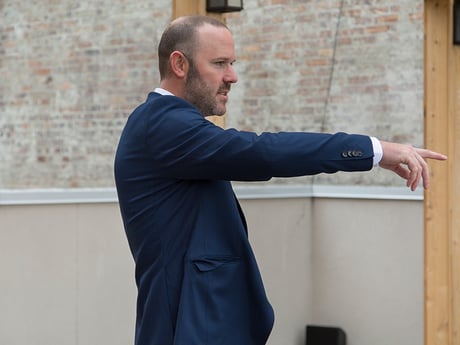 Because the Fifth Avenue home trades garage space for ground level outdoor space, roof decks become even more important, providing room for relaxation, entertaining and play. This master suite terrace is more than up to the task with a generous cedar pergola marking the perfect spot for a long dining table — just add climbing vines and some good friends to complete the scene. Unique window cut-outs along the southern wall allow light and park views to flow onto the scene. "They really help to create a relationship between the home and the park across the street," Ringelmann explains.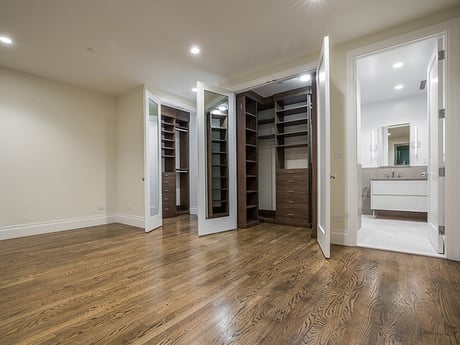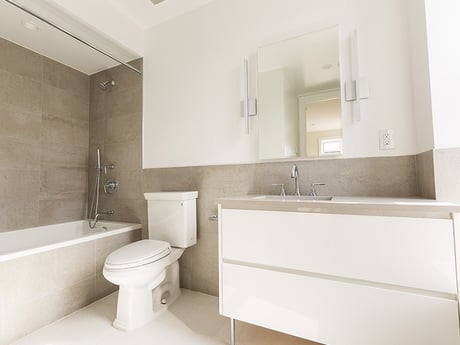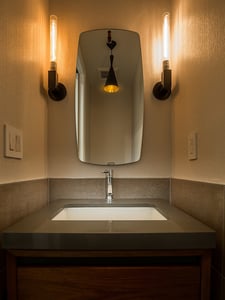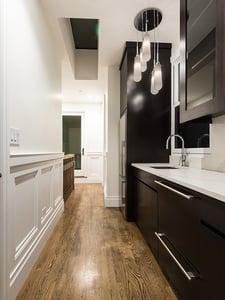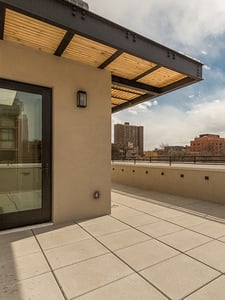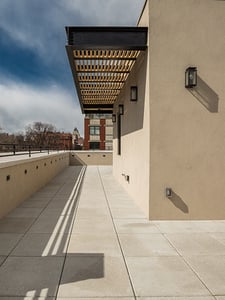 Above the master level, two additional bedroom suites shirk any "secondary" descriptors with expansive custom closets, chic full bathrooms and generous floor plans. From the hall, a bright skylight beckons you upward where an entirely new roof level has been created. This crowning gem includes a fully stocked penthouse — wet bar, more dishwasher drawers, a full-sized refrigerator and powder room — surrounded by the Harlem neighborhood.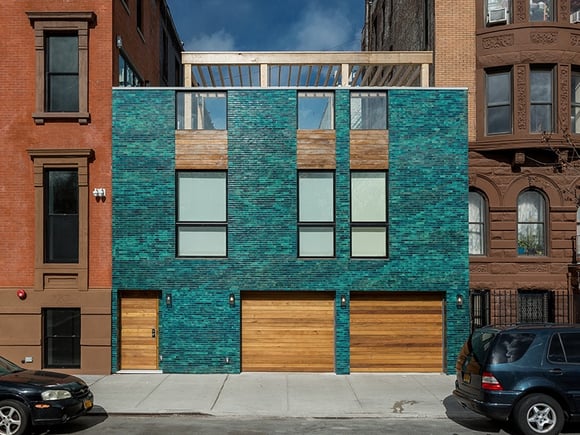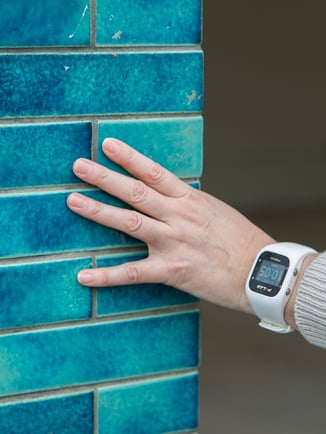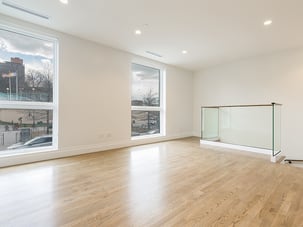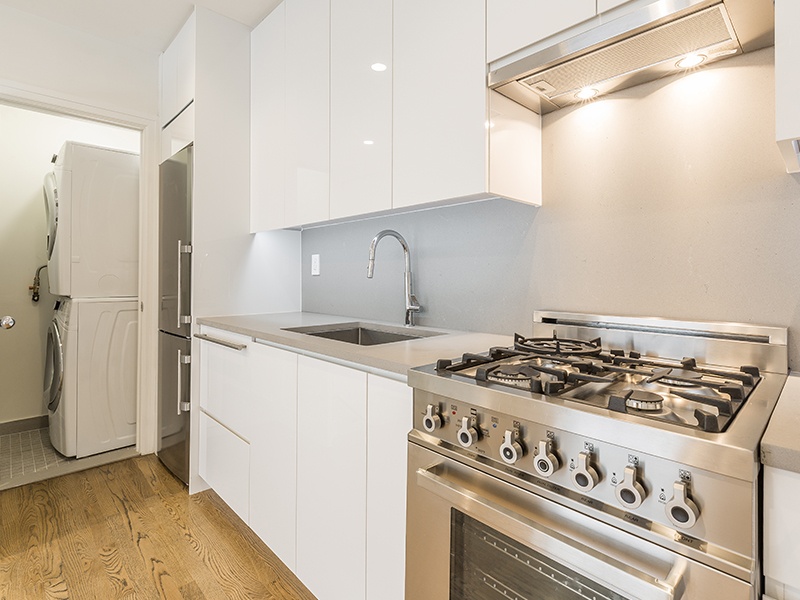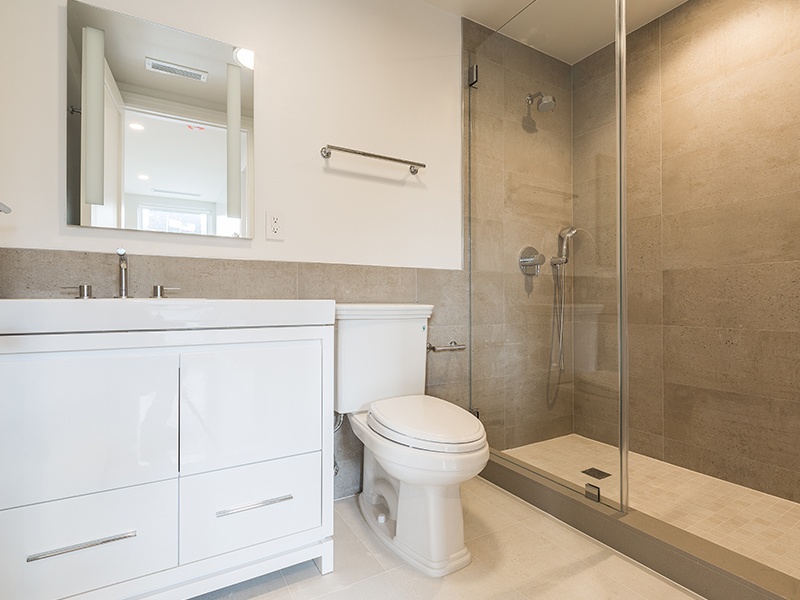 Back down at street level, set behind a striking blue-green tile and cedar slat façade, sits the entrance to a standalone one-bedroom apartment, which has been placed atop the two-car garage. Again, the options for this flexible space are seemingly endless as it would serve as an ideal nanny apartment, in-law residence, professional office and more. To accommodate that flexibility, Dixon designers chose a completely modern and minimalist design scheme that doesn't skimp on details. For example, the galley kitchen, boasts similar versions of the sleek cabinetry and integrated appliances that reside in the main house, but on a compact scale that frees up livable space.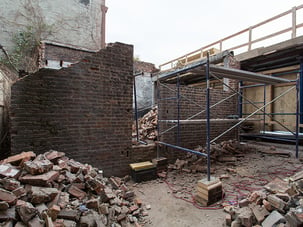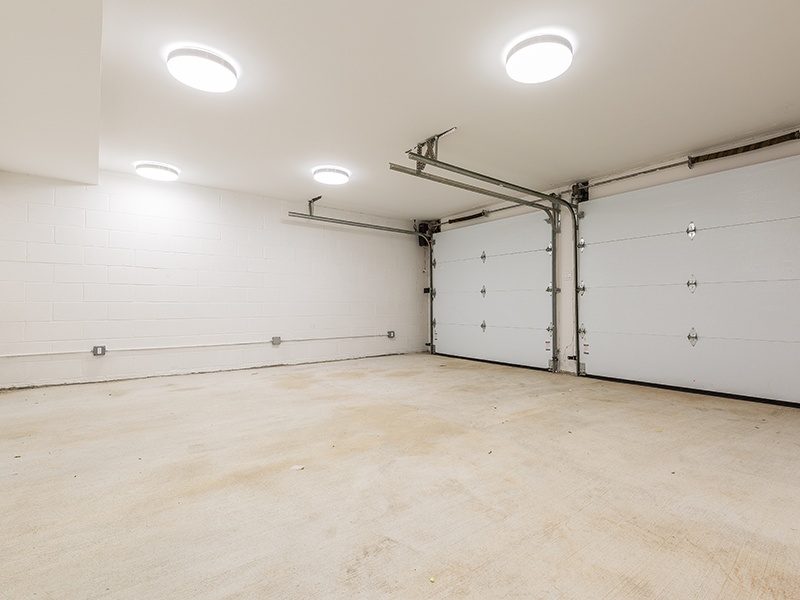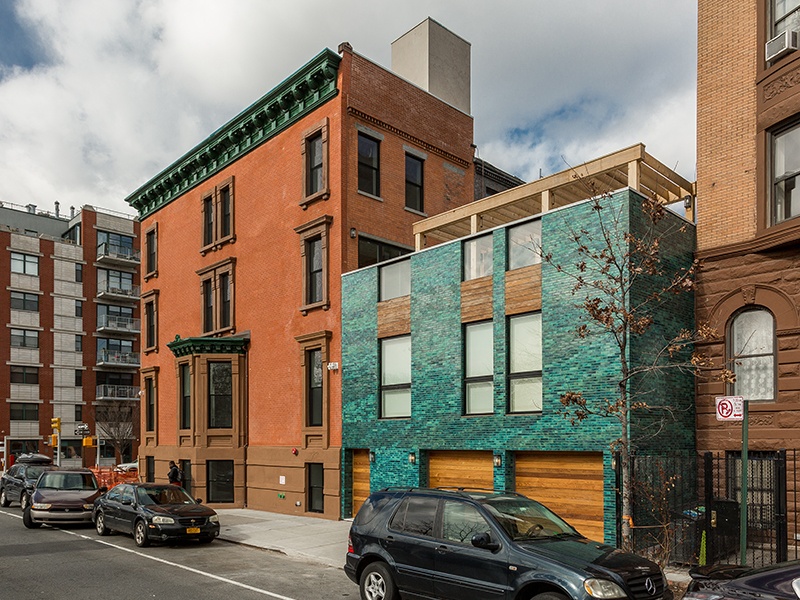 Many of the coveted amenities, outdoor spaces and contemporary conveniences available in the Fifth Avenue home were made possible by its position outside a designated historic area. While the Dixon team restored the main residence's exterior to a historically accurate state, the ability to push the envelope elsewhere presented exciting opportunities to build a modern masterpiece with historic bones. "We demolished the rundown garage that was here, and built the two-car garage and apartment from scratch. If we were in a historic district, that wouldn't have been possible, and the master bedroom terrace above it wouldn't have been possible. In addition, the roof terrace and penthouse, which are visible from the street, wouldn't have been possible either," Ringelmann explains.


As Ringelmann sums up, "It's a beautiful corner property in a premium section of Harlem. It's got southern and western exposures, and it's right across from Marcus Garvey Park. I think it was clear right from the start that this was going to be a very special renovation."

VIEW THE FLOORPLANS FOR FIFTH AVENUE MAIN HOUSE: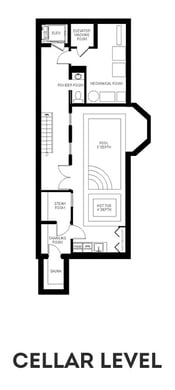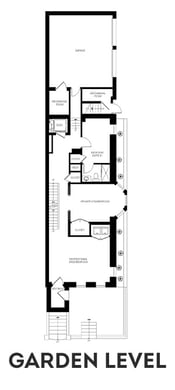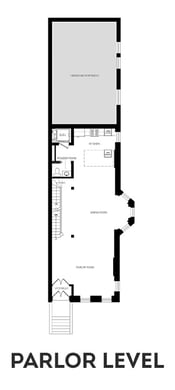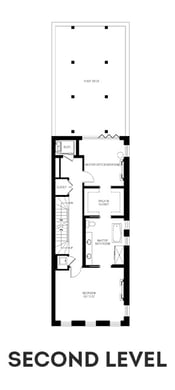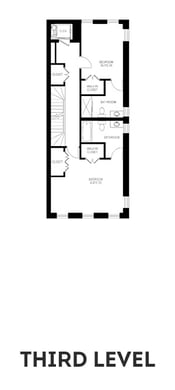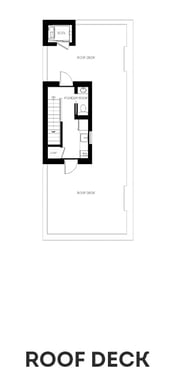 VIEW THE FLOORPLANS FOR FIFTH AVENUE ONE-BEDROOM APARTMENT: