With the help of Dixon Projects, first-time home buyers turn a Jersey City Heights charmer into their perfect home sweet home.
When Kevin McAvey and his girlfriend Samantha Buser first contemplated buying and renovating a Jersey City Heights home, they had a distinct advantage over most first-time buyers. Kevin has worked for Dixon Advisory for years, currently as Joint Chief Financial Officer, and had resided in two different Dixon Leasing homes himself. Sam is a former member of Dixon's Leasing team. Given their background, the couple had a deep familiarity with quality home design and construction, plus an inside track on how to achieve it. "Over the years, we've seen the quality of work that Dixon completes, so when it came to our own – and first – place, we knew we could fully trust the Dixon team with the job," explains Sam.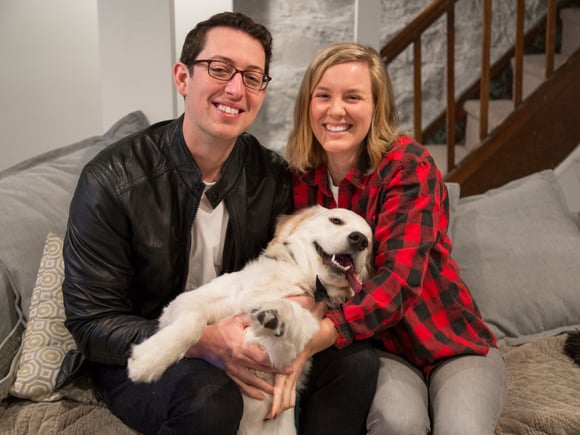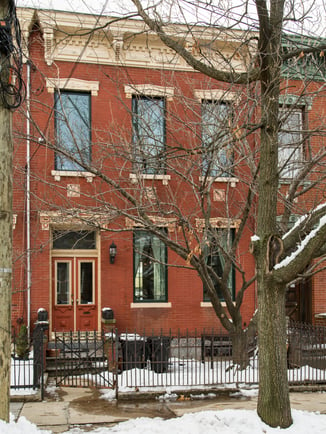 After living together for about a year, the New Jersey natives began a sporadic home-buying search, looking mostly at Hoboken condominiums. When they happened upon an Ogden Avenue house, they were enticed by the opportunity to secure much more space at a similar price point. Offering more than just room to grow, the turn-of-the century home also possessed a lot of character and period details. Set at the center of five quaint, red-brick row houses — each with welcoming front yards plus ornate cornices, lintels and sills — the two-bedroom, two-bathroom residence includes two levels of living space in addition to a cellar and large rear yard.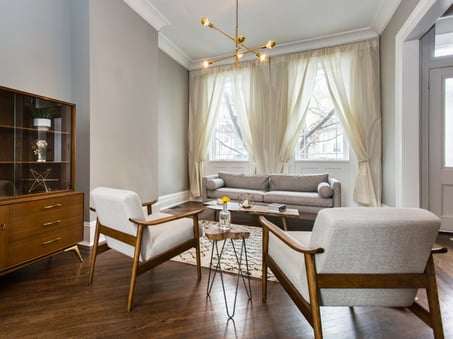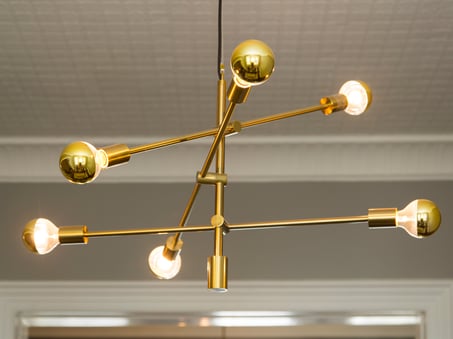 For both Kevin and Sam, the home's interiors were a big selling point. "I love the main level, especially the sitting room and the dining room with these really detailed, high ceilings and original floors," he says.
"A single-family home in this area is hard to come by, and I really liked that," adds Sam. "It feels like its suburban in an urban area; the best of both worlds."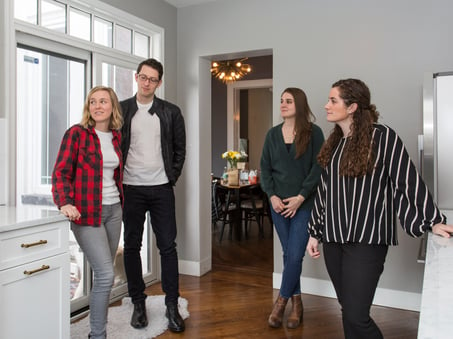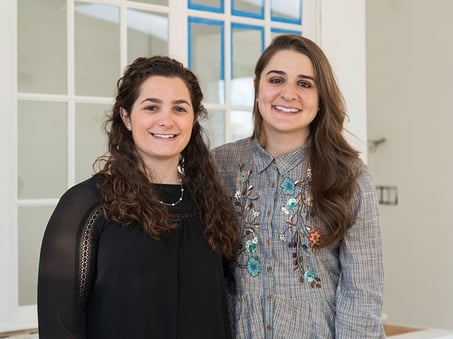 While the house was in excellent overall condition, Sam and Kevin felt that two major updates were necessary to make it the perfect home for them: a remodeled kitchen and the addition of livable space on the unfinished cellar level. With this checklist in mind, the couple engaged the services of the Dixon Projects team early on. Director, Megan Traub, and Associate Director, Dana Opeikun, toured the house with Kevin and Sam prior to going into contract and were able to assure them that their renovations, particularly in the cramped basement, would be feasible.
Once the sale closed, the collaboration began. "Being first-time home buyers, we were kind of clueless. So, it was really awesome to have the Dixon Projects team help us navigate each step of the renovation," Sam says. "Kevin and I had pretty different ideas on what we were going for at first, but honestly, it's turned out to be a really good mix of both of our styles."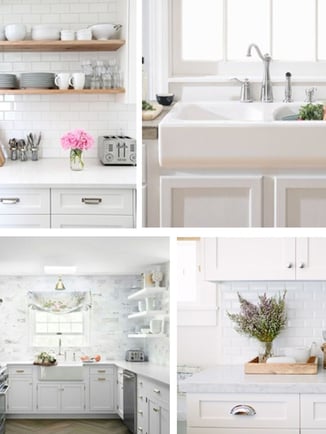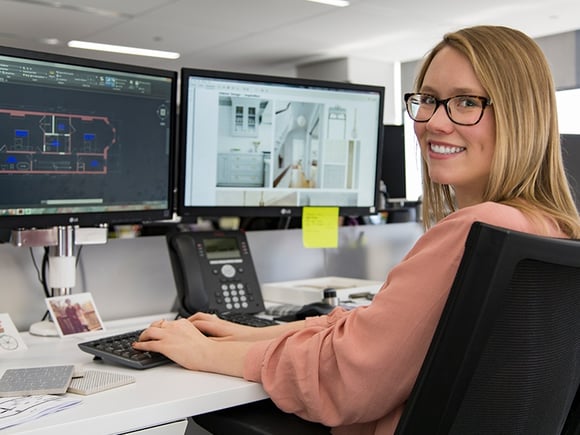 "We had broad brush stroke ideas of what we wanted, more of a general theme, and Danielle Garrison, the project's Interior Designer, was able to come up with great options for us to choose from. It was easy for us to move forward from there," explains Kevin.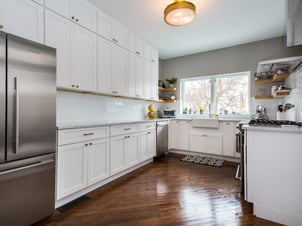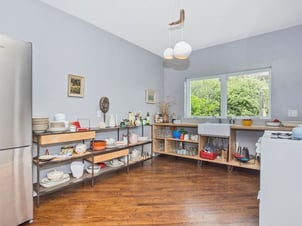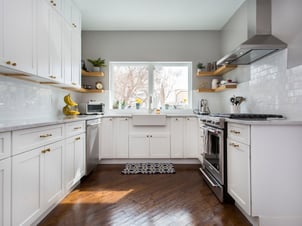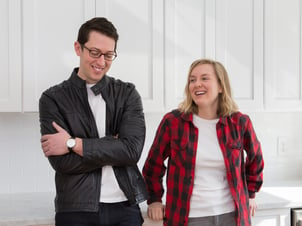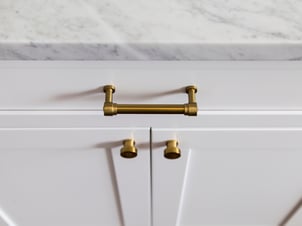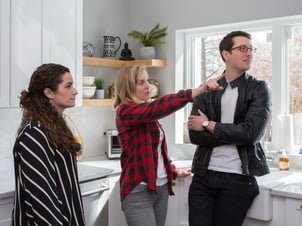 When they bought the home, the kitchen had no cabinetry to speak of, but rather a series of open shelving around a stunning farmhouse sink and an outdated gas range. The couple's vision for the space included a neutral palette accented by wood and greenery. Dixon filled the space with clean-lined white cabinetry, including uppers that reach all the way to the ceiling to provide ample storage. The pulls and knobs in an unexpected brass finish were a Dixon suggestion. "Danielle came up with that," Sam recalls. "We were thinking let's match the faucet, but she suggested we get some color in here. Now, it has that pop of brass, and I love it!"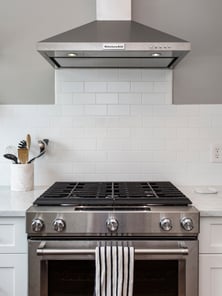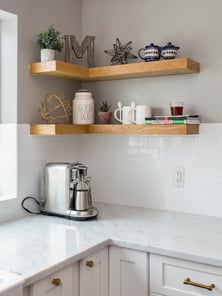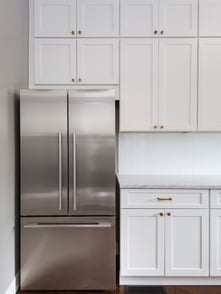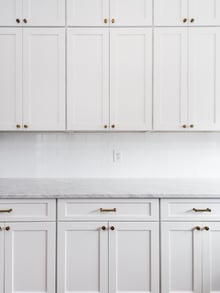 Simple, but stylish, white subway tiles form the backsplash and let the room's substantial Carrara marble countertops take center stage. "That marble has a story of its own," Megan recounts. "Kevin and Sam went to the warehouse, looked at all these different slabs and picked one out. Unfortunately, that particular slab came in much more expensive than we expected, practically double the price. So, we picked a new slab based on pictures from our vendor, but when it arrived at the vendor's fabrication facility, the vendor hated it. So, she ended up choosing a better piece of marble for them and waived the higher price."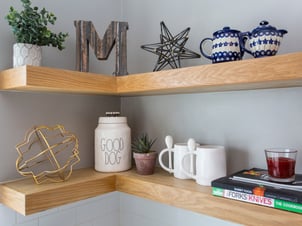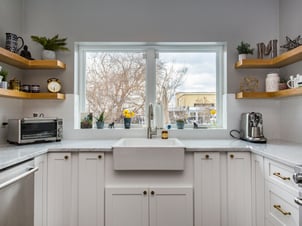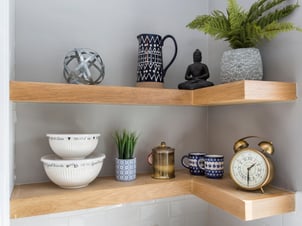 Dixon's contractor added his own special touch to the kitchen as well. To accentuate the room's wide window and breathtaking Manhattan skyline views, the couple envisioned open shelving on either side. The contractor took it upon himself to create attractive corner shelves in a handsome oak. The great farmhouse sink is the sole item retained from the original kitchen (Sam calls it the former room's "only redeeming feature"), while top-notch stainless steel appliances, including a KitchenAid range, Fisher + Paykel refrigerator and Bosch dishwasher complete the stunning space.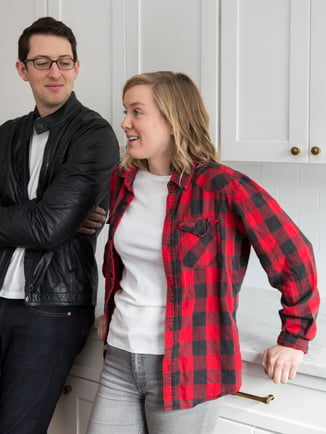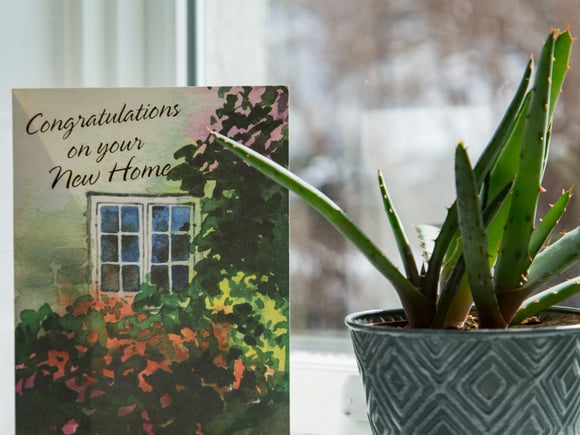 Because the couple moved into the home in early winter, they haven't had a chance to tackle the spacious yard just outside the kitchen windows. Once the weather warms, however, Sam looks forward to adding a vegetable garden to supplement to the plant-based meals she creates in the well-stocked, sunny kitchen.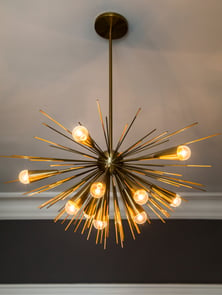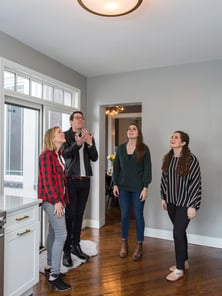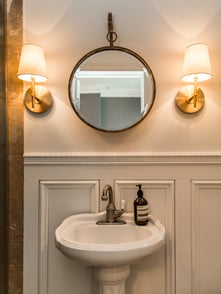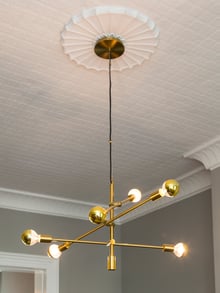 Elsewhere on the gracious parlor floor, the Dixon Projects team assisted with the selection and installation of light fixtures in the dining room, living room and powder room. "For everything else, Danielle gave us great options and we picked," Kevin explains. "But for the lighting, we kind of reversed the process and said, 'Here's what we like. Which would work best?'" The result is a spiny bronze-toned chandelier by West Elm in the dining room and, in the living room, a Schoolhouse three-armed gold fixture with gold-tipped light bulbs that add a special and luxurious feel.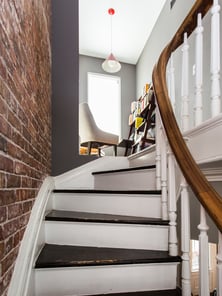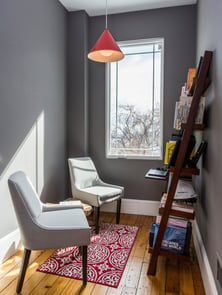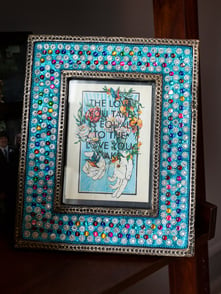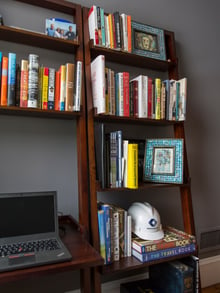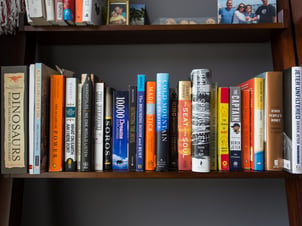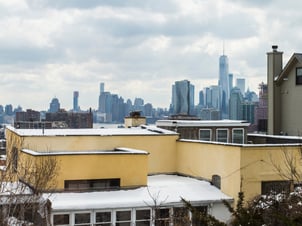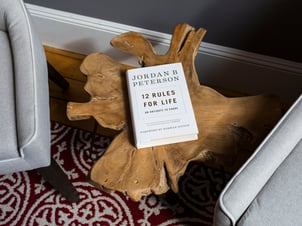 Upstairs, the Dixon team addressed bathroom lighting, outfitted all the closets with custom shelving and rods, and even switched the opening of the walk-in closet from the front to the rear bedroom.
Here, one can also find the couple's library nook, an enviable space to enjoy a morning cup of coffee as the area boasts another opportunity to take in sweeping views of the Manhattan skyline.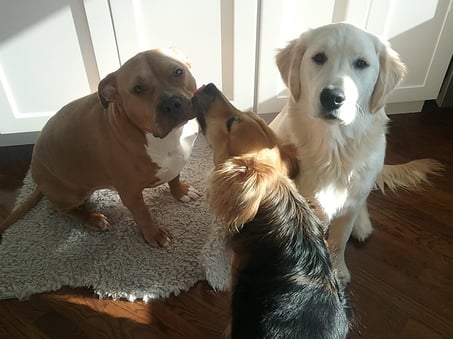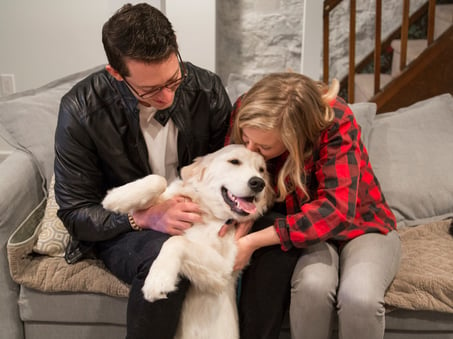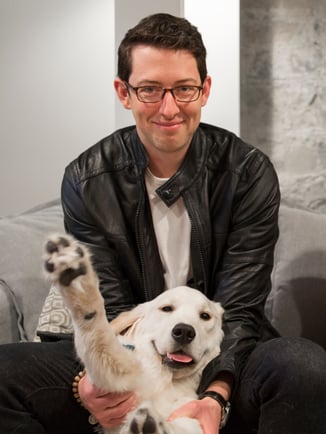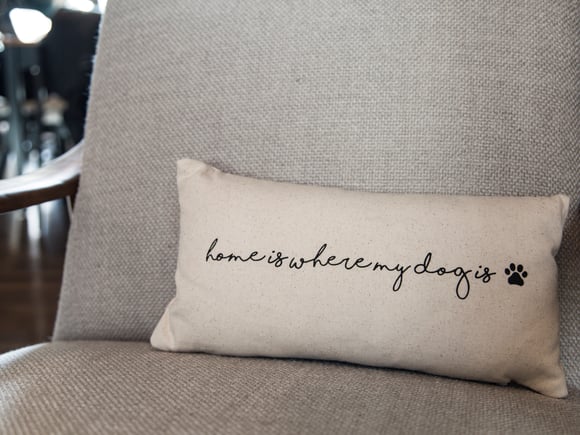 The ability to make the home's basement livable was critical to Kevin and Sam, largely due to their pack of three adorable dogs — a pit bull named Oakland, a collie-shepherd mix called Penelope, and Jett, their seven-month old Golden Retriever pup. With that many furry friends, having a casual space to hang out and "let the dogs be dogs" was important.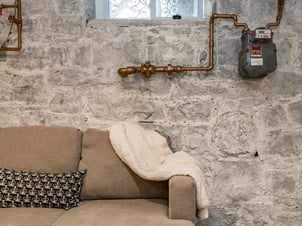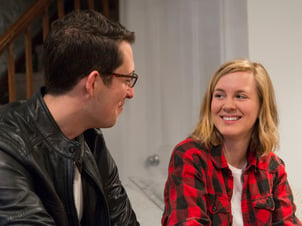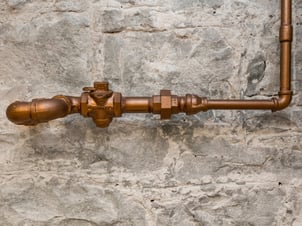 While spacious, in its original state, the cellar was largely unfinished save for the stone tile flooring. Here, the Dixon Projects team added closets for laundry, storage and to conceal mechanicals. The exposed rock foundation wall, originally a dark earthen brown, was whitewashed, and new windows were added to encourage sunlight to flow throughout the new space. Pipes that run along the wall have been painted in the home's signature bronze color. "We thought about sheet rocking the wall, but by painting the pipes, they became a design feature instead," explains Dana.
"Finishing the wall would've meant losing a bit of space, plus with the pipes there, if there was a problem, we'd have to rip the wall back open," Kevin adds.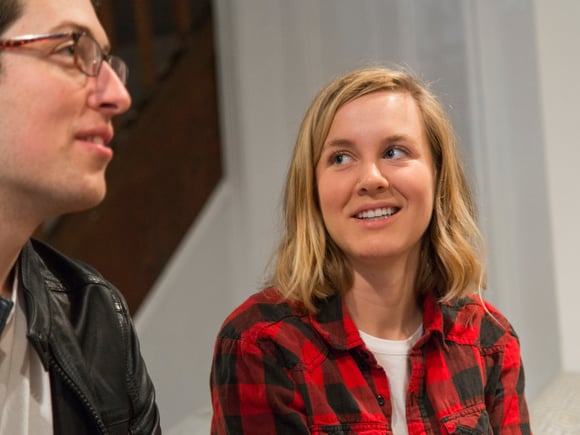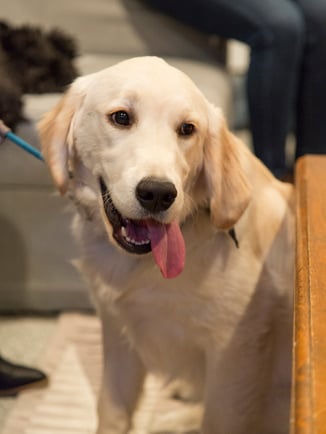 In the end, the whitewashed wall and pipes have actually become one of Sam's favorite features in the house. "I thought it was such an awesome idea, and it really brought this space to life. There's not much, architecturally, going on down here. So, it's become like our art piece."
These smart design choices make the space feel much taller and roomier than the couple thought possible, and it's now a much-used "chill room" for the whole family (pups included).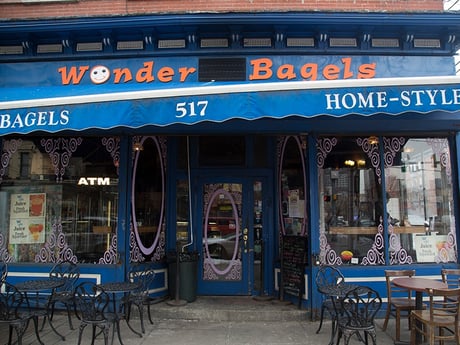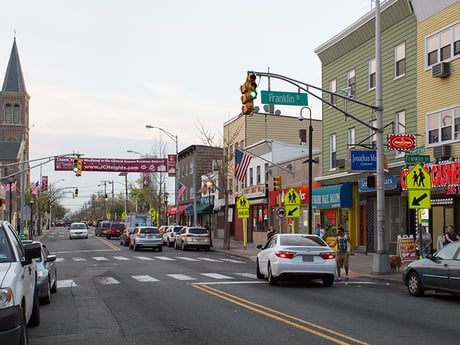 When not relaxing in their basement hideaway or enjoying their gleaming new kitchen, Kevin and Sam can be found out and about in their Jersey City Heights neighborhood where they've already staked out a solid list of favorite restaurants. "Every weekend we grab bagels at Wonder Bagel on Central," Kevin says.
"They have the best bagels! Just incredible," agrees Sam.
They enjoy Froth on Franklin, a new coffee shop, and Japanese restaurant Ozu Foods has vegan sushi rolls that Sam calls "out of this world." And, Vita Pizza, a spot that started in Kevin's hometown, is opening up just a couple blocks away.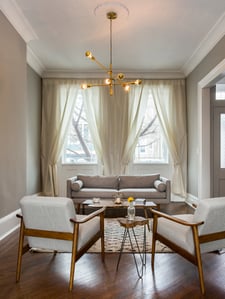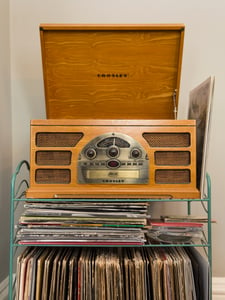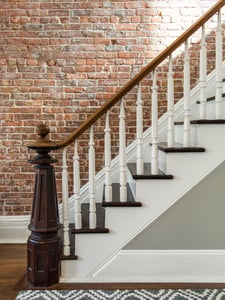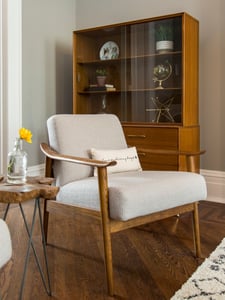 Sitting in Kevin and Sam's Instagram-worthy living room, surrounded by the grand staircase and exposed brick wall with a glimpse of the new kitchen just beyond, it's easy to appreciate the seamlessness with which the new additions have been integrated into the home. And for Sam, that really was the point. "The whole house itself is so charming. Because of this, I wanted to keep the color scheme and even the décor as neutral and simple as possible," she explains.
"Allowing the house to speak for itself really helped us create the design, because we had such different ideas initially," she continues. "'Let's just go with the house. What makes the most sense here?' we thought. Danielle was really great at helping us with that."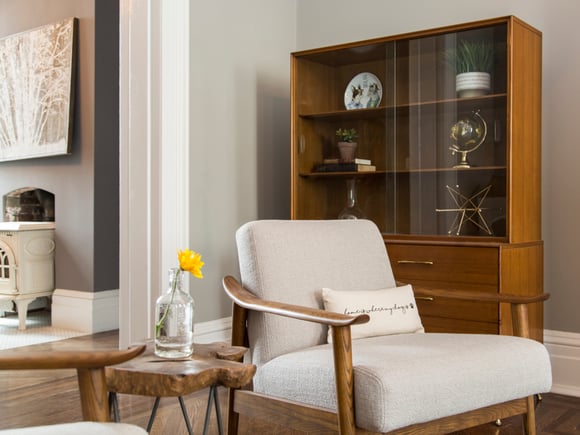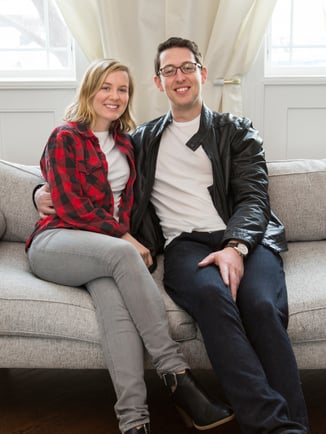 "For anyone who's busy and can't spend a lot of time on a renovation or micromanaging, it's really helpful to have people you trust come in and oversee the entire process," Kevin explains. "They check in when they need a decision, and then run with it. There's a lot of value in having a trusted project manager."
"I've talked to friends of mine who've done renovations, and they were shocked by how quickly ours was completed," Sam adds. "Usually all these problems come up or the contractor disappears, but our experience was so easy. It was so much easier than I thought it would be."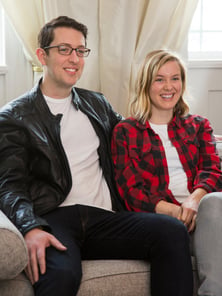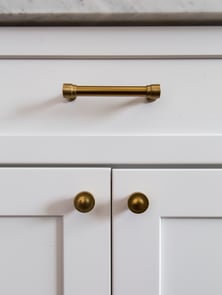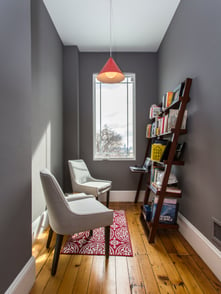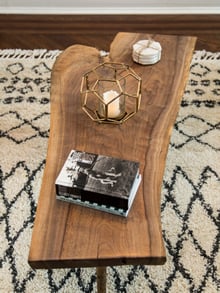 Now that the renovations are complete and the moving boxes are unpacked, Kevin, Sam, Oakland, Penelope and Jett look forward to welcoming family and friends to their perfect Jersey City Heights hideaway.
Looking for a new space to call your own? Request a free consultation today.
Browse Dixon Leasing's available listings or call Dixon Projects to begin building your dream home today.