Meet Andy Urbany: Weekend warrior with an observant eye and a passion for all things design.
Senior Architect, Andy, spends each day designing new townhouse concepts, approving external consultant's work, attending site meetings and working through details with contractors. Andy ensures that the Architecture team coordinates with the Interior Design, Project Management, Acquisition and Leasing teams to ensure the design process remains fluid throughout all phases of a project's lifecycle. "My job is to create a unique idea for each townhouse and to ensure that the idea is executed at a high level by all parties."
Creative from day one, Andy recalls his first run-in with architecture, "It's a bit stereotypical, but I loved Legos as a kid. I would follow the instructions before tearing the piece down and building my own version." Andy recognized his talent and went on to study Architecture at University of Notre Dame in South Bend, Indiana, his hometown.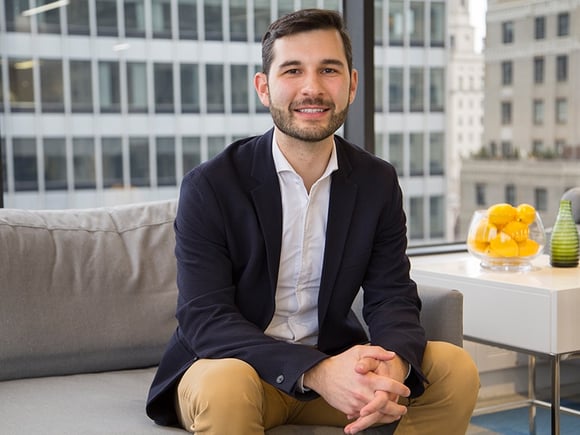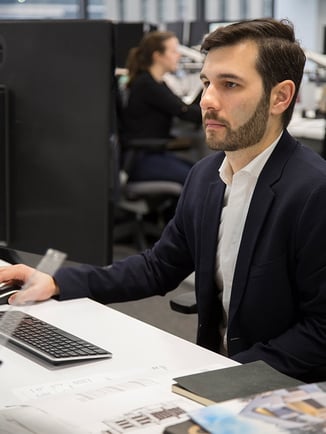 Andy began his career working on projects in China while living in Hawaii. Later he set out for New York City to work as a project architect on high-end residential homes in New Jersey and Kentucky before transitioning to Dixon to obtain further experience with townhouses in the city. Andy was originally attracted to Dixon because, "I was fascinated with the value Dixon placed on design. Here you get an idea of how impactful design can be from the business side. I'm given immediate feedback on my work and how it influences budgets, future leasing potential and more." Andy's favorite part however, is being on site. "Seeing all your hard work come to fruition is an incredibly humbling experience."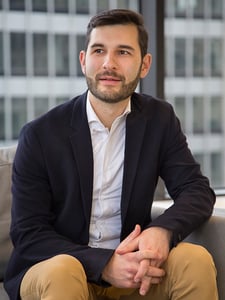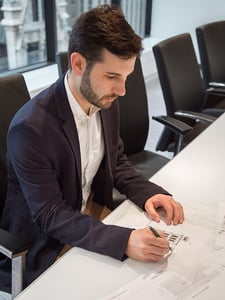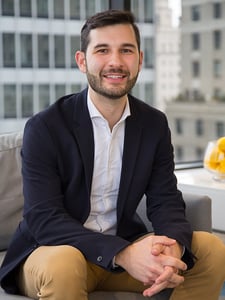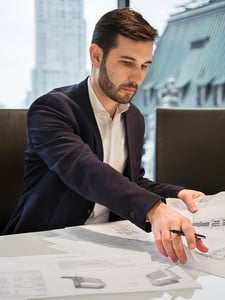 Outside of work, Andy travels as much as possible – from long vacations to weekend adventures. "My wife and I have been very fortunate to travel a lot. We went to Brazil for our honeymoon and are buying a vacation home in Rhode Island. Rhode Island is beautiful and the perfect place to get away from the city for some quiet." Aside from Rhode Island, Andy also enjoys exploring the city he now calls home while planning excursions to further destinations like Patagonia. People may not know that Andy is also an avid soccer player. He even played for the 2003 Indiana State Champion team—ranked fourth in the country at the time.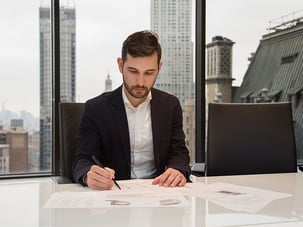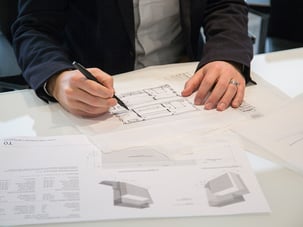 When speaking with Andy, you can see that architecture is more than just his job, it's his passion. "I draw inspiration from architects John Pawson and Vincent Van Duysen. Their focus on technique and the craft itself is inspiring." Andy's favorite part of being an architect? "For better or worse, the tangibility. You gain positive reinforcement of your ideas by seeing them in person, but it's also a good way to see what you can do better in the future." Finishing with a word of advice, Andy shared, "Trust your superiors and always find ways to stay interested in things you loved during school. That's what will keep your passion for the job alive."
Interested in joining the team? Check out our career opportunities page for all available positions!