Meet Steffen Ringelmann: This risk-taking designer jumped head first into sports, carpentry, DeeJaying and more before finding himself serendipitously working as the Creative Director on hundreds of luxurious Dixon renovations.
Born and raised in San Francisco, Steffen found himself drawn to New York City from a young age. When it was time to decide on college, New York was at the center of his mind. "I was recruited to play basketball out of high school and eventually narrowed my decision to NYU or Vassar College in Poughkeepsie. I chose Vassar based on its academic reputation, liberal arts experience and beautiful campus, knowing New York was only a short train ride away."
Steffen committed himself to basketball early on at Vassar, starting as a freshman and voted team captain as a sophomore, but by junior year, his interest in art had taken over. "I was a dual Fine Arts and Media Studies major. Once I stopped playing basketball, I spent my time sculpting, painting and reading art theory." After college, Steffen moved to Brooklyn and found work installing artworks at a handful of Manhattan galleries. He also DeeJayed a pair of weekly parties as well as occasional private events, finding time to continue painting and sculpting in between it all. "It was a wild time and I loved it. I was living the dream!"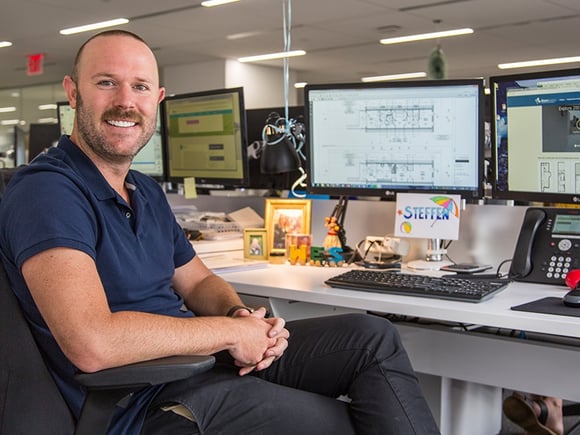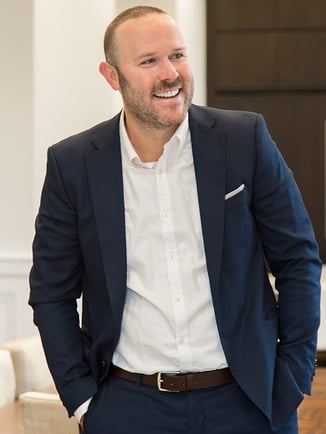 Steffen eventually earned a position assisting the owner at a high-end 20th century furniture gallery. "It was my first job interacting with clients in a professional manner. I learned how to sell and what it takes to build a career in a creative industry. I also learned that I loved design." As a result, Steffen soon began designing and making furniture in his spare time. "I applied my fine art background to furniture, taking a theoretical approach and blurring the boundaries between art and design."
Just when things seemed they couldn't get any better, Steffen's life took a turn. "I was a 26 year-old free spirit when I received an early morning phone call from my mother with the news that my father had suddenly passed away. My dad was always very loving and supportive. As long as I can remember, he encouraged me to live an engaged, passionate and present life. Self-discovery, loss of ego and the search for meaning were common family dinner topics growing up." Oddly enough, it was when Steffen moved home following his father's passing to take over the family business and care for his mother and sisters that his dad's example and teachings resonated with him the most.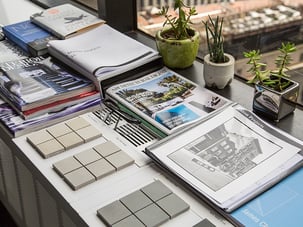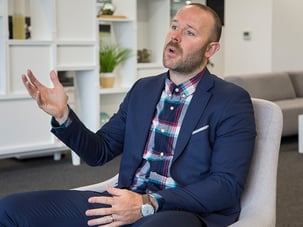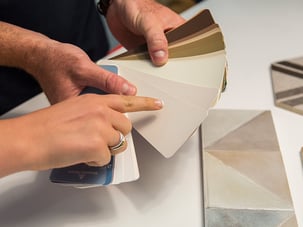 "It was an incredibly powerful experience moving home and effectively stepping into my father's shoes. It was my right-of-passage moment, my transition from boyhood to manhood, and I internalized the whole thing as an opportunity for self-reflection and growth, despite the immense sadness. Serendipitously, it is also when I met Sara, now my wife and mother of our two young children." Perhaps talking to his father now, Steffen added, "That experience made me the father and business man that I am today."
Upon his move back to New York, Steffen and his wife bought their first home together, an investment property, in Montauk. "It needed work, but I could apply my skill sets to a project that I owned. That was illuminating and grew my interest in pairing interior design with real estate investment." Shortly thereafter, Steffen found Dixon; "Dixon was this Real Estate Investment Trust that was just beginning to invest in premium properties in neighborhoods I knew and loved. I was interested in growing my knowledge of real construction—how to build a house, what goes on behind the walls—so I interviewed for a Project Management position I saw posted online." What came next was entirely unexpected for Steffen. "Having reviewed my portfolio of interior finishes, Alan Dixon asked me during my interview if I would be willing to join Dixon as an Interior Designer. I was beyond thrilled!" Thus began Dixon's Interior Design team.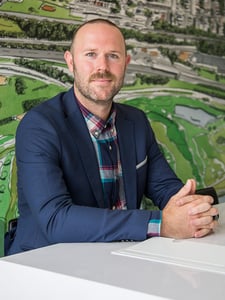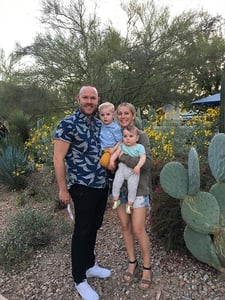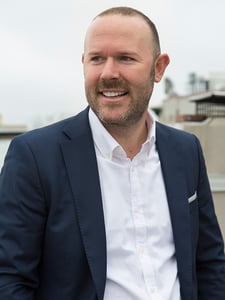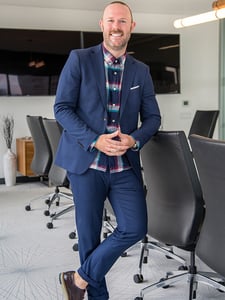 As Dixon's first Interior Designer, Steffen quickly grew the team from one to six. After several years of hands-on involvement in the design of countless groundbreaking and impressive properties, Steffen now serves as Dixon's Creative Director overseeing the Architecture and Interior Design teams. "My fingerprints are on each property, some more than others, but I'm more of a resource now, rather than a commanding voice. Every day is different and exciting. One-third of my day is devoted to active construction and design projects with the Fund, one-third is spent building the Private Client business, and the last third is devoted to miscellaneous tasks, including liaising with other Dixon team leaders and spending time with each member of my team."
Besides ensuring projects are running smoothly, Steffen strongly believes in maintaining a great team dynamic. "It's all about entrusting your team and allowing each person to take ownership of their work in order to grow and improve. Our work is a testament to how much we love working with one another. You could be the best architect or designer in the world, but if you're miserable and uninspired, it will show."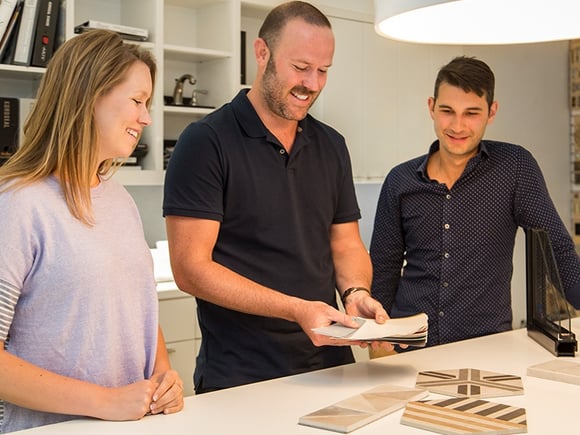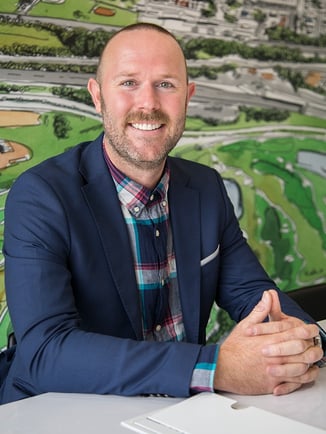 Looking back on his journey through life, Steffen shares, "It was a completely organic path to where I am today, one I never could have planned or imagined. I'm very fortunate and thankful and I plan to continue living my life that way—in the moment and open to anything." Finishing with a word of advice to others, Steffen says, "Jump in head first. Don't be afraid to ask questions. Take on responsibilities whether you're qualified or not. Challenge yourself. Invest on improving and caring for yourself—mentally, physically and emotionally—so that you're equipped and ready to seize opportunities as they present themselves. Always work well with others, and last but not least, have fun."
Interested in joining the team? Check out our career opportunities page for all available positions!