In the New York metro area, limited outdoor space is overwhelmingly the norm. A growing partnership with Glazing Vision is helping Dixon Projects challenge the status-quo by creating ultra-desirable amenity for residents, adding significant value to homes and granting coveted access to skyline views one roof at a time.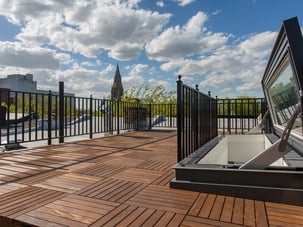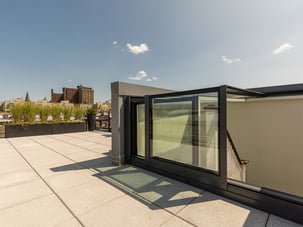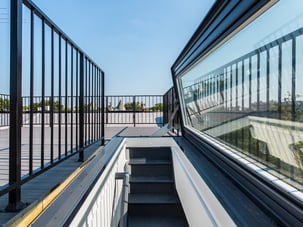 Glazing Vision's design ethos is "minimize framework, maximize daylight," so each sleek product delivers a direct line of sight to the sky above and is made with as few obstructions as possible. Their free-standing box rooflight model — "a glass box on the roof" — features glazing on all sides and is affixed over the stairwell at the base. The three-wall skybox, meanwhile, is meant to be attached on three sides to the building itself. Both types of box rooflights retract with the touch of a button, allowing residents to easily emerge onto the roof deck without the hassle of crouching while both hands are full of hors d'oeuvres and drinks for guests.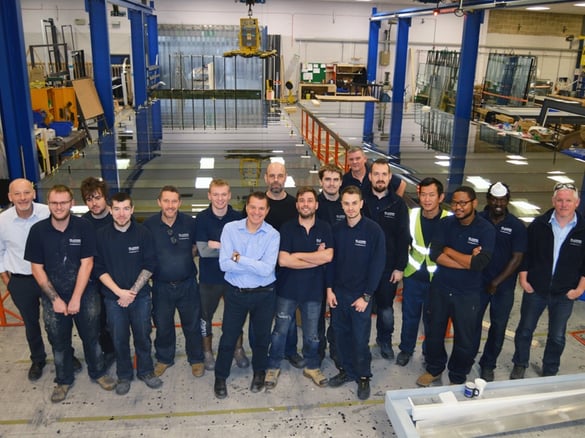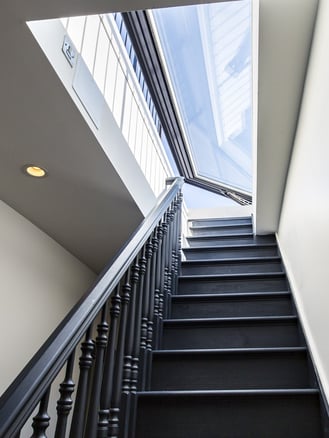 Where even more discreet roof deck access is required, Glazing Vision's hinged skydoor rooflight provides another automatic opening option that's nearly flush to the roof. Because the skydoor product can be installed in either direction, it's more adaptable than the skyboxes and the costs are lower.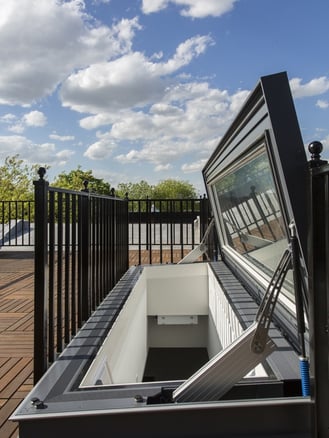 Constructed in durable powder-coated aluminum and glass with a hidden ultra-smooth rack-and-pinion drive system, skyboxes are both elegant and intuitive. Electronics are safely tucked into a waterproof housing offering easy access for service or repair. Helpful rain sensors automatically close the boxes when moisture is detected, and proximity sensors prevent units from closing when a person or pet is in the way. All units are thoroughly water and wind tested to ensure absolute protection from these elements.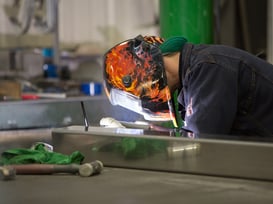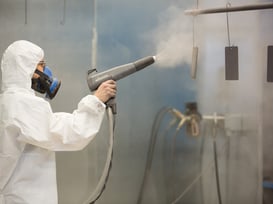 U.K.-based Glazing Vision began in 1993 when founder Hugh Callacher began specializing in architectural glazing restoration and refurbishments out of his Norfolk garage. By the late 1990s, the growing firm had manufactured and installed their first sliding rooflight, which led to the creation of the box and hinged designs in the following decades. Today, the firm operates a state-of-the-art, 65,000-square-foot manufacturing facility in England with dedicated U.S. sales and warehouse capabilities.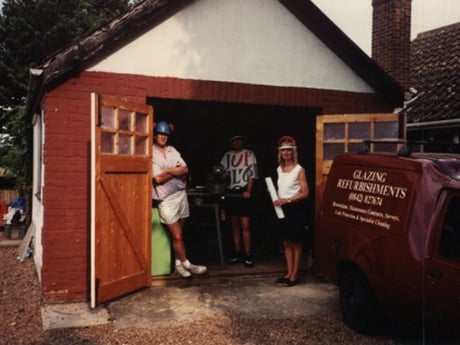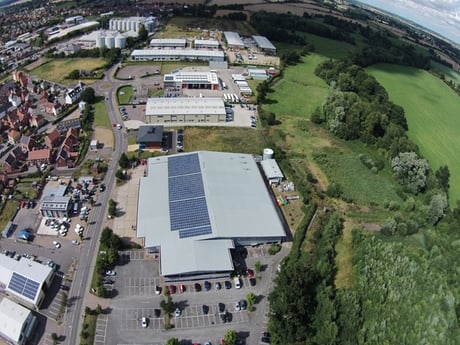 The relationship with Glazing Vision began when Dixon reached out to the firm looking for a low-profile solution that would deliver roof access to a beautiful home within Harlem's Jumel Terrace Historic District. In order to present a cohesive, period-appropriate blockfront, historic districts throughout the city typically frown on rooftop additions that are visible from the street, and the Jumel Terrace project on West 162nd Street was particularly dicey. Construction at the property was underway and Dixon was seeking Landmarks Preservation Commission approval to add roof access. Plans were originally drawn and submitted with a standard bulkhead, but at a community board meeting, pushback against the visible bulkhead design was strong.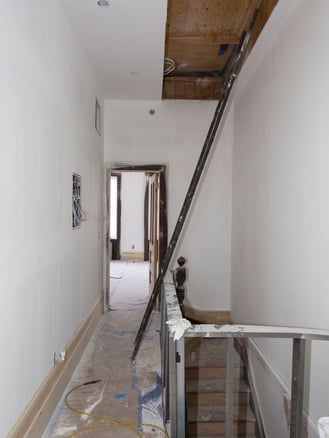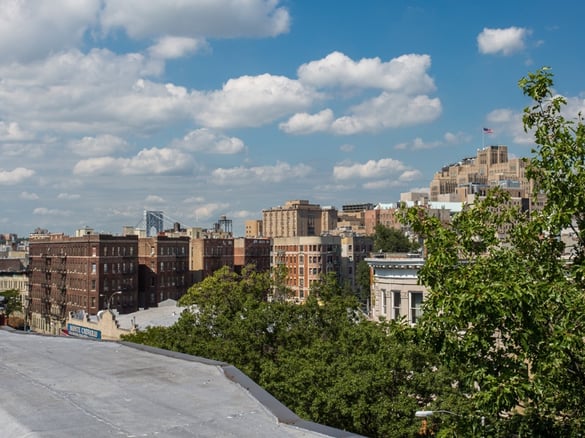 After the intense meeting, Dixon needed to find a different way to access the roof. A project manager was referred to Glazing Vision by a contact in the glass industry, and the products were exactly what the team was looking for. The timing for the collaboration was perfect: Glazing Vision was looking to expand their foothold in the U.S. and had done only one American installation so far.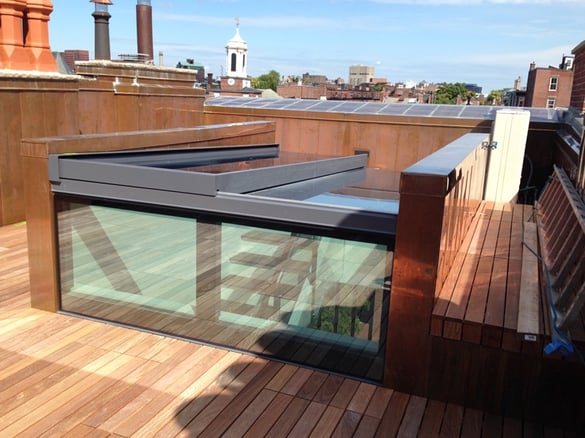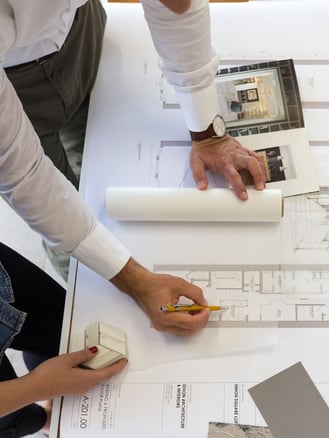 Because the Glazing Vision rooflight products had never been used the New York area, Dixon had to do all the heavy lifting involved in getting it approved. This involved going back and forth with the LPC preservationist in order to get staff-level sign-off, while at the DOB, Dixon had to meet with the organization's borough commissioner for Manhattan and convince him it was a compliant product. Ultimately, Dixon Projects was able to get a determination stating that Glazing Vision products are code-compliant in all five boroughs.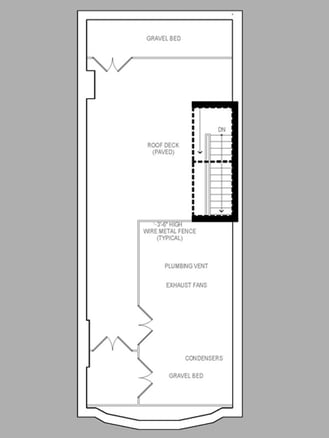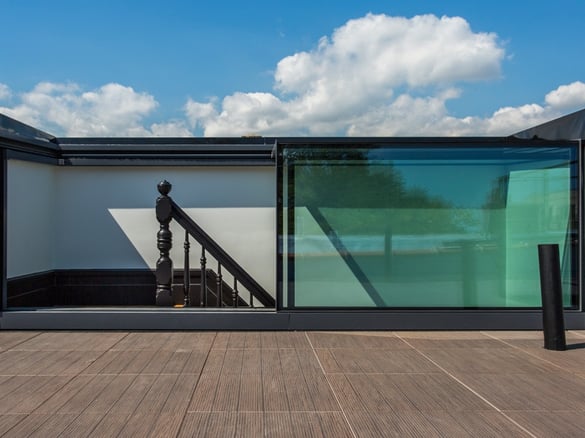 Even with all of that hard work, the process began from scratch when it came to Glazing Vision installations in historic sections of Jersey City. "Visibility from the public right of way was an enormous factor in the initial design and ultimate construction of our New Jersey roof decks, explains Director of Project Management Gabriele Felici. "Considering the Jersey City Historic Preservation Commission's constraints on changing the historic building mass, our options were limited. We needed something to set us apart from the ordinary, while adhering to preservation guidelines. That's why we chose Glazing Vision skyboxes and skydoors. They are invisible from a distance, allow a ton of light in, and have a tremendous 'wow' factor."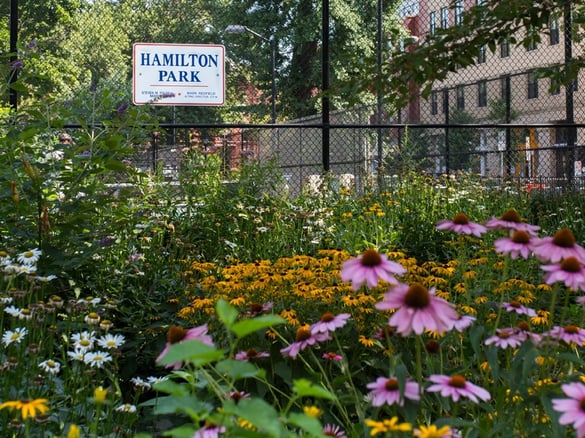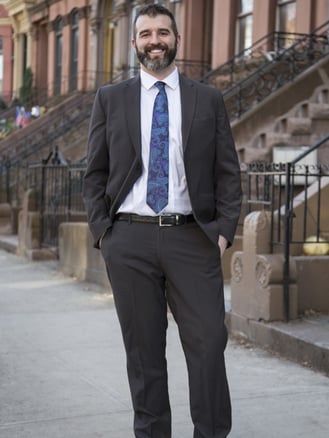 Since that first Harlem project, the Dixon-Glazing Vision collaboration has grown organically based on a mutual dedication to impeccable aesthetics and rigorous design. "From the very first moment I walked into a completed Dixon property, I knew our companies would make a great partnership," remarks Glazing Vision Managing Director Jon Shooter. "Our relationship has gone from strength to strength, and together, we've pushed roof terraces to a new level in the New York area."
Director of the Private Client Team, Tim Coates agrees. "Dixon is Glazing Vision's largest customer in the U.S., and we have a great working relationship. While 90 percent of our projects use their standard-sized skydoors or skyboxes, when we do need a bespoke product, the work comes together quickly because of our solid relationship. In fact, we're currently working together on the largest skybox installation in the U.S. — coming soon to a Dixon home in Brooklyn."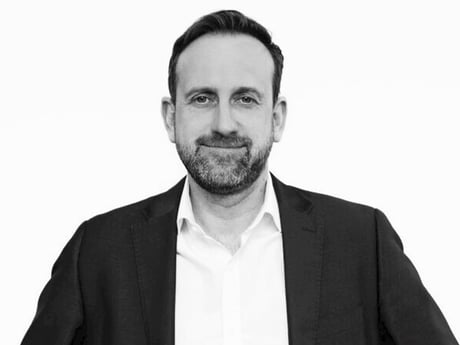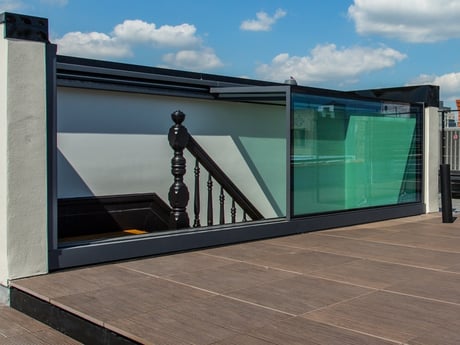 At last count, Dixon Projects had installed more than a dozen Glazing Vision skybox and skydoor products — in locations from Jersey City to Brooklyn — with no signs of slowing anytime soon.
Here are a few of our favorite rooflight installations opening up coveted outdoor space and magnificent New York vistas to the lucky residents of these stunning properties.


West 162nd Street
— Harlem, New York
Due to its spectacular location within the Jumel Terrace Historic District, this 1896 home required a pioneering solution for accessing the roof. As noted, the Dixon-Glazing Vision relationship was born from this rooflight installation — the first in New York and only the second in the entire U.S. — and all subsequent New York City skyboxes and skydoors were made possible by the legwork undertaken for this home. The hard work was certainly worth it. Today, a three-wall skybox ushers residents and guests to the spacious roof to take in stunning views of nearby Morris-Jumel Mansion, one of the oldest houses in the city.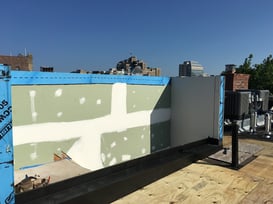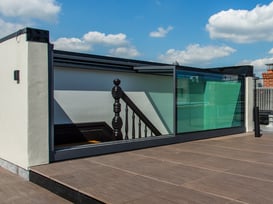 West 139th Street — Harlem, New YorkThe homes of Striver's Row are among the city's most well-preserved landmarks thanks to their strict adherence to historic district standards. This beautiful home's end-unit position means the roofline is more visible than most, but with no ground-level outdoor space, adding roof access was mandatory. Thanks to Glazing Vision's freestanding skybox design, the solution was clear — pun intended. "At this home we were able to install a very large and impressive U-shape stair throughout all four floors with a skybox centered above the stairwell," explains Interior Designer Marybeth O'Haire. "By using the skybox, we were able to completely flood this house with light, making it feel inviting and comfortable." Residents of the home now enjoy sweeping views of Harlem, St. Nicholas Park and the gorgeous City College of New York.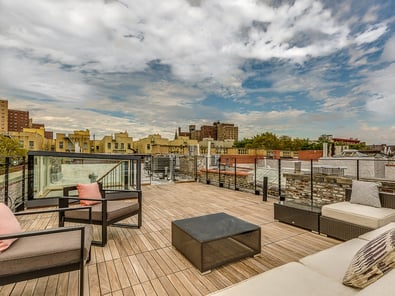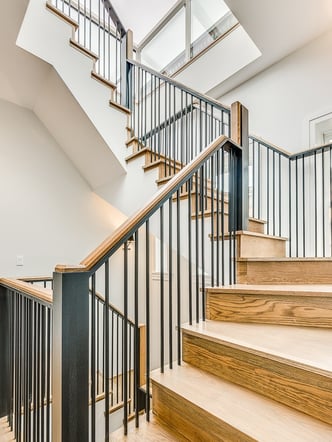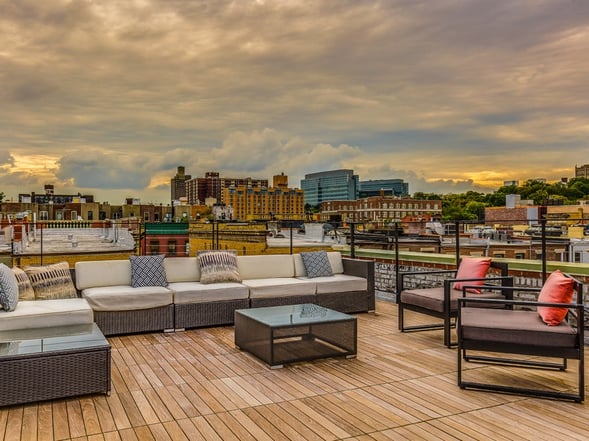 Macon Street — Brooklyn, New York
This lavish 1892 Bedford-Stuyvesant home received a number of state-of-the-art glass treatments to ensure an abundance of sunlight pours into the home. In the kitchen, a unique NanaWall installation turns a kitchen counter into an indoor-outdoor bar. And, at the roof level, Dixon's first Glazing Vision hinged skydoor installation delivers access to an oversize deck and Brownstone Brooklyn views. "In this very traditional home that preserved and respected many original details, it was imperative for us to add some contemporary features to attract the modern-day tenant," O'Haire explains. "By adding the skydoor, we were able to introduce not only a very large outdoor space, but also a contemporary amenity that worked well in updating this beautiful brownstone."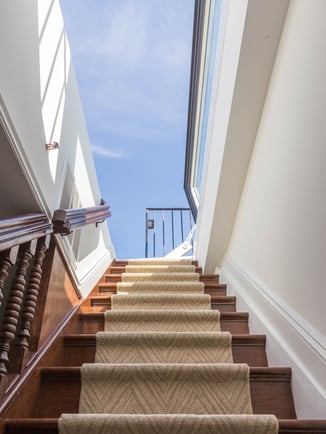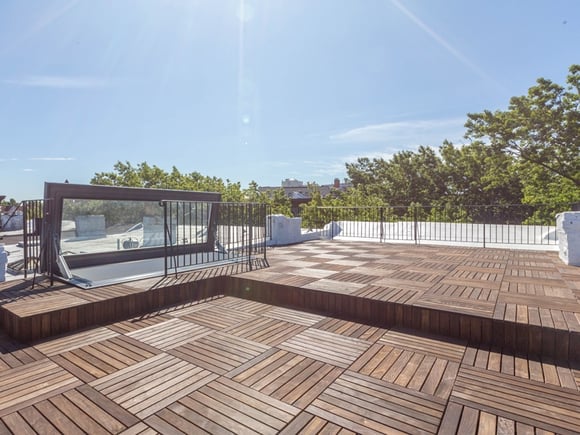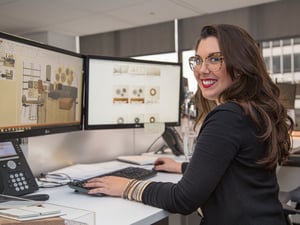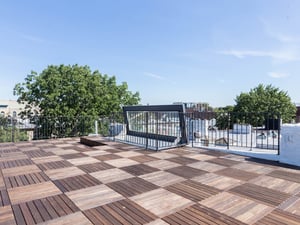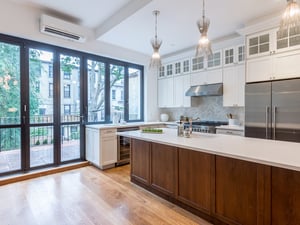 Bainbridge Street — Brooklyn, New York
On Bainbridge Street in Bed-Stuy, you'll find another Brooklyn beauty that benefitted dramatically from the addition of a three-wall skybox. The massive skybox at the top of the central staircase allows sunlight to flood all four levels of the space, from the apex to the parlor level. Brooklyn brownstones situated in the center of a row receive limited sunlight from the front and rear windows, but thanks to this innovative technology, the Bainbridge home now has an additional light source making the space that much more desirable. Along with the spacious backyard, that also includes a hot tub, residents have an abundance of both outdoor space and natural light. Project Manager, Liz Cubbage, states, "The interior staircase was designed around the skybox opening to create a statement piece from the parlor floor all the way to the roof. Sunlight floods the entire staircase throughout the day, a rarity in the NYC area and a great amenity for residents."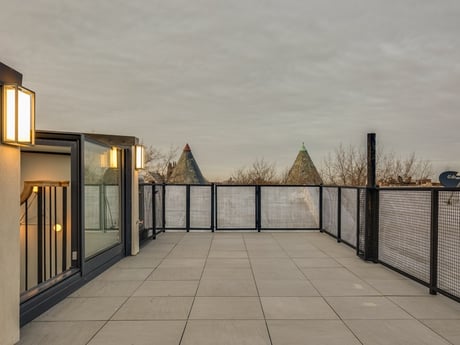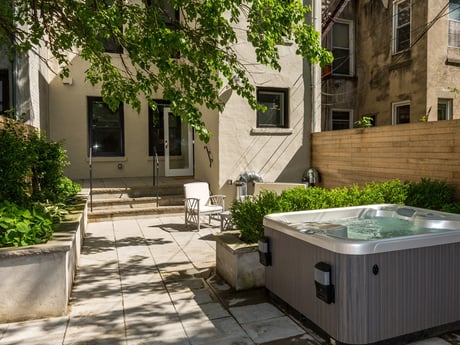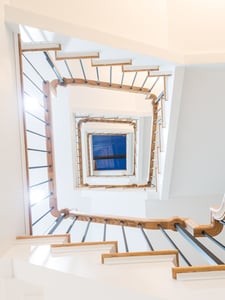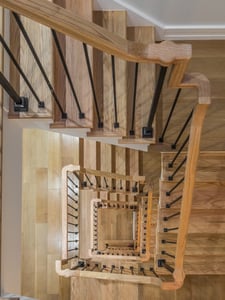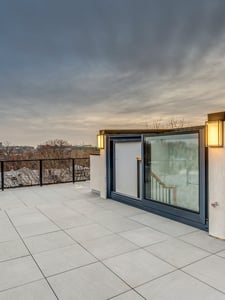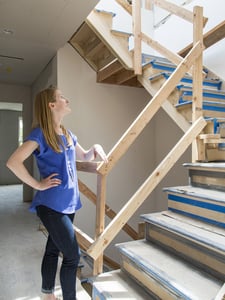 Jersey Avenue — Jersey City, New Jersey
In Dixon's first skybox installation across the Hudson, Dixon Projects worked closely with the Jersey City HPC to ensure the product met with their standards. In addition to adding great views of the lush Hamilton Park surroundings, the Glazing Vision product line has an added bonus, explains O'Haire. "The skybox is unique in that it creates access to the roof deck while also creating a way for light to enter the home below. When you add a standard bulkhead or even a penthouse as an entry point, you don't necessarily get the benefit of added light. It's a win-win."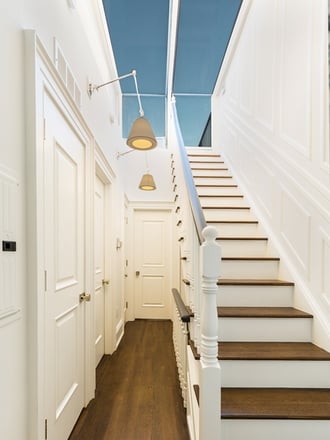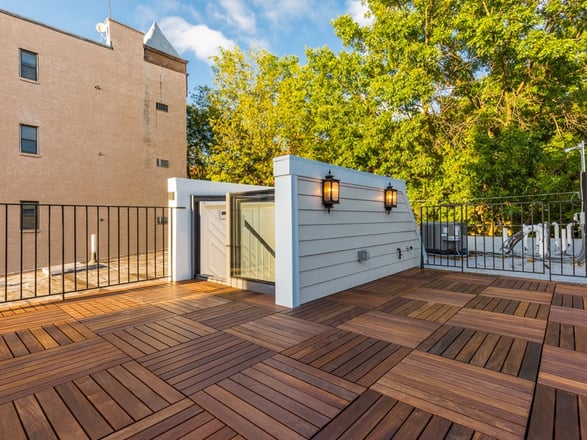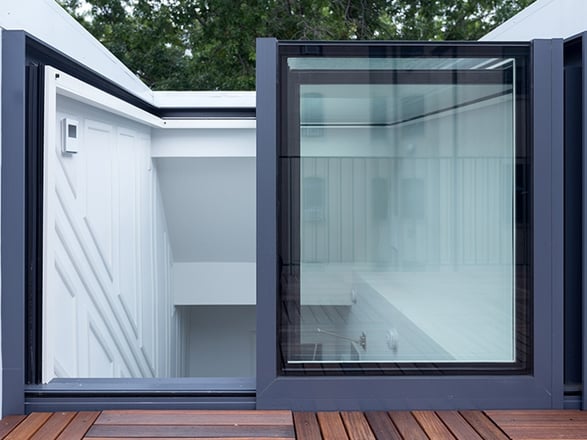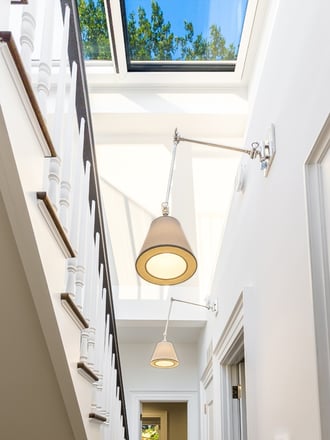 West Hamilton Place — Jersey City, New Jersey
Situated directly across from stunning Hamilton Park, adding roof-level outdoor space was a must for this handsome brownstone. "At this home, it was very important for us to create a roof deck that served as the main outdoor space," O'Haire points out. "But since this home is located in a historic section of Jersey City, we nearly thought it would be impossible to do. By using Glazing Vision's skydoor, we were able to go to the roof and comply with all the rules and regulations." Now, residents enjoy vistas that stretch all the way to the high-rises of Downtown Jersey City and beyond from the oversized Ipe wood deck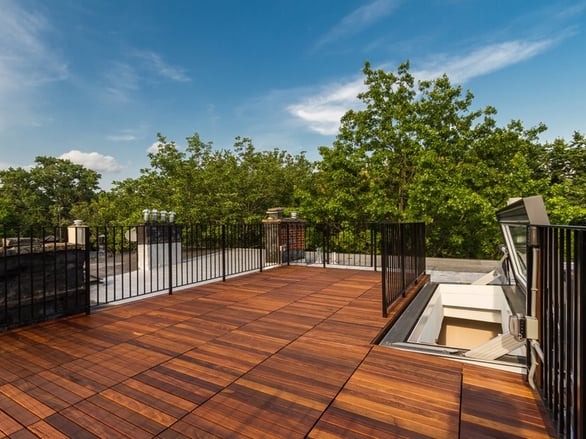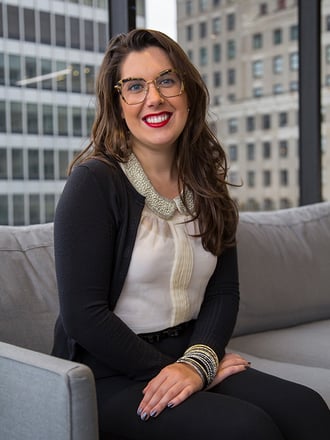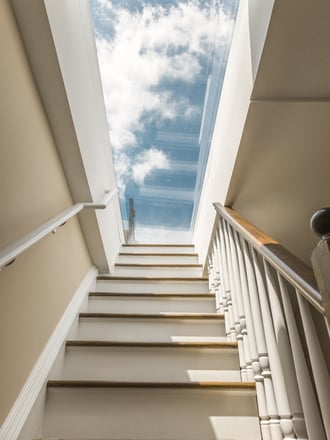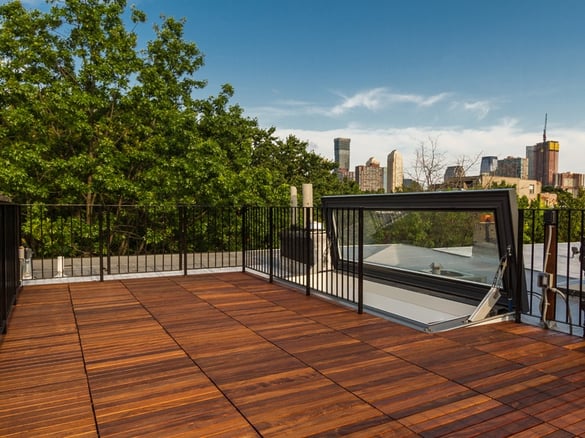 Dixon has a long history of partnering with top-notch tradespeople and companies that put a focus on outstanding design and superior functionality. That tradition continues with their Glazing Vision collaborations, which are quite literally making history on American rooftops.