In a Christmas quandary about how to style your stoop? Got the doorway decorating doldrums? Have no fear, the Dixon interior design team is here to provide their excellent recommendations for dreamy December décor.
We asked this talent team of experts, "How would you create the perfect holiday stoop?"
---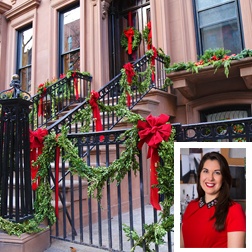 In a season overstuffed with tinsel and gaudy light effects, "Always classy, never tacky!" are Interior Designer Marybeth O'Haire's words of wisdom. She recommends garland intertwined with lights — especially when paired with red bows and poinsettias — along with homemade wreaths for a personal touch. "These are great to work on as a craft night with your friends and a bottle of wine. But again, keep in mind that classy stays in style far longer than tacky," she says.
---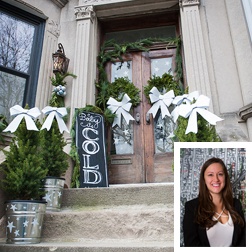 Nicolette Brand
For Senior Interior Designer Nicolette Brand, unexpected touches pack extra holiday punch. She loves the look of double wreaths on doors and white accents that provide extra sophistication, especially when paired with greenery. Her favorite design element, though, is a carefully curated collection of found objects — like lanterns, buckets or rain boots — that can be filled with ornaments and greenery for the winter holidays, and later, with other seasonal decorations for year-round use.
---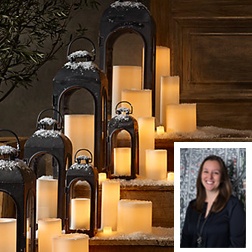 Rachel Wolff
With a focus on a modern and wintery feel, Interior Designer Rachel Wolff likes to keep things cozy and homey. White branches collected in baskets or buckets set a lovely tone alongside snowfall, especially when highlighted by lots and lots of lanterns and candles.








---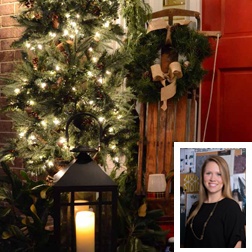 Danielle Garrison
Dixon Interior Designer Danielle Garrison prefers a traditional look when it comes to doorways and stoops. "My family always incorporated a vintage sled from my dad's childhood," she recalls. "Each year this kind of detail will mean more and more as time passes." She encourages holiday decorators to keep the door the inviting focal point by adding greenery and lighting, especially candles of various sizes or small gold lights that add a pop from the curbside view.





---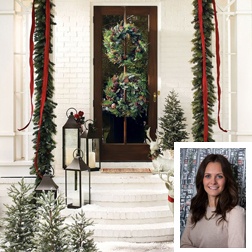 Rian Smith
"I recommend a look that's simple and classic," says Interior Designer Rian Smith. She loves garland intertwined with white sparkly lights and draped on handrails, especially when accented by natural elements like cranberry branches and pine cones. A big, beautiful wreath topped by a luscious red bow is a must for the front door, and lanterns of various sizes provide added drama and interest.
---
While we're on the topic of holiday decorations, here are a few tips for keeping your pets safe and healthy, and your interiors merry and bright, at the same time. Pet-Friendly Holiday Decorating Tips