Music, art and wine take center stage at a historic townhouse in Jersey City's Hamilton Park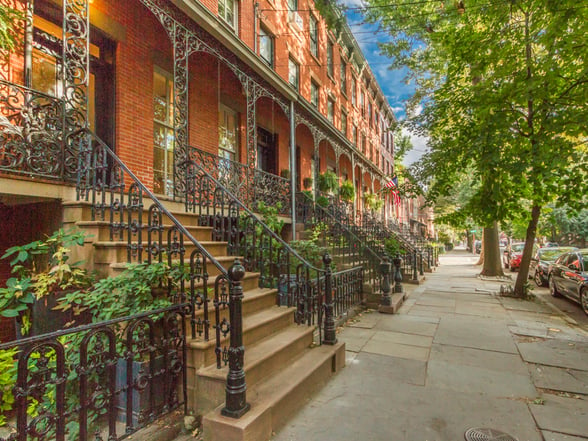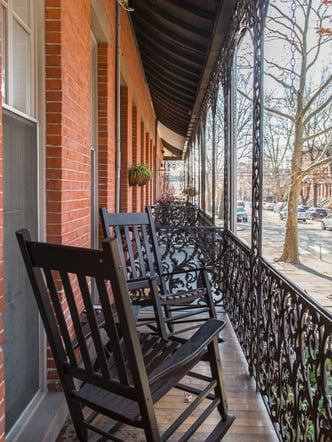 Walking along tree-lined Jersey Avenue, just below Hamilton Park, one might get the impression that they've been magically transported to the picturesque city of New Orleans. Here, a series of brick rowhouses are fronted by a wide connected porch, decorated with ornate wrought-iron trim. It's an aesthetic that elegantly channels classic Creole townhouse architecture, a vibe that's further enhanced in the spring, when residents place hanging ferns and foliage all along the handsome row.
"It definitely reminds me of the houses in the French Quarter," remarks Billy, who's resided in a three-story townhouse here for four years with his wife Carin and son Dylan.
"Once we all put out our hanging ferns, I can't tell you how many people on their way to the park stop to look at the houses and take pictures," Carin agrees. "If you meet someone in town, and you say, 'I live in the houses that look like New Orleans,' everybody knows exactly what you're talking about."

Introduced by a mutual friend, the couple celebrates their 10 years together. For Billy and Carin, life together has been repeatedly influenced by a series of serendipitous connections and introductions. That includes the Jersey Avenue home they now occupy. At about the same time Carin and Billy were looking to leave their previous home in the nearby Cast Iron Lofts, Dixon Leasing had acquired the Jersey Avenue residence and put it up for rent. With the help of close friends who lived next door, the unique abode was immediately on the couple's radar. Coincidentally, it turned out that Carin had already been introduced to Dixon Leasing through prior business connections, in New Orleans, of all places. Their future in the Jersey Avenue home seems fated from the start.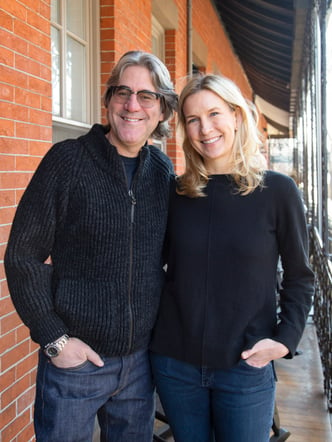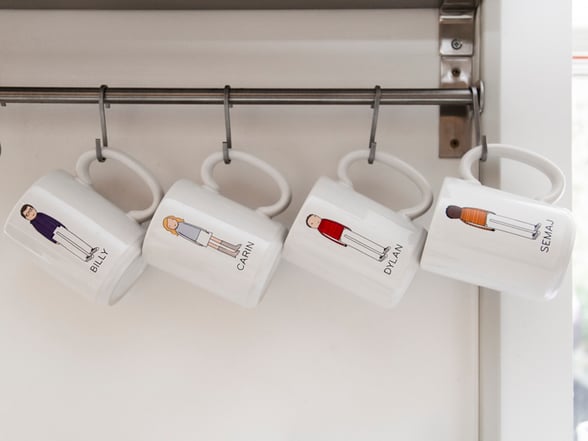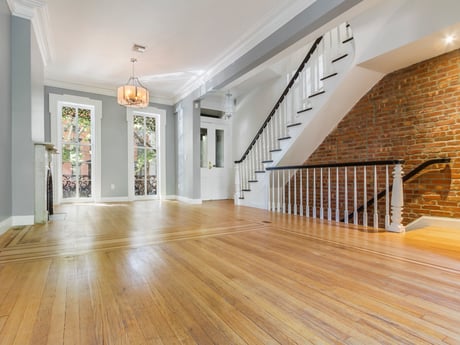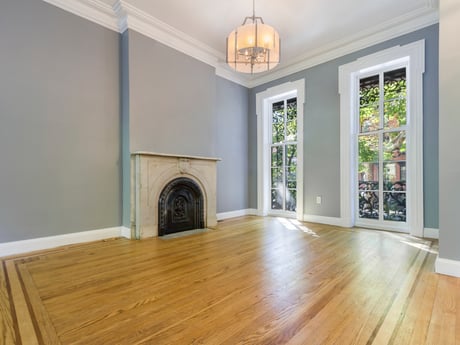 Originally from Fox Chapel, Pennsylvania, Carin interned at NBC New York while attending the University of Pittsburgh. Following graduation, she relocated to the city and worked in both film and television, including a stint in the talent department at "Saturday Night Live," where she booked the show's musical guests and hosts. Today, she's co-national director of the nonprofit Right to Play, which uses sport and play as tools to support children in education, gender equality, health and well-being, safety and peace-building. With nearly 30 years in promotion, A/R and management, Billy is a well-known figure in the music industry, and he's worked with a long list of impressive acts, including the Foo Fighters, The Strokes, Walk the Moon, Beck, Counting Crows, Kings Of Leon and Cage the Elephant. Originally from Minnesota, he began his career at Geffen Records in Chicago, where he then moved to New York to serve as the company's VP of alternative music. Later, he advanced his career at RCA Records as senior VP of rock and alternative music. After his 15-year tenure at RCA, Billy became co-founder of an entertainment company, and has recently launched his own management consulting business.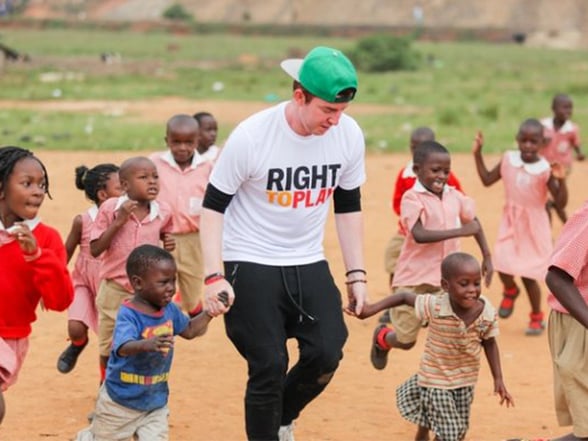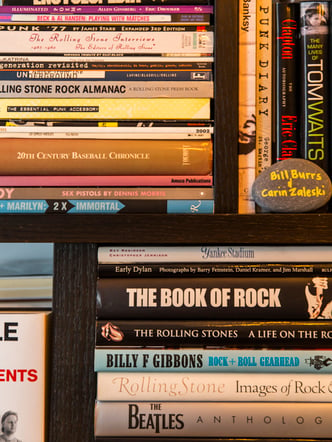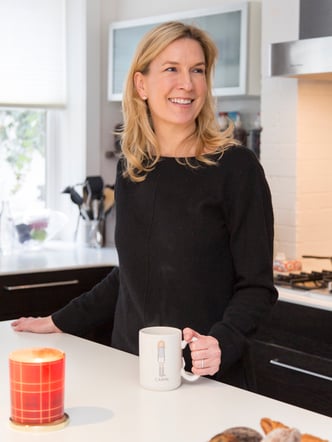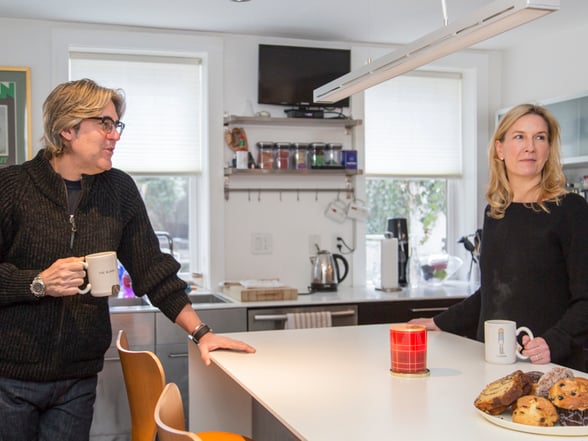 Photo (top left) courtesy of pokerstars.com
Billy and Carin are at once welcoming, charming and completely laid back, just like the home they share. Acquired in good, updated condition — thanks to the home's former architect — the 1856 brick townhouse features unexpected pops of color accentuated by the couple's intriguing art collection and décor. Billy and Carin have put their additional stamp on the home over the years, from choosing contemporary light fixtures in the living room, to carefully selecting the garden level tile when it was time to update the kitchen floor.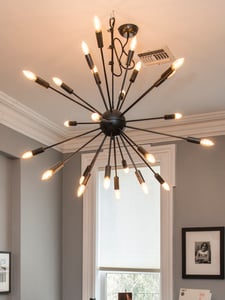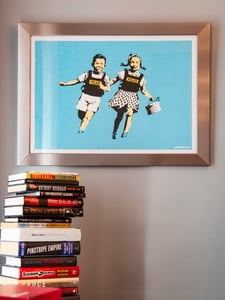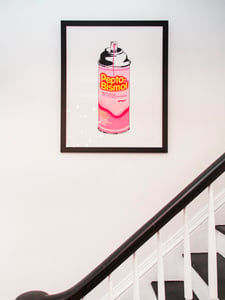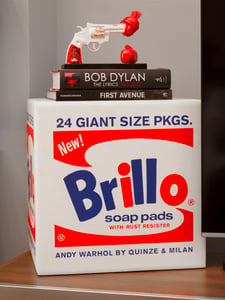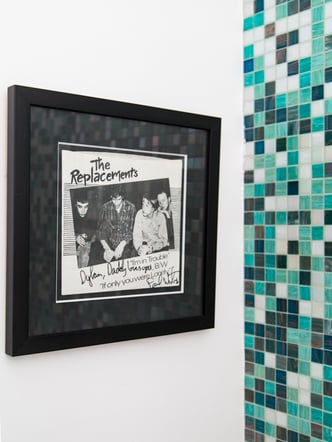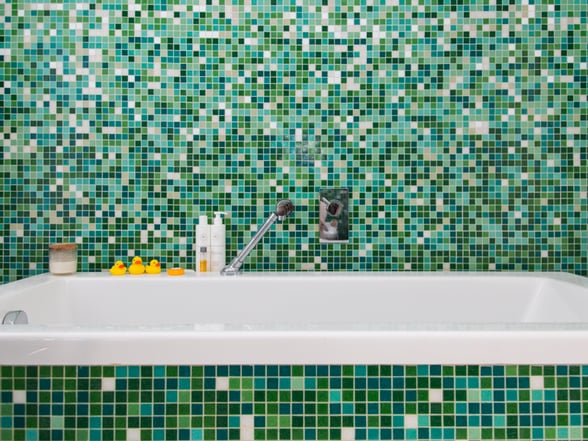 Located on garden level, the open-concept kitchen boasts professional-grade stainless steel appliances, a large center island and tons of custom cabinetry set along painted brick walls. A large farmhouse table accommodates guests, while family photos and stacks of cookbooks adorn the walls and shelves. A row of closet doors conceals a washer-dryer and extra storage.
"I really love entertaining and cooking here," Carin says. "I love to cook, and there's so much room. I don't think I've ever had so much counter space. People just love the vibe down there, so it's a fun place to hang out and have friends over."
With Carin as the home's avid cook, Billy is the self-professed sommelier. While the kitchen boasts several handy nooks for wine storage, the couple's significant collection spans several locations. "We have a wine fridge in almost every room in the house, and we have some stored off-site as well," Billy explains. Carin teases, "Wine is a Billy thing. It's an expense account/hanging out with rock stars thing."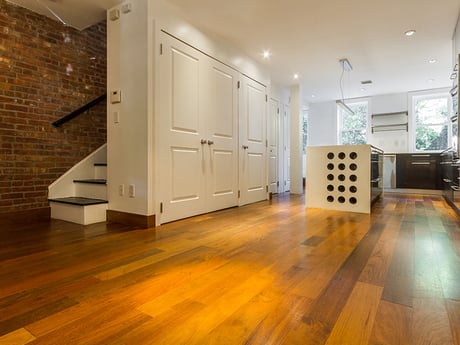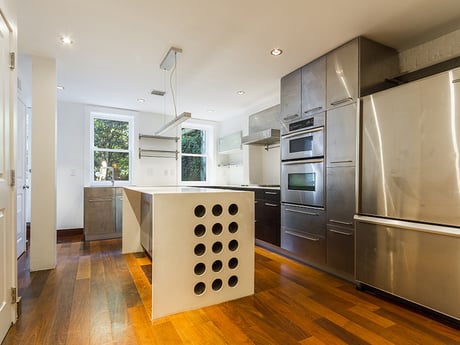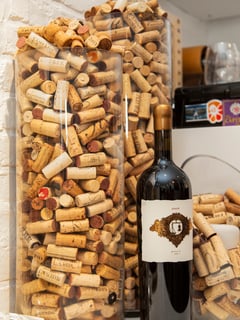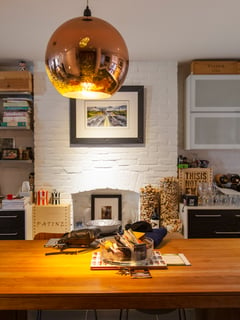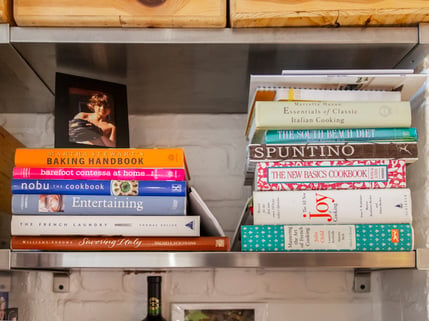 Just outside, an expansive fairytale rear yard is ringed by ivy-covered fencing and mature trees that form a lush canopy of greenery over blue stone paved terraces and a wooden deck. "When it's warmer, we go outside and grill or just make a fire, hang out and play music," Carin says. "We've had a lot of musician friends come over and do impromptu jam sessions in the backyard. Then neighbors start to filter over. That's my favorite."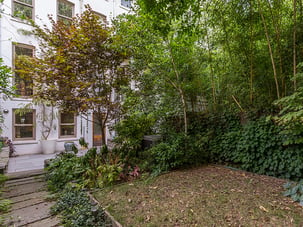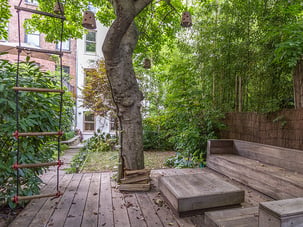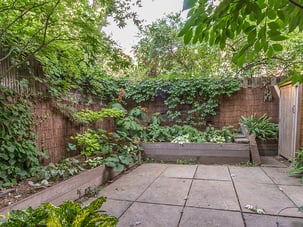 The couple's impressive art collection begins on the cozy garden level where a Bob Dylan print titled "Endless Highway" hangs above the room's decorative fireplace. Along the stairs to the parlor level, an artist's proof of the Sex Pistols' "God Save the Queen" album art is perfectly highlighted by an elaborate gold frame against an exposed brick wall. Designed by punk artist Jamie Reid, the proof bears his signature and the number 3/12. "A Japanese collector owns No. 1. My buddy Ashley Newton [a veteran music industry exec] owns No. 2. I have No. 3, and the other nine are all archived," Billy explains.
"I like street art. I like the graphic stuff," he says as introduction to images by rock-n-roll photographers Danny Clinch and Bob Gruen that coexist peacefully with works by Banksy, Mr. Brainwash and Russell Young. At the front of the eclectic and inviting parlor level, a large sofa provides a comfortable lounging spot under the watchful gaze of Russell Young's Elvis mug shot. Nearby, Mr. Brainwash's "Going to New York" — a birthday gift from Carin — features a New York City taxi disintegrating into paint splatters. At the rear, a comfortable nook showcases a bevy of books, records and stereo. "I love sitting right in that chair," Billy says, pointing to a classic Eames Lounge Chair and Ottoman. "I just put some headphones on, crank the music and chill with a glass of wine."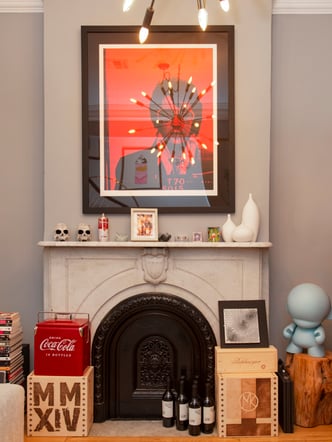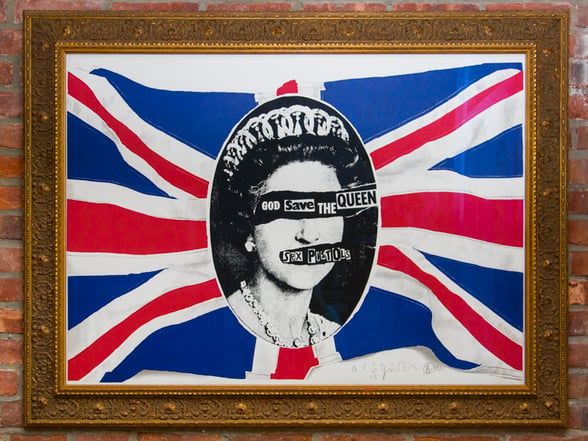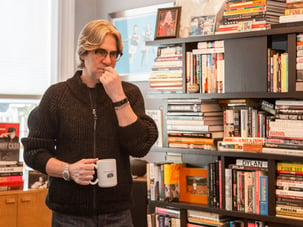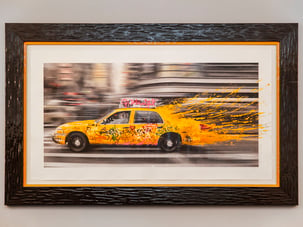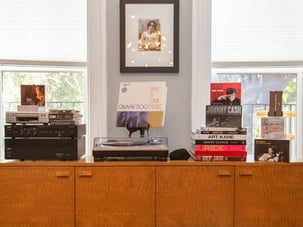 Upstairs, their son Dylan resides in the rear bedroom, which offers a colorful en suite bathroom and plenty of room to display his enviable sneaker collection. The front bedroom acts as a cozy guest room offering additional space, specifically reserved for wine storage. Nestled amidst treetop views, the top floor serves as a floor-through master suite boasting a spacious bedroom, an adjoining home office, and yet another wine fridge. An under-the-sea vibe permeates the tranquil en suite bathroom thanks to swaths of blue-green mosaic tile surrounding an oversized soaking tub, adjacent to a large walk-in shower. "I love the bathtub," Carin sighs. "A bath for me — with candles and a glass of wine — is almost a nightly ritual."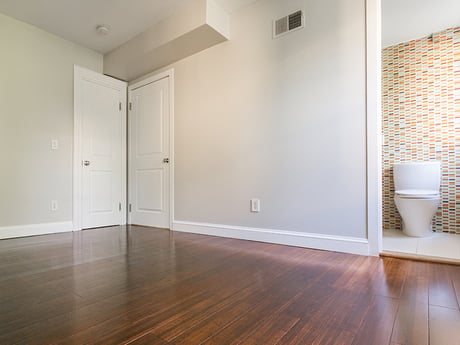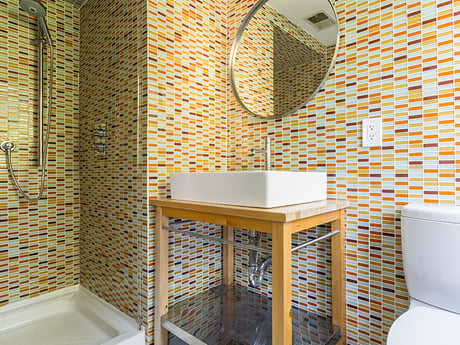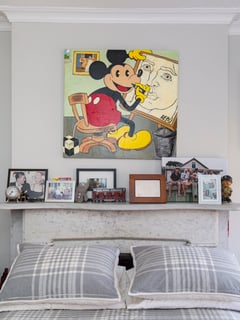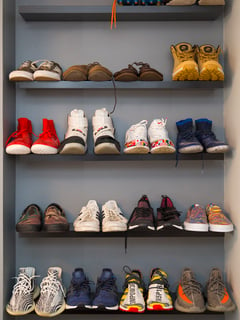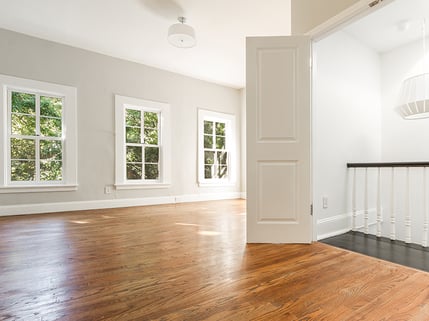 With a long tenure living in Jersey City, the couple is deeply immersed in the community, and they're avid supporters of small, local businesses. They're huge fans of the restaurants owned by Michael and John Gondevas: they're regulars at Hamilton Pork and Hamilton Inn, and their son works at the brothers' Hudson Hall establishment. White Star Bar, La Taqueria, Latham House and GP's are other local favorites. Carin's friend recently opened Salon 10N along Hamilton Park, and for fresh produce, the new Amish Market on the Newark Avenue pedestrian mall has been a real find. When they're not entertaining at home or enjoying local hotspots, a regular travel schedule keeps the couple on the move. Attending music festivals is practically an occupational requirement for Billy, so the duo are regulars at Coachella, Lollapalooza and at Napa's Bottle Rocket, where they combine their love of wine and music. Upcoming pleasure trips include a spring break escape, in addition to planning Billy's upcoming 50th birthday in, fittingly enough, New Orleans.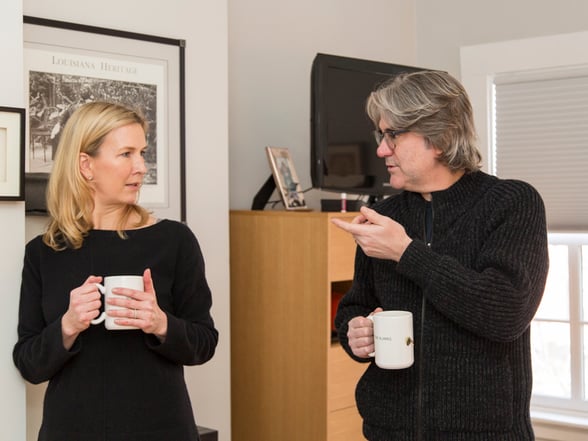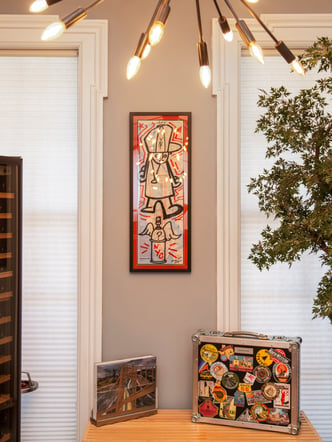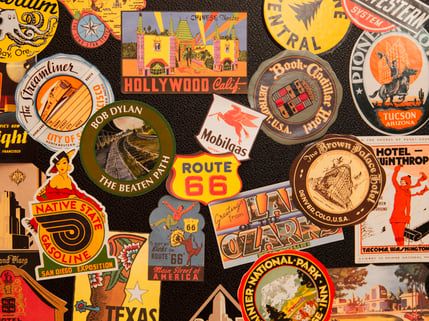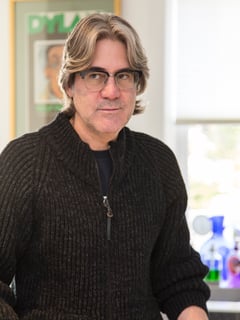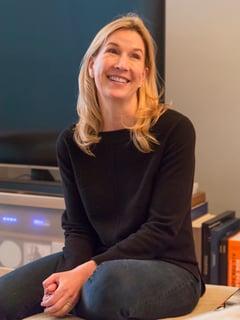 But coming home to the house on Jersey Avenue is always a pleasure for the couple who plan to stay in the home as long as they remain on the East Coast. "You know, before we moved in, we checked out places that were more modern and had more windows," Carin explains, "But then it's like, 'Where do we put the art? We have all this great art and there's no wall space to hang it.'" "Then we came here, and I could see in my head where I could put all these paintings and pictures and things," Billy continues. "And it all, believe or not, kind of fit how I thought it would, which was great." "I think the thing about this place that's so amazing is that it was built in 1850s but it has such a modern twist to it. You can dress it up with a lot of modern furniture and art, and it looks cool. It doesn't feel sterile or boring." For a couple that's anything but boring themselves, the NOLA-inspired home is a perfect fit indeed.