In a city where park space is limited and backyards a rarity, it's no surprise that rooftop spaces have become popular warm-weather hangouts. New development condo buildings boast massive common roof decks with barbecues and bocce courts, while penthouse owners enjoy lavish private rooftops.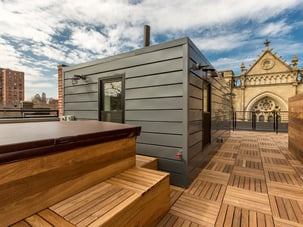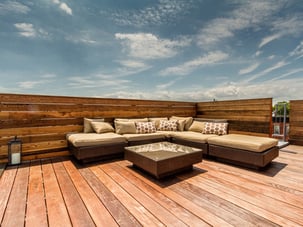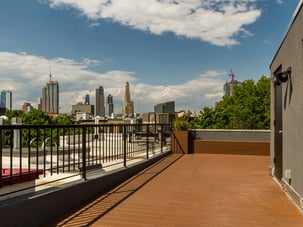 Over the course of its five-year history of renovating homes throughout New York City and nearby New Jersey, Dixon Leasing has become known for its innovative, and stunning, rooftop additions. When planning these roof spaces, whether the building stands within a historic district is the chief indicator of what type of roof access will be incorporated. Historic designation severely limits any rooftop structures that can be seen from below, thus obscuring the historic look and feel of the neighborhood's streetscape.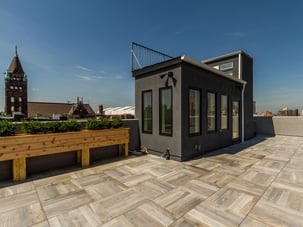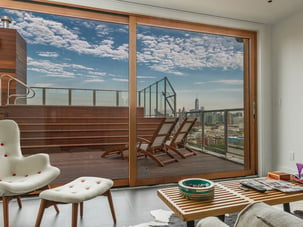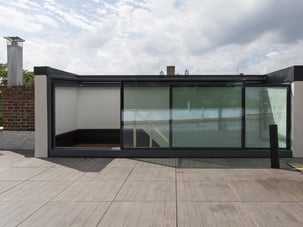 For Dixon rooftops, adding access to coveted outdoor space is accomplished in one of three ways:
Bulkheads:Minimal structures built around roof access points, such as stairs or elevators.
Penthouses:Entire rooms added to the roof level to provide access as well as amenities like kitchenettes, powder rooms and living space.
Skyboxes:Innovative skylights that allow easy access to roof spaces without adding bulk or visible structures.
In the following 8 Dixon homes, we take a tour a variety of different roof access types and the amazing vistas they deliver.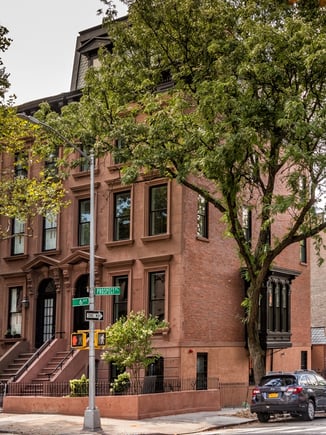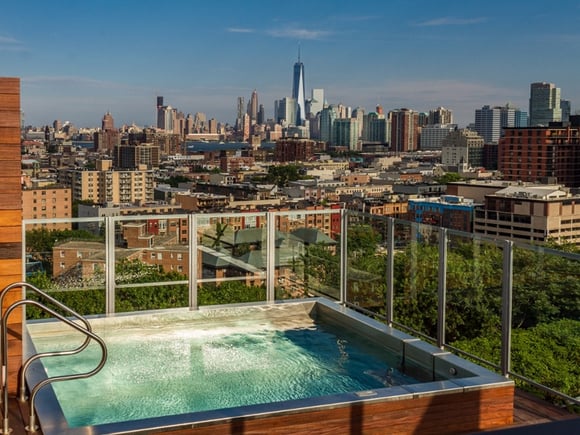 THE BULKHEADS

Imagine ascending a private elevator to your spacious sixth-floor roof deck, set against a backdrop of Barclays Center and Manhattan skyline views. At 98 6th Ave., a 4,000-square-foot corner brownstone in Park Slope, such dreams are a reality. In fact, the main roof, more than 60 feet above street level, is actually one of two private decks at the address. Another is conveniently situated just off the kitchen, providing the perfect spot for alfresco dining.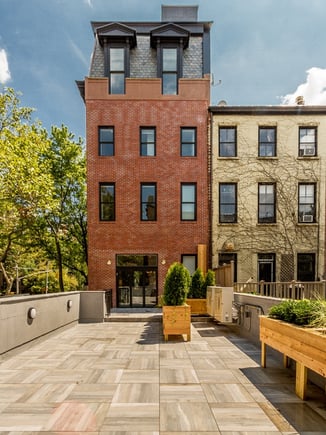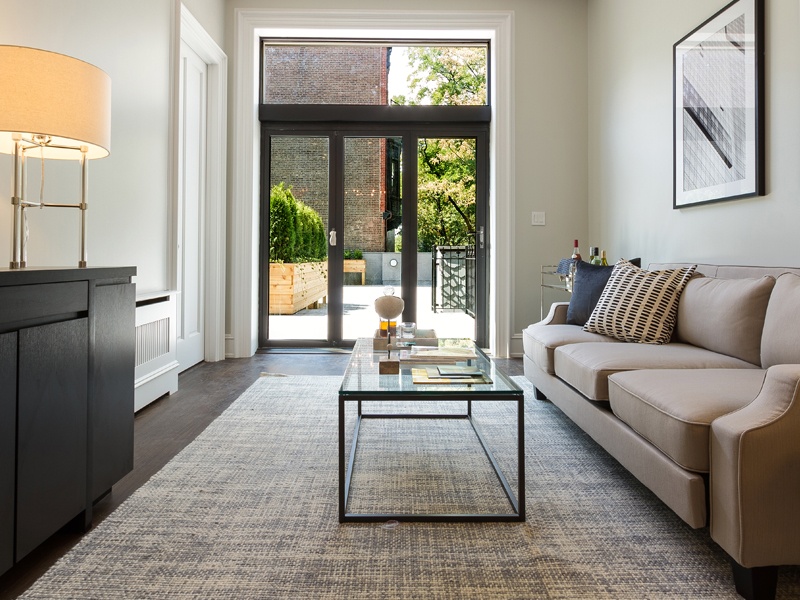 Lest one believes that adding outdoor space to homes that are 100 years old, or older, is simply a matter of throwing out some decking material and a lounge chair, this home exemplifies the challenges that can arise. The original main roof was significantly sloped which required a substantial amount of work to level.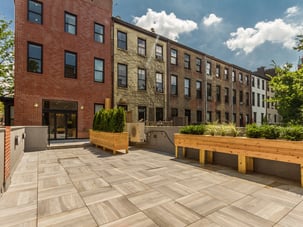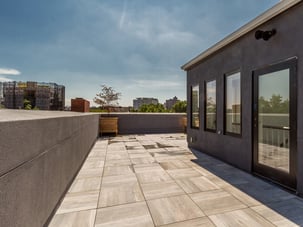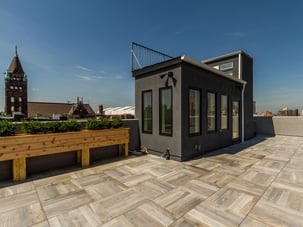 Original oversized parapet walls were dismantled and reframed, freeing up 200 square feet of space, and the entire roof and façade were restructured to accommodate the added load. At the lower level, the entire dilapidated garage beneath the deck underwent significant work, including a new concrete slab, to sustain its outdoor perch.


At 29 Lincoln Place, a magnificent roof deck provides not only glorious city views, but also a unique vantage point for viewing the home's three additional outdoor spaces.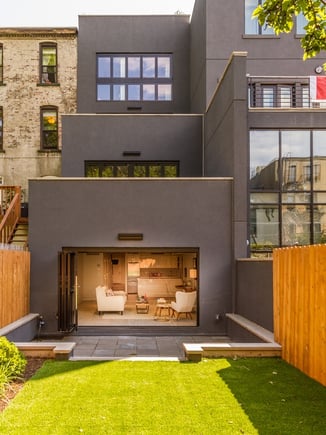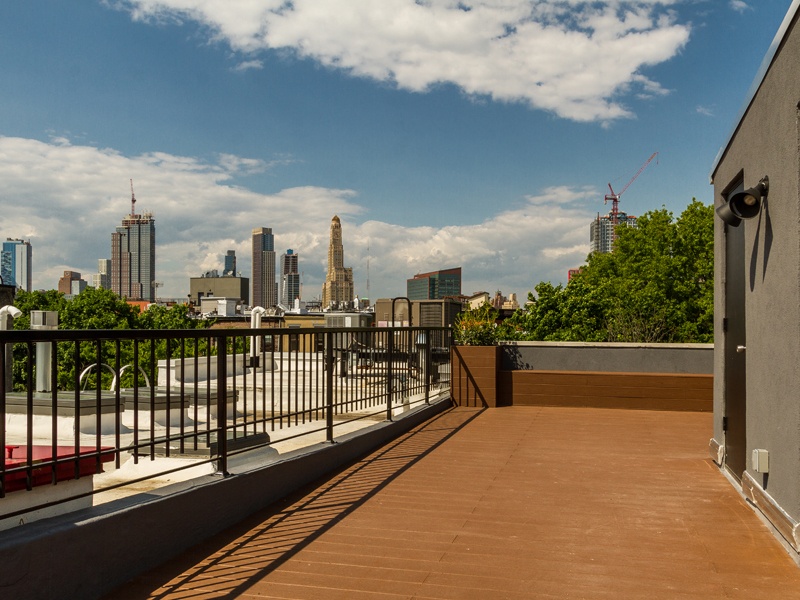 On the garden level, Nanawall doors open to a lovely patio and yard, while the kitchen and master bedroom boast private terraces on the two floors above. A bulkhead with storage leads the way to the crowning roof deck lined with planter boxes and bench seating. Each meticulously positioned space is set back, providing unimpeded light and vistas as one aerie cascades to the next.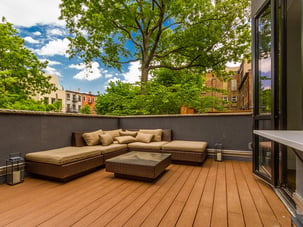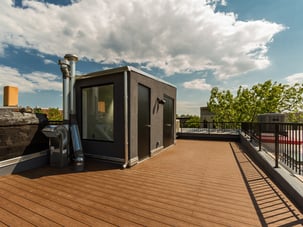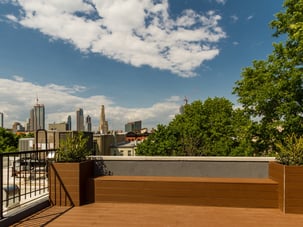 As Dixon Project Manager Christopher Bisceglie sums up, "It's got a great view, and it provides a lot of great outdoor space in Park Slope, where outdoor space is hard to come by."


As one of two adjoining Dixon properties, 132 Kane St.is graced with two lovely roof decks. The first sits off a second-floor living space where a garage and walkway once connected it to neighboring 8 Cheever Place.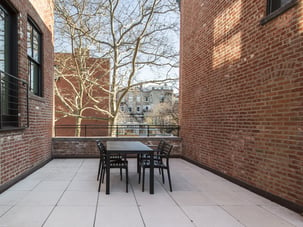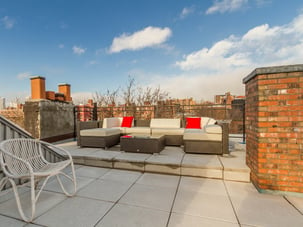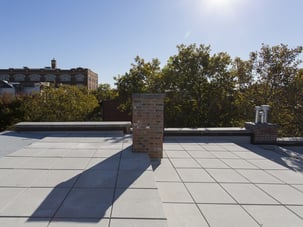 Above the building's third floor, a bulkhead leads to another deck that spans the full width and depth of the building, providing wide-open views of Brooklyn and Manhattan from its Cobble Hill vantage point.


Green roofs—rooftops that are planted with ground-cover plants or grasses—are heavily incentivized in the Tri-state area with tax abatements and loosened restrictions for deck usage. The reasons are clear: green roofs have potential to ameliorate heating and cooling expenses and to capture storm water runoff. That latter benefit is of particular importance in Hoboken, an area known for its intense flooding. For Dixon Project Manager Gabe Felici, executing the green roof at 609 Willow St. was of special interest; he did his senior thesis on green roofs, so this was an opportunity to see the technology in action.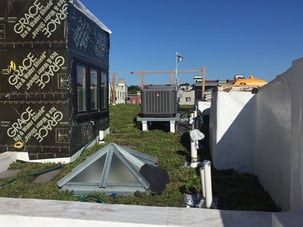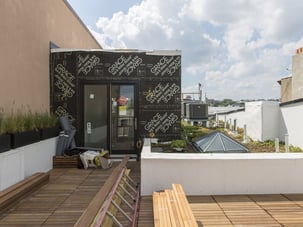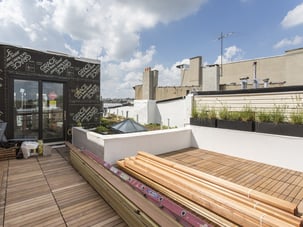 In addition to the extensive Sedum plantings, the roof includes a bulkhead outfitted with a wet bar, a deck and expansive Manhattan skyline views. 609 Willow St. will be looking for its first occupants in late September.
THE PENTHOUSES


Completed in October 2015,
623 St. Mark's Ave.
holds the distinction of being the first Dixon home in Brooklyn with a full penthouse.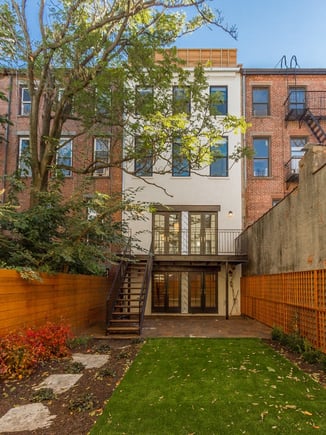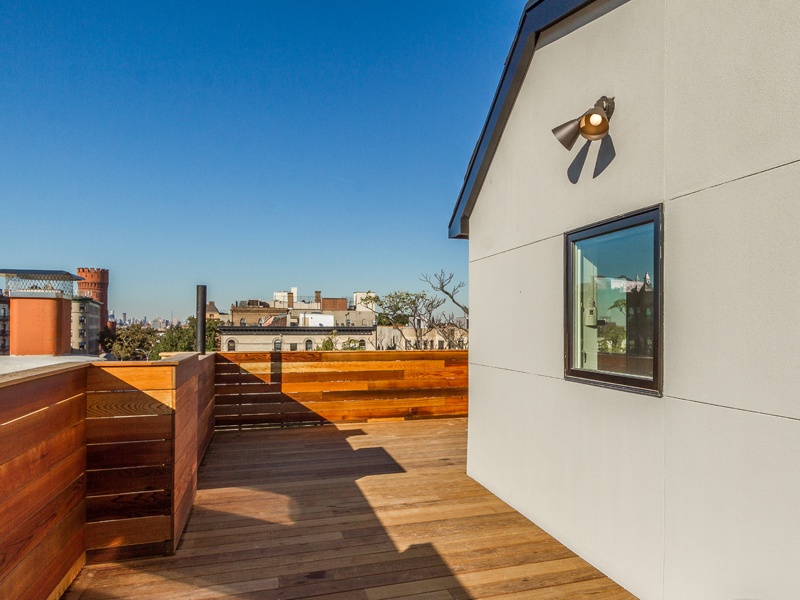 Outfitted with a wet bar, beverage center and wine cooler, this room begs to entertain. Storage space accommodates party supplies, a video intercom provides communication to the floors below, and a powder room attends to guests.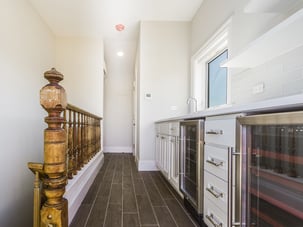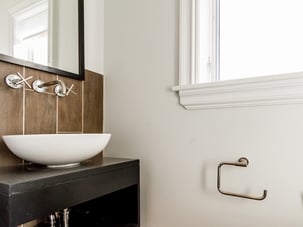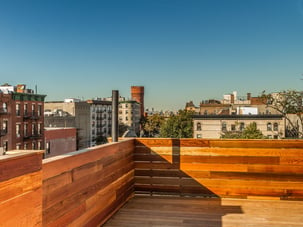 The bright penthouse also includes two windows and a sunny skylight, bringing the outdoors inside and shining sunlight down the home's meticulously restored grand staircase. Out on the large IPE deck, residents enjoy lovely neighborhood views, and as one of the few rooftop decks in the area, a surprising sense of solitude.


272 Lafayette Avenue is a grand townhouse accented throughout with bold touches of black and white. The striking penthouse continues this theme with white tile and dark cabinetry that houses a kitchenette with beverage center and wine cooler, plus a powder room.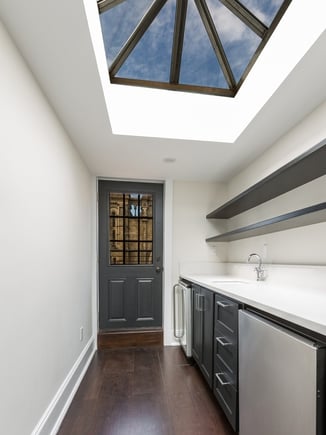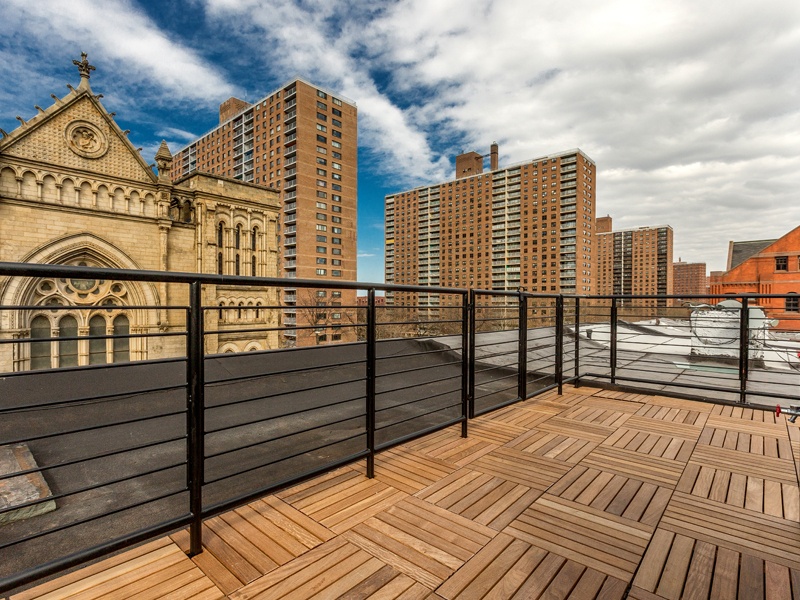 The addition of the Lafayette penthouse is considered a real win by Dixon Project Manager Noah Howard, "A lot of times when we do additions in landmarked areas, we end up getting everything freezed out of the penthouse [by the Landmarks Preservation Commission], but I was really happy that we were able to retain the powder room and kitchenette."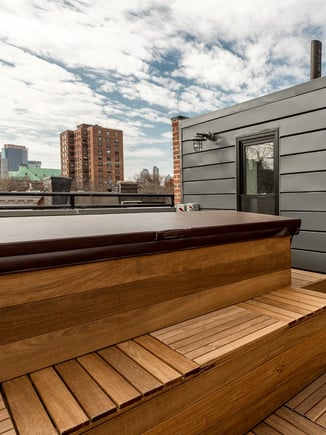 While the home sits within the Clinton Hill Historic District, the fact that it's positioned at the end of a row of townhouses allowed for a bit more leeway than usual regarding visibility from below. Original plans to locate a hot tub near the front of the roof were altered, however, and it is now positioned in a private nook at the roof's rear.

Residents and guests visiting the roof also enjoy up-close views of a landmarked Gothic Revival masterpiece, the Emmanuel Baptist Church, positioned directly across the street.

Multi-level roof spaces, a roomy penthouse, breathtaking views and a swimming pool set 272 Ogden Ave.apart from most homes, not only in the Dixon portfolio, but in the entire New York City area.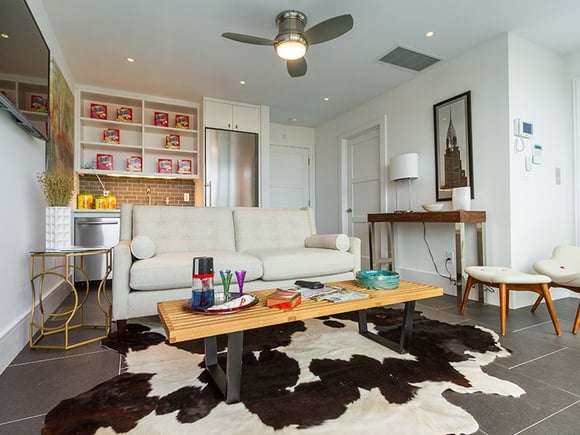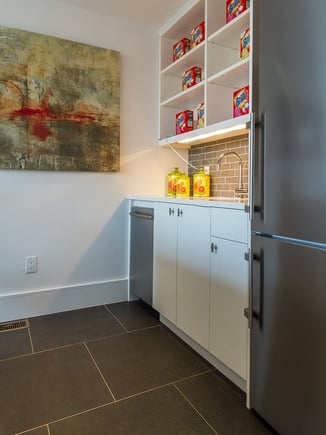 Ascend to the first roof level via private elevator to arrive at the tranquil penthouse. This relaxing perch provides plenty of space for lounging within easy reach of the nearby kitchen—outfitted with a full-size refrigerator and dishwasher—and a full bathroom with shower.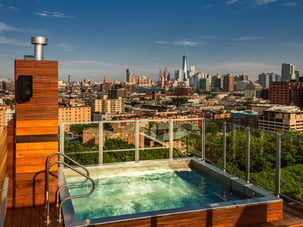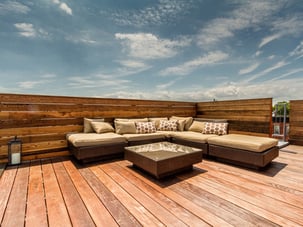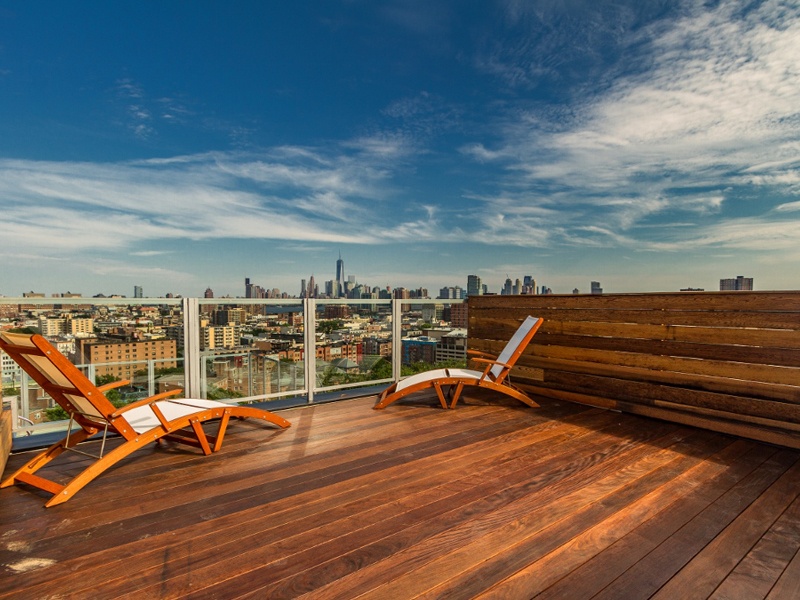 The 10-foot-by-12-foot combination pool/hot tub, which was hoisted onto the roof by crane, provides a year-round destination for swimming and relaxing. Head up a short staircase to arrive at a second outdoor deck set atop the penthouse. Here, you'll find unencumbered views that place Manhattan at your feet, underscoring the truly unique positioning of this Palisades home.
THE SKYBOX


Set in a quiet stretch of Washington Heights, surrounded by the Harlem River and Roger Morris Park, sits the oldest residence in Manhattan — the Morris-Jumel Mansion, which was built in 1765. The immediate neighborhood, part of the Jumel Terrace Historic District, is a wonderland of cobblestone streets and historic row houses like 432 W. 162nd St., a bow-front Romanesque Revival townhouse just steps from the park.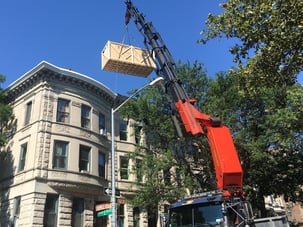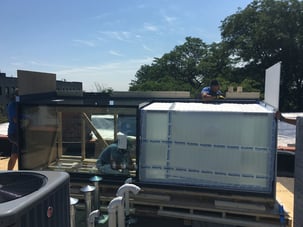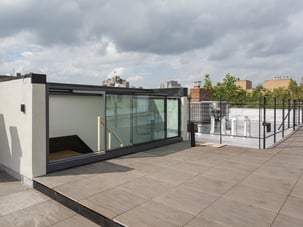 In this historical context, the Dixon team had to take great care in adhering to the guidelines of the district. Enter "skybox" skylights by Glazing Vison,a company based in England. These revolutionary glass-enclosed boxes avoid cumbersome hatch access, allowing upright entry to roof spaces without adding noticeable structures. The skybox at West 162nd Street was a first for Dixon— and the first in the entire New York City area—providing residents access to tremendous views of the Morris-Jumel Mansion and the George Washington Bridge.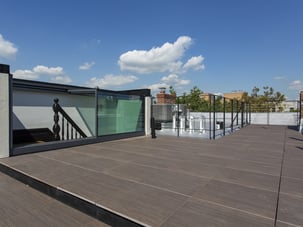 Whether by stair or elevator, penthouse or skybox, access to roofs provides Dixon residents glorious spaces from which to soak up sun (and views) in our beautiful metropolis.