A tight three-week renovation schedule — where every minute meant missed opportunity — gives the Dixon Projects team a chance to bring Australian coffee culture to Crown Heights.
Lately, there's been a notable amount of press extolling the growing appeal of Australian coffee culture here in the States, and particularly in Brooklyn. With an emphasis on superb coffee and lingering with friends over delicious food, Australian café society couldn't be more different than the grab-n-go mayhem of Starbucks or Dunkin Donuts. It's a distinction that resonates especially strongly for Australian expats like Lee Tryhorn. "My husband Hugh and I have lived in the states now for nine years. During that time, it's been kind of a shock to us how bad the coffee is, and that there just aren't the same type of cafés that we had in Australia," recalls Tryhorn. "I'm from Melbourne, and it has such a huge café culture. I really missed it."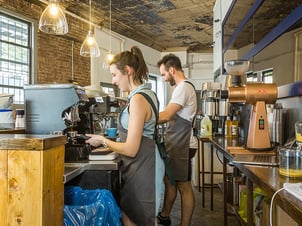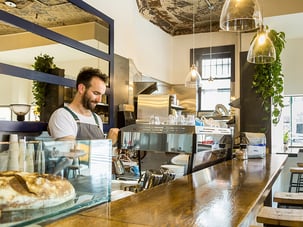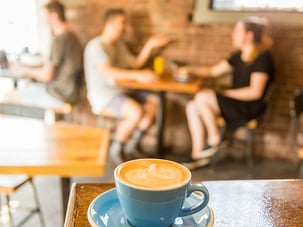 With that longing in mind, combined with a notable gap in the marketplace, Tryhorn began to ponder launching an Australian-style coffee shop in her beloved Crown Heights neighborhood. With a solid business idea, but an admitted lack of hospitality experience, she reached out to her network to connect with Australian restaurateur Phil Gijsbers, who Tryhorn calls "a friend of a friend of a friend."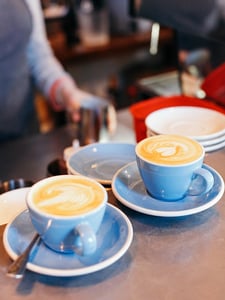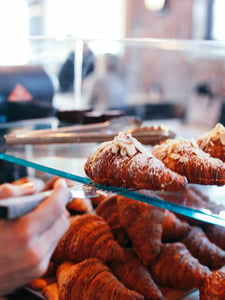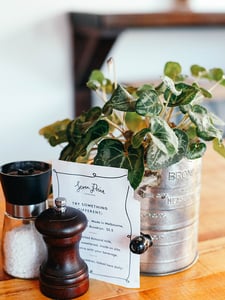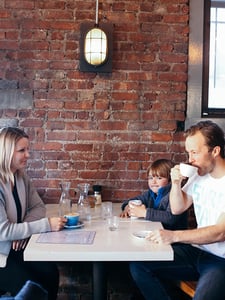 "We really wanted to give the café an Australian flavor, and we thought one way to do that was to partner with an Australian with experience in hospitality and bring that to Brooklyn." They connected via Skype and hit it off immediately. "He literally jumped on a plane two weeks later and was on our doorstep," recalls Tryhorn.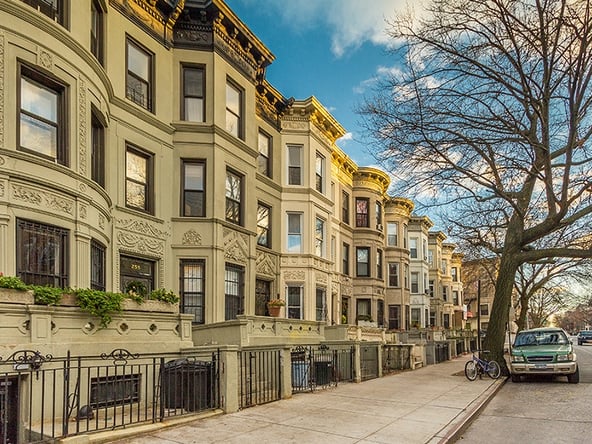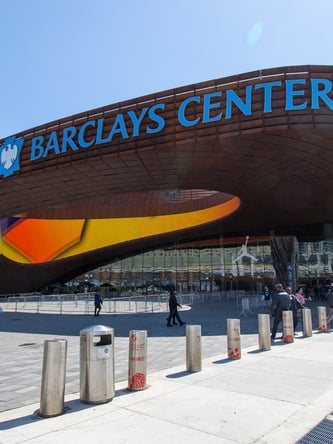 Gijsbers and Tryhorn set about scouring the area near her home in northwest Crown Heights for the perfect location. Barclays Center, Atlantic Terminal and the growing Atlantic Yards Project have led to explosive residential growth and foot traffic, while local shops and services have lagged, making it a particularly ripe location for Tryhorn's vision. "We just love the area. It's a great location, and it's a really nice part of the city," she explains. "We were just really surprised that there weren't as many restaurants as I think the population can support."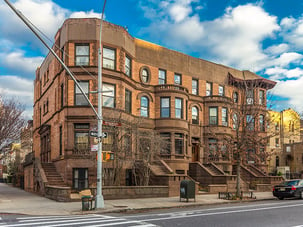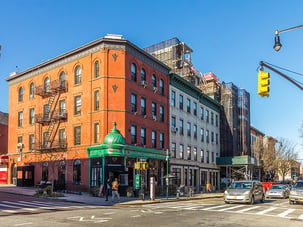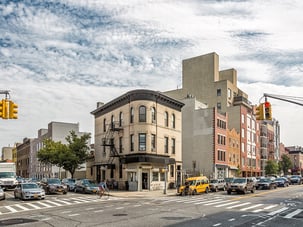 Settling on a location that met the team's needs and budget was a long road, but over time, they kept returning to a quirky corner space where Washington Avenue meets Bergen Street. Situated on the ground floor of a triangle-shaped building, the 800-square-foot locale had a lot going for it. The landlord of the longtime family-owned building resides on the top floor — her father once ran a barbershop in the Seven Point space — which meant negotiations happened in person.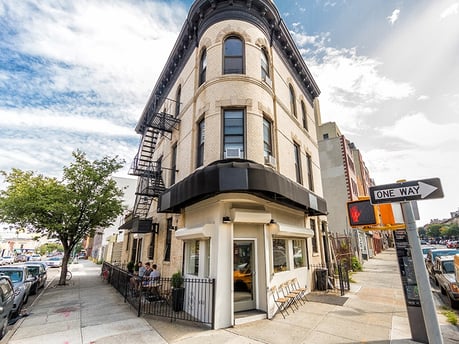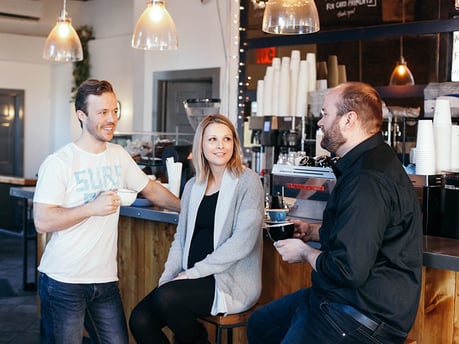 Plus, the space had recently been occupied by a wine and tapas venue, meaning tremendous cost-savings for the team. "That was one of the attractive things about this location: It was previously set up as a restaurant, which meant we saved a lot of money in terms of using all the tables and chairs. There was also a heap of other kitchen equipment and other things we could use. It's just a lot cheaper to renovate a place that was formerly a restaurant," Tryhorn explains.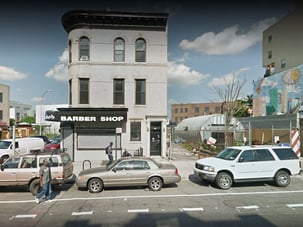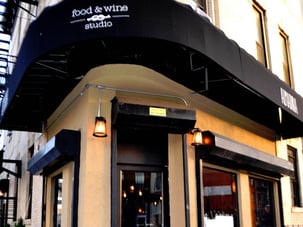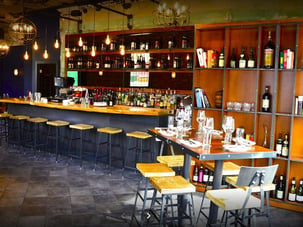 Before the ink dried on the lease, Tryhorn and her partners took advantage of their network once again, this time by collaborating with a neighbor who happened to be an architect with quite a bit of restaurant experience. But even with smart plans from an experienced designer in hand, Tryhorn knew they would need more assistance.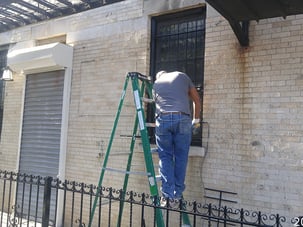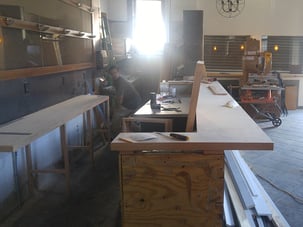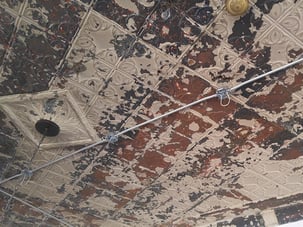 "We started off trying to do everything on our own," she remembers. "Quickly, as we got more and more into it, the level of technical knowledge and expertise that we had was really not adequate to get this done in a way that would've met our goals and gotten the café off the ground quickly. So, that's essentially when we put the phone call through to Dixon Projects."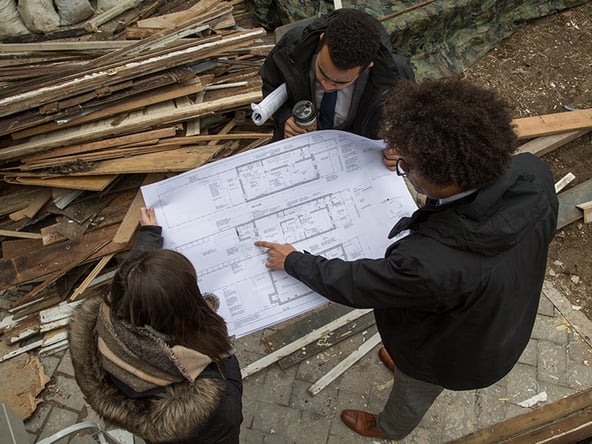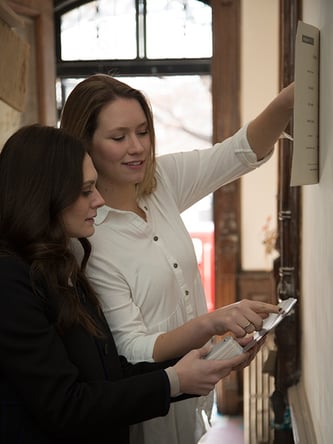 For six years, Dixon Advisory has been acquiring and rehabilitating fine homes in Manhattan, Brooklyn and nearby New Jersey, frequently taking historic homes from near-teardown condition to like-new luxury showplaces. The Dixon's premier architectural design and project management teams oversee everything from layout to construction, earning the firm awards and recognition for their meticulous efforts in historic preservation along the way.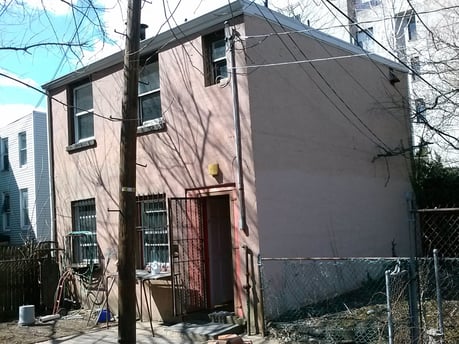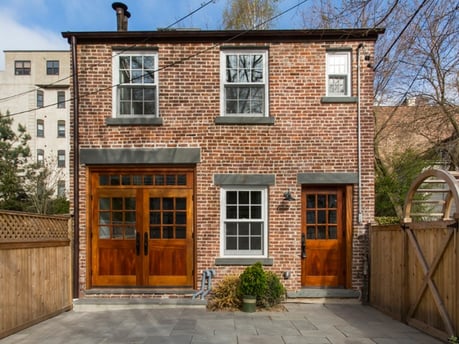 With 614 renovated luxury homes populating the deep Dixon Leasing roster and a growing number of industry accolades, the "Dixon Difference" has become sought after by home owners, entrepreneurs and investors outside their own holdings. Enter Dixon Projects, a subsidiary devoted to construction and renovations projects both inside and outside the Dixon portfolio. "We have the team, and we have the knowledge," explains Sr. Project Manager Rob Tarabocchia. "It's an extension of the business that we're growing, and we'd like to take it as far as we can."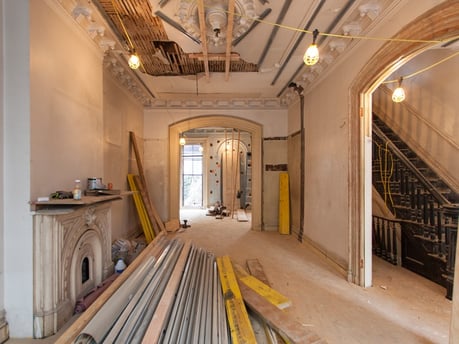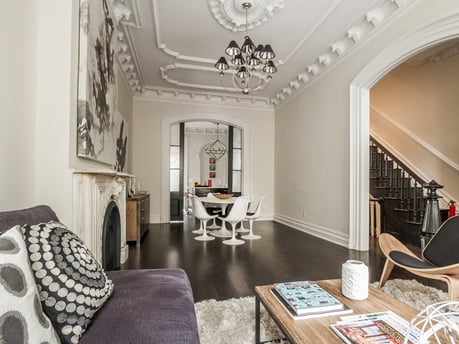 Tryhorn and her husband were well aware of Dixon Project's expertise as their own Crown Heights residence was the first non-Dixon-owned project tackled by the group. Pleased at how well their home had been handled and pressed for time, Tryhorn and team made the call. "We definitely found that in our home renovation project, there were a lot of hurdles that we had to overcome, and Dixon helped clear the way. We knew this was going to be a smaller job for them, but we still reached out.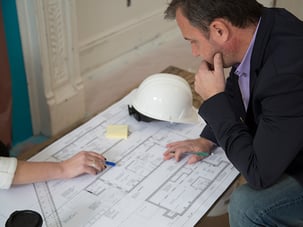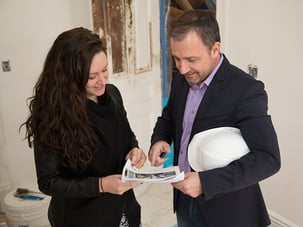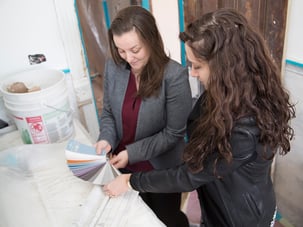 The Dixon teams typically handle projects entirely from start to finish, so the challenge with Seven Point was to take an existing design concept to the finish line, and fast. "We're typically working with old buildings, and those construction schedules are six or seven months long," Project Manager Chris Bisceglie points out. "This was a three-week schedule and time was money. Every single day the shop wasn't open, the client was losing money. The tight timeline and the client's unique challenge was a huge driver for the plan we put in place."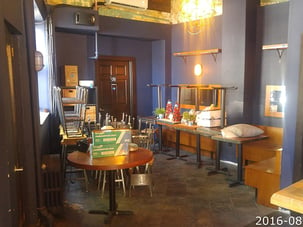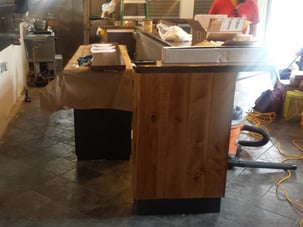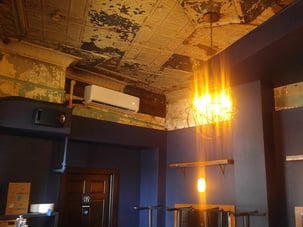 First, the Dixon team set to work reviewing the plans and driving consensus among all concerned. "They had a great design going into it, but they also had a budget. When we came in and started looking at the scope and the pricing, some things were removed and some things were added," notes Tarabocchia.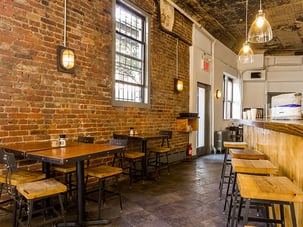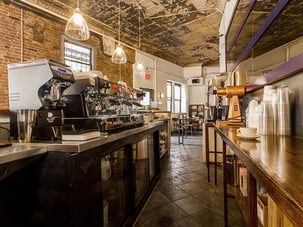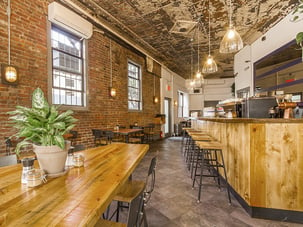 Bisceglie adds, "I think where we had our biggest impact was tapping into our extensive network of vetted service partners to get the right contractor involved right away — someone who was involved in a lot of bar, kitchen and coffee shop renovations. He was able to offer his perspective on what would work best in the environment, and that went a long way."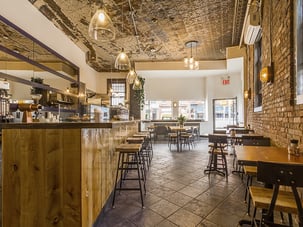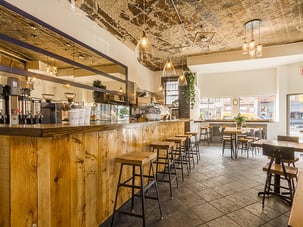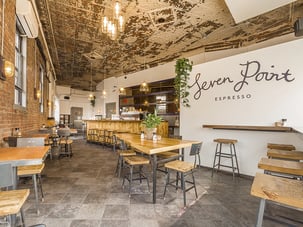 An overbearing and dark shelving unit was removed and replaced with a three-quarter-height white wall bearing the Seven Point Espresso logo. Wood from the former restaurant's bar was repurposed as counter space along the new wall and front windows, reducing waste while creating the perfect perch for people watching and Instagram photo opps.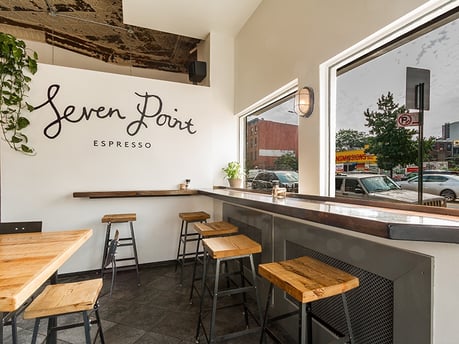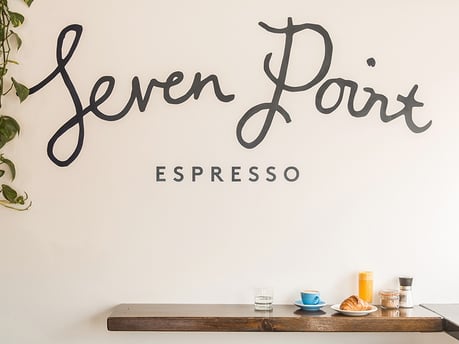 For Tryhorn, the welcoming space achieves the goal of melding an Australian vibe with a Brooklyn sensibility. "We left some things un-renovated to a certain extent, so it's a bit rough around the edges, which I think gives it that beat-up Brooklyn feel. But, at the same time, it does have what I think we would experience in Melbourne."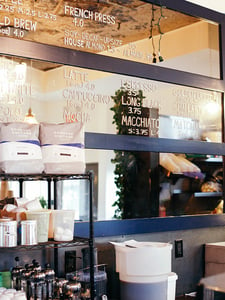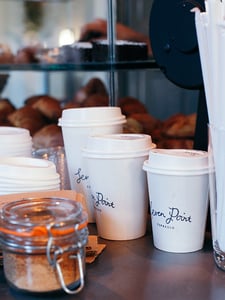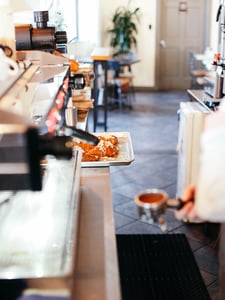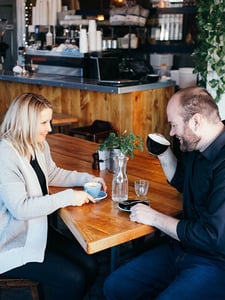 Liberal use of navy and white gives the spot a nautical, seaside feel while swaths of exposed brick and the original tin ceiling, left as-is with years of paint and patina, add ambiance and a decidedly New York touch. For Bisceglie, the striking metal-wrapped main counter is a design favorite. "The juxtaposition of the zinc cladding with the wood slats looks really cool and catches your attention the moment you walk in."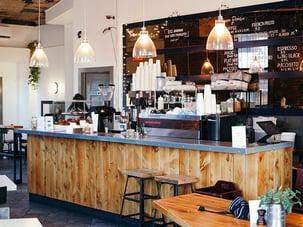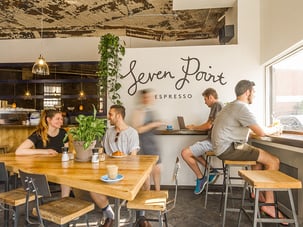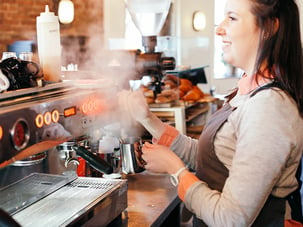 In addition to interior upgrades, the exterior stucco has been changed from drab gray to bright white, and the surrounding iron fence has been given a fresh coat of paint, creating the perfect outdoor retreat for coffee and brekkie (Australian for breakfast).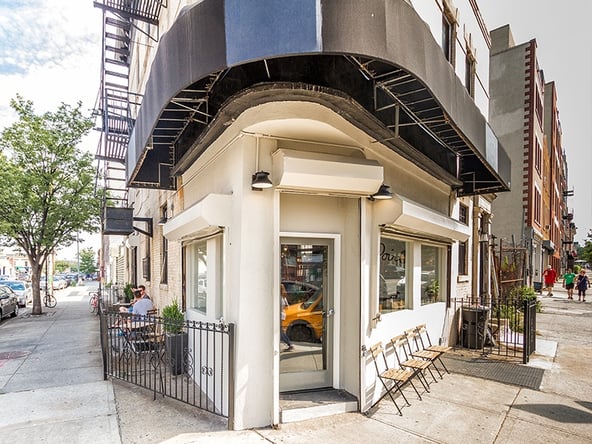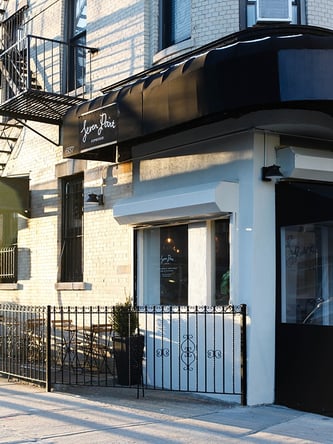 Changes at the space were more than cosmetic, and Dixon's skill at navigating the city's complicated permitting process was crucial to opening on time, even when it exceeded the original scope of work. "We really started digging into the mechanicals and noticed that the existing grease trap wasn't venting properly, which is a code issue that may have prevented us from passing our final plumbing inspection," recalls Tarabocchia. "The solution required re-routing the grease trap. It was an added obstacle in the already-tight three-week schedule, but totally necessary."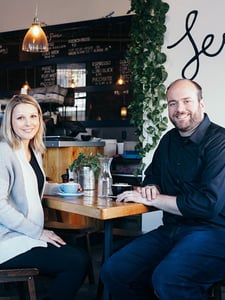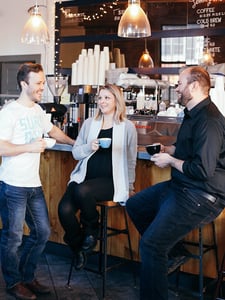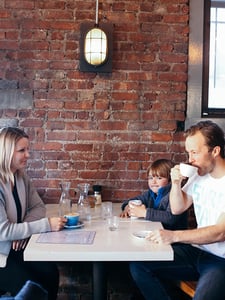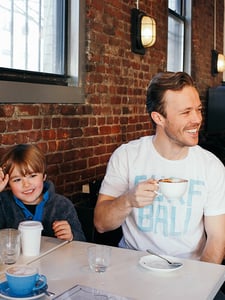 Tryhorn agrees. "I think so much of Dixon's real expertise was around the permitting and having the experience that can move a project along," she says. "We knew they would get it done, to a high standard and on time. That was something that was critical for us."
The name Seven Point Espresso references the Australian flag's seven-pointed star, which in turn represents the country's seven states and territories. The menu clearly reflects the team's desire to embrace Down Under café culture with a delicious selection of espresso beverages and teas alongside a rotating list of mouthwatering Australian breakfast favorites served all-day long. Patrons rave about the Waffin (a blueberry muffin cooked like a waffle with mascarpone cream) and the lemon ricotta pikelets (a pancake-like delicacy served with bits of honeycomb), but the real star of the menu might be Seven Point's take on avocado toast garnished with hazelnut dukkah and bits of feta cheese.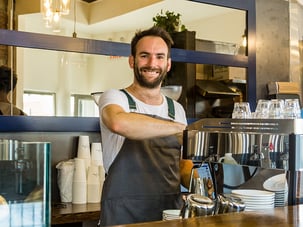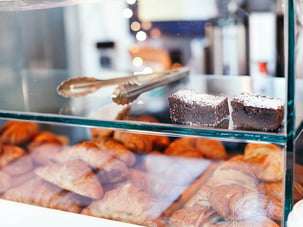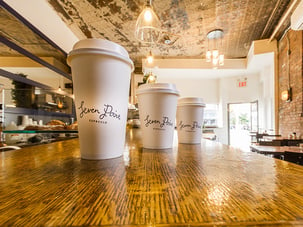 According to press attention, online reviews and word on the street, Seven Point Espresso has been a hit in the neighborhood and a favorite hangout among Crown Heights locals. "Response from the community has been really wonderful," says Tryhorn. "We've had people coming up to us saying how great it is to see a business like this in the area because there just wasn't anything around like it."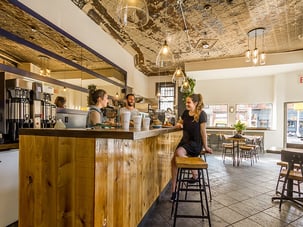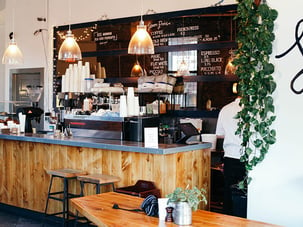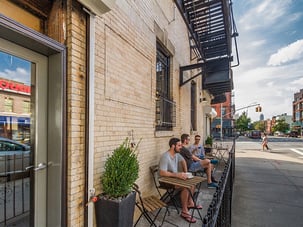 Navigating the city's notoriously challenging real estate and restaurant sectors has been no easy feat, but by tapping into smart, experienced friends and associates, Tryhorn and Gijsbers have successfully delivered a bit of Australia to Crown Heights. When asked her favorite part of the space, Tryhorn looks to the prominent Seven Point logo wall. "People love taking photos in front of it with their food. For me, I just love walking in and seeing it. It's like the dream has become a reality."