Acquired by Dixon Leasing in complete disrepair, the 15-foot-wide brownstone on Hancock Street in Bed-Stuy came partially gutted with little architectural detail left behind. While not an ideal starting point, this did give the Dixon Projects team a clean slate for a renovation that would maximize the relatively narrow row house's living spaces while adding some sorely needed light throughout.

Designed as a single-family home in 1877, by the 1930s, the building was offering furnished rooms to lodgers, and in 1953, it was converted to include one full apartment with seven SRO units above. Opening up these former small spaces, while adding an appropriate number of spacious bedrooms was the team's first objective.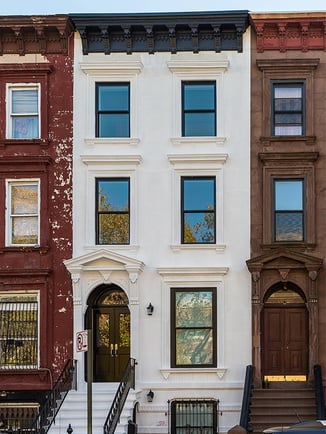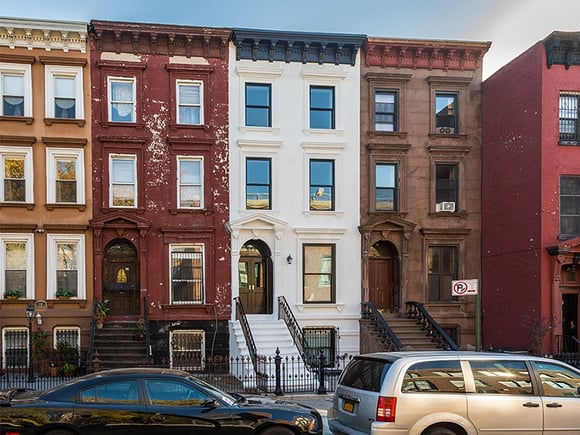 Throughout the home, finishes and fixtures are light and uncluttered in an effort to accentuate the sense of space and air in this slender home. Recessed lighting, versus hanging fixtures, allow one to appreciate the full ceiling heights while uniform plank floors create a sense of momentum. Small touches, like the liberal use of pocket doors instead of swing doors, reclaim precious space.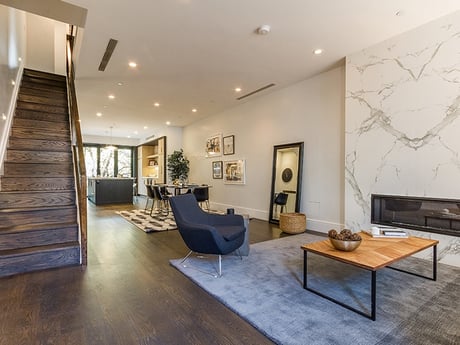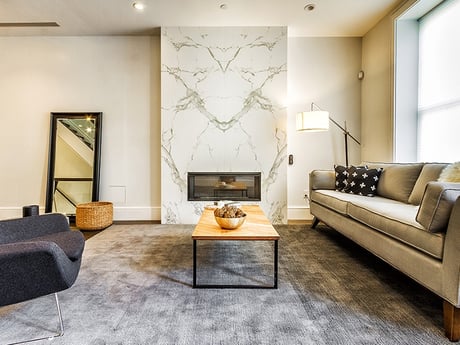 Upon entry on the parlor floor, the eye is immediately drawn to the stunning book-matched, stone-clad gas fireplace in the sunny living room. Far from dominating the space, its massive scale and clean lines accentuate the tall ceiling heights and add drama to a room formerly crowded by an entry hall.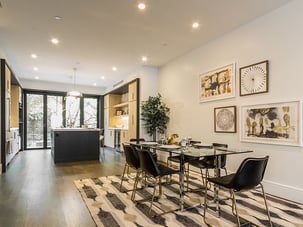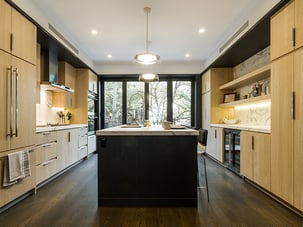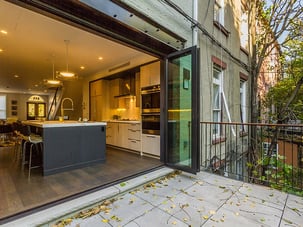 At the rear, a contrasting modern wood slab kitchen grounds the open layout. The sleek kitchen's island has been pivoted parallel to the layout to accentuate the flow of movement and light throughout the parlor floor. Here, Nanawall glass doors run the full width of the rear façade, inviting in light and lovely backyard views, and encouraging indoor/outdoor living during warmer months. The intentional choice of blonde cabinetry further reflects the sunlight while state-of-the-art appliances — a gas cooktop, dual wall ovens, refrigerator, dishwasher and a set of wine coolers — complete the modern chef's haven.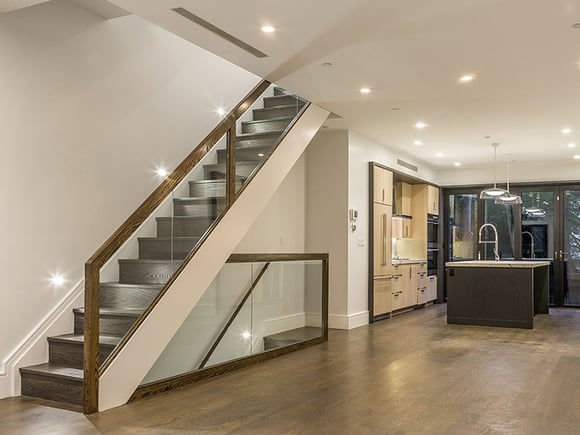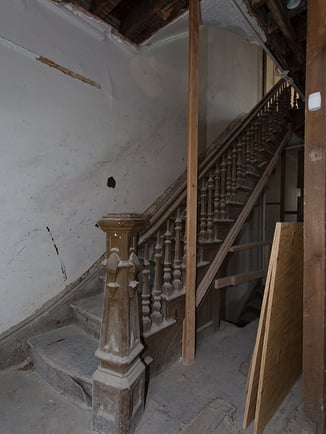 A custom glass and wood staircase wraps from the cellar to the roof with a minimal profile and innate transparency that makes each floor feel even large. This clean look, devoid of intricate detail that might normally be found in a Neo-Grec home of this era, keeps the minimalist, space-enhancing theme in effect while the glass allows light to cascade freely from the rooftop skylight to the lower levels.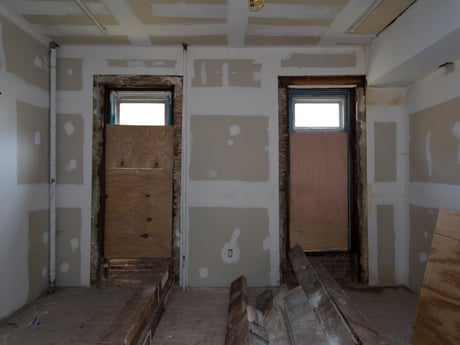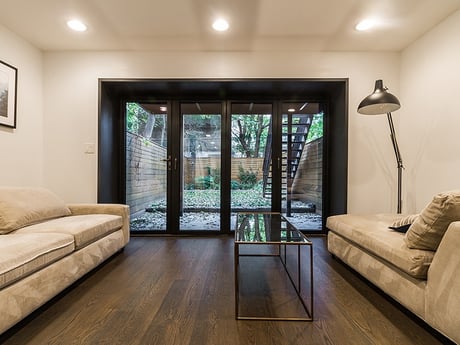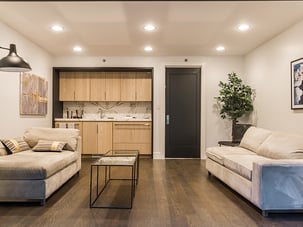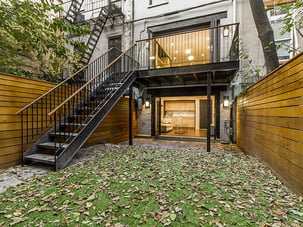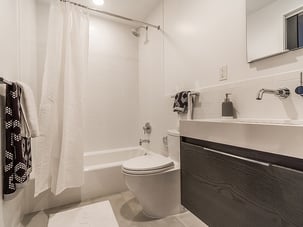 On the garden level, a large lounge features another stretch of Nanawall panels that fully open, granting direct access to the backyard. Outfitted with a well-stocked wet bar and a full bathroom, this space becomes the ultimate indoor/outdoor living space. A convenient laundry closet and a private bedroom suite with a separate entry complete the level.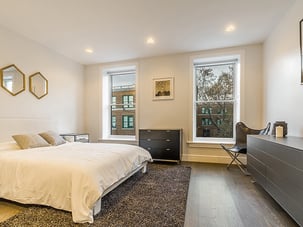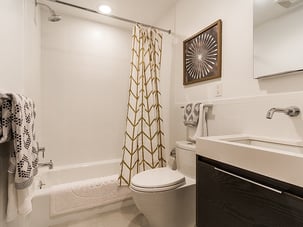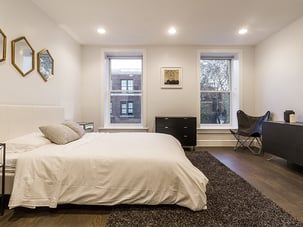 On the second floor, a catacomb of SRO spaces has been replaced with two matched bedrooms placed front and rear, each with large closets, en suite baths and two large windows.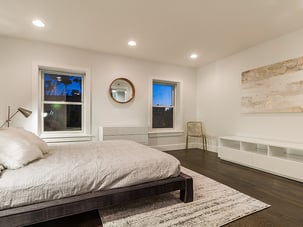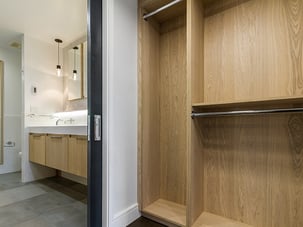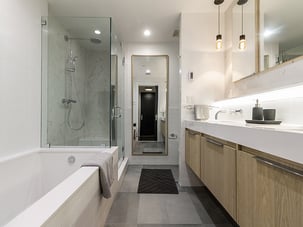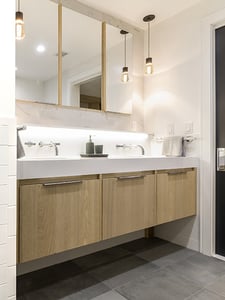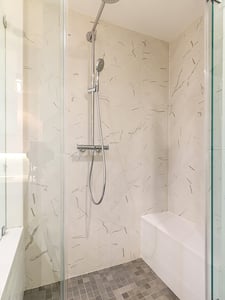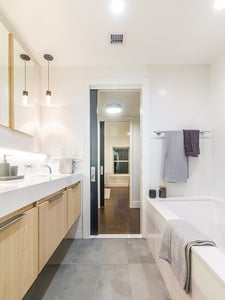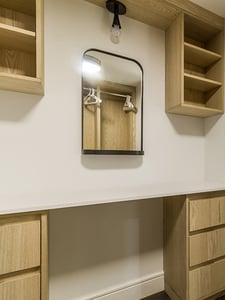 On the top floor, the serene master suite looks over the backyard and, thanks to an ingenious space plan, includes all the amenities one would expect in a larger townhome suite in a relatively compact footprint. A well-equipped custom walk-through closet leads to a spectacular bathroom with a separate soaking tub, frameless glass walk-in shower and dual-sink vanity. Another full bedroom and a powder room complete the level.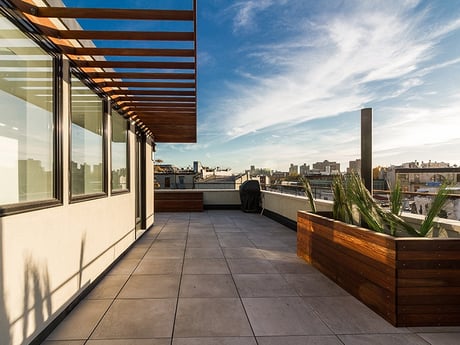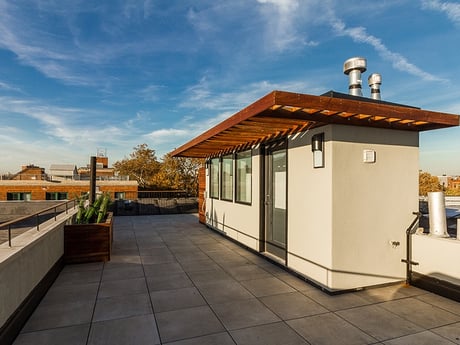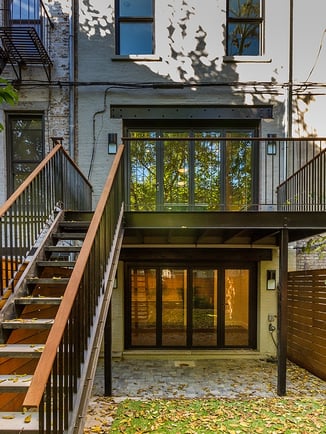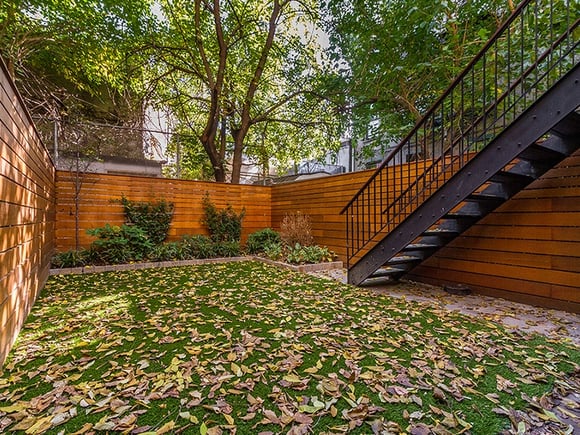 Outdoor spaces are plentiful at Hancock Street. Up top, a massive roof deck spans the entirety of the building. Off the kitchen, another lovely deck provides the perfect spot for al-fresco dining. And the spacious backyard, formerly an overgrown wasteland, now features a paved patio, turf lawn and landscaping.
Even the exterior façade received a facelift with a brilliant coat of fresh white paint accented by a refinished cornice and wrought-iron railings.
If you're ready to experience a Dixon-quality before & after at your own property, reach out to the elite Dixon Projects team, or check Dixon's Leasing's available homes to make one of our afters your happily-ever-after.