Four long-time friends fill a Halsey Street home with laughter and love in the historic Bedford-Stuyvesant section of Brooklyn.
Designed in 1878, the stately Neo-Grec brownstone that sits mid-block on a tree-lined stretch of Halsey Street was originally conceived as a single-family residence. However, by the 1930s, the structure was used as a busy lodging house, and 10 years later, was subdivided into multiple separate dwellings. Dixon acquired the home in 2014 and reverted it back to its original single-family state, and today, the family in residence is an incredibly close-knit group of young professionals. "We're more than roommates. We're actually family," Paul, a technology executive from Manhattan, New York, states emphatically.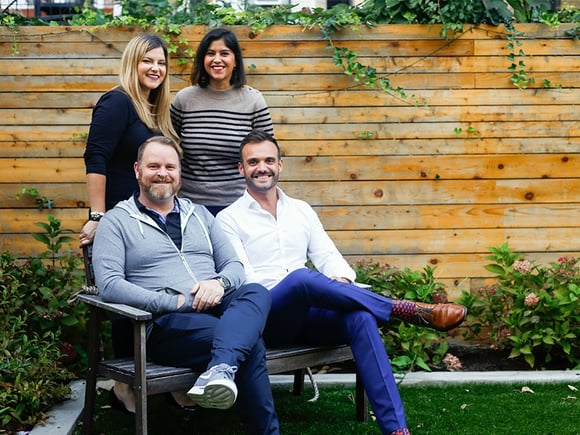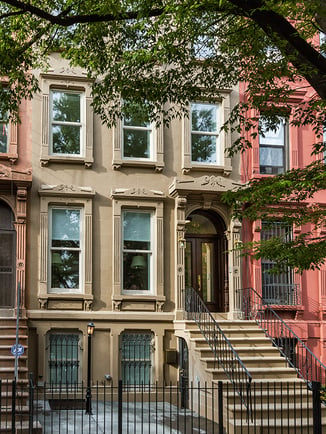 Last year, Paul was living with Daniel, an investment banker hailing from Surrey, England. The two had met six years earlier when Daniel put out an ad looking for a roommate. "It was one of those moments that's a leap of faith, but we just got on really well and became the best of friends," he says.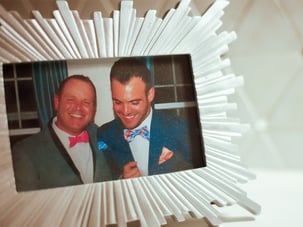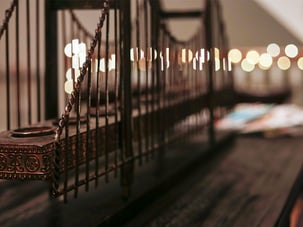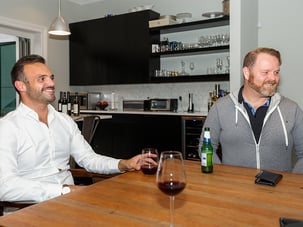 Their Hell's Kitchen lease was coming to an end, and friends began inquiring whether Daniel and Paul would consider moving to Brooklyn. Even though they had been thinking about changing up their living situation, neither was particularly keen on a change of borough. Even so, Paul reluctantly toured a few Dixon homes with his friends and Leasing Agent Matt Riggi. "Matt was so cool, asking the right questions and pointing out that there were a couple Dixon homes right around here," Paul recalls. "This was the last one we saw, and I was like 'This is nice. This is really, really nice.' And I asked Dan if he would do it."
"I was a bit skeptical," Daniel says. However, he was quickly won over by the home's grand proportions, outdoor space and proximity to transportation.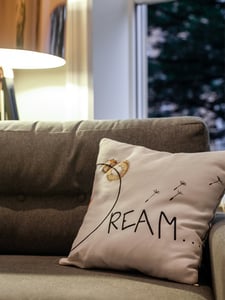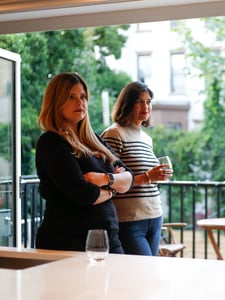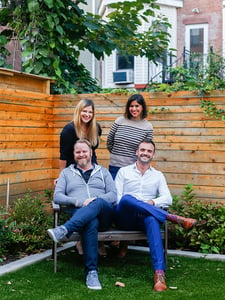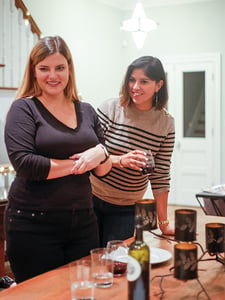 When it came time to select roommates, the pair's natural first choice were close friends Heather and Martina. Raised in Orange County, California, Heather works in the human resources industry, and Los Angeles-native Martina—formerly in the HR field—is currently spending time travelling while she plans her next career move. The women have known each other for 11 years, since their college days at Loyola Marymount University in L.A., and before Halsey Street, had lived all over Manhattan, from the West Village to East Harlem. Unfortunately, Martina and Heather had signed a lease for an apartment they loved, in a neighborhood they didn't, just six months before the Halsey Street opportunity came up. It took the pair six weeks to find people to take over their lease. "It was stressful, but when we came to see this place it was a no-brainer." says Heather.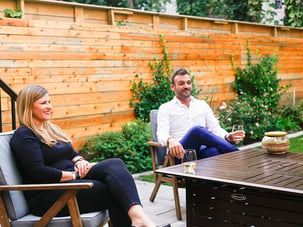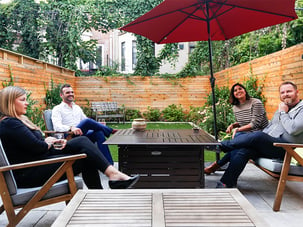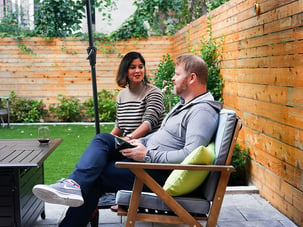 Soon, the four friends rented a single moving truck, took separate shifts packing and unpacking their belongings and converged on Halsey Street. In fact, this team approach is nothing new for the housemates. The four met through work, and along with about a
half-dozen other friends, have formed a cohesive group that frequently travels and celebrates together. "Nine of us went to Tulum this year. Last year, there were six of us, and we went to St. Martin for a few days. We always take a big trip together," explains Heather.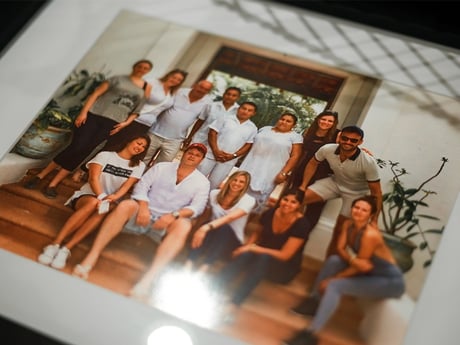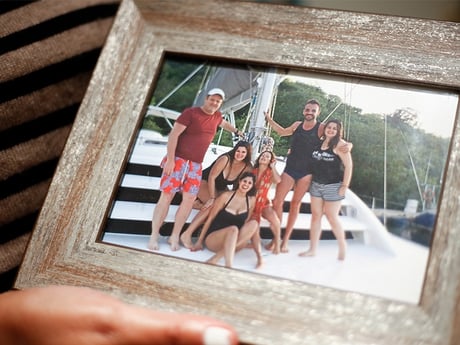 Other excursions to Amsterdam, Barcelona, South Africa and Vail, Colorado, keep this well-traveled group on the move. But when they're home, frequent celebrations in their spacious new Brooklyn digs keep their extended "framily" close by. Thanksgiving called for a lavish dinner party, a cadre of January birthdays was celebrated Great Gatsby-style, and the summer brought a Cinco de Mayo fiesta and "pool parties" around their oversized spa tub. Even without a formal soiree on the books, friends frequently congregate in the Halsey House. "Our Irish friend Labhaoise staycations here. She'll come for the weekend, and she practically never leaves Hell's Kitchen!" Heather explains.

"Especially when it's nice out, our friends are happy to come out and enjoy the rooftop and backyard. And we always have tons of wine," laughs Martina.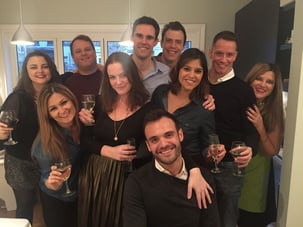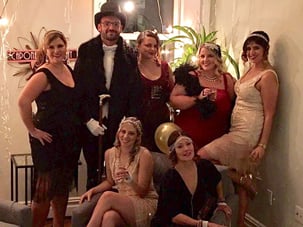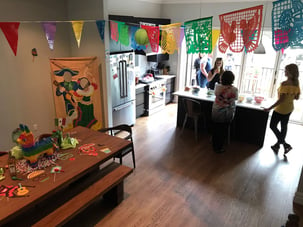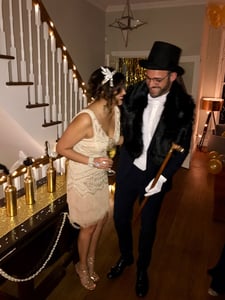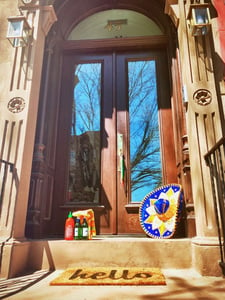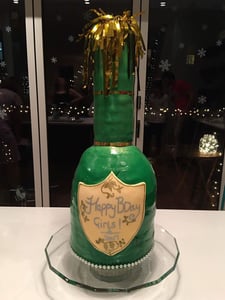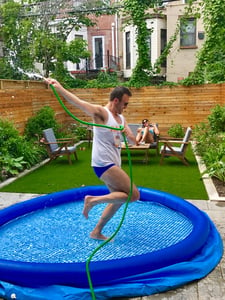 When not entertaining at home, the nearby Bed-Stuy neighborhood provides a rich selection of dining and nightlife venues. The group's favorites include Le Paris Dakar for coffee and crepes, Emily on Fulton for burgers, the indoor beer garden at Berg'n and the delightful interiors at Sisters.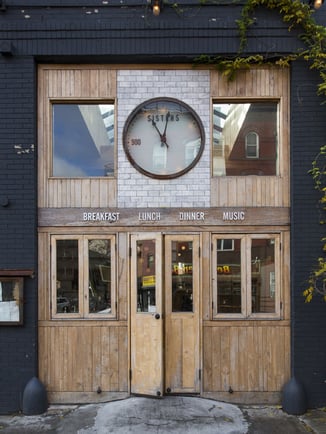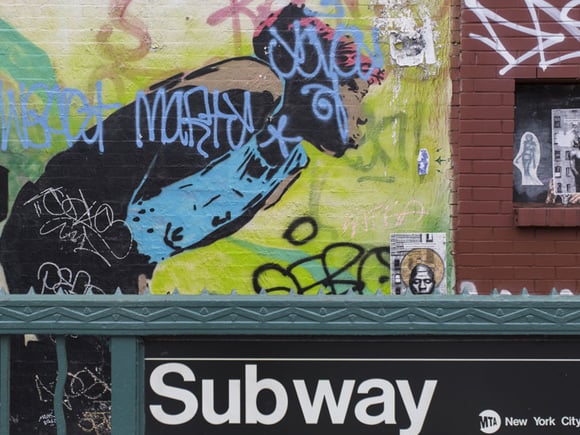 Thanks to subway access just minutes from their front door, jobs and favorite nightspots in Manhattan are incredible close. "The subway really makes all the difference," says Heather. "We have other friends in Brooklyn with 10-15 minute walks to the subway, but we're right on the A line, so it's really easy."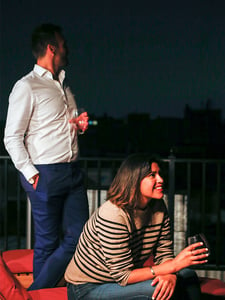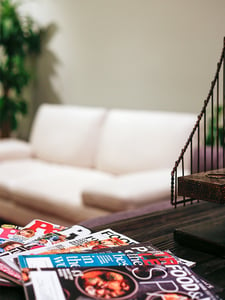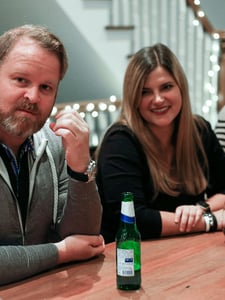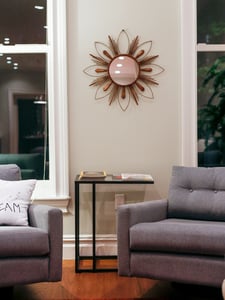 On the gracious parlor level of the Halsey home, the group has created comfortable living and dining spaces that invite guests to relax and stay awhile. Here, midcentury modern design is punctuated by bold touches, like the metal candelabra reminiscent of the Brooklyn Bridge. While one might expect that the furnishings are an assemblage of each pair's previous belongings, Paul is given credit for creating the elegant décor from scratch. "Paul bought practically everything in here. Everything's new," explains Heather. "He has a really great aesthetic, and he loves to decorate."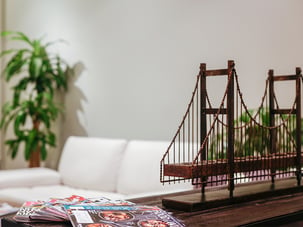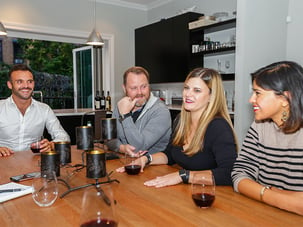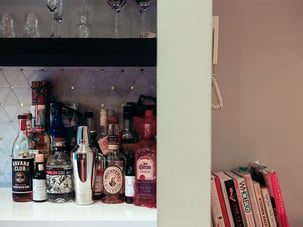 Under the grand parlor windows, in what the group calls "the lounge," two cozy swivel chairs rotate for gazing outdoors or socializing indoors, and are a favorite resting spot for Martina and Paul. A chic gray couch is dubbed a great place for napping, and one might find a sleeping roommate, guest or visiting dog reclining there. Twinkle lights run up the staircase providing a festive and joyful touch
year-round.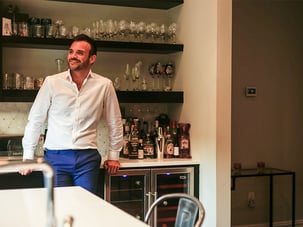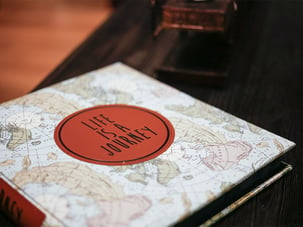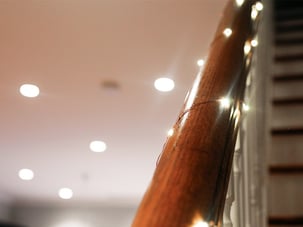 In the dining area, an extra-long table accommodates the group's large social gatherings while the nearby breakfast bar is a favorite space for casual meals. The state-of-art kitchen easily attends to frequent entertaining and quiet home-cooked meals alike. Simple dark cabinets and open shelving are accented by crystal-encrusted backsplashes, and the full complement of top-notch Jenn-Air appliances includes a French door refrigerator, dishwasher and gas range. The Summit wine refrigerator here and the second one in the downstairs media room, provide plenty of storage for the roommates' wine purchases both locally and abroad.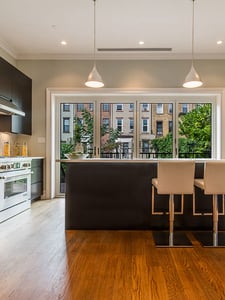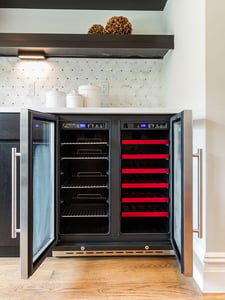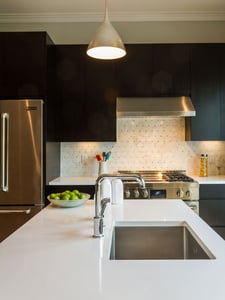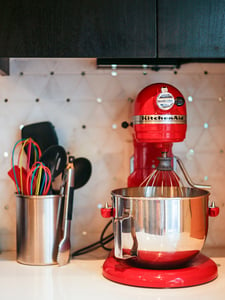 This well-equipped kitchen is a frequent setting for Daniel's exuberant creativity. For Christmas, he spent a week creating a massive gingerbread house from scratch, and to celebrate the January birthdays he created the perfect cake for their Gatsby-themed party. "He made this beautiful cake in the shape of a champagne bottle," recalls Heather. "He hollowed out the top and put dry ice in there so it was like a champagne was bubbling."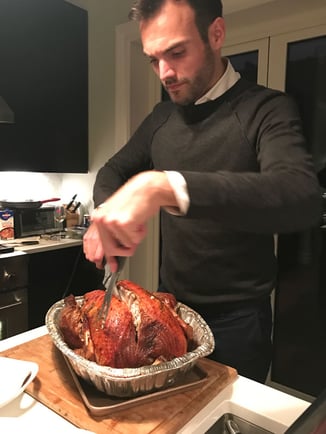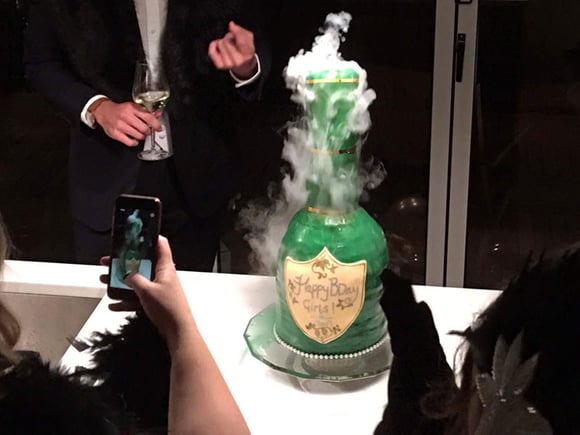 The kitchen was also the site of 24 hours of frenzied prep as the group hosted their first Thanksgiving at the Halsey home less than a month after moving in. "I love cooking, and Heather and I did Thanksgiving dinner for like 20 people. It was lovely," smiles Dan.
"We had a massive turkey and a lot of food," Heather continues. "Martina made her cranberry sauce with jalapenos."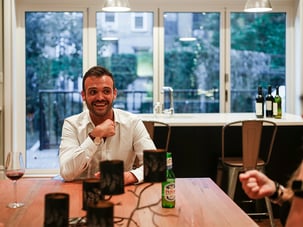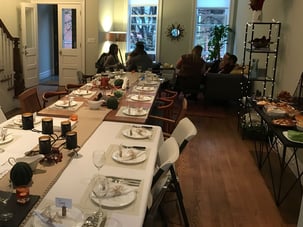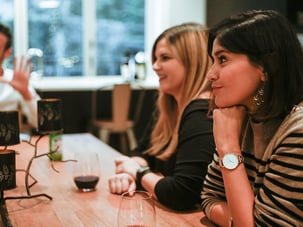 It turns out, however, that the highlight of the evening may not have been the food. "For Thanksgiving we had the dining table and two other tables lined up," Paul recalls. "So, Daniel likes to occasionally come out in a different form, otherwise known as Tina Turner in drag. So he comes downstairs, and everyone's laughing and cheering, but then he decides to get up and dance across the tables!"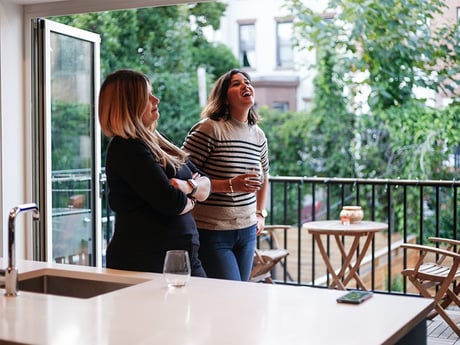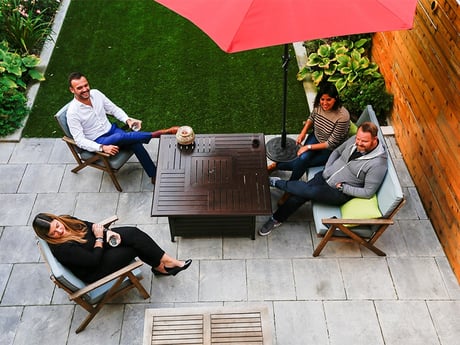 A wide row of retractable NanaWall doors opens up the kitchen completely to the spacious rear deck and the expansive backyard below. The deck features a café set the ladies brought from their previous abode and is a favorite gathering spot for the whole household. Down below, a paved patio is decorated with comfy chairs and a table outfitted with a fire pit. A large evergreen turf lawn is surrounded by a planted border and handsome fence, while a sweet bench provides the perfect spot for outdoor photo opps.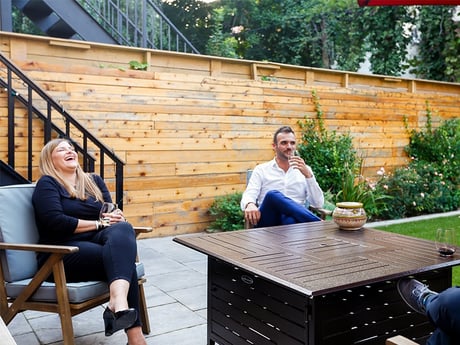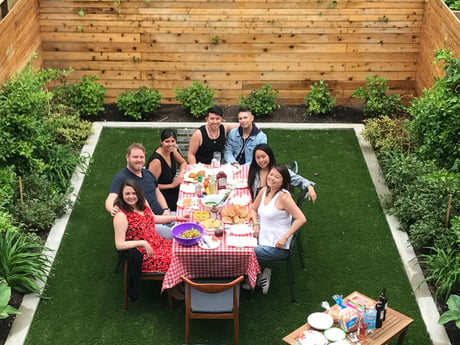 From the patio, another row of NanaWall doors opens to the garden-level rec room space that the group has fashioned into a TV room. "No TV in the lounge!" was an early edict from Paul, and it's a move that has led to more socializing and less television-watching for the housemates. "I actually watch less TV now than I ever have," Heather points out.
When they do head downstairs it might be to watch "Bachelor in Paradise," which Daniel admits, "I used to hate, but I love it now." The downstairs wet bar is stocked with refreshments, and the nearby full-size LG washer-dryer is one of Martina's favorite features of the house. The garden level is rounded out by a full bathroom, extra-large storage closet, street-level entrance and large guest bedroom, often occupied by out-of-town or local guests and family.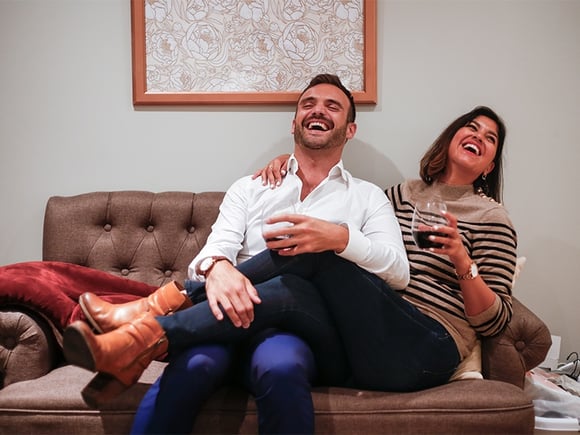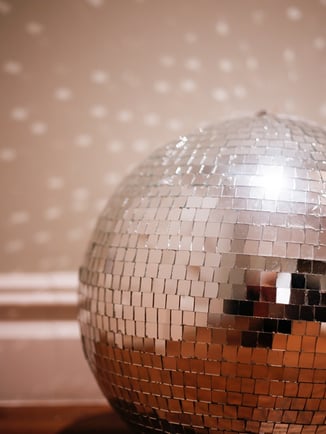 On the upper two floors, the roommates enjoy oversized bedrooms each with a cozy seating area, large en suite bathroom and roomy customized walk-in closet, making them ideal self-contained retreats for when a bit of alone time is needed in the busy household. The décor of reach room reflects each housemate's unique taste and style.
In Paul's master suite overlooking the backyard, his midcentury aesthetic is carried throughout a sitting area and desk, and the
neat-as-a-pin closet is befitting of the person who admittedly likes everything in its place. The sleek master bathroom features a large dual-sink vanity and bold black herringbone tile that stretches across the radiant heated floor and into the spacious walk-in shower.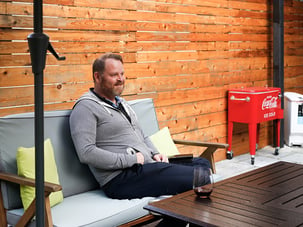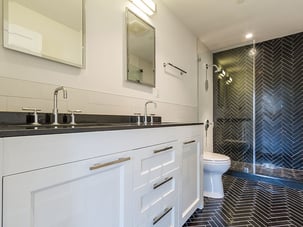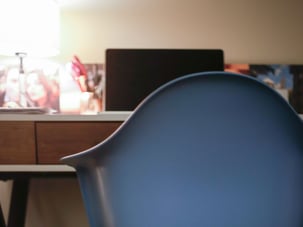 Down the hall, Heather's ultra-feminine room features crisp white linens accented with pink accessories and plenty of floral details. A small bar and a mini Keurig, a gift from her mom's recent visit, keeps beverages close at hand.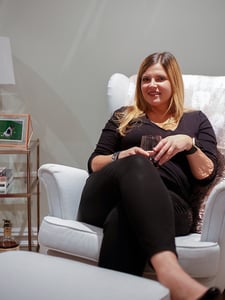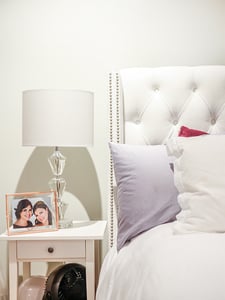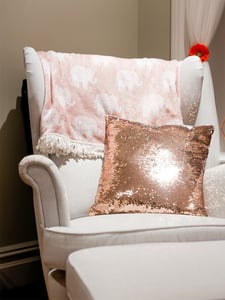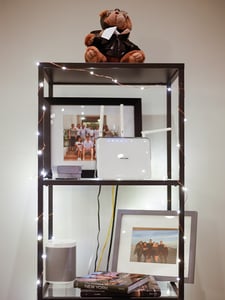 Upstairs, Martina's rear-facing room reflects her explorer's personality in rich earth tones and plenty of mementos and framed photographs. She chose her top floor oasis not only for its quieter location, but for its pristine black-and-white bathroom with bench shower. "I think I wanted to be a little further away from the action downstairs, and I wanted the shower which looked amazing. It's just like a hotel!" says the world traveler.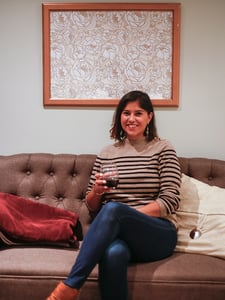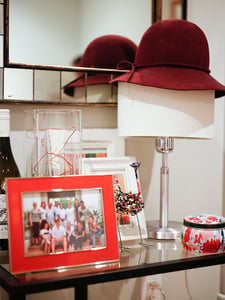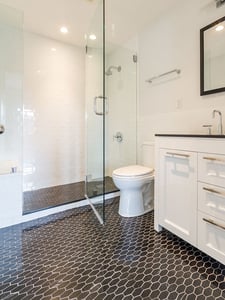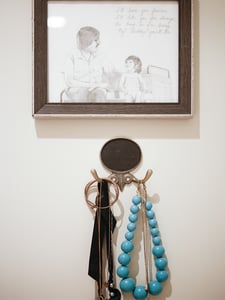 Up front, Daniel's British background is woven throughout his suite. The navy-and-white-striped bedding works in concert with his framed Union Jack print, while a triptych of Warhol's Queen Elizabeth II decorates his en suite bathroom. His artistic pursuits are demonstrated by his Pollock-esque splatter painting above the bed and the framed poster from his recent community theater turn as Tony in "West Side Story."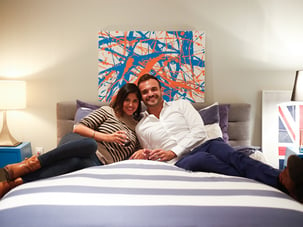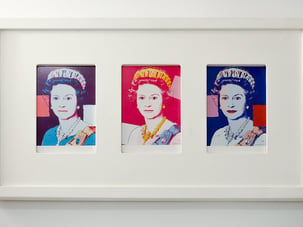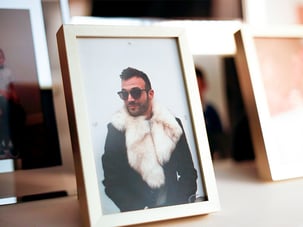 Up one more flight, the home's stunning roof deck, outfitted with more comfortable outdoor seating, offers stunning views of Brooklyn stretching all the way to the magnificent Manhattan skyline.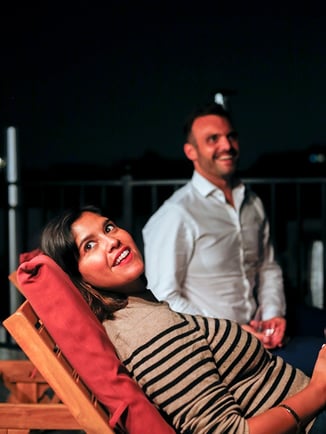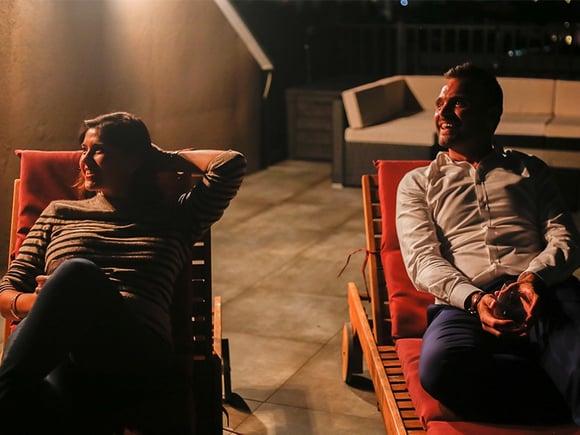 Warm, welcoming and wickedly funny, Heather, Martina, Daniel and Paul have a friendship that makes you want to be part of their inner circle, and the home at Halsey Street has underscored that enduring and special bond.
As Daniel points out, "Apart from Paul, we're all so far away from our own families. You have to sort of get your own second family, and sometimes that's even more important."
"The family you choose," Heather agrees.


"Deciding to live together in this house — which bring all of us more fun and good times in a place where everyone can enjoy it — was such a great idea," says Paul. "A lot of people, when they come over, are in awe. They're like, 'Whoa! I didn't even know you could have this kind of house.'"
VIEW THE FLOORPLANS FOR HALSEY STREET: