The homes Dixon acquires are frequently in need of significant TLC, but are, for the most part, intact upon purchase. This was certainly not the case for the property at Bradhurst Avenue in Harlem.
The four-story townhouse was gutted and dismantled, and the meager beginnings of a renovation were evident in places where new walls had been framed, but not drywalled.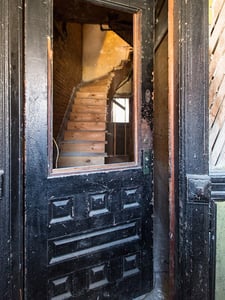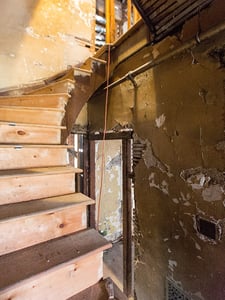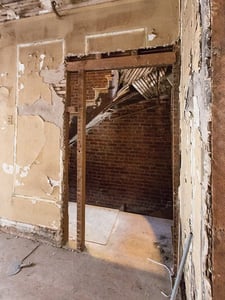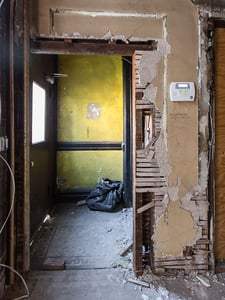 Rows upon rows of discarded trim, molding, shutters and newel posts lined the basement. Wiring hung loose from the ceiling, dangling next to rows of exposed fiberglass insulation. Fireboxes were pulled away from walls, and radiators stood abandoned in rooms they'd never warmed.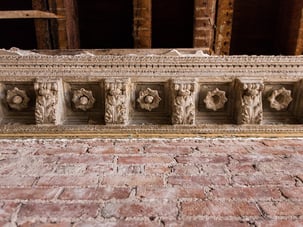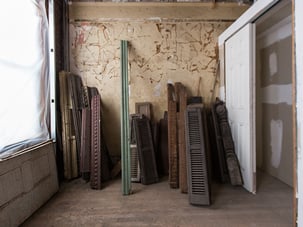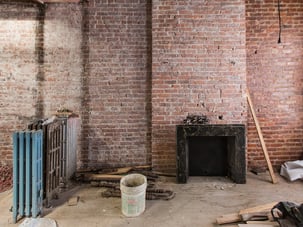 While Dixon is known for their meticulous renovation of historic homes, due to the deconstructed condition of Bradhurst, a new approach was warranted. As Head Architect Kirk P. Mitchell explains, "The details we would normally retain were ripped out of place, and the condition of those details was not in a state we would normally use them in. The amount of time and effort it would take to bring those things back to life, unfortunately, just didn't make sense for this property."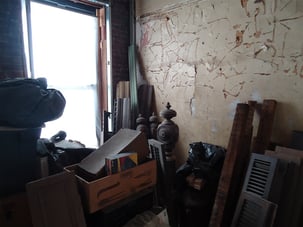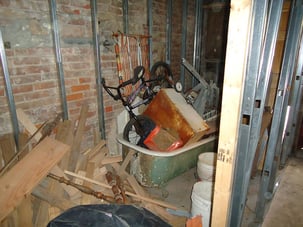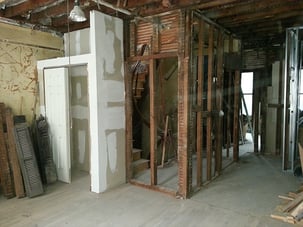 The rear yard of the home was in no better shape. It had become a repository of junk, discarded bricks and abandoned building supplies surrounded by a tangle of overgrown shrubbery. The edges of ominous granite bedrock peeked out from under layers of dirt and debris, casting doubt on the possibility of an enjoyable backyard area.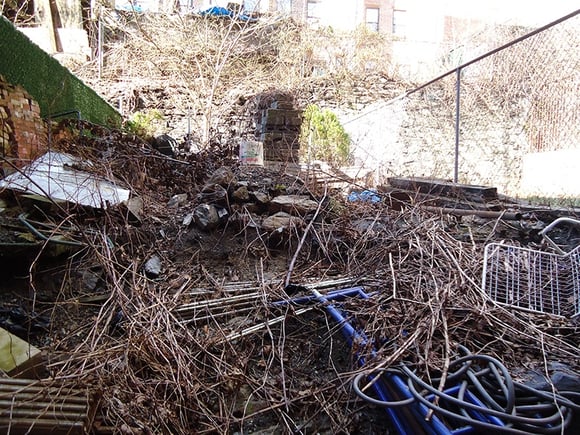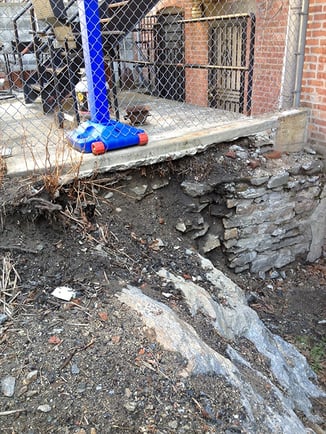 The team was decidedly leery, having recently come off a project that required significant and costly excavation. To add insult to injury, the entire rear wall of the home was also in a dire state and not properly tied into the home's infrastructure. However, despite what seemed to be obstacle after obstacle, Bradhurst Avenue would soon become the blank slate the Dixon team needed.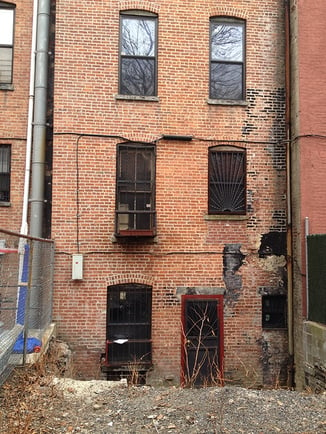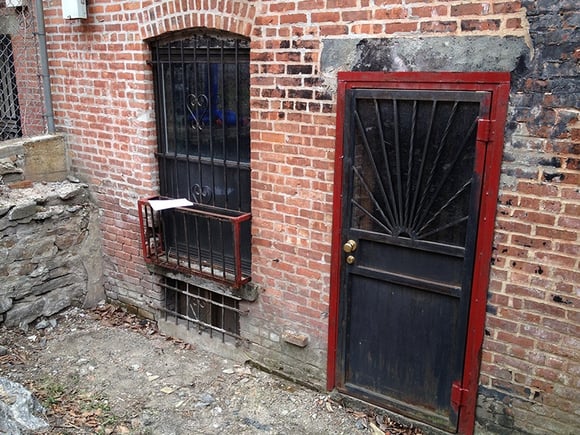 Weeks earlier, in a brainstorming session focused on generating fresh ideas for future Dixon projects, Director of Leasing Josh Carney had shared details of an impressive double-height living space implemented in a classic townhouse building. As Kirk and Steffen Ringelmann, Creative Director, began to consider the dilapidated state of the Bradhurst interior and rear facade, combined with that unwieldy hunk of granite, a grand plan began to form.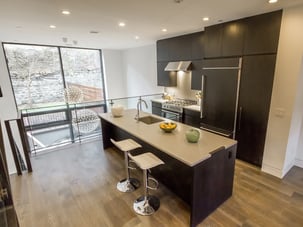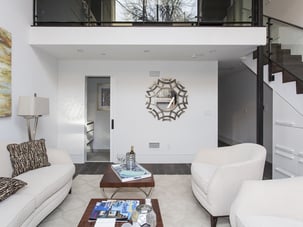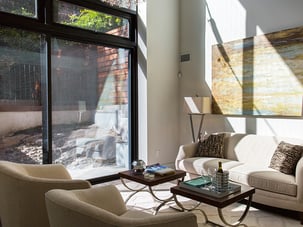 Instead of fighting the granite, it would become the home's de facto focal point, and the rundown interior would become scene of an exciting foray into modern design. "We had been looking for an opportunity to do something unique and modern using double-height spaces," explains Steffen. "We saw Bradhurst as a chance to take all these ideas we'd been discussing and finally apply them. All the pieces then fell into place."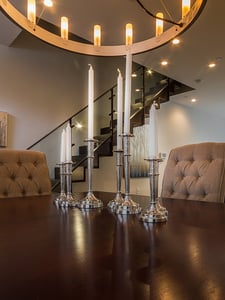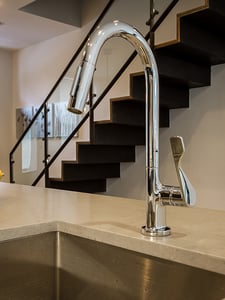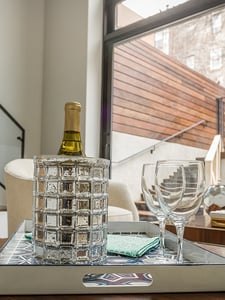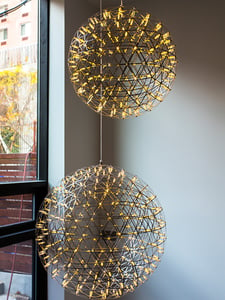 The team first turned their attention to the crumbling rear façade and envisioned a massive glass curtain wall that would not only serve as a backdrop for the planned double-height space, but also for the master suite above. A Dixon first, the massive custom-made wall brings outside indoors throughout the home, capturing gorgeous backyard and neighborhood views on three levels.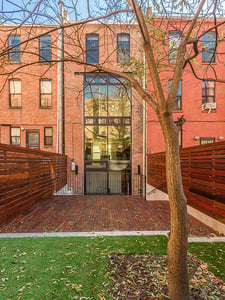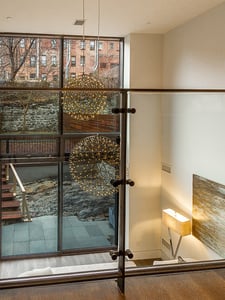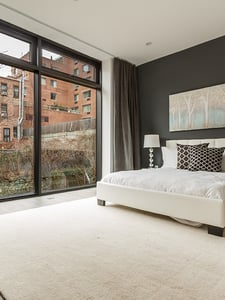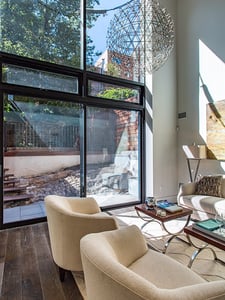 To ensure the backyard was in picture-perfect condition, despite its cumbersome geology, the team brought in a landscape consultant for initial plans, another Dixon first. Based on further refinements of those plans, pavers have been set down just outside the garden level, forming an inviting patio, while IPE stairs lead the way around the granite outcropping to an upper level sundeck and a turf lawn area. This new incarnation of a former junkyard space, creates a number of varied settings for relaxing and entertaining, bordered by an impressive rear rock wall and IPE fencing at each side.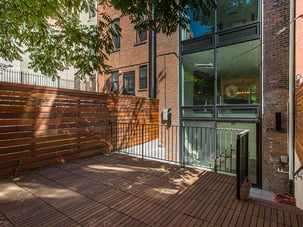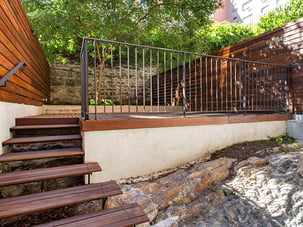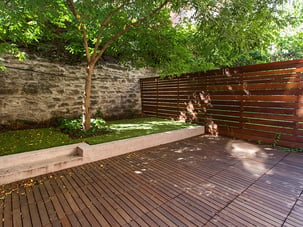 Once the major challenges of the rear yard and façade were addressed, the team set about creating interiors that would complement and enhance these focal points. One might think that a move toward modern would be a bit simpler than painstakingly restoring ornate architectural details, but as Steffen explains, "Anytime you do a modern house, the details are that much more important because you can't hide them behind casings and moldings and crown. Straight lines need to be straight. From a construction standpoint, it's actually quite a bit more difficult than doing a historic treatment of a townhouse."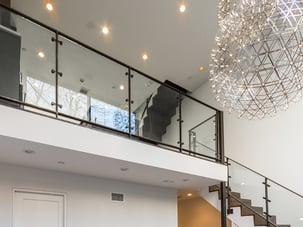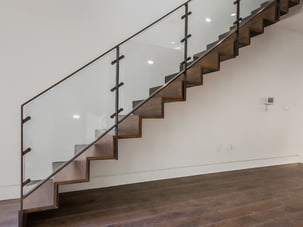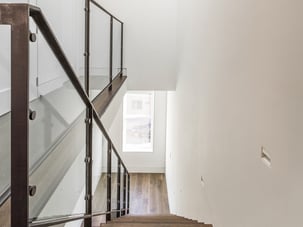 Entering at the parlor level, guests are greeted by a roomy dining area and a sleek, modern kitchen. Literally every component was chosen and positioned to usher outdoor views inside. The island is pivoted perpendicular to the curtain wall and the kitchen is bordered by a glass handrail ensuring encumbered vistas and direct sightlines from the very front of the home. Even the massive Moooi spherical chandeliers that illuminate the double-height space were chosen for their airy feel.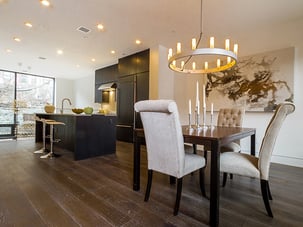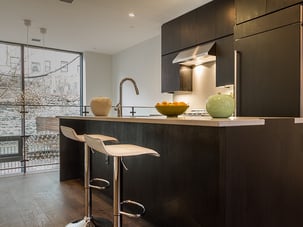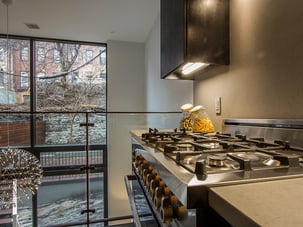 Downstairs, the garden-level living room takes in the full heft of the rear curtain wall in a space that manages to feel intimate and cozy despite its dramatic exposure and double-height ceiling. A powder room is nearby, and a full bedroom suite and laundry closet down a wide hallway complete the level. A hatch door provides convenient access to the cellar below without adding a bulky landing to the hall space.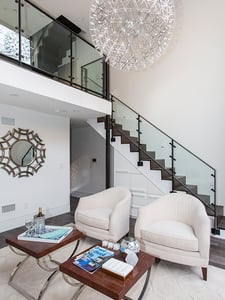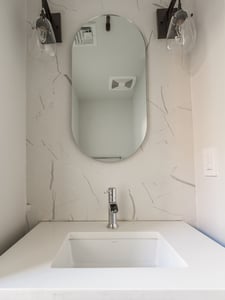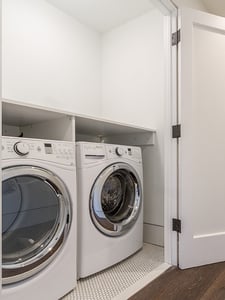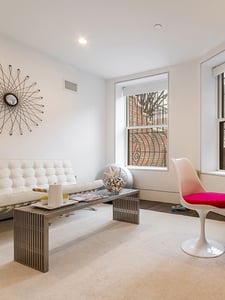 Staircases at Bradhurst are more than conveyances between floors; they're functional works of art. On the garden level, custom millwork beneath the stairs provides convenient storage. Upstairs, a separate staircase, cantilevered from the adjacent wall, seems to float in midair while its blackened steel, Madera wood and glass handrail blend perfectly with the surrounding design scheme.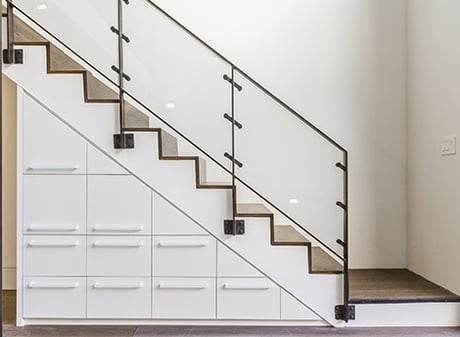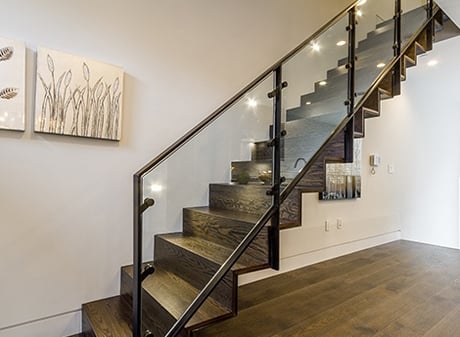 Ascend the floating stairs to arrive at the spectacular master suite. Here, the rear curtain wall provides breathtaking, floor-to-ceiling views, acting as a massive art piece in the tranquil retreat. Even the lavish en-suite master bathroom and twin walk-in closets are positioned to capture the scene. A third room on this level — suitable as a home office or nursery — is accessible from both the bathroom or hallway, allowing this level to function as a floor-through private suite if desired.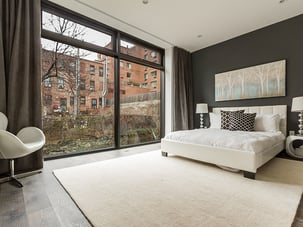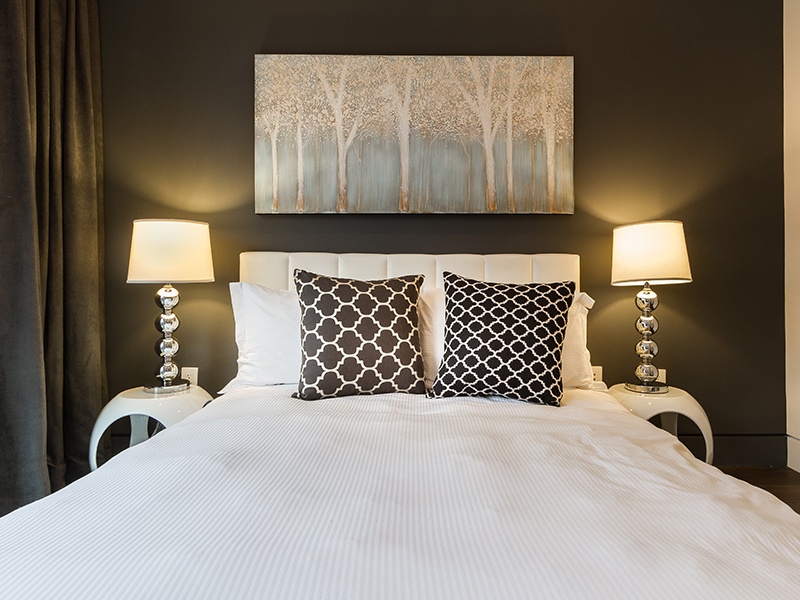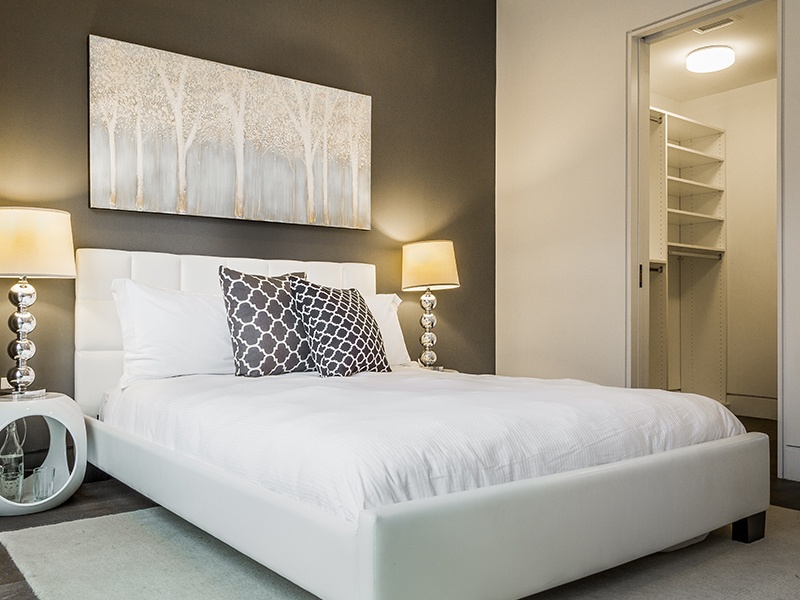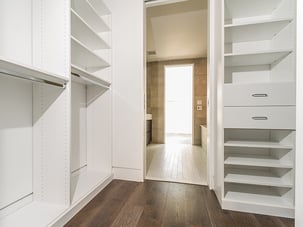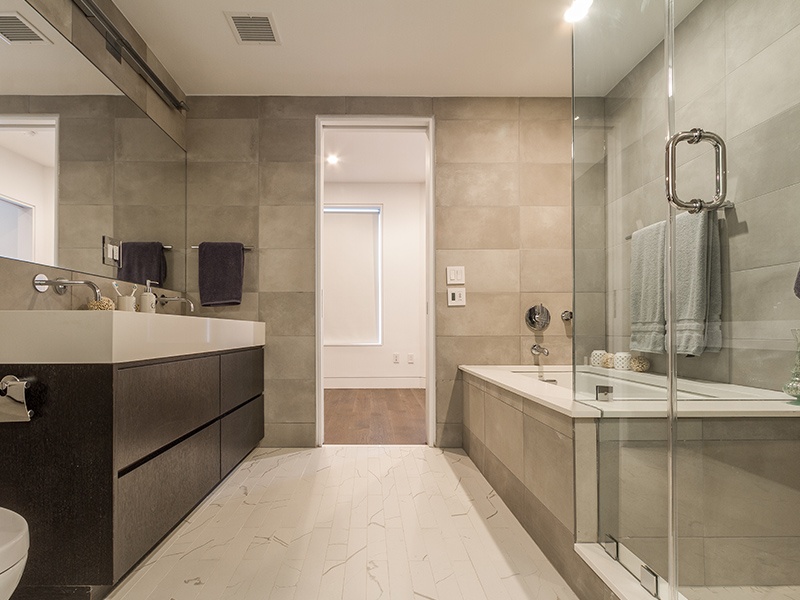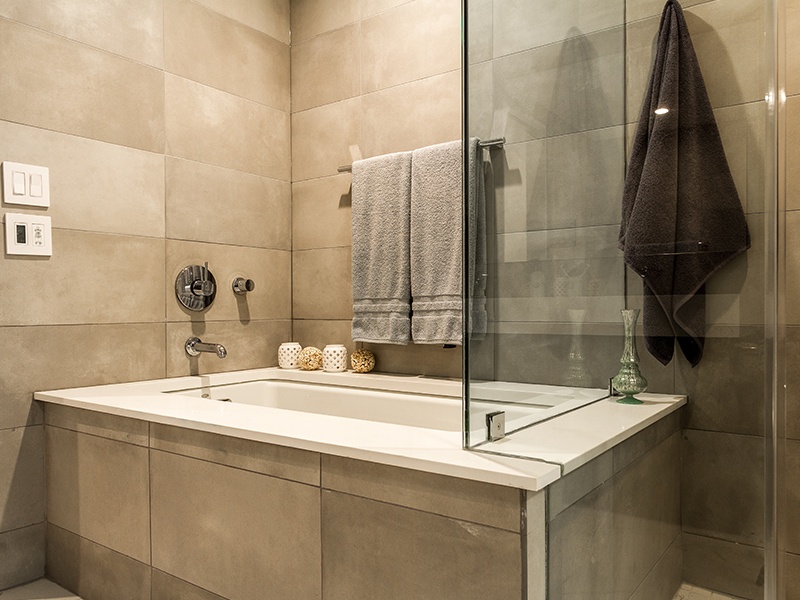 The top floor boasts two more bedroom suites, each with roomy closets and luxe bathrooms. Matching custom vanities and radiant heated floors in bathrooms throughout the home provide a luxurious uniformity, while fine touches like ebony door hardware and shadow reveal base details demonstrate the signature Dixon touch.

The Bradhurst property is set in the middle of a string of twelve quaint townhomes in Upper Harlem. Featuring staggered roof lines and distinctive features like peaks, cornices and bay windows that repeat at every other façade, the row adds a lively uniformity to the block.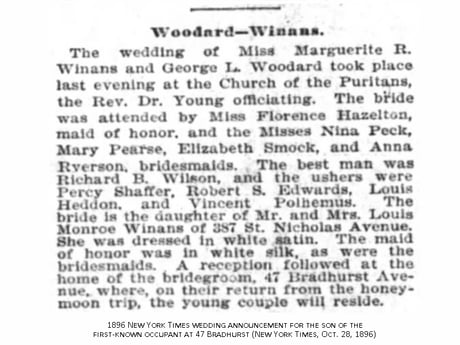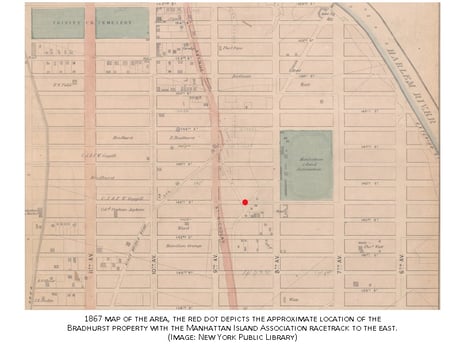 Built in the 1880s, not long after Harlem was annexed to New York City, the home's neighborhood is steeped in history. The border of the renowned Sugar Hill section of Hamilton Heights is situated just two blocks northwest, and the landmarked Jackie Robinson Park and Play Center, originally called Colonial Park, is one block north. In the 1860s, when the area was marshy and largely unoccupied, there was even a harness horse racing track, called the Manhattan Island Association, just a stone's throw away.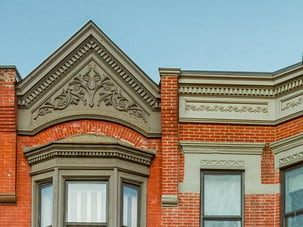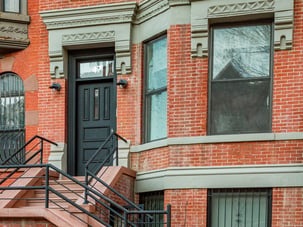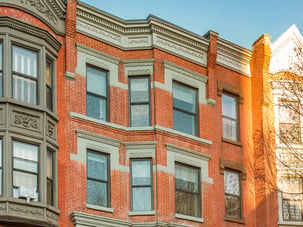 While home's front cornice and railings had been embellished with incongruous bright green paint in recent years, a bit of power washing and a more subdued coat of paint has restored the attractive front façade to a state more suitable to the modern masterpiece contained within.

VIEW THE FLOORPLANS FOR BRADHURST AVENUE: