Even infrequent visitors to Jersey City have likely noticed the abundant vivid murals that line many of the town's streets and parks. They crawl up entire sides of multi-story buildings and decorate overpasses and bridges. Some travel along at sidewalk level, while others start high overhead and peer down from dizzying heights. Many are well-known and oft-visited by Instagramers on a mission, but a handful are tucked in out-of-the-way alleys or winding lanes, providing an unexpected surprise as New Jerseyans go about their days.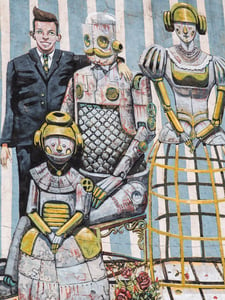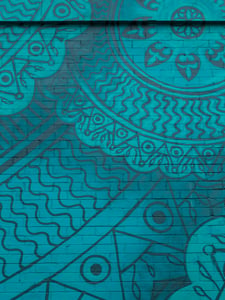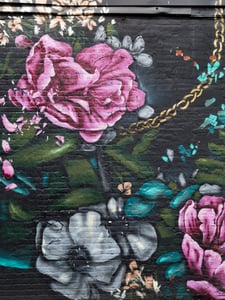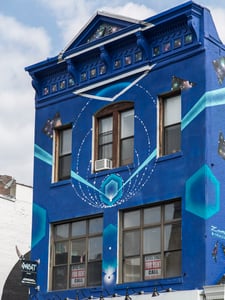 Launched in 2013, the Jersey City Mural Arts Program (JCMAP) oversees the placement and execution of many of the paintings and signs in this outdoor gallery. Supported by a grant from New Jersey Clean Communities, a statewide litter abatement nonprofit, the program has grown quickly with more than 40 works of art commissioned in its first two years. Today, more than 100 JCMAP murals can be found throughout the city, from The Heights to Greenville.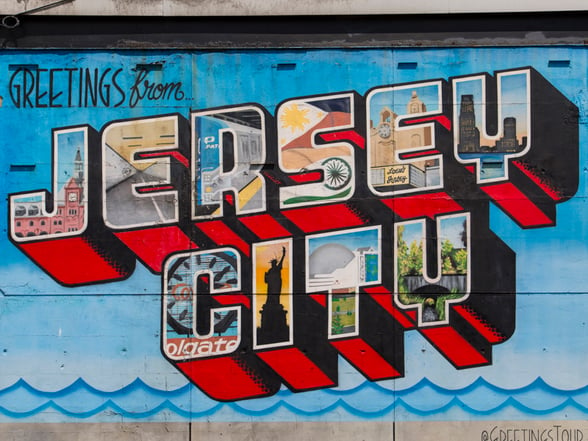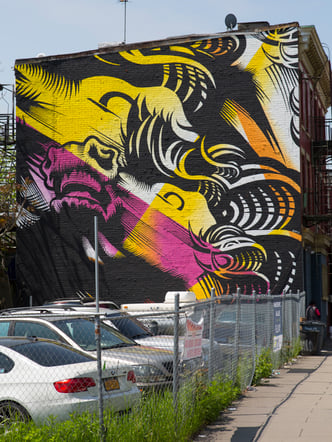 Aside from enhancing Jersey City spaces in need of TLC, many of the murals make strong political statements about the community's past, present and future, alluding to the The Sixth Borough's transformation from a manufacturing center into a modern city in the post-industrial age. While we've highlighted 20 of the works here, we invite you to download a map from the JCMAP website and explore their provocative and enriching effects for yourself.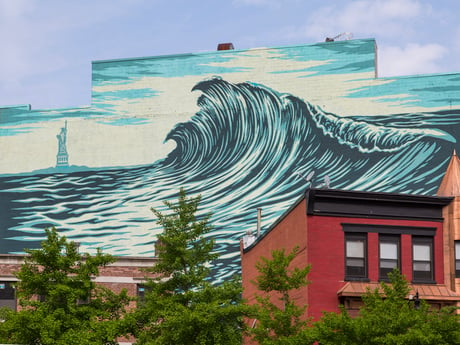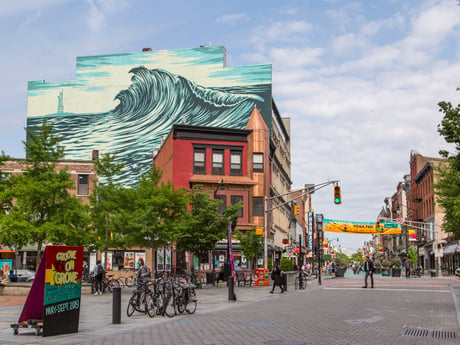 Starting at the Grove Street PATH station, two corridors filled with a dozen JCMAP paintings provide art fans and commuters with a target-rich environment for exploration along Christopher Columbus Drive and Newark Avenue. In fact, one of the most well-known pieces in the JCMAP collection is poised high on the upper levels of 121-125 Newark Avenue, greeting visitors to Grove Street Plaza below. "The Jersey City Wave" by well-known artist
Shepard Fairey
depicts a tsunami-like wave rising over the water with the Statue of Liberty in the distance. According to the artist, known for his famous Barack Obama "Hope" poster, the sky-high mural is meant to represent the cultural renaissance sweeping through modern-day Jersey City, while also referencing its waterfront position.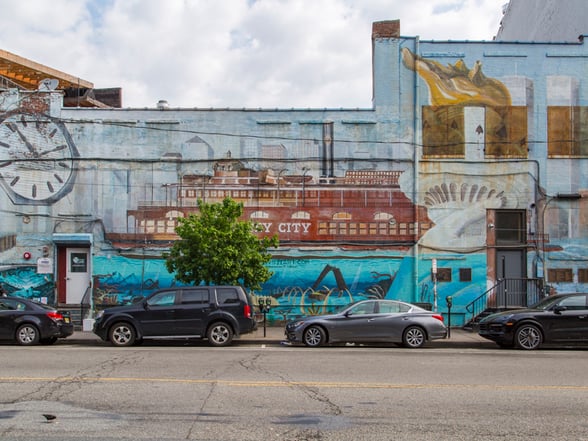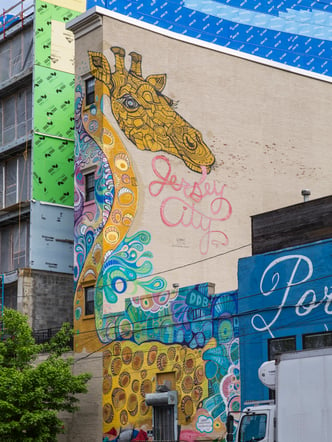 On Christopher Columbus Drive west of Grove Street, two murals flank the rear entrance to local favorite restaurant Porta, juxtaposing childlike wonder with historical reverence. Fittingly, the colorful "Jersey City Giraffe" by Catherine Hart ascends to soaring heights along a four-story building. Meanwhile, "Beneath the Hudson" by PAWS21 dives below the harbor, depicting the aquatic life beneath the surface with the World Trade Center towers and a boat above.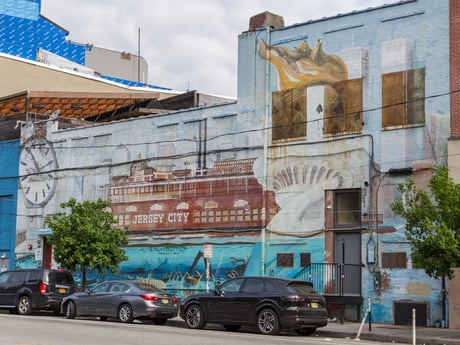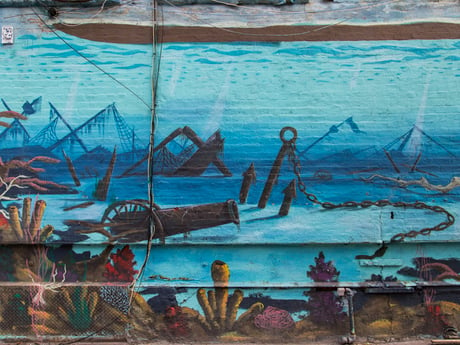 Further on, near the intersection of Christopher Columbus and Barrow Street, "Native" by Gaia contrasts images of old and new in a thought provoking manner. The face of Frederick Henry, the Prince of Orange and a key figure in the establishment of New Amsterdam, is placed side-by-side with that of a Lenape native. A brownstone building sits near a glass high-rise, all surrounded by a breakfast table still-life. Before the Gaia piece was commissioned here, it had been the site of what was once called the "largest mural in the country," an image of the Statue of Liberty painted in the mid-90s by a group of artists under the direction of veteran muralist Franc Palaia.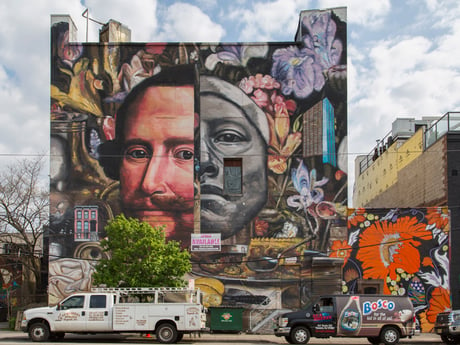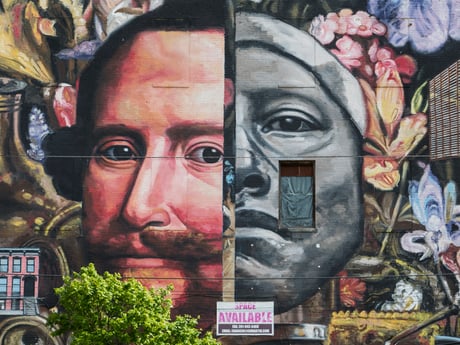 Across the street, at 141-143 Christopher Columbus, the historical references of "Native" are contrasted by "Black Sheep," a sort of modernist family portrait. In the painting, Italian street artist Pixel Pancho has featured himself, the so-called black sheep, as a human boy alongside robotic family members.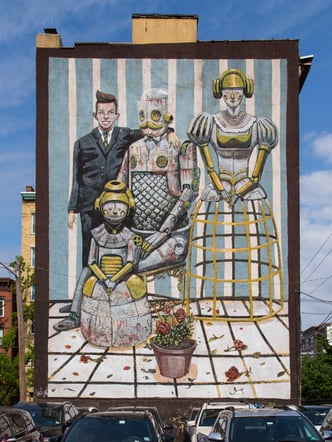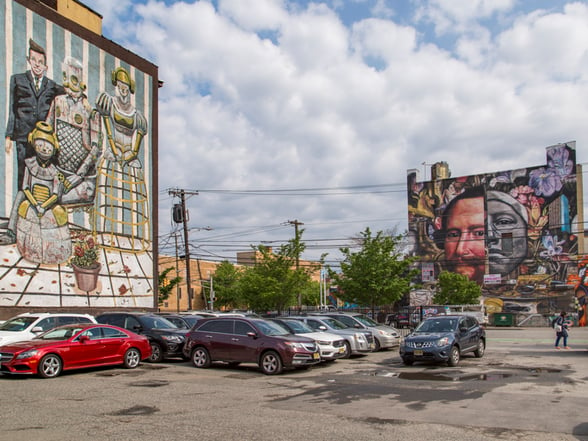 From here, head back to Newark Avenue to find a charming collection of relatively recent additions to the street art landscape. Marina Zumi's "Intuition" bathes the three-story building at 172 Newark Ave. in gorgeous deep indigo and luminous space imagery, a nod to the Liberty Science Center's spectacular planetarium.
Opposite the alleyway here, at 176 Newark Ave.,Nate Frizzell's "Untitled" is a striking portrait of a woman wearing a flower crown with antlers. Known for portraiture that ruminates on the metaphorical masks we wear in our daily lives, Frizzell is also responsible for a JCMAP piece called "Sonder" along Paterson Plank Road (below 364 Ogden Ave.) in The Heights. There, overgrowing foliage only enhances the powerful imagery of a large bear sauntering toward a young boy holding a bear mask.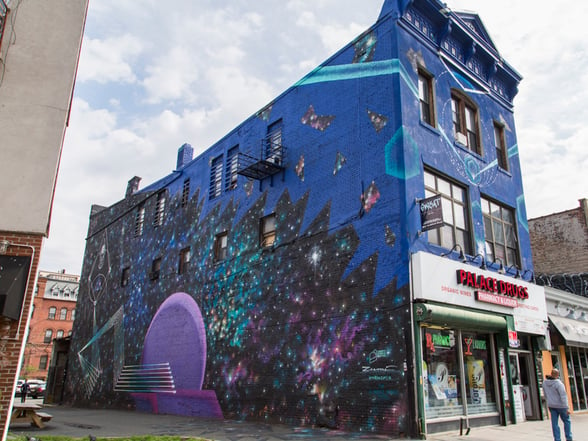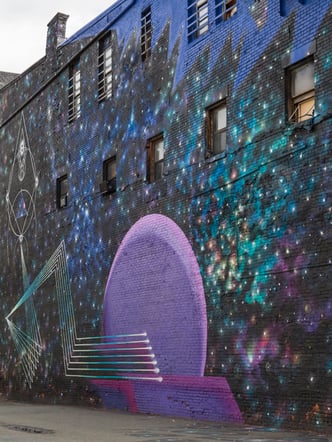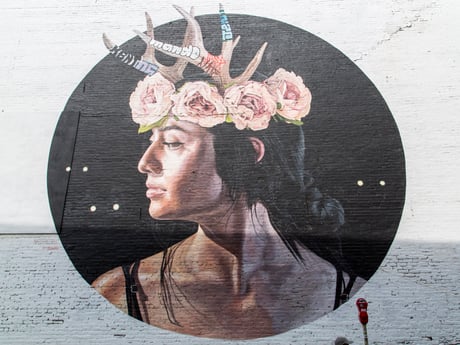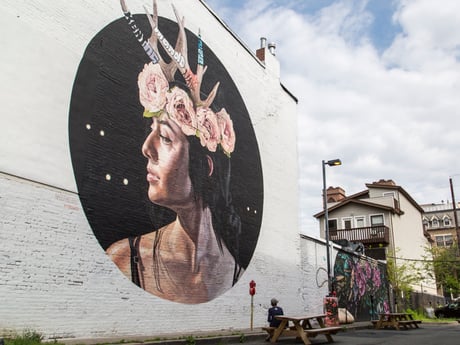 On the western façade of 184 Newark Ave., an ethereal wallscape entitled "Cherry Blossoms and Train Tracks" by Blair Urban features open sky and shimmering water bordered by reeds. At a distance, the imagery is so realistic, one might wonder if the residents whose windows sit within the mural enjoy wafts of cherry blossom scents as breezes blow through the titular flowers.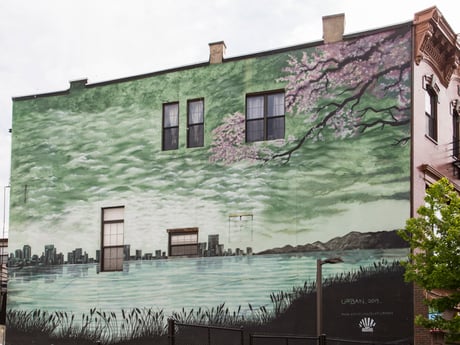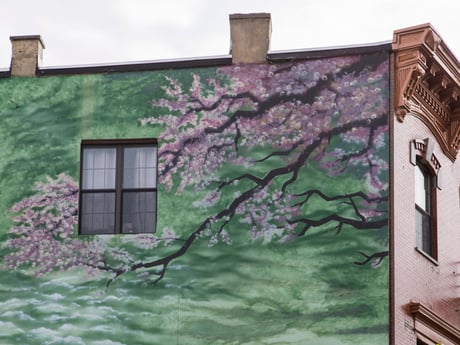 Urban is also the artist behind the takeover of the prow-like building at 282 Newark Ave. Known as "Lafayette Rising," this piece pays homage to numerous local landmarks on a field of vivid blues and golds.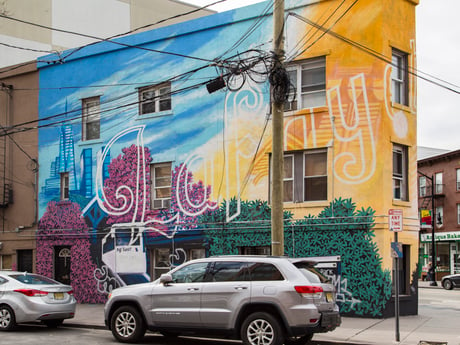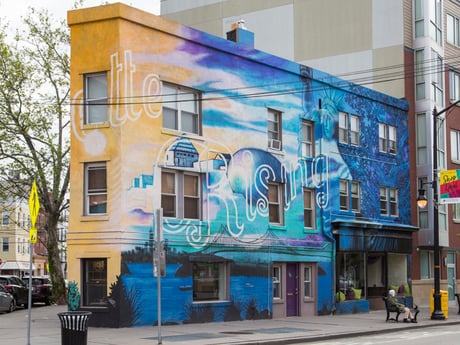 In between the two works by Urban, at the corner of Monmouth and Newark Avenue, "Jersey City Crown" is a must-see for history and art buffs alike. Occupying the full western façade of No. 266, artist Beau Stanton wields his classic style to depict iconic Jersey City structures as the crown of a bearded, god-like figure. The Powerhouse, old City Hall and New Jersey Central Terminal are a few of the buildings represented.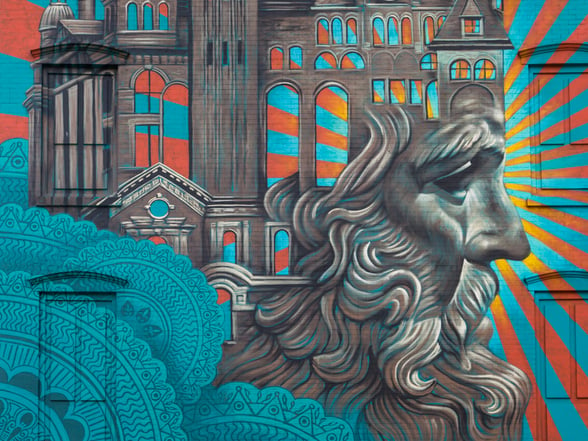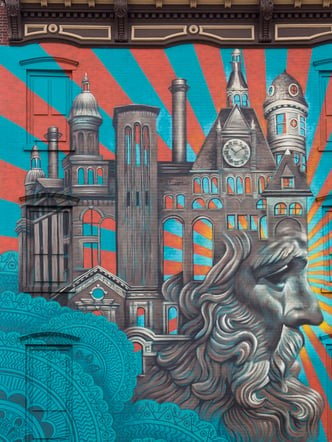 The Little India area surrounding the Journal Square PATH station provides another cluster of murals with special appeal for lovers of abstract art and Indian influence. Artist Hellbent has covered 10 Liberty Ave. with soaring swaths of color and pattern inspired by Indian block prints in his mural titled "Jaan Pehechaan Ho," also the name of a lively 1960's Bollywood anthem.
Nearby, where Tonnelle Avenue spans the train tracks below, Brooklyn artist James Little flanks the street with a similar color-block motif in his "Bridge to Mumbai." Kremen Art, AKA Esteban Kremen, nods to India's national symbol with "Sunset Tiger" which prowls towards Newark Avenue at JFK Boulevard.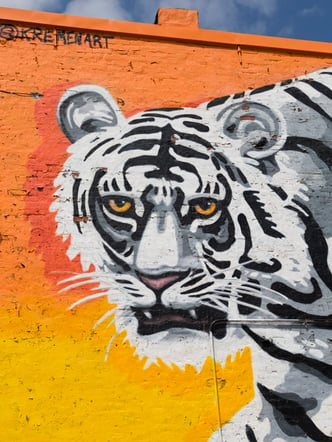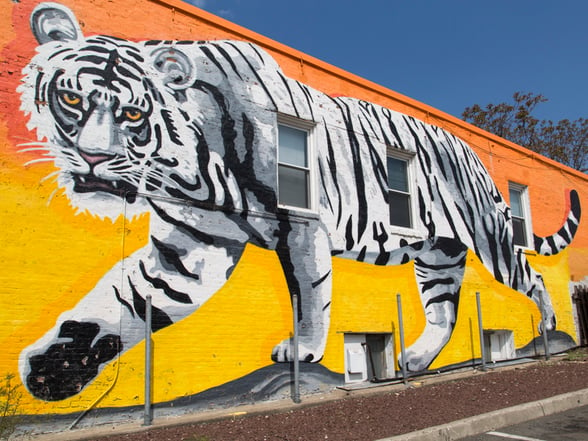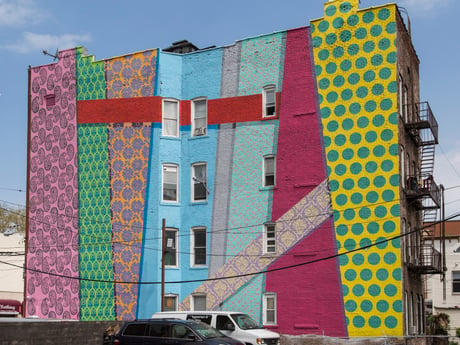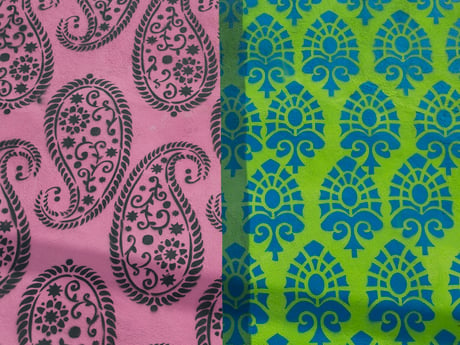 A sentimental favorite among the JCMAP collection is the Bowie mural painted at the Cast Iron Lofts at 300 Coles St. by Eduardo Kobra, one of the world's most well-known street artists. Completed nine months after the singer's death in 2016, the mural features Bowie in all his colorful Ziggy Stardust glory, keeping a watchful eye along Downtown Jersey City's northern reaches.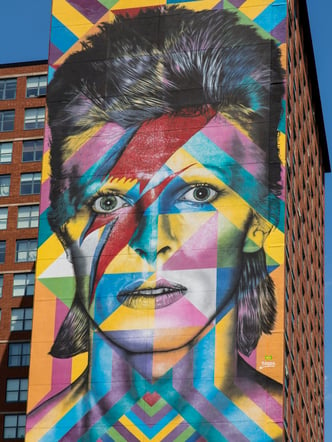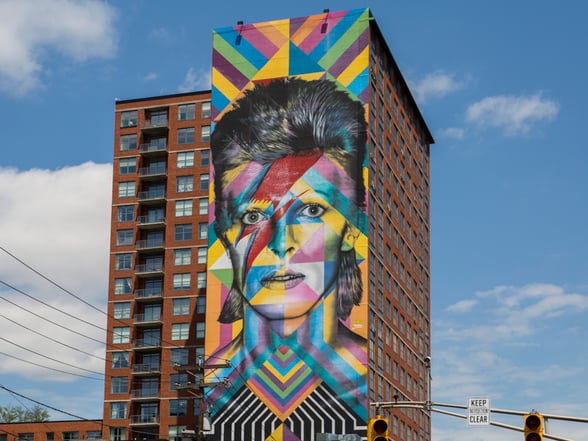 Among the most prolific artists on the JCMAP roster is Corey Fleming, painting under the moniker "Emilio Florentine." Fleming is a New Jersey native, a longtime Jersey City resident and, according to his bio, he has also acted as a curator for the Jersey City Mural Arts Program responsible for recruiting top-tier artists like Shepard Fairey to the collection.
Known for his vivid floral artwork, in a small alley that runs between Newark Avenue and 1st Street, just past Frizzell's "Untitled" piece, the bold "Gold Chains & Bouquets" is a surprising burst of color and a favorite Instagram backdrop. In Communipaw, at the corner of Whiton Street and Johnston Avenue, his "When Things Fall Apart" adds a punch of disintegrating calla lilies on a purple field to a block of pale-colored homes. Not restricted to walls, Fleming's work also decorates the security gate at Singh's Department store in India Square at 790 Newark Ave., a stone's throw from "Jaan Pehechaan Ho."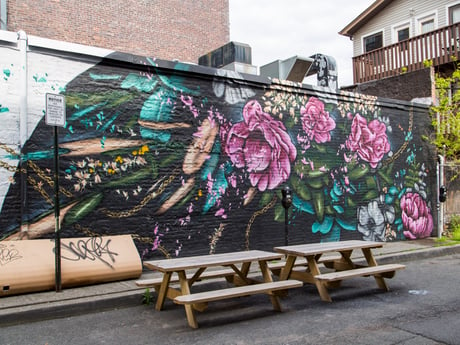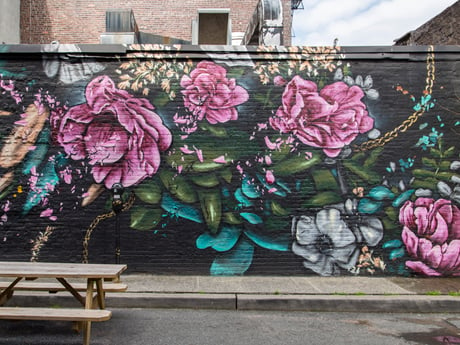 Fleming has collaborated often with another prolific JCMAP artist Shaun Edwards, known as Pawn. Together, the two are responsible for the enormous, breathtaking piece "Chameleons" at Bayside Park, featured in our tour of Jersey City's southside neighborhoods. The duo is also responsible for two of the most controversial entries in the JCMAP collection: "Long Lost Lenape Trail" at 13 Summit Ave. and "Pursuit of Liberty" at 7 Tonnelle Ave. Both murals juxtapose Native American imagery against traditional American iconography, including the American flag and the Statue of Liberty, to mixed effect. Pawn has defended the work stating that it is "nothing but a tribute to the Lenni-Lenape tribe and its culture which inhabited the land in the neighborhood we now call Bergen-Lafayette Jersey City," while public outcry has called the imagery appropriation and "blatantly insensitive to Native American history and culture."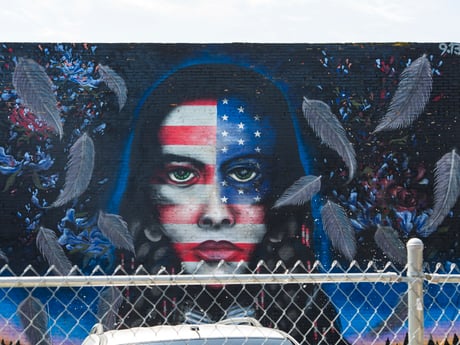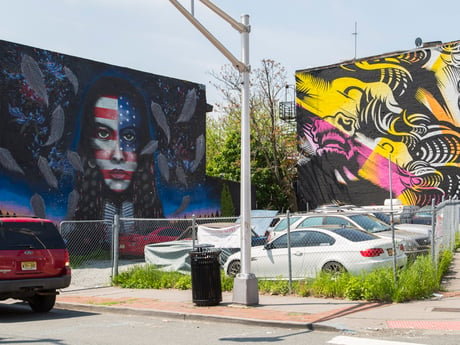 The dispute calls into question the diligence of the Jersey City Mural Arts Program vetting process and the need for public involvement. Other community members have called into question the overall effectiveness of spending dollars earmarked for litter cleanup to the painting of murals. But in fact, anecdotal research has shown that street art and murals can have positive effects on reducing unauthorized graffiti and vandalism. And, in 2016, Fast Company delved into the correlation between street art and housing prices, including a University of Warwick research project that tied the GPS locations of street art images to higher property values in London neighborhoods.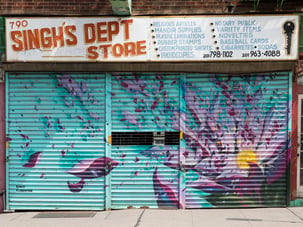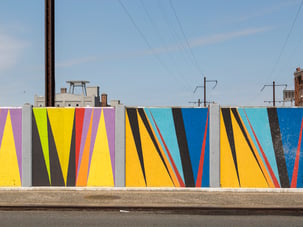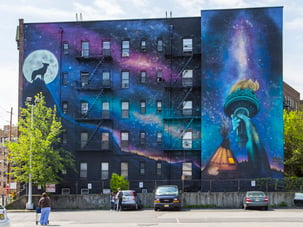 Questions remain, in Jersey City and around the world, about what position street art holds in the greater context of community and its growth. Is it an authentic attempt to add beauty to neglected neighborhoods? Expressive artistic rebellion? A civic tool wielded to drive real estate values? All of the above?
Perhaps longtime artist Franc Palai said it best, "Murals are a catalyst that ignites the public to notice their surroundings. People start talking about them, and eventually, this leads to more community engagement – sometimes even to art events, tourism and musical concerts – all the elements of a good quality of life."