After stints in Connecticut and Manhattan, this Canadian guy, Midwestern gal, and three children ages 3 to 16, fell in love with a Brooklyn neighborhood they'd never heard of.
For Jeff and Kristin, the road to finding the perfect home for their blended family of five wasn't an easy one. While their former Connecticut house was lovely, it proved inconvenient once Jeff's children from his first marriage — Olivia, 16, and Leo, 13 — began school in Manhattan. And the couple's subsequent Upper West Side apartment became cramped once their now 3-year-old son William grew into an energetic toddler. Setting off to find the perfect combination of size and location, their home search became an exercise in discovery and determination.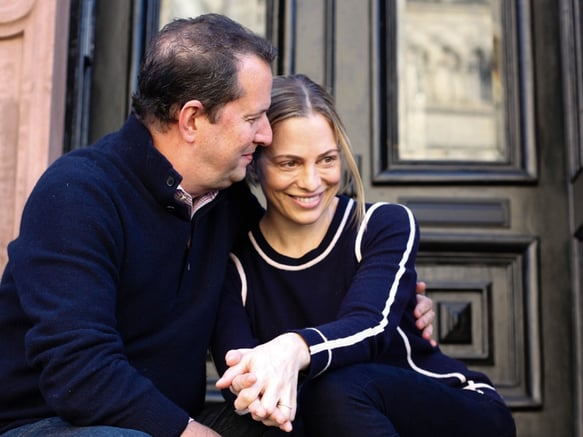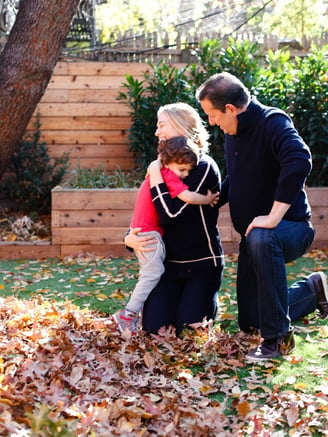 Originally from Canada, Jeff has been in the U.S. since his college years at Cornell and Georgetown. Soon after, he moved to New York City and began a career in finance. Kristin is a Wisconsin native who moved to the city to pursue her acting career. The couple met in 2009, each coming out of former relationships, and were married in 2012. For Jeff, becoming a husband and father again was unexpected, but incredible. "We were very blessed," he says. "I never thought I'd A) remarry and B) have another child, but it's been fantastic."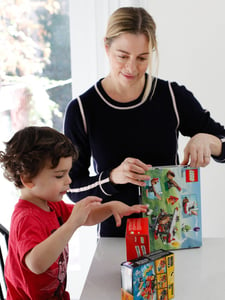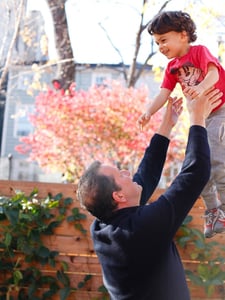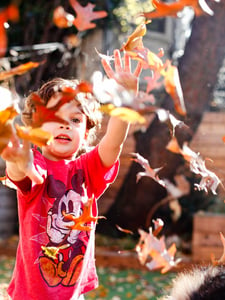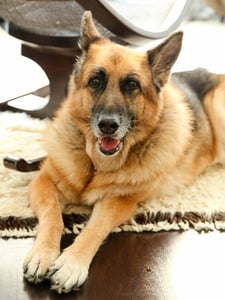 Situated on the Upper West Side, the couple was growing weary of the lack of space at a sky-high price tag. "We were in Manhattan for two years, paying ridiculous amounts of money for a small three-bedroom. We needed something where Will could run around," Jeff recalls. Quickly ruling out a return to the suburbs, their thoughts turned to Brooklyn, but as Jeff puts it, "Neither of us knew anything about Brooklyn. Literally nothing."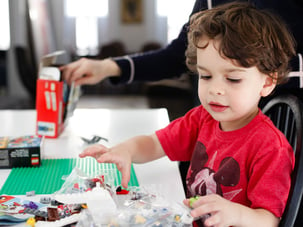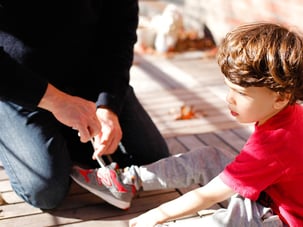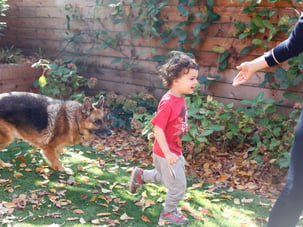 Kristin began poring over real estate websites, eventually landing on a Dixon property in Cobble Hill. "I loved the way it was renovated. I love that area and that street. But as much as I loved it, it just wasn't the house for us," Kristin recalls. Luckily, her trip to Kane Street wasn't a total loss. There, she met Josh Carney, Dixon's Director of Leasing, who quickly suggested she look at the Lafayette Avenue home.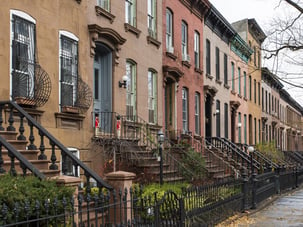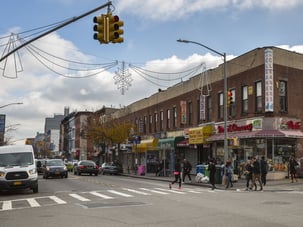 Kristin and Jeff, knowing little about Brooklyn, had been focusing their search on more well-known neighborhoods like Cobble Hill. When they asked a friend about Clinton Hill, they were warned to be cautious of the area. Looking back, Kristin laments, "I feel so bad that I believed this wasn't a safe area; I just didn't know. I really love this neighborhood now." Unfortunately, that bit of negative feedback delayed her pursuit of Lafayette Avenue, and by the time she did visit, another couple was far along in the leasing process.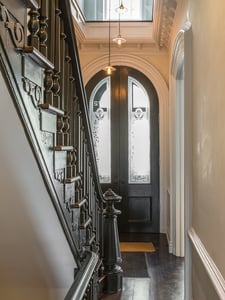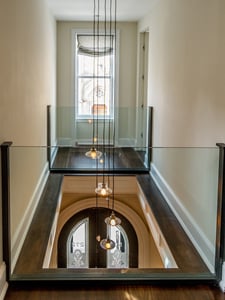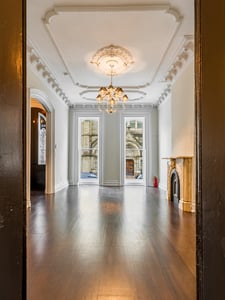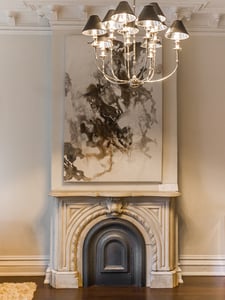 Kristin vividly recalls the first time she came to the house. "I'd had a tough day. I'd looked at three things that weren't for us, and I was very discouraged." But that all changed the moment she crossed the threshold. "I couldn't believe how beautiful it was. It just felt like a little oasis. It was one of those feelings where you walk in, and in the first minute, it hits you — I really felt we were going to be living here. But because the other couple was so far along, it just seemed like we were too late."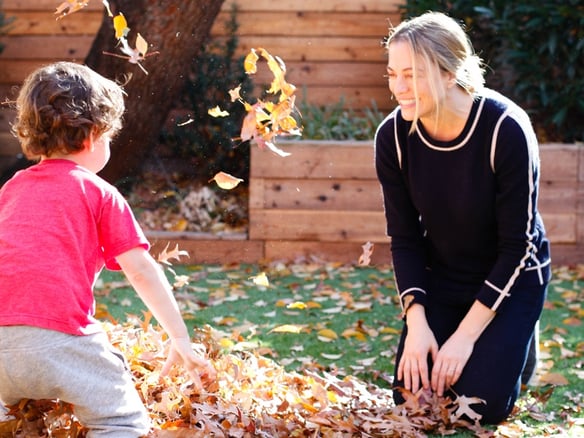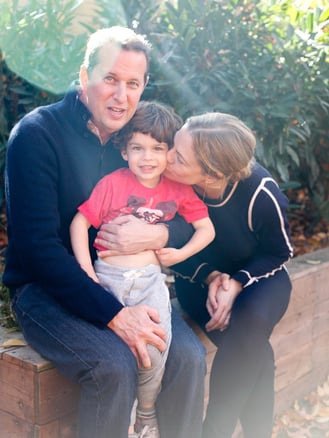 "We kind of gave up on it, but Kristin was very persistent," Jeff recalls. "She was calling Josh and writing to Josh and talking about how well we would take care of the home. And it ended up that it worked. We won the day!"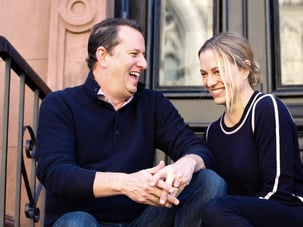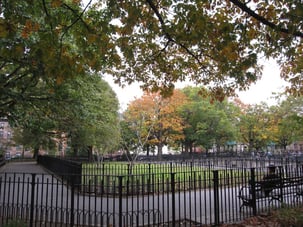 Any lingering concerns about the neighborhood were also quickly disproved, as the couple found it to be more welcoming than their Manhattan environs. "There's a friendliness," Jeff explains. "When we moved in, literally every neighbor on this block knocked on our door and introduced themselves, offered help." The same friendliness is pervasive among families visiting nearby Underwood Park, which Jeff calls "Nirvana" for young Will.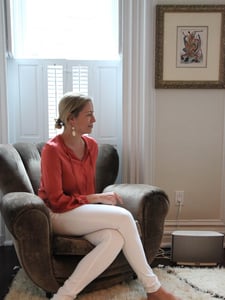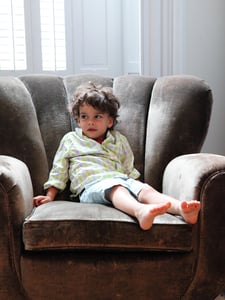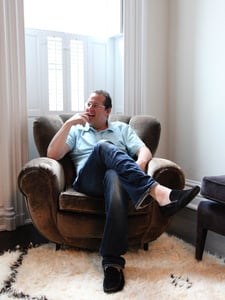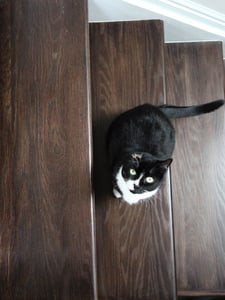 You might call Jeff a bit of a period home connoisseur. He's owned and restored a number of older houses, including 1770s and 1930s era homes in Connecticut and an apartment in the coveted Dakota building. "I have a real affinity for homes that have kept their character, but also been modernized," he says.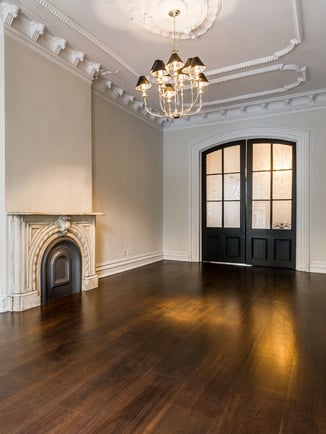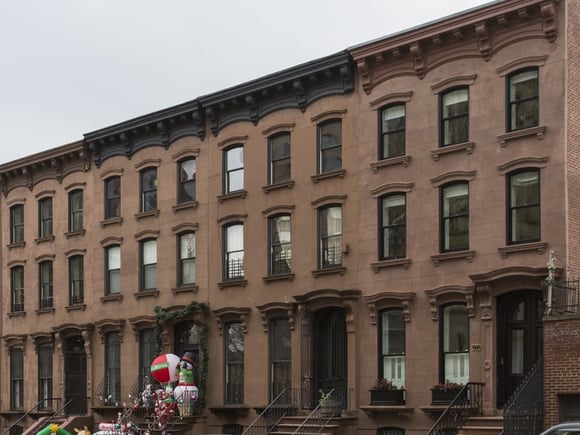 The Italianate townhouse on Lafayette Avenue certainly fits the bill. Built in 1868 as part of a row of five identical houses, the four-story home retains ample historical details that have been neatly married to modern upgrades among a boldly elegant
black-and-white palette. The hallmark of the townhouse is the abundant, ornate plasterwork that winds its way throughout the home, from the wedding cake ceiling on the parlor floor to the dramatic central staircase. "Dixon didn't miss a beat on making sure the plasterwork was restored to the best of their ability," remarks Jeff. "I've done a bunch of houses in my time, so I know how hard plasterwork is."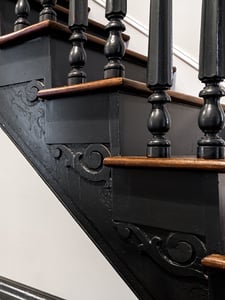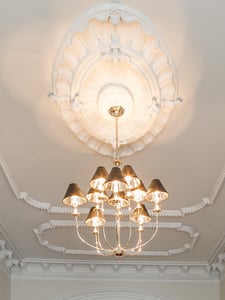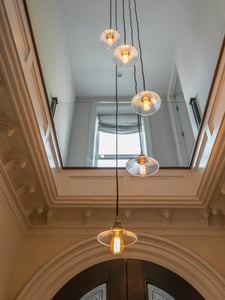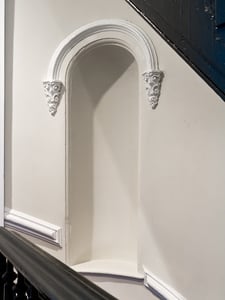 The plaster restoration was no small feat, as the entire interior was in significant disrepair when the home was acquired. As Noah Howard, Dixon's Project Manager for the property, recalls, "I was really affected by the plaster restoration. We had artisans come in and recraft and sculpt. Just watching those guys was a lot of fun, because there aren't a lot of people who do that kind of work anymore. It's an art form at this point."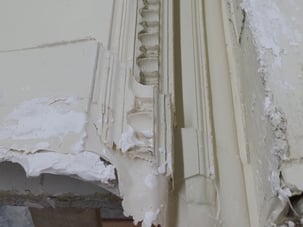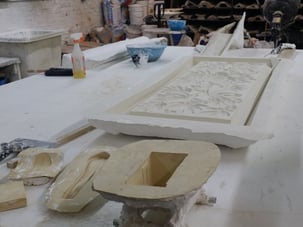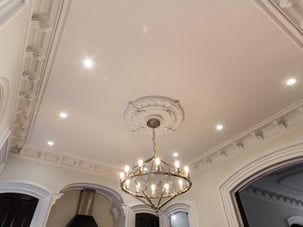 Perhaps nowhere is the marriage of old and new more evident than in the striking and unique kitchen, which presented both a challenge and an opportunity to the Dixon Design Team. Situated at the rear of the parlor floor, the room enjoys a working marble fireplace, ample sunshine and nearby outdoor space; however, the lack of vertical wall space prevented the installation of upper cabinets. Instead, a massive Caesarstone island houses rows of custom cabinets, a dishwasher and freezer drawers while also providing convenient casual counter seating under a stunning Ralph Lauren chandelier. Nearby, a gorgeous Bertazzoni range and hood are flanked by a large pantry and a refrigerator concealed behind a replica of the original doors. The spacious wood deck, with views of the large backyard, provides the ideal spot for al fresco dining.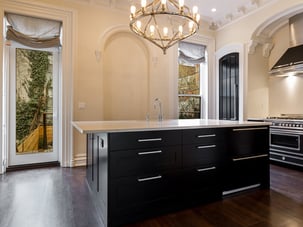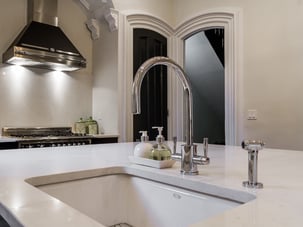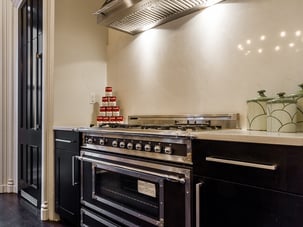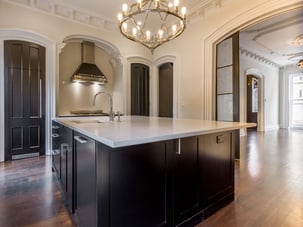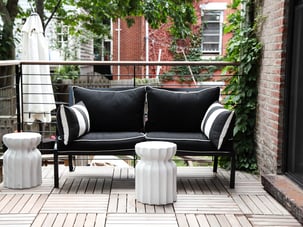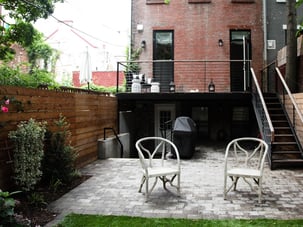 The balance of the parlor floor is dedicated to the large dining and living areas, separated by original frosted glass pocket doors and lit by full-length windows under a sky-high ceiling. As Jeff explains, "After the 9-foot ceilings in Manhattan, being able to hang out in this room, it almost lifts the spirit because it's so huge." Nearby, the original staircase has been artfully restored and topped with modern glass handrails and a dramatic fixture that draws the eye even further skyward.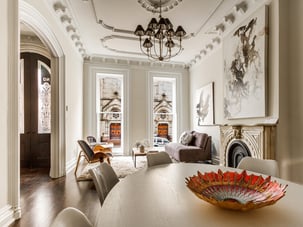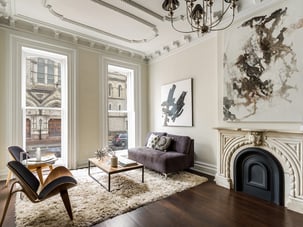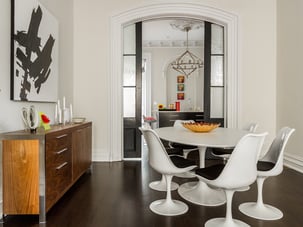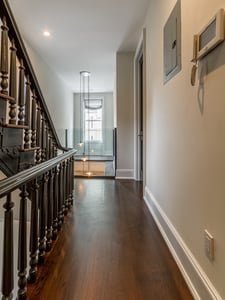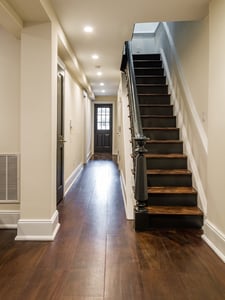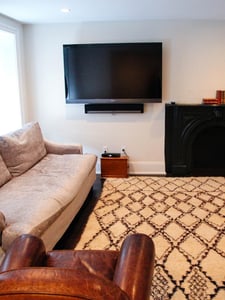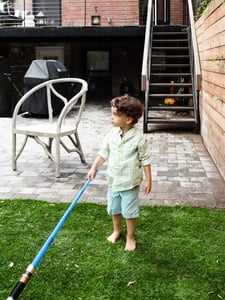 On the garden level, a cozy family room leads to a paved patio and turf backyard — an ideal spot for young Will to romp with the family's shepherd, Bella. Olivia's bedroom suite on this level provides ample privacy and solitude for her singing practice, while another full bathroom, laundry closet and extra storage provide nearby convenience.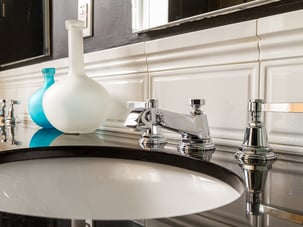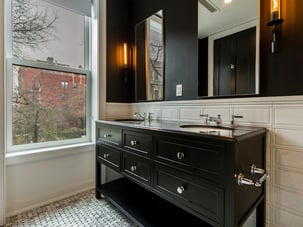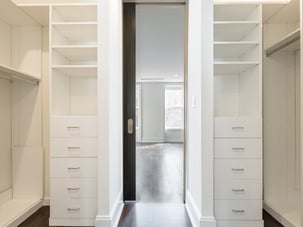 The second level of the home is devoted to Jeff and Kristin's full-floor master suite. The bed chamber features leafy backyard views while the striking en suite bathroom is paved with Dixon's customarily detailed marble floors. Glide through the impeccably outfitted walk-through closet to arrive at "Kristin's shoe room," as Jeff calls it. This airy sitting room has been transformed into the chic dressing room of every girl's dreams, terminating in a delightfully sunny nook, home to a Chinoiserie secretaire desk overlooking the bright stairwell below.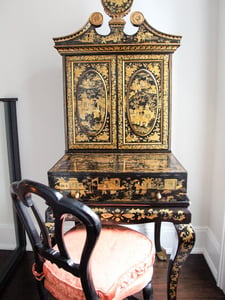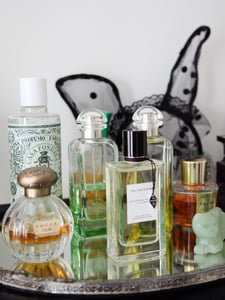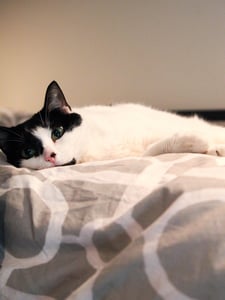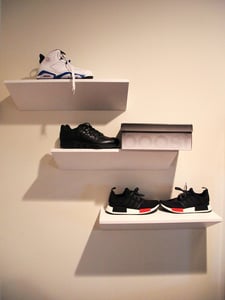 On the third level, Leo's room is outfitted with his massive sneaker collection and bunk beds, suitable for stayovers and as a comfy nap spot for the family's two cats, while Leo's precious room is equal parts playful and tranquil, decorated in angel's wings and a John Lennon drawing.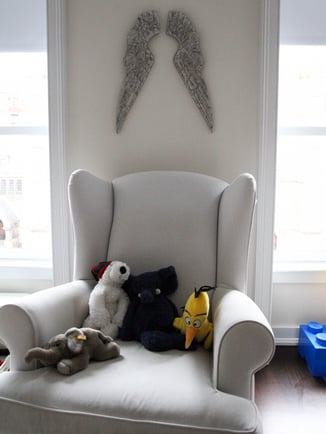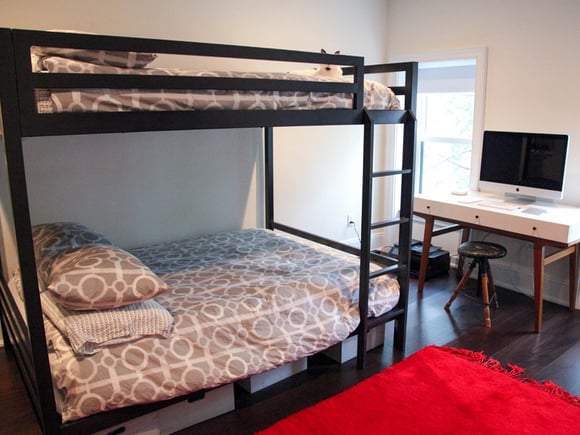 From the third floor, a new staircase was built to access the home's newly added penthouse and stunning roof deck. Topped by a skylight and outfitted with a wet bar, two wine refrigerators and a powder room, one never need descend from this glorious penthouse oasis where the family enjoys the rooftop's welcoming Jacuzzi and breathtaking views of the surrounding area. "At sunset it's so pretty up there. I can't wait for our first party," remarks Kristin.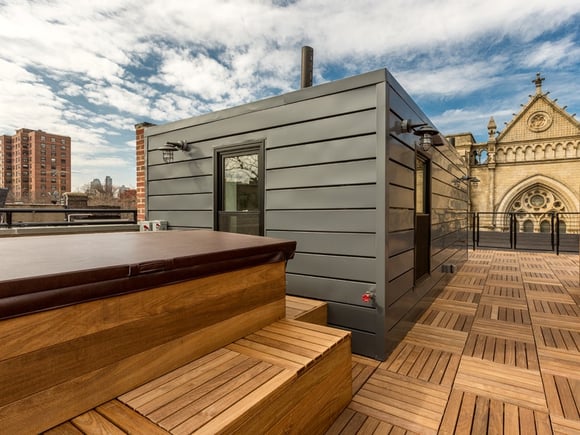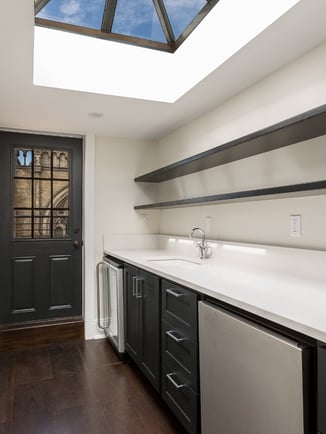 For Jeff and Kristin, it wasn't just the interiors of the Lafayette home that attracted them. Across the street sits the landmarked Emmanuel Baptist Church — a massive Neo-Gothic beauty designed by Francis H. Kimball nearly 20 years after the townhome was built. Reminiscent of a grand French cathedral, the church provides breathtaking vistas throughout the home. "Every morning, you wake up overlooking the church, and it's like being in Paris," Jeff remarks. For him, it's one of the home's best features.

European settlement of Clinton Hill can be traced to the mid-17th century, as Dutch settlers began to grow tobacco in the area, buying up land from the native Lenape. By the late 1800s, the area had become an escape from the tight quarters of Manhattan, and a residential enclave for affluent professionals. Growth of the neighborhood was spurred by one of its most prominent residents, oil man Charles H. Pratt. Pratt founded the eponymous Pratt Institute, built grand mansions for himself and his sons just northwest of the Lafayette Avenue home and, as a devout Baptist, was a major contributor to the construction of the neighboring church. Clinton Hill became known as the "Gold Coast" of Brooklyn and a destination for wealthy merchants. It's no surprise, then, that the first two families to occupy the Lafayette Avenue home, from its construction through 1920, were in the jewelry trade.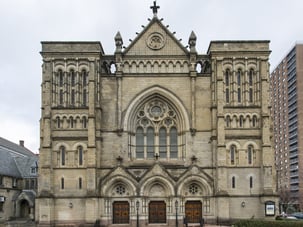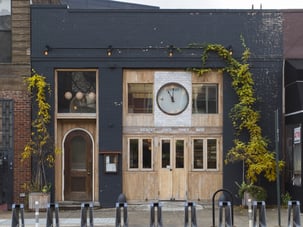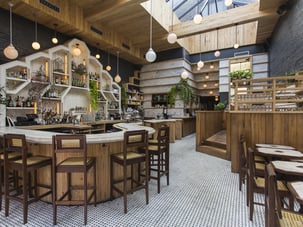 Today, the happy family spends their days chasing after active Will, enjoying the myriad of restaurants in the area or taking family walks through the Pratt Institute sculpture park. Olivia is a big fan of the Brooklyn Flea market at Fort Greene Park, while Leo spends time inviting Manhattan friends to the Clinton Hill home or heading off to the Lower East Side. Jeff raves about local dining options, including Mekelburg's for beer and a sandwich and Marietta for chicken and fried green tomatoes. Sisters ranks highly for its great cocktails, and Luigi's is the couple's go-to pizza spot.

Relaxing under the parlor floor's soaring ceilings, with smiling Kristin and giggling Will nearby, Jeff remarks, "I keep saying it's the best house I've ever lived in because there's a karma to it that is just happy."
After an arduous search, the family seems perfectly at home in the Brooklyn neighborhood they knew nothing about. As Jeff sums up, "I can't believe I haven't lived here for 20 years."
VIEW THE FLOORPLANS FOR LAFAYETTE AVENUE: