With their first baby on the way, a design-savvy couple fashions a gorgeous new home in an unexpected, family-friendly enclave.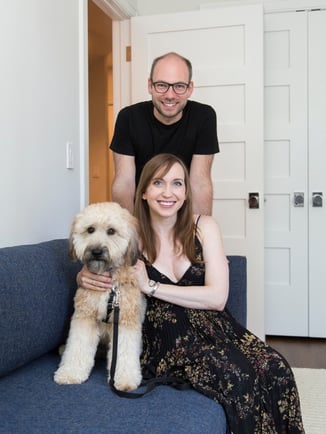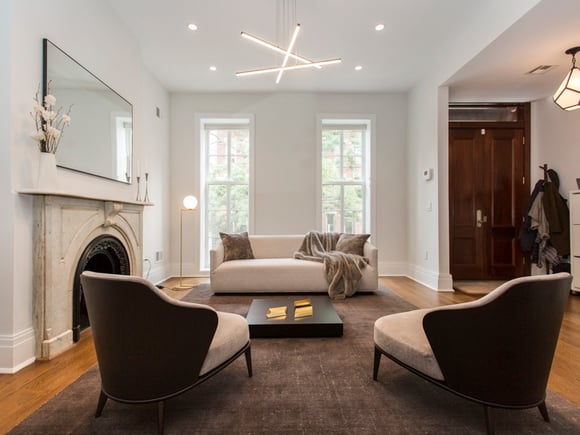 In our centuries-old metropolis, neighborhoods regularly grow and change over time. An area that once felt a bit remote and up-and-coming, can begin to feel crowded and a little noisy, in the space of just a few years. That was the case for Ben and Anna. The couple had met and married in Williamsburg and resided happily in a stylish loft on the south side. But, as thoughts turned to starting a family, it was clear that a change was in order. "It was a great location, but we really felt like we were outgrowing the neighborhood," recalls Anna. "There were so many changes and so much construction, and as we got older, we felt like it wasn't the neighborhood for us anymore."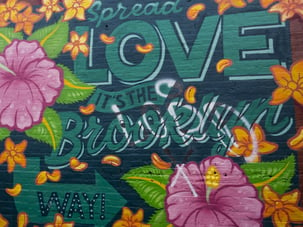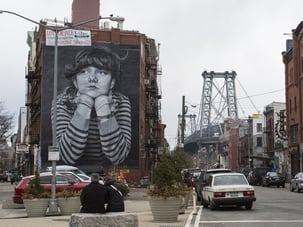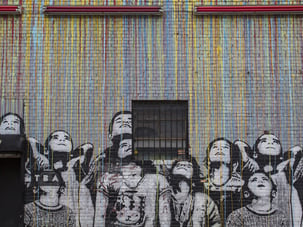 With their Wheaten Terrier, Penny, in tow, the couple began their home search scouting family-oriented neighborhoods around Brooklyn, which initially led Anna to a Dixon home in Clinton Hill. Around the same time, she visited a friend in Hoboken, which opened her eyes to the possibilities west of the Hudson River. "After visiting Hoboken, I started looking online and found all these great Dixon properties in Jersey City, and Ben actually has a bunch of co-workers that live in Jersey City because it's a really nice commute to his office."
"My colleagues were always talking about what a great area it was and how surprisingly convenient it was to get back and forth from Manhattan either on the PATH train or the ferry," recalls Ben, a computer hardware designer.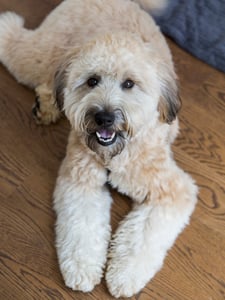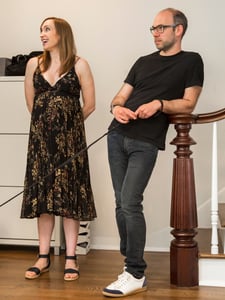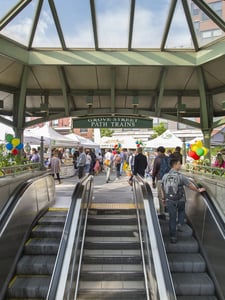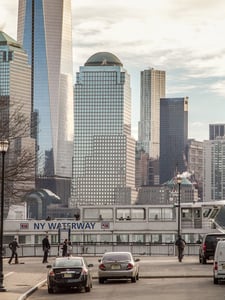 Anna looked at a few Dixon homes in the area, including a house on Barrow Street and a historic charmer in Hampton Court Terrace. Both properties were deemed quaint, but not the right fit for the couple. After visiting the home on Sussex Street, a bright, contemporary abode within historic brownstone bones, Anna knew she had to show Ben.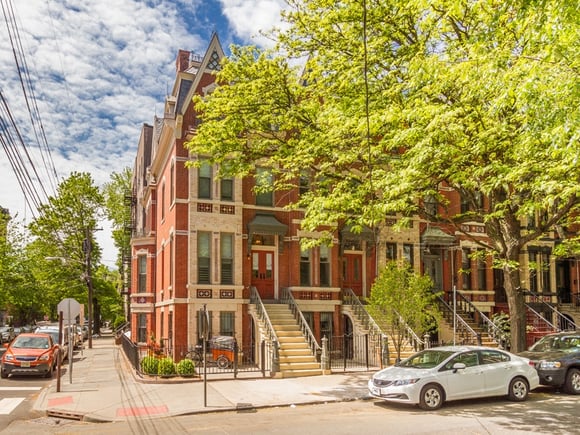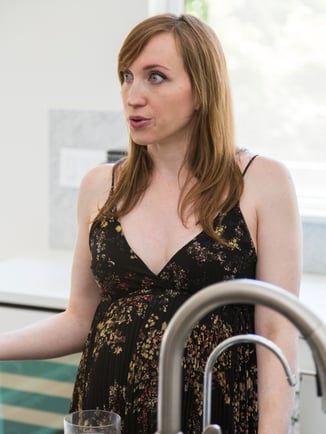 "I love that Dixon has a lot of properties that keep their historic charm, but this one made more sense for us. This is a more modern layout and the whole package was just so appealing," says Anna. "I noticed the details like the marble backsplash in the kitchen and the quality of the renovations. It's really hard to find rentals that are done to a condo-level finish, but that's what Dixon does."
For Ben, the openness of the home, especially on the parlor level was the biggest draw. "It was a big canvas. Part of the concern in looking at townhomes was that some of them just feel small."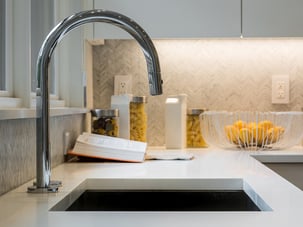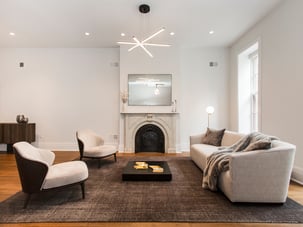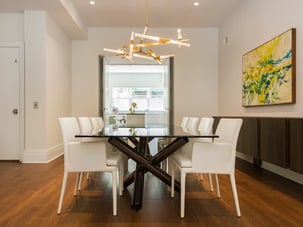 Built in the 1850s, the Sussex home has lost most of its architectural detail over time, so within its walls, Dixon created open airy spaces ideally suited to modern living. The rehabilitated staircase is original, and the living room fireplace is period appropriate, but modern conveniences, like the elevator and state-of-the-art appliances, are abundant.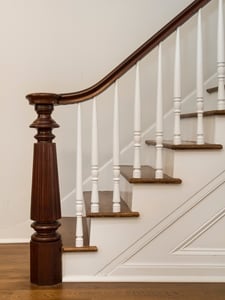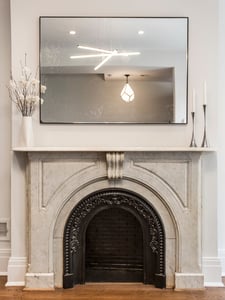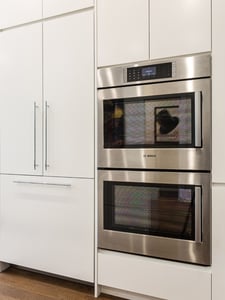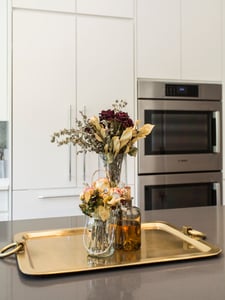 In 2011, Anna and Ben met online, but it turned out they only lived five blocks apart in Williamsburg. "Not that that made a difference!" Anna laughs. "We hit it off right away, so we would've dated even if we were on opposite ends of town."
With a multitude of shared interests and life experiences, it's easy to see why the couple clicked. Anna and Ben have each lived overseas for long stretches: She lived in Hong Kong between the ages of 10 and 16, and he lived in London for five years after earning his bachelor's degree in computer science at M.I.T. Both Ben and Anna also studied fashion: She completed a dual-degree program at University of Madison – Wisconsin and FIT, and he studied at the School of Fashion and Textiles at Central St. Martins College of Art and Design in London.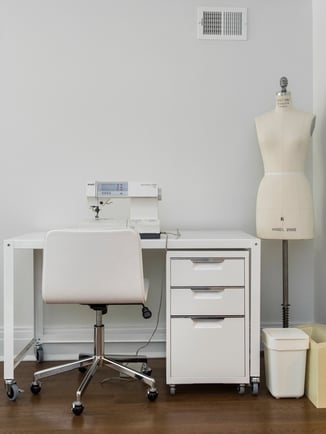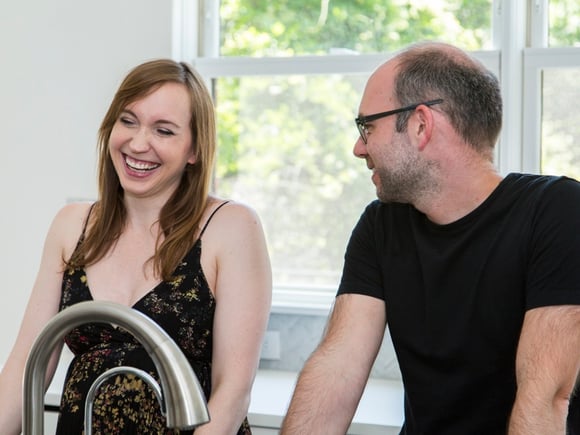 The couple married in 2016 and became pregnant shortly after moving into the Sussex house in October 2017. That means the majority of their time in the home has been devoted by preparing for their growing family, even down to the décor. Their Williamsburg loft had been Ben's apartment before the couple met, and it was furnished in an ultra-modern style. "It was very, very stark, and not particularly comfortable or homey," Ben describes. We're both minimalists at heart, and we like a modern look, but we were done with that particular style. So, moving was a great opportunity to add some real furniture."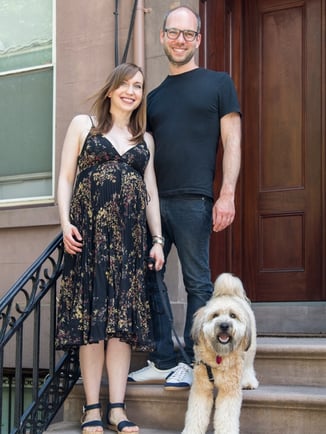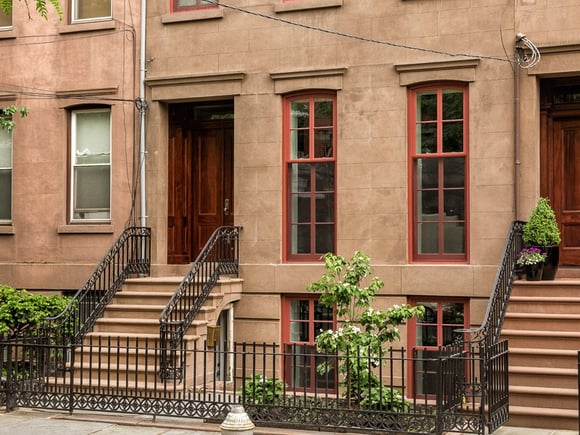 The result of their efforts is a home that feels equally inviting and sophisticated, with a balance of sleek and soft textures and a restrained color palette that creates a cohesiveness throughout. In the more formal parlor level, a sunny sitting room is situated in front of the stately fireplace and floor-to-ceiling windows where Penny keeps watch over the neighborhood. The furnishings, upholstered in shades of cream and ecru, don't necessarily scream "childproof," but were thoroughly researched to withstand both Penny and the new baby.
"With the couch, we were thinking in a practical sense for maybe first time, and we saw these swatches for 'performance weave' fabric," Ben explains. "We took them home and spilled wine on them and put water on them, and it all just beaded off!"
"So, we have a stain-repellent couch that's ready for the new baby. It looks modern and somewhat formal, but it's really baby-friendly," says Anna.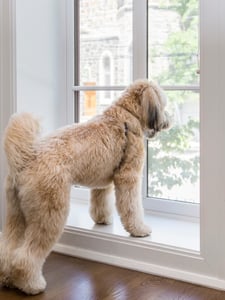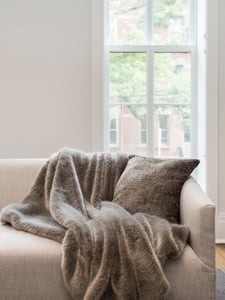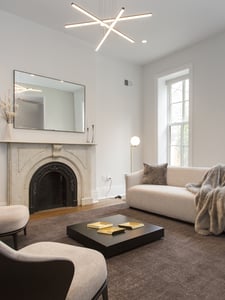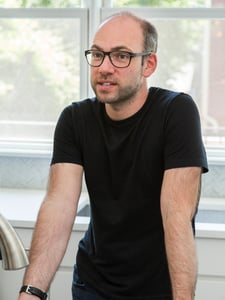 "One of the things we like about the space is that we can have a really grand dining setup next to the living room," Ben remarks. "We've gone neighbors' homes, and they kept all the rooms divided. It's very classic and beautiful, but the openness of this layout feels almost like a loft rather than a townhome."
Within that elegant dining room, a long and sculptural Van Dyck dining table by Minotti stands out against a gathering of white leather chairs, while a bold Italian sideboard adds organic texture. Over the dining table, the couple has added a distinctive Agnes chandelier by Lindsey Adelman, from Brooklyn's Roll & Hill. "Once we got this table, we really needed something more, but we were definitely inspired by the Sonneman Design pendant lights in the living room," Ben says.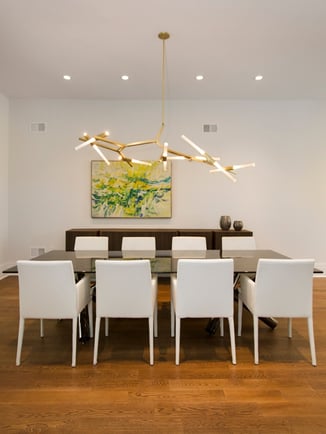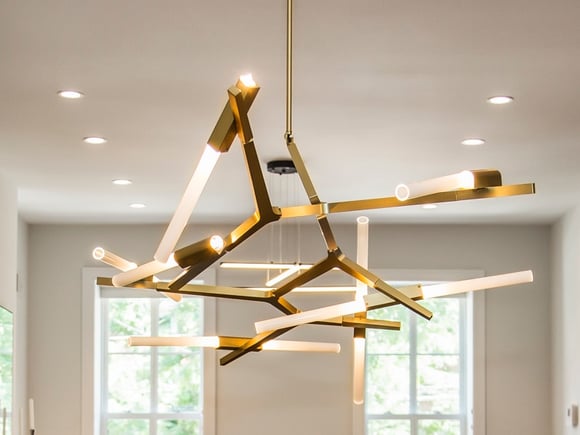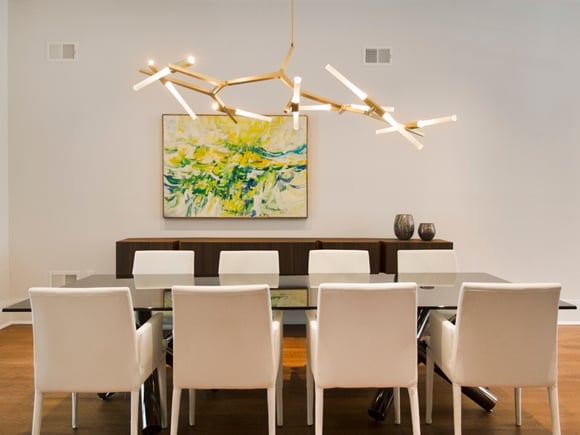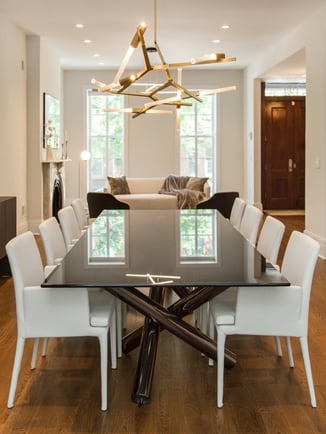 Just beyond, the spacious kitchen features an outdoor deck and is flooded with sunshine and leafy garden views. Finished in Caesarstone quartz and marble, with tons of glossy white cabinetry and sleek Miele appliances, the space is exceptionally-modern and ultra-convenient. "Our previous kitchen was super tiny, so this is a big upgrade for us space-wise," Anna points out. "We have started to cook a little more since we moved in, and I love having the two ovens. For the baby shower next week, we'll use them to keep a lot of the food warm, which will be so convenient."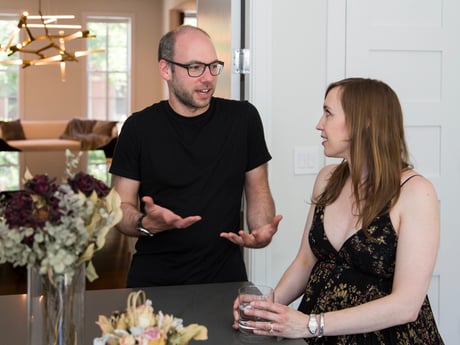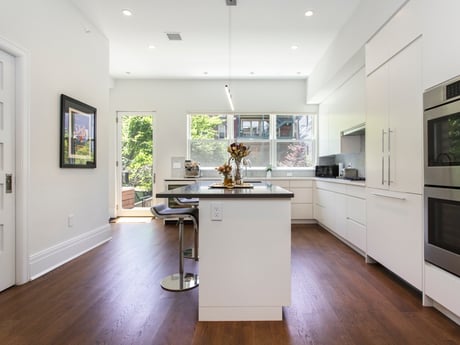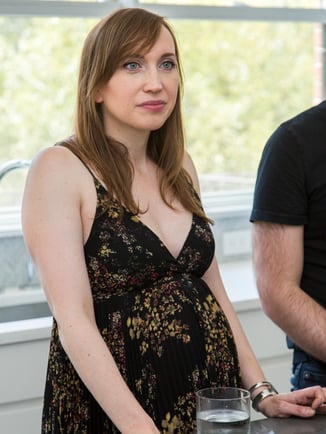 "I think this is the room we're most excited about," Ben says as he leads us to the lovely nursery situated on the second floor. Decked out in a sweet retro racecar theme, the room features knit blankets and furry pillows, all by handmade by Anna. Windows capture a lovely glimpse of the 1870 church across the street, and a delightful mobile of wooden racecars driven by a menagerie of animals dancing in the northern sunlight. The en suite bathroom and laundry just down the hall are sure to be useful once the baby boy arrives.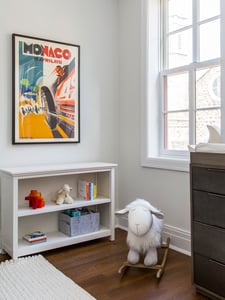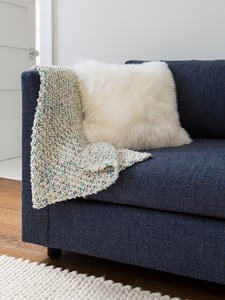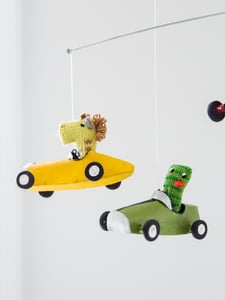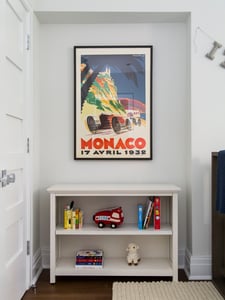 The couple's full-floor master suite is situated just above the nursery. The sunny bedroom overlooks the garden and features floor-to-ceiling NanaWall doors opening to an oversized deck. A huge, fully outfitted closet has been a boon for the couple. "The closet has been really nice. We were really in need of a walk-in closet," Anna remarks.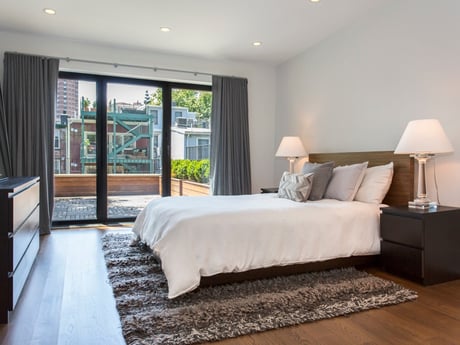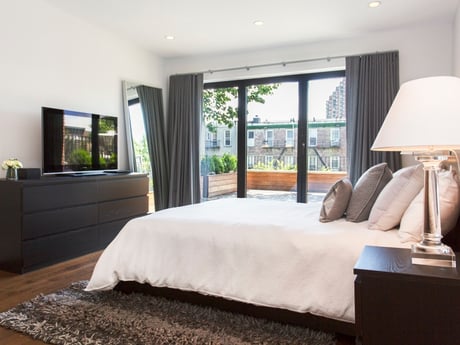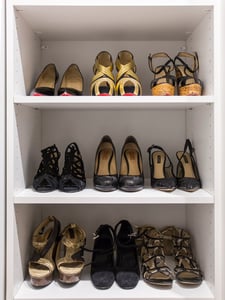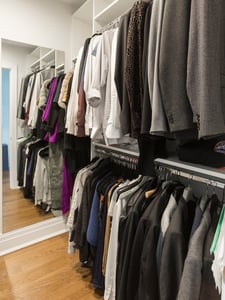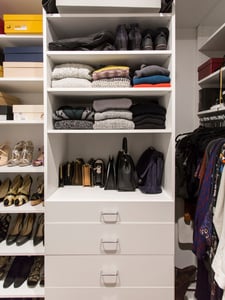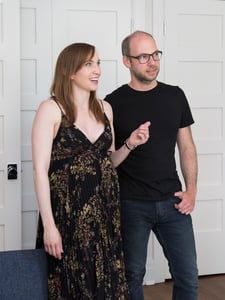 Ahead, a tranquil bathroom features a wide, double vanity and a large frameless glass shower with a bench, all centered on a freestanding soaking tub. "I'm not a big bath person, but since I've been pregnant, it's been really nice. And it's bigger than it looks — the water covers my whole belly!" Anna laughs.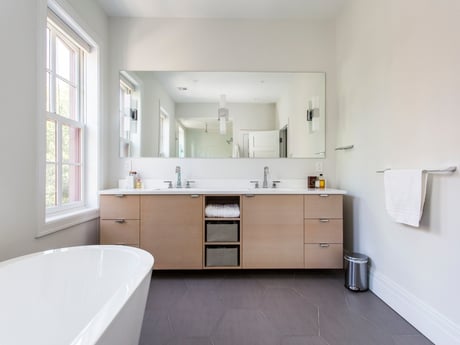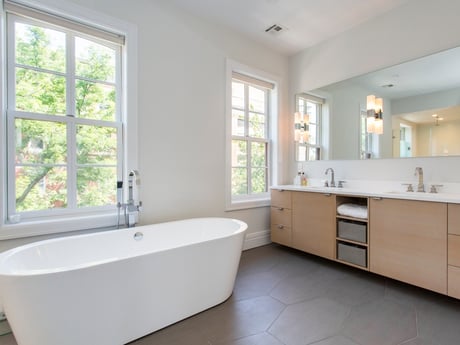 Above the master suite, an oversized roof deck wraps around the home's large Jacuzzi tub. Set among the treetops, the deck seems to straddle the history of Jersey City with views that span from the neighboring 150-year-old church to shiny new high-rises ascending along the waterfront. Small shrubs with automatic irrigation add greenery, while access to water and electricity make it ideal for entertaining. "This is certainly one of our favorite spaces," Anna says. "We have coffee out here while Penny moseys around."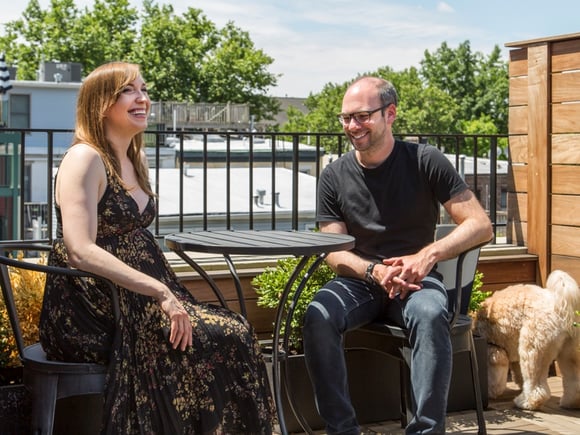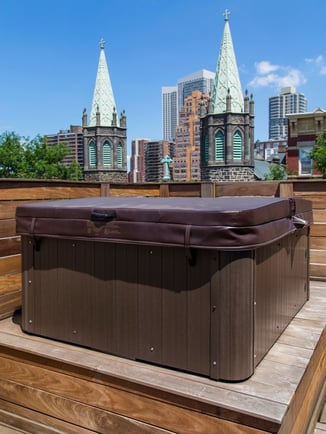 Down at the garden level of the home, Anna and Ben have created a cozy family room filled with a collection of sentimental objects referencing both their past and future. On the wall, a large painting — created by Ben's sister and inspired by Italian futurist Giacomo Balla — serves as a reminder of decorating his London flat on a slim budget. Nearby, baby gifts have begun to arrive in time for the impending baby shower. On the floor, a Magis puppy statue that pre-dates Penny adds a whimsical touch, and a vintage race car scooter serves as an art piece until their baby boy is old enough to take the wheel.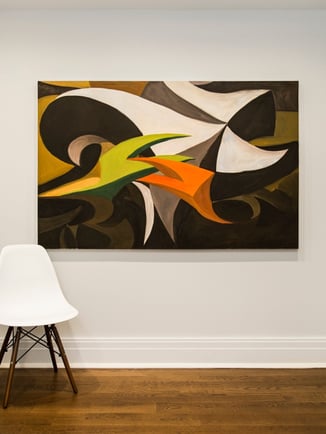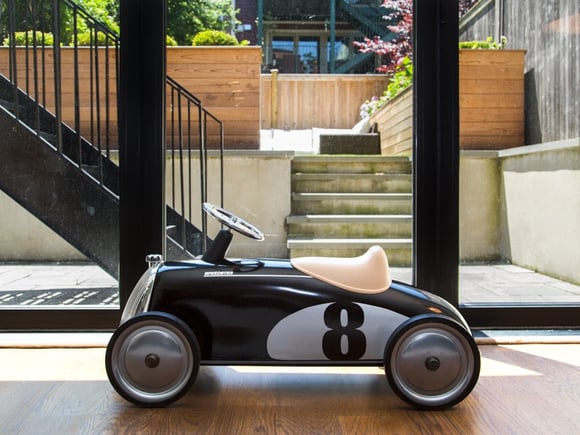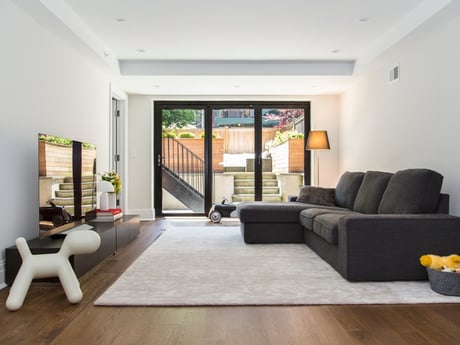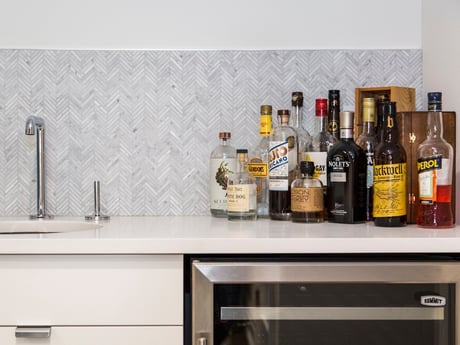 A large couch provides a casual and comfortable place for television, overnight guests and the occasional nap, and a well-stocked wet bar ensures refreshments are close at hand. Another set of NanaWall doors opens the space entirely to the large multi-level backyard, surrounded by handsome planter boxes and a large tree.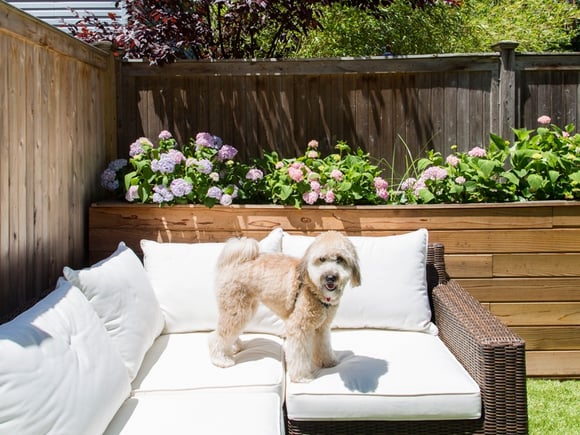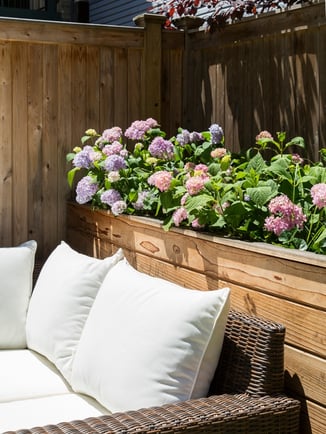 "It's a great backyard," Ben says. "One of the selling features for us was that it was totally enclosed. We can just let Penny out there to get a little exercise, without having to worry." That's a major plus for the couple that spent the first several months of her puppyhood in a loft with no outdoor space. A lush oasis for the family and a safe romping ground for Penny, the Sussex Street yard also has the distinction of being one of Dixon Leasing's most-liked images on Instagram.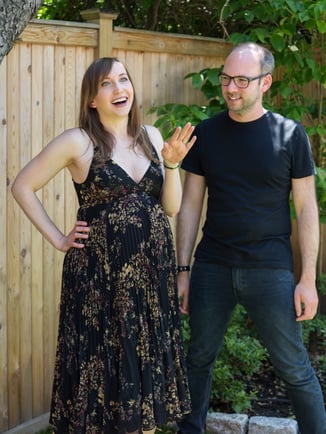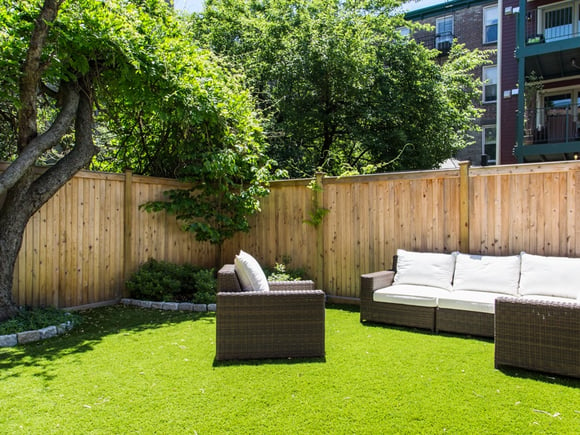 Settling into a large home and a new neighborhood while expecting a baby means that, as Anna puts it, "We haven't had a lazy weekend since we moved in!"
The couple has found time to check out the nearby Light Horse Tavern and Satis Bistro on Washington Avenue and The Lutze Biergarten along the waterfront. For groceries, Anna heads to Hudson Greene Market, and the eco-friendly shop Hazel Baby & Kids on Montgomery Street has become a favorite. She's also been busy establishing a routine and resources for Penny. "We have a nice 40-minute walk we do with her along the water up towards Newport and back. There's a really nice dog park nearby with AstroTurf, so she doesn't get too dirty. And we're looking for a doggy daycare."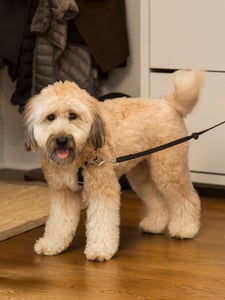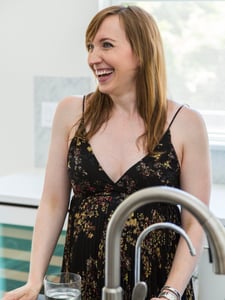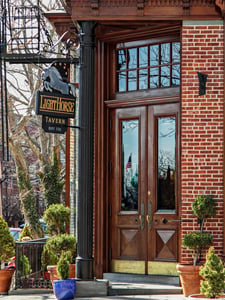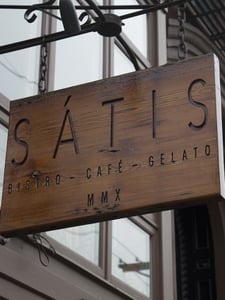 When it comes to preparing for baby and motherhood, Anna's also discovered a deep well of support in the community. "One of the great thing about Jersey City is there are a lot of wonderful new mom resources," she explains. "I belong to a local mom's group on Facebook, so I'm already going to a pre-natal support group, and there's all sorts of wonderful things, like mom and baby yoga and activities for new families. I'm excited to try them all out!"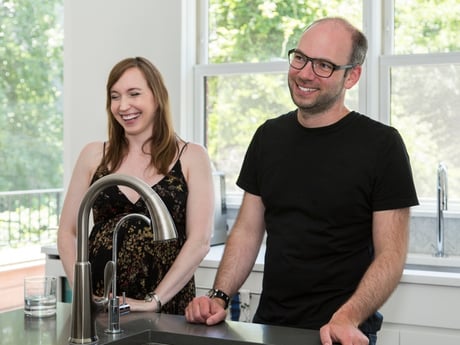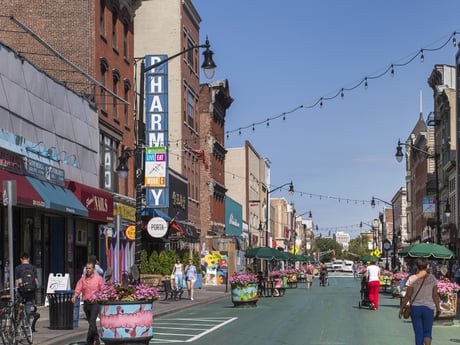 While Anna, Ben and Penny are happily ensconced on Sussex Street, with their son's arrival just a month away, the future is both thrilling and mysterious. "It's cliché, but people always say that everything changes with a baby," Ben says. "That's one of the reasons why we wanted to rent. It's a great place, and we're really happy here. We have a lot of room, which gives us flexibility as our family grows and changes."