A newly renovated Dixon Leasing townhouse provides sanctuary for longtime Bedford-Stuyvesant residents rebuilding the family home they lost to fire.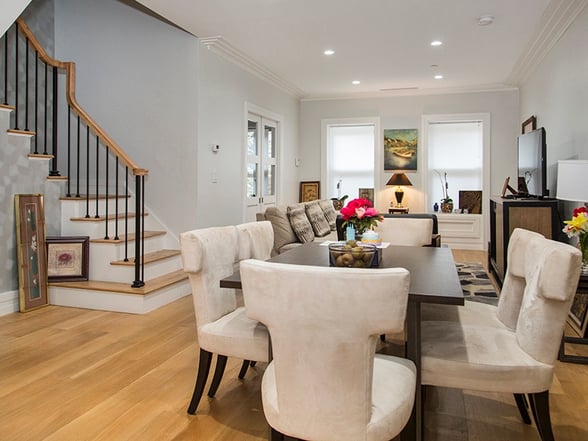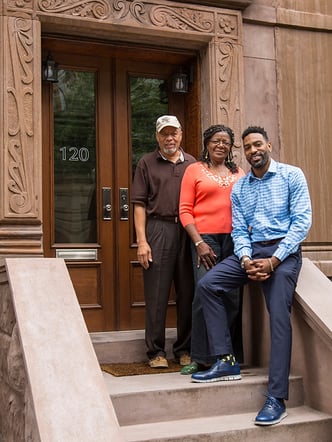 In most of our Dixon Leasing tenant stories, we introduce you to residents whose homes were selected as an exciting next step in their New York living experience. This story is different. In February of this year, fire ravaged the Barnes family's MacDonough Street home of 37 years. Thankfully, no one was injured in the blaze. And, while their old home is under construction, a Bainbridge Street townhouse just a few blocks away is serving as home base for James and Alice, their three adult sons and their grandchildren.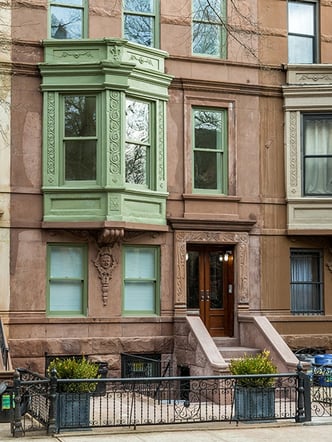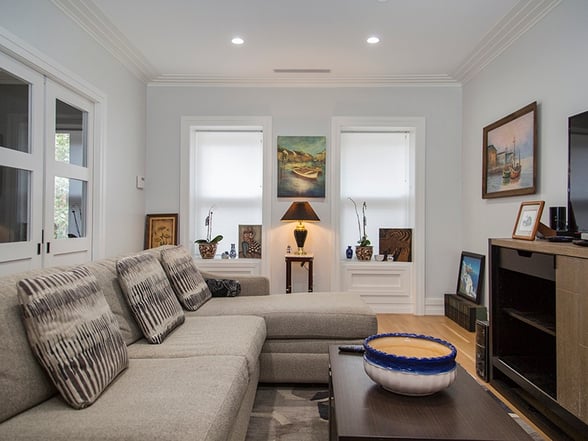 After nearly 50 years of marriage, James and Alice have a charming habit of finishing each other's sentences and nodding in agreement when the other speaks. The two met at work "at the Fifth Avenue and 23rd Street Chase Manhattan," James rattles off without hesitation. They dated for nine months before marrying and will celebrate their gold anniversary next summer. When asked the secret to a long marriage, Alice says knowingly, "What makes a relationship strong is knowing you're going to have valleys, but when you come out on top, it's well worth it."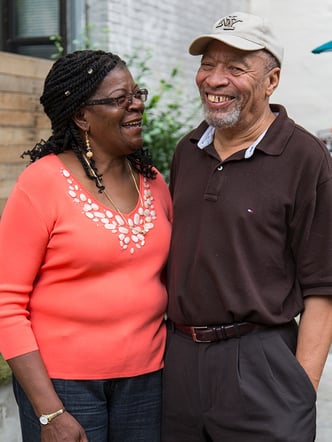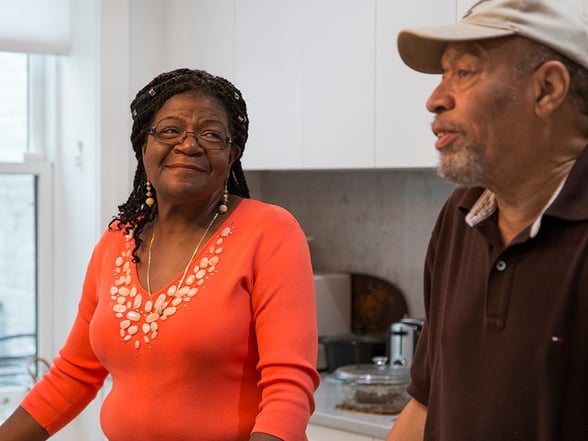 Winter 2018 was especially cold in New York City, with long stretches of snowfall and bone-chilling temperatures. Avid travelers James and Alice frequently take vacation in the spring, but the frigid weather expedited their plans. On a February morning, they departed for the Caribbean, their sons and granddaughter headed off to start their day, and the MacDonough home caught fire, likely due to an electrical issue. "To see everything you've built for years shattered, it's an ordeal you can never imagine, even when you're going through it," Alice explains. "When a catastrophe like that happens, all you can do is sit back and say God blessed us that no one was in the house."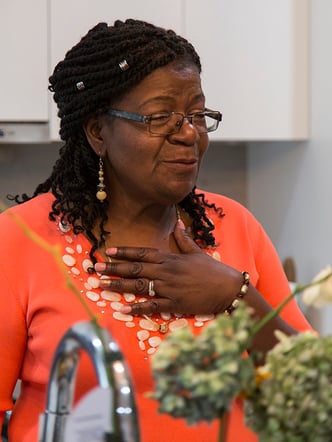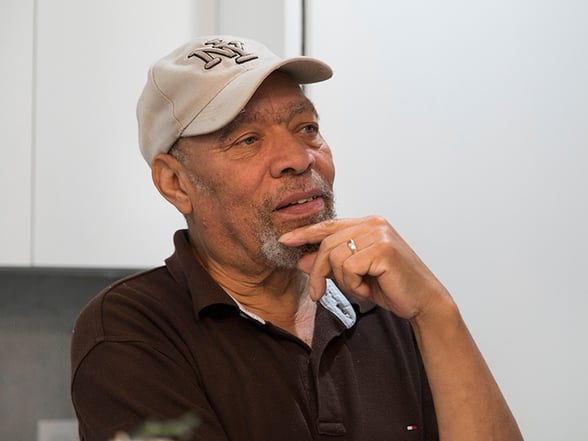 The couple learned of the fire when they landed in the Caribbean, but their children encouraged them to stay put. As Alice recalls, "Our son said, 'Mom and Dad, we're adults. Finish your vacation. We will intercede on your behalf and represent the family.'"
The couple's oldest son, Andre, handled online research and cultivated relationships with the insurance company that would eventually connect them to Dixon Leasing. Middle son Xavier, youngest son Troy, and Andre's daughter Pia handled the boots-on- the-ground process of salvaging and storing what could be saved from MacDonough and finding temporary hotel accommodations for the family.
Andre learned about the Bainbridge home before it was on the market and immediately shared it with the rest of the family. The location alone met one of the family's primary requirements for long-term temporary quarters — that it be close to their family home. "That was one of the stipulations. We'd already been displaced too much," Alice explains.
As soon as the family set eyes on the home in person, the die was cast. "We fell in love with the open design the moment we walked in," Alice says.
"The vibration of the house is very peaceful," James agrees. "It's welcoming, and we're happy about that after going through the process of losing our place."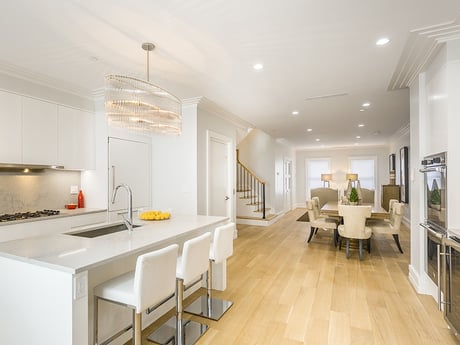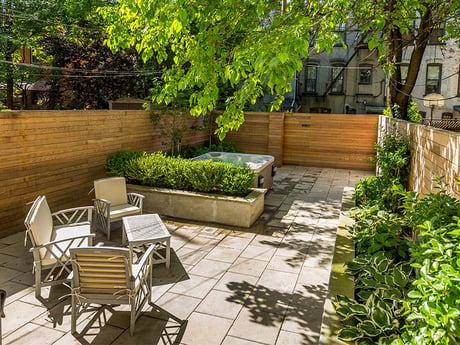 Situated within the Stuyvesant Heights Historic District, the Bainbridge house was built in 1899 as part of a row of six townhomes. Designed in a combination of Romanesque and Renaissance Revival styles, the row features handsome brownstone facades with oriel windows and ornate decorative motifs. While intended as a single-family home, our subject property didn't remain that way for long. By 1920, it was accommodating more than one family of renters, in the 1960s it was subdivided into four full-floor apartments, and in 1987, the building was transitioned to a two-family home. All this reconfiguration meant there was little original interior detail remaining when Dixon acquired the building in 2013.

Presented with a clean slate, the Dixon team created a light-filled, open home with sleek finishes punctuated by interesting decorative flourishes. Bathrooms, in particular, are presented with modern lines softened by a sly historical reference, such as hurricane lamp fixtures and classic penny tile flooring.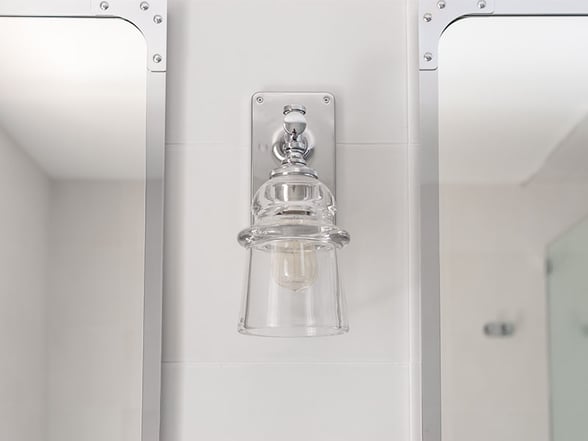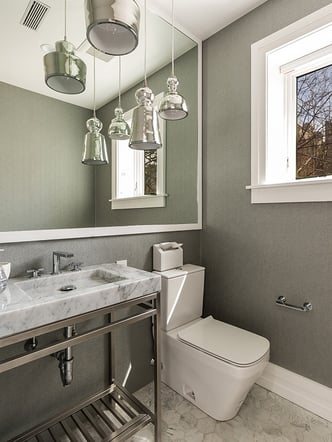 Lively patterned tile greets visitors on the parlor level where a spacious living room gives way to the dining area and a stunning contemporary kitchen — a layout that provides plenty of room for the family and grandchildren to spread out and relax.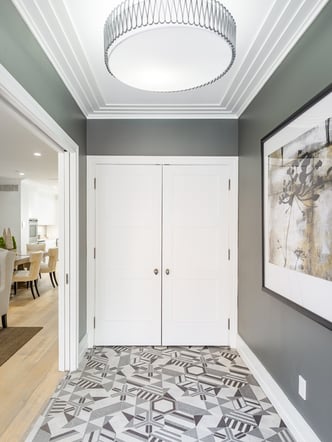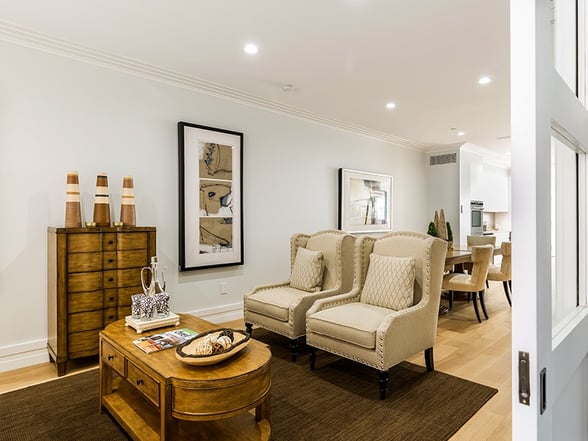 James is a skilled cook, thanks to lessons from both of his grandmothers, and specializes in Caribbean delicacies like fish, oxtail and yams. The well-appointed kitchen with tons of counter space and Bertazzoni appliances appeals to his cooking needs, while Alice appreciates the contemporary styling of the cabinetry and integrated appliances, a look she hopes to include in the restoration of their MacDonough home.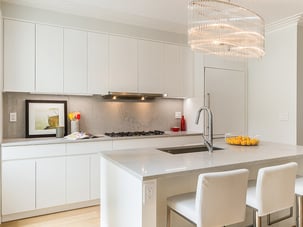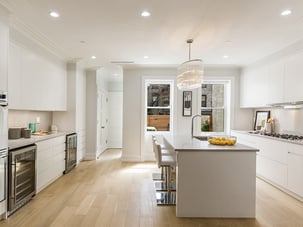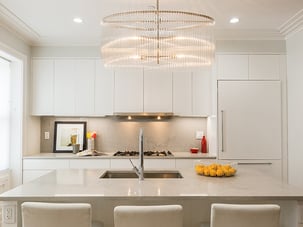 Textured silver wallpaper runs along the entire staircase creating a cohesive statement on all four floors. Bedrooms are flawlessly neat throughout the home thanks to Alice's "strict rules and regulations." On the second floor, Pia's room features bay windows overlooking the quaint Bed-Stuy block below, and Xavier occupies the back bedroom suite where a feature wall conceals a wall of closets. The luxurious en suite bathroom here includes a large walk-in shower with unique frosted privacy doors over the window that can be opened for sunlight or closed for privacy. Troy, who proudly proclaims he's tested every shower in the house, declares this one his favorite. In between the bedrooms sits one of the home's two laundry rooms; the other is off the kitchen.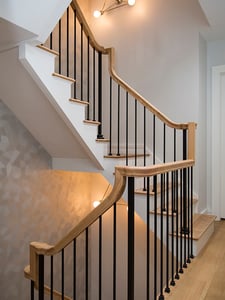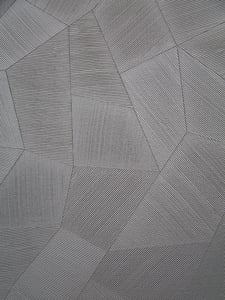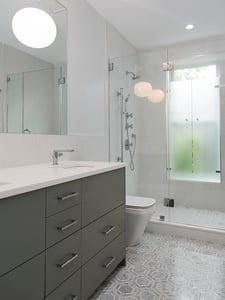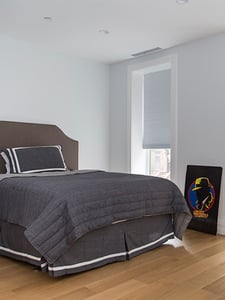 The full-floor master suite on the third floor includes a sunny bedroom and en suite marble bathroom, but it's the large rear-facing sitting room with its own private terrace that draws the most compliments. Called the "man cave" by James and "Troy's second love" by Alice, the space has a tranquil ambiance and serves as an overflow living area for the large family.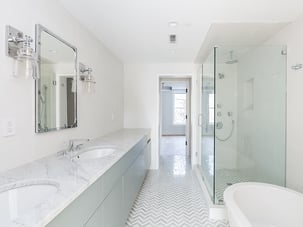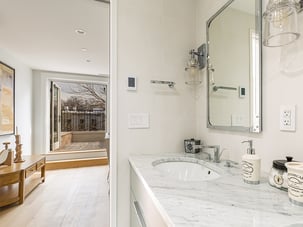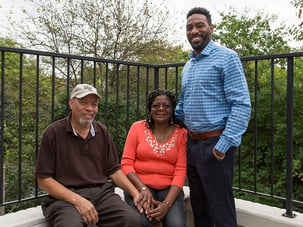 Troy and Andre's near-identical bedrooms flank the fourth floor, while above, a skybox opens to a roof deck with views stretch all the way to Manhattan and the historic architecture of Bed-Stuy in the foreground. It's a favorite hangout for Troy who appreciates the different perspective treetop views can lend to his lifelong neighborhood.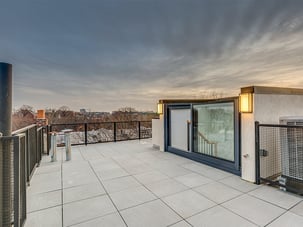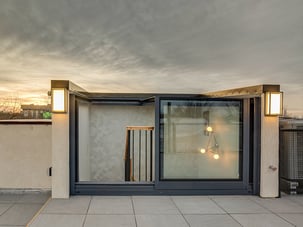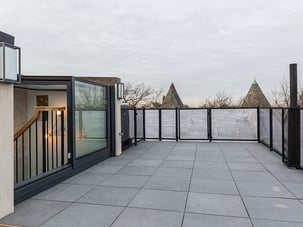 Cherished items that survived the fire are placed lovingly throughout the home, proving that family and shared memories soldier on. James is an avid art collector, and salvaged paintings line the walls, sills and floors of nearly every room. In the living room sits a grandfather clock, a prized 25-year anniversary present from Alice's employer, miraculously untouched by the blaze. A stack of record albums and books reside in a corner. A rescued bible, fine framed needlework, dolls and travel souvenirs decorate the master suite.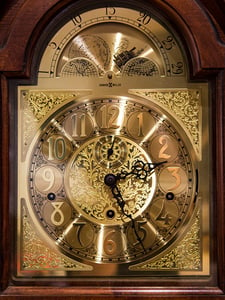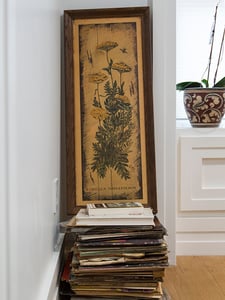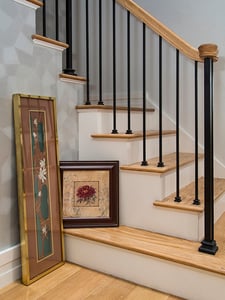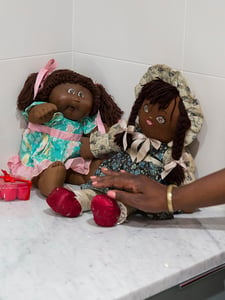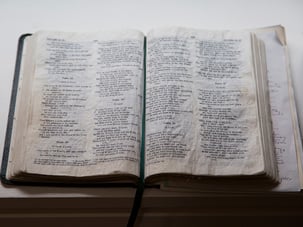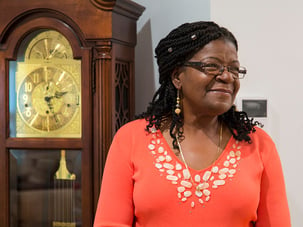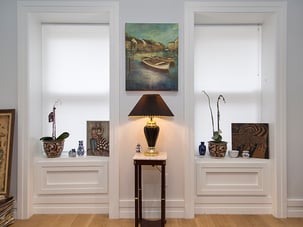 In addition to serving as sanctuary, the Dixon Leasing home on Bainbridge is providing plenty of design inspiration for the Barnes' McDonough Street rebuild. Troy has a deep appreciation for Bainbridge's thoughtful design and the complex simplicity of the layout. "It has that wow factor," he says.
"They thought of everything," Alice agrees. "There are a couple things I would love to take with me. I love the closets and cabinet spaces; they minimize the amount of furniture you need. I also love the laundry room. Other than master suite sitting room, it's my favorite place in the house because you can wash, organize, do everything."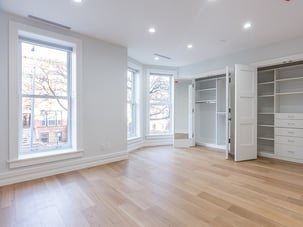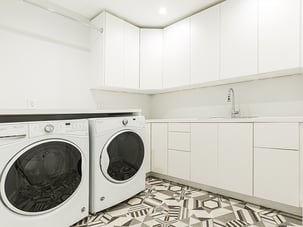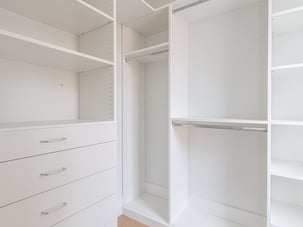 Accessibility features like the elevator and extra-wide doorways earn high marks, and the family also heaps praise on Dixon personnel, from the builders to the leasing team, who've been instrumental in getting the brand-new home ready for their arrival.
"Working with Dixon has been a very nice experience, and one I would share with anybody," Alice agrees.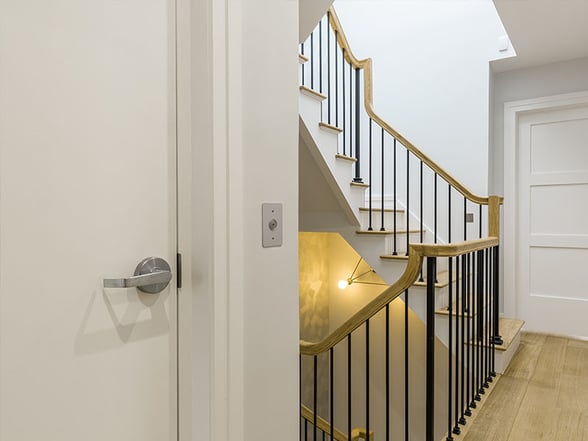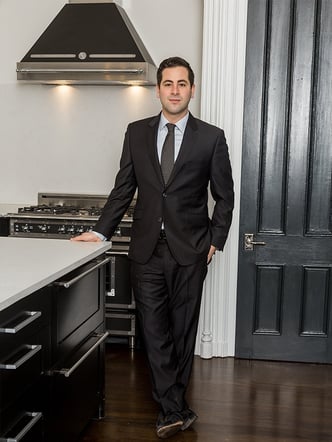 James and Alice moved into their MacDonough home in 1981, so their family has seen the Bed-Stuy neighborhood through good times and bad. According to Alice, during the worst, "There were pockets of bad areas, but our community in Stuyvesant Heights, to a certain extent, was isolated from that. There were blocks filled with people who worked hard to own their own homes and fought for their communities. But you had areas right next to ours with vacant buildings and crime, and all the stores were gone. What we've seen with the resurgence is that now you have stores and restaurants again."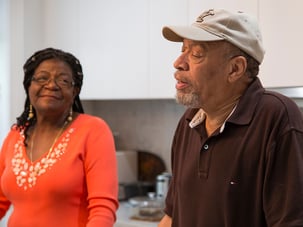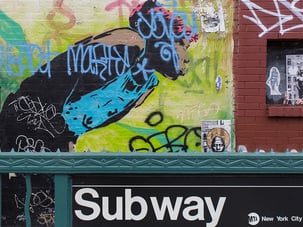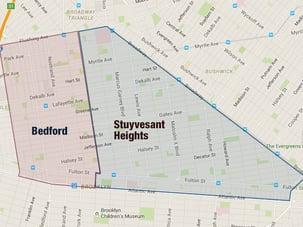 Troy, who works for the City of New York in Downtown Manhattan, would often meet friends after work near his office, but with the consistent addition of new places in the neighborhood, he often heads home to local spots instead. "There's definitely a positive change in the neighborhood. There have always been places to go, but they're a different caliber now." Peaches and Saraghina are among his favorites.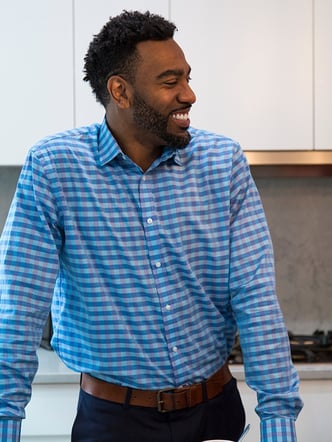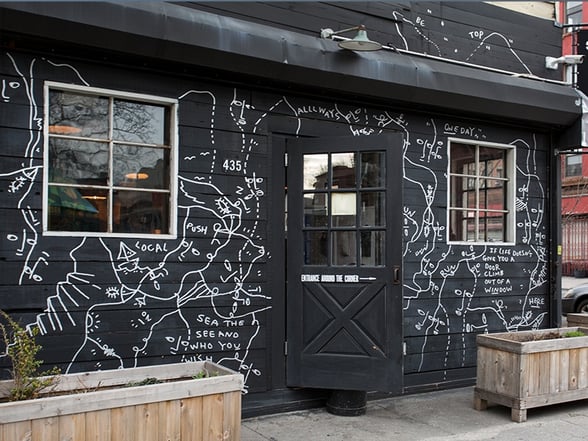 When asked her about her favorites, Alice quickly points to Ma-n-Pop, a revered soul food restaurant on Lewis Avenue. While the family spent the months immediately following the fire in Downtown Brooklyn hotel rooms, attending their local church, Mt. Lebanon Baptist, and picking up food from Ma-n-Pop gave the family a sense of normalcy and a familiar routine. "On Sundays after church, we'd go to Ma-n-Pop for dinner and get everything James would normally cook: chicken, macaroni and cheese, and corn bread."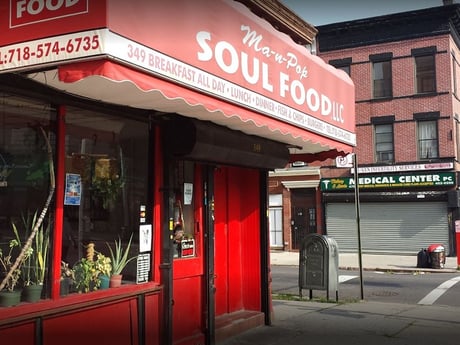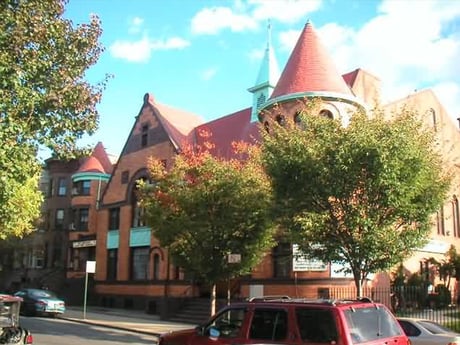 In fact, Mt. Lebanon Baptist Church has been instrumental in supporting the family throughout the aftermath of the fire. "Not only did they give us prayer, they gave us financial support and asked us if they could help us in any way," Alice shares. "That really helped us. It helped us emotionally to know that people cared enough to do that."
"After coming back from vacation, seeing the home and the scope of the damage, the thing that made you feel a little bit more confident was going to church and having everyone greet you and give you their well wishes. That made me feel a lot better. I don't know how anyone could go through this experience without that support."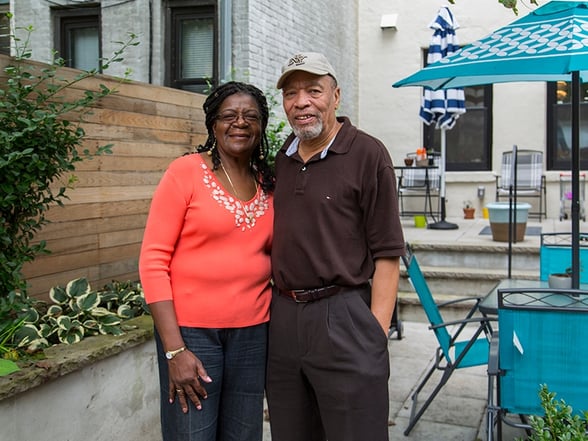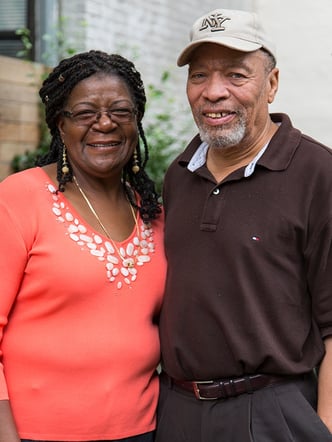 The design and rebuilding process is underway at the Barnes' MacDonough home. In the meantime, the Bainbridge townhouse provides a safe haven for this warm Brooklyn family as they count their blessings and make new cherished memories.