A young couple's cross-country love story takes them across four states, an ocean, multiple universities, and eventually, to a beautifully sunny Jersey City duplex.
Within minutes of meeting Erik and Ricky in their comfortable Jersey City home, their engaging personalities and varied interests become evident. Even more so as conversation unravels the intricate patchwork of previous residences and travels that have led them to their current Dixon abode.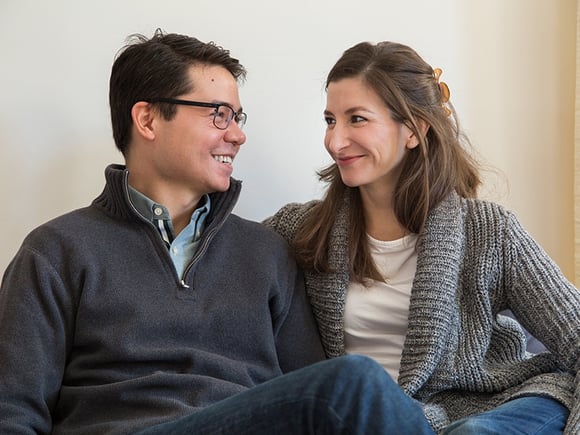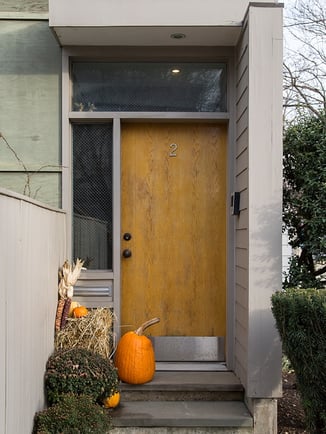 Married since 2014, Erik and Ricky first met in the dorms of UCLA. The couple maintained a long-distance college romance while Erik completed his undergrad studies at the London School of Economics and Political Science and Ricky finished up at UCLA. The new graduates then reunited in Chicago, where Erik had secured a position at the Federal Reserve Bank and Ricky worked in publishing sales. After two years, the pair packed their bags again, this time for Durham, North Carolina, where Erik obtained his master's and doctorate in economics from Duke University. During their six years in North Carolina, Erik and Ricky also wed and adopted their woolly soulmate, Charlie.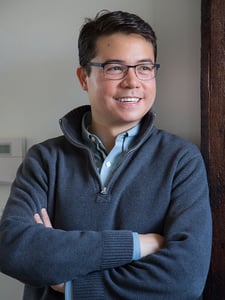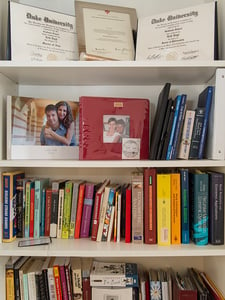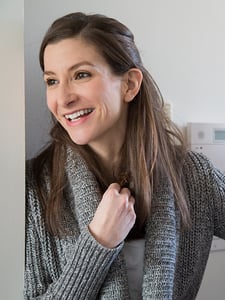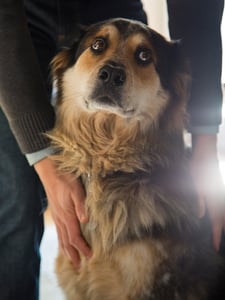 Before long, the couple was once more on the move as Erik accepted a position at the Federal Reserve's New York City offices and Ricky soon enrolled in the MBA program at Rutgers University. Unfortunately, the couple's arrival in the notorious New York City rental market was more nightmare than fairytale, and their first home was a Prospect Heights high-rise with a long list of problems. "It was a disaster," Erik recalls. "It had paper-thin walls and terrible insulation. We had $500 heating bills in the winter and water coming into the apartment from drains that were frozen outside."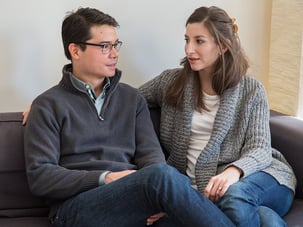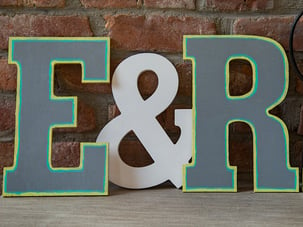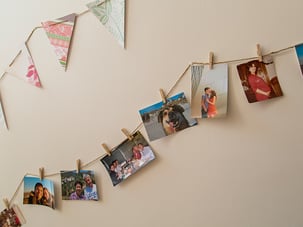 Luckily, Erik and Ricky were able to break their lease, and that's when Dixon Leasing first came onto their radar. A StreetEasy search led them to a Dixon home in Clinton Hill, and the couple finally settled into life as new New Yorkers, thanks to infinitely more comfortable surroundings.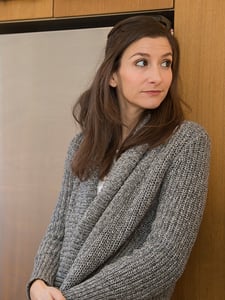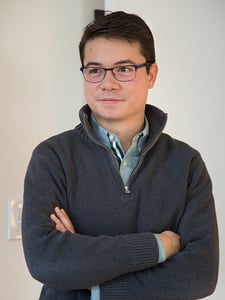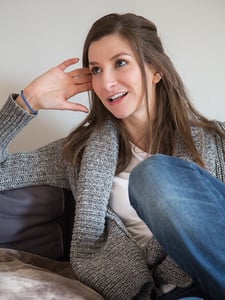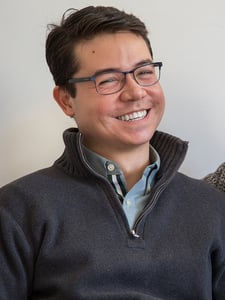 Within a year, however, the desire to move once again took hold. "We loved it there," Ricky explains. "We would've stayed longer, but I'd started school at Rutgers, and the commute took three trains. After doing that for a year, I was done!"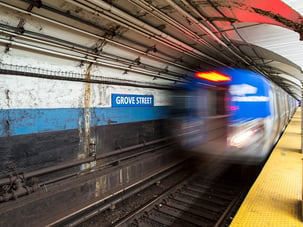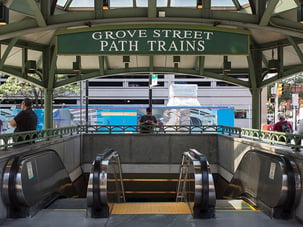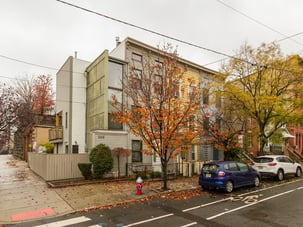 With an easier commute to Newark top of mind, Jersey City became an obvious choice for the pair, as did reaching out, once again, to Dixon Leasing. Ricky and Erik considered a few of Dixon's many properties in the neighborhood before settling on a bright and airy duplex on Fifth Street, within walking distance of the Grove Street PATH train. As luck would have it, even Erik's ride to work in Downtown Manhattan is faster than from their former Brooklyn digs. "Even though the average time is the same, the C train was so unreliable, sometimes it would double the commute time," he points out. "PATH trains are much more reliable, and cleaner."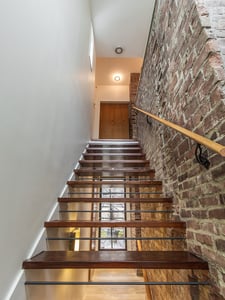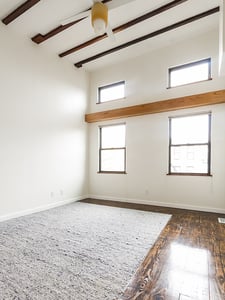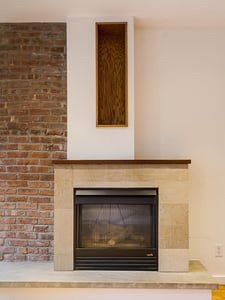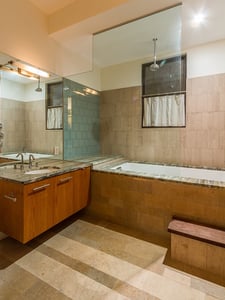 While a quicker commute was the impetus for their latest change of state, the home on Fifth Street also ticked a number of other important boxes for the couple, and for Charlie. The thoughtfully designed home celebrates sunlight with a number of oversized and well-placed windows throughout. Two floors of wood beams, exposed brick and natural stone, along with expansive southern, western and northern exposures, lend the home a Hollywood Hills treehouse feel that harkens back to the pair's Southern California origins. "I like this place because it has so much more personality than our past homes," notes Ricky. "It captures both my personality, which is a bit more kitsch, and his personality, which is a bit more clean and modern."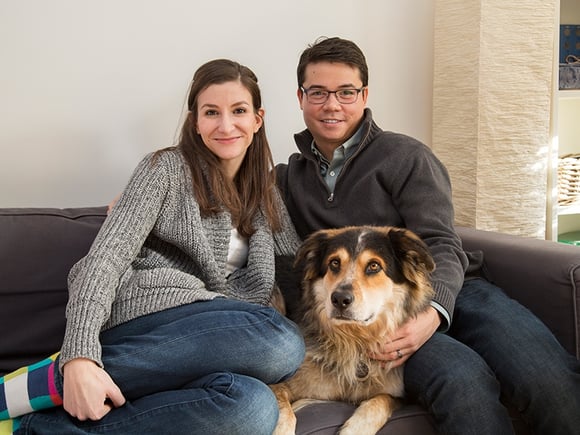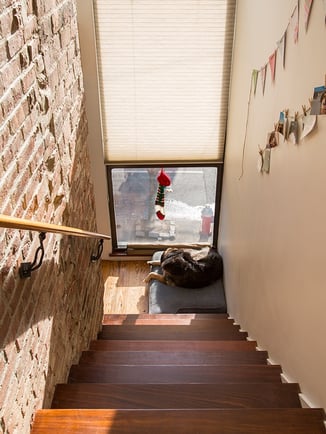 On the home's lower level, you're welcomed by an open concept living with a large, sunny great room and beautifully designed kitchen. Two big south-facing windows light the living room where tall ceilings are dotted with recessed lighting and wide-plank hardwood paves the floors. A gas fireplace with a handsome stone surround provides a cozy focal point, and chic pendant lighting illuminates the dining area.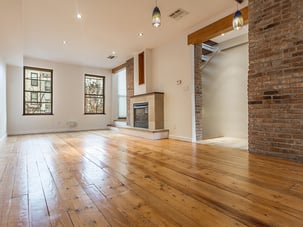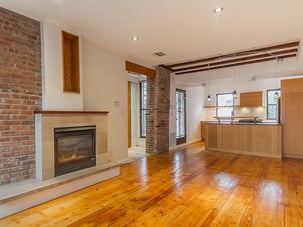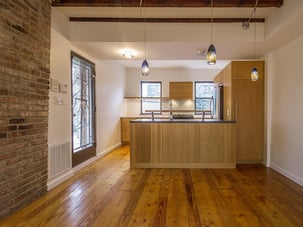 Ricky's admittedly kitschy aesthetic is on full display in the warm and welcoming windowed kitchen, thanks to a quaint collection of tchotchkes — a California flag, a charmingly irreverent needlepoint and a Bavarian beer stein — that recall heritage, former homes and family. Energy-efficient stainless steel appliances, including a dishwasher, gas range and hood, expertly handle cooking and clean up while rows of custom cabinetry provide abundant storage. The oversized peninsula, elevated breakfast bar and under-cabinet LED lighting are the little touches that make the kitchen a joy to use.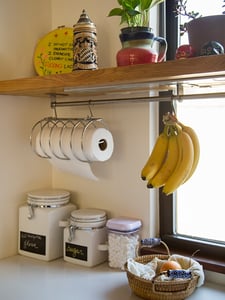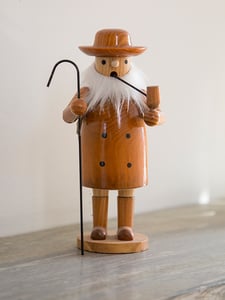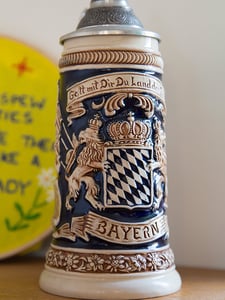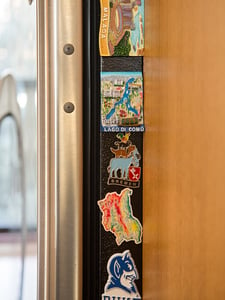 Meals cooked here are also emblematic of the couple's travels and family backgrounds. Los Angeles native Ricky grew up in the Disneyland area, while Erik's family hails from the Philippines and Luxembourg (where he was raised) with strong German roots. It's Erik who handles the bulk of the cooking, "Oh, I love the kitchen. We like to cook Mexican food …."
"A lot of Mexican food!" Ricky happily interjects.
"But we also like to cook German food — especially the German food from my dad's mom's recipes — and Korean food."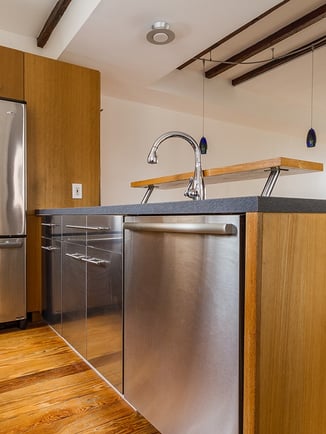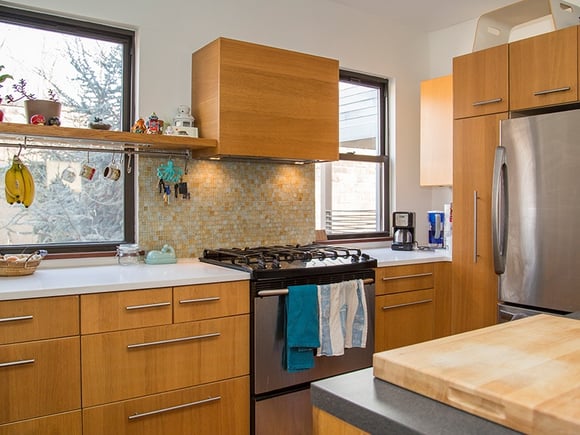 Off the kitchen, a spacious covered deck provides the perfect destination for outdoor relaxation, especially for handsome Charlie. "The deck is his favorite spot. He loves to sit there," Ricky points out.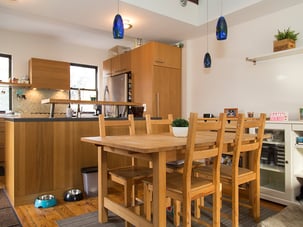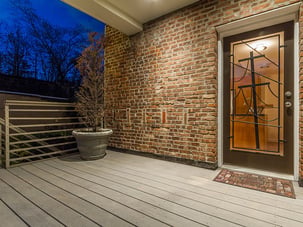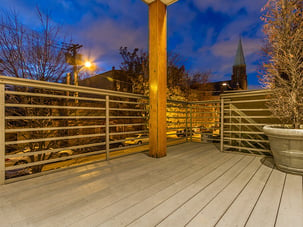 Attractive and unexpected details abound in the bespoke home. For example, the tall window and glass door leading to the oversized deck are covered with striking, custom-designed window guards. "I love that, because I wouldn't like just bars on the windows," say Ricky.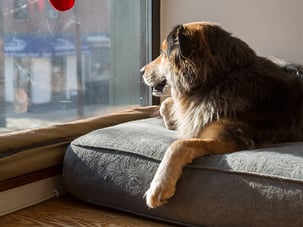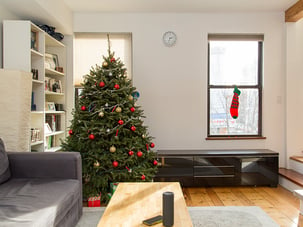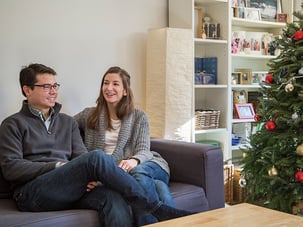 From the living room, two steps lead to a small landing — another beloved hangout for neighborhood watchdog Charlie — and a dramatic full-height window that casts light both upstairs and down, thanks to the open staircase leading to the upper level.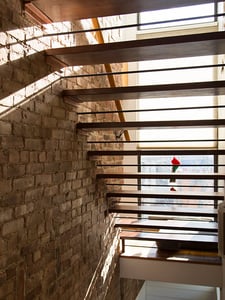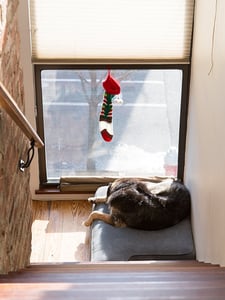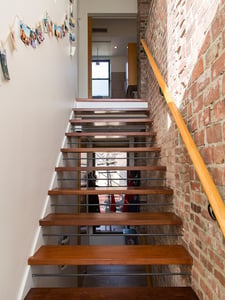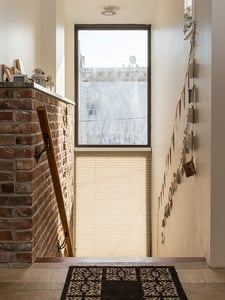 Nearly identical bedrooms flank the top floor of the home. Ricky and Erik have pressed the sunnier of the two into service as a home office/study space/music room. As an MBA student, it's a place where Ricky spends hours at a time under two full-size south-facing windows topped by two more large clerestory windows. "The sunlight is really great. I feel like I'm outside a little bit, and it's quiet," she says.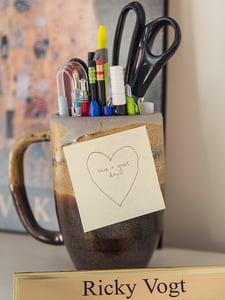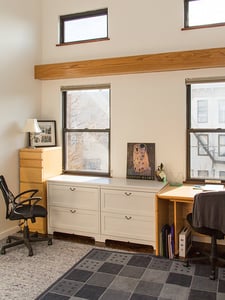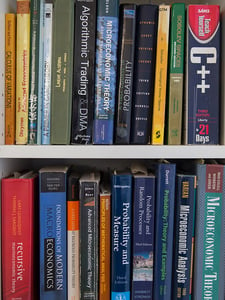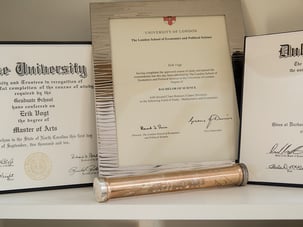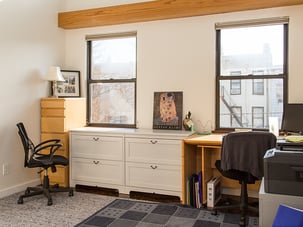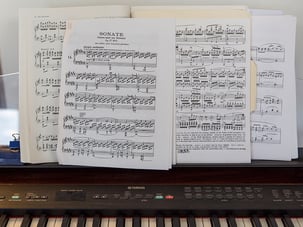 The couple chose the serene rear bedroom as their sleeping chamber, but the real star of the second floor is the breathtaking bathroom that combines marble, stone and brick to masterful effect. The massive glassed-in bathtub invites long soaks, while the rain showerhead and built-in bench deliver relaxing showers. An extra-wide mirror tops a modern vanity outfitted with convenient pull-out shelving, and stone tile covers the floors.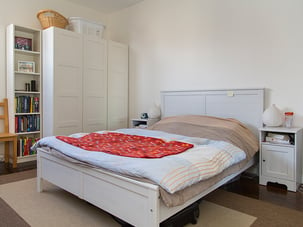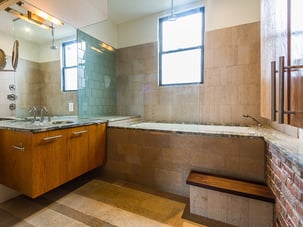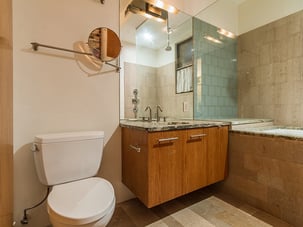 Rounding out the top floor is an oversized hall closet housing the in-unit washer and dryer — an absolute must-have for Ricky. "I love having a washer and dryer! He has his things that he always wants in an apartment, mine are always: no bugs and a washer-dryer!"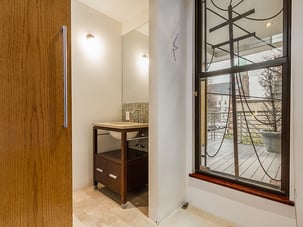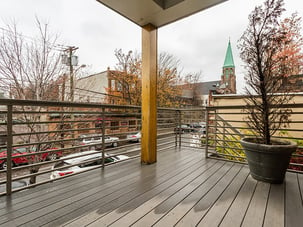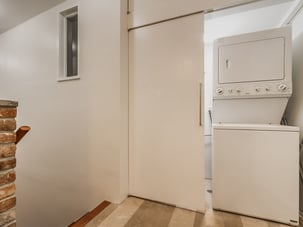 For both Ricky and Erik, off-street gated parking was icing on the delightful cake that includes "central heat and air, great lighting, a dishwasher, architectural elements, big windows, a deck," to rundown a few of Ricky's favorite things.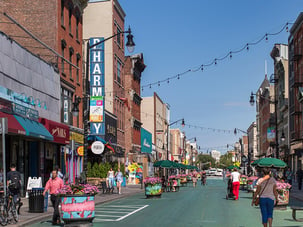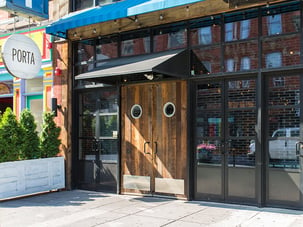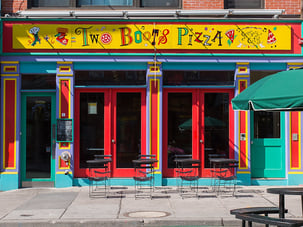 After nearly two years in busy and well-stocked Brooklyn, the couple worried about the availability of nearby shops and services in their new New Jersey home. Those concerns were quickly assuaged once they took in the array of businesses along the surrounding streets — especially Grove Street and Newark Avenue.
"I'm happy with where we are," Erik says. "There's a grocery store right around the corner, it's a three-minute walk, and there are several restaurants."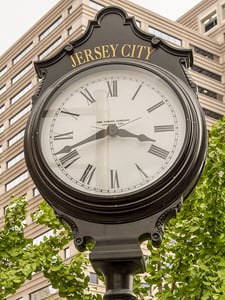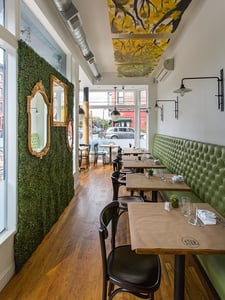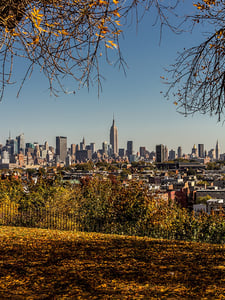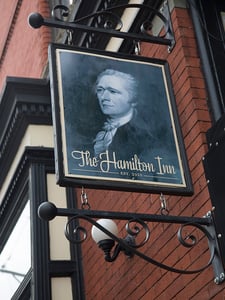 When asked which restaurants they visit, "Taqueria Downtown," they both say, practically in unison. Although they weren't initially aware the Mexican hangout boasted a Los Angeles theme, walls festooned with Dodgers and Lakers memorabilia feel especially welcoming to the former Californians. Other area favorites include Italian venues Delenio and Prato Bakery, Asian eatery Talde, brunch hotspot Hamilton Inn, coffee hangout Seven Sheep and ice cream parlor Torico "There are a lot of options, which is nice because when we were in Brooklyn, there were so many places within walking distance. It's really nice to still have that," explains Ricky. "There's also the Brunswick Center. They have a lot of dance classes there, which is fun. We took salsa classes. We should do it again, maybe swing dancing this time."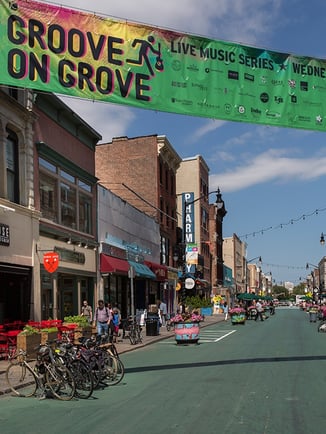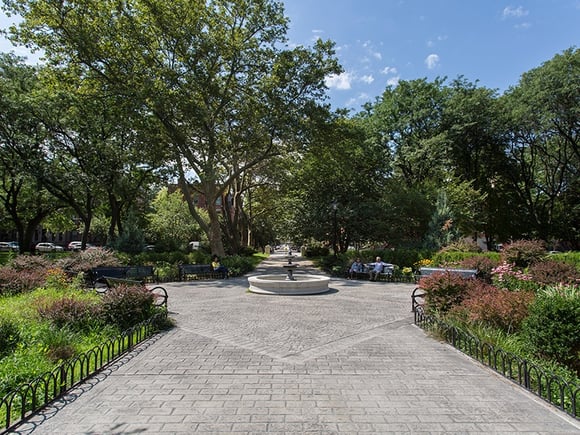 The neighborhood's abundant festivals and street fairs also appeal to the couple, especially along the Grove Street promenade. "During the summer there's always a ton of people there," she says. "There's a farmers' market every Wednesday that has bands. It's really cool. And we're really close to Van Vorst and Hamilton parks, which have their own farmers' markets."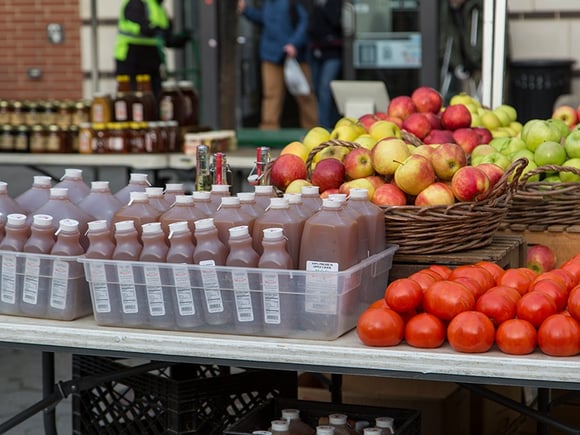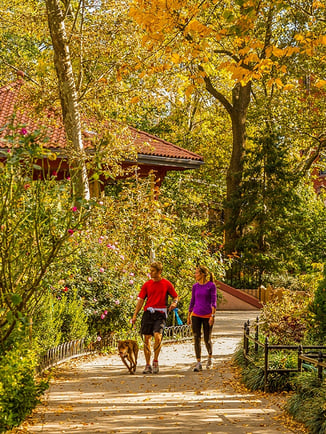 Even Charlie's needs are thoroughly met in this dog-friendly enclave. "Our biggest worry moving to New York was him," Erik explains. "All he knew was quiet, rural green space."
"There are a lot of dog stores, which I like," says Ricky. "There's Hound About Town, across from Hamilton Park, which has two dog runs. And then there's Van Vorst Park, which has a dog run, and Paulus Hook."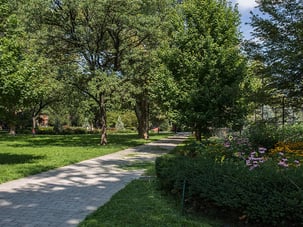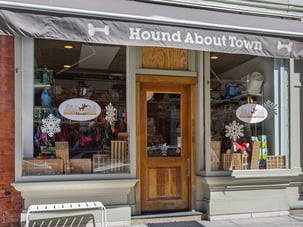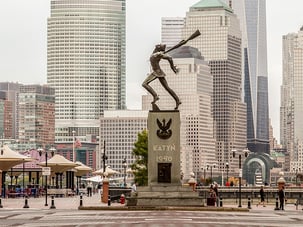 "And there's Morris Canal Park and Liberty State Park," continues Erik. "That's the other nice thing about having the parking spot. Liberty State Park is like a 30-minute walk or a five-minute drive. So we'll drive there, walk Charlie in the park, and then drive back not worrying that our parking spot has been taken."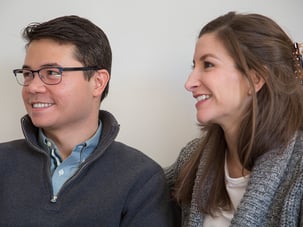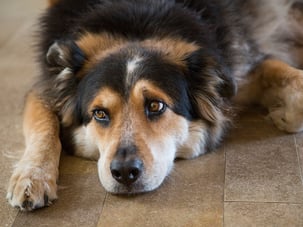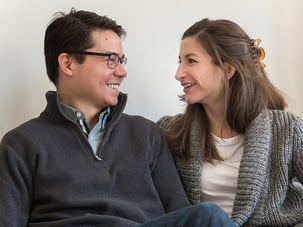 "One thing we've learned from moving, is that it takes us maybe two years to get really used to a place," says Erik. "Right around two years, we're like, 'We love it!' And that was the same here in New York. We just love it now."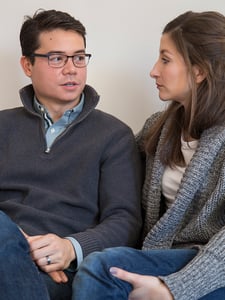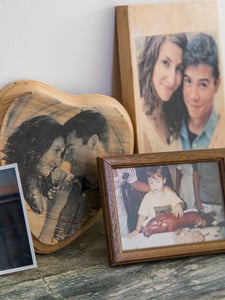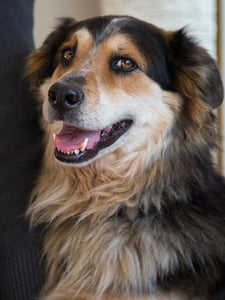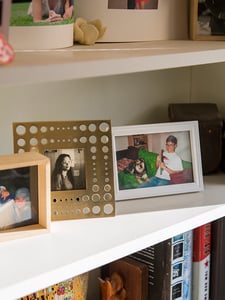 Ricky adds, "There was definitely a culture shock, because we came from quiet, small town North Carolina. Then we were in Brooklyn, and it was overwhelming. Jersey City's been nice because it kind of married those two things."
"Yeah, Brooklyn was a lot more intense," Erik agrees. "This feels about right. Just far enough removed, but also super convenient."

VIEW THE FLOORPLANS FOR 5TH STREET: