Decking your halls for the holidays is always a great way to make interiors bright and festive, especially while outdoors, things are turning a bit dreary and dim. Unfortunately, curious cats and crazy canines can wreak unwanted havoc in your happy home when tempted by new, shiny décor and alluring foliage.
Here are a few tips for keeping your pets safe and healthy, and your interiors merry and bright, at the same time.
---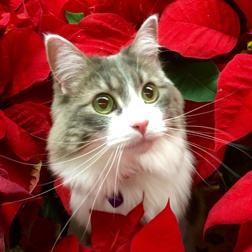 1. Avoid Toxic Plants

They may be traditional, but potted poinsettia plants contain a toxin that can cause nausea and vomiting, and holly and mistletoe have even worse effects, including drops in blood pressure, breathing problems, even hallucinations. At the very least, keep these plants well out of your animals' reach, but, especially if there are children about, you might choose to keep them out of your home altogether. The ASPCA offers a comprehensive list of poisonous plants, their symptoms and how to reach their 24-hour emergency poison hotline.
---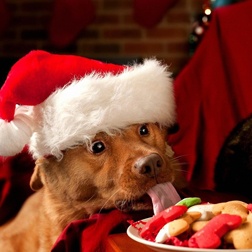 2. Tempt Your Guests, Not Your Pets

Long tablecloths and runners may be a beautiful touch to your formal tablescape, but they're also inviting playthings for dogs and cats to bat and tug, possibly causing a cascade of your best china in the process. Consider using shorter tablecloths and runners, or even opting for placemats and chargers instead. House Beautiful offers 35 stunning holiday table ideas, many suitable for homes with playful pets in residence.
---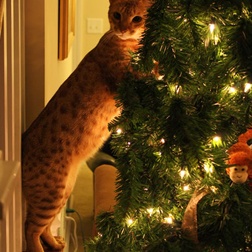 3. Secure That Tree

For many, Christmas just isn't Christmas without a Norway Spruce or Fraser Fir, but to cats your beautiful Tannenbaum may look like the perfect climbing post, while rambunctious Rover sees it as treasure trove of chew sticks, or worse, an indoor potty. To pet proof your tree, make sure it's placed in a stable stand with a wide base and attached to a nearby wall with fishing line. Martha Stewart recommends leaving your tree undecorated for a few days to let all family members become acclimated before lights and ornaments are added.




---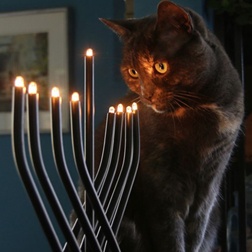 4. Light the Menorah (Safely)

By all means, let your pet be included in your Hanukkah celebrations, just be sure you don't leave the menorah burning without supervision. With changes in routine, rearranged furnishings and additional visitors during the holiday season, pets can get into trouble they normally wouldn't. Keeping the lit menorah way out of reach — or opting for a battery-operated version — keeps tails and paws singe-free and firemen at bay.





---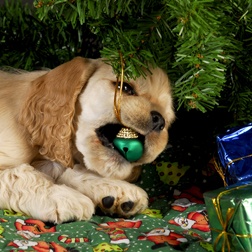 5. Take Down the Tinsel

We all know dogs and cats love shiny things, so tinsel is a natural temptation. Unfortunately, ingesting this sparkly trimming can quickly cause blockages in your pet's digestive system, which can require surgery to correct. That fluffy fake snow, or flocking, is similarly easy — and dangerous — to ingest. Christmas Tree Market offers several pet-safe alternatives to tinsel, including ribbon, beads and the traditional cranberry-popcorn garland.
---
Our four-legged fur friends bring us joy year-round, and with just a few minor adjustments to our usual holiday routines, we can keep them safe and happy during the festive winter season.
---
Since we're on the topic of holiday decortations, we've scouted out some of the best spots to enjoy holiday decorations in and aound New York City this holiday season. Check out our top 5 list here!