Even in the so-called urban jungles of the tristate area, residents clamor for light and space and a sense of seamless integration with the outdoors.
"Natural light is one of the top priorities for prospective tenants," notes Dixon's Executive Director of Operations, Laura Orr. "They want space and they want light, and NanaWalls flood in that natural light, creating a whole indoor-outdoor experience you don't get without them."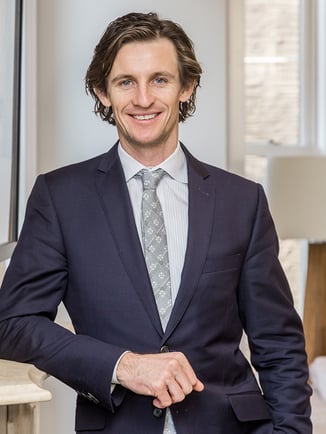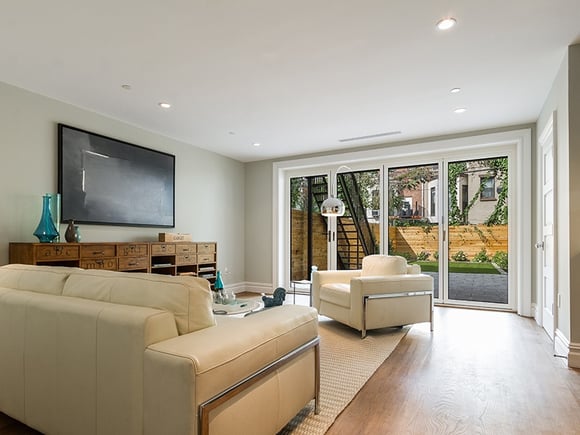 Started by Ebrahim Nana in 1986, NanaWall provides a huge range of operable glass wall systems that fold open completely, offering unprecedented open views and unimpeded access to the world outside. The idea for NanaWall came about while Nana was developing real estate in stunning Tiburon, California, where iconic San Francisco bay and bridge views are about as beautiful as they come. The firm started with a wood folding door system, and a decade later, partnered with German firm Solarlux, the world's largest manufacturer and designer of large opening glass walls. "We were amateurs," Nana recalls. "We had one system, and Solarlux had 20. That was our big breakthrough when we connected with them."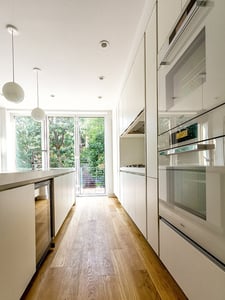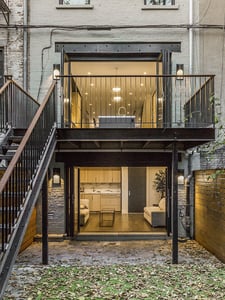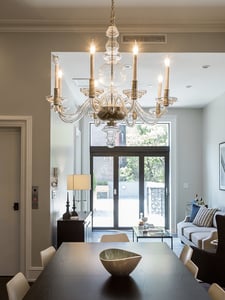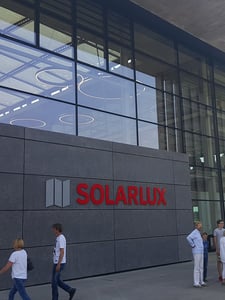 The partnership is an ongoing collaboration between both firms that designs and produces systems to fit the needs of a now-global audience. The NanaWall team provides input to German Solarlux to create modifications for the American marketplace — adhering to ADA requirements for floor tracks, for example — while both firms incorporate feedback from contractors and homeowners to create improvements and innovations throughout the product line.

One recent advance developed specifically by the NanaWall team is a Fold Flat option for two of the company's systems, unveiled at the 2014 International Builders' Show. "With two of our products we have a folding system that stacks flat against the wall. Normally the folding system pivots 90-degrees to the opening," Nana explains. Other recent innovations include a frameless system suitable for warm weather and interior applications, and Cero, a large-panel sliding glass wall system featuring the largest panes of glass and the most minimal frames offered by NanaWall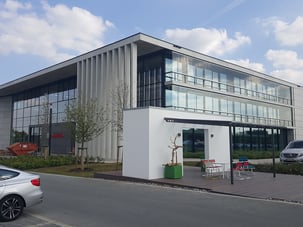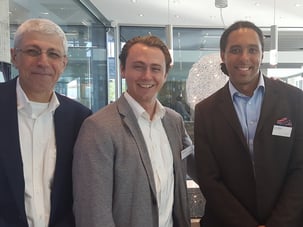 Operating out of production facilities in Melle, Germany and in Richmond, California, the company prides itself on its precision engineering and master craftsmanship. That dedication is borne out in the fact that both facilities are ISO9000-certified — the highest level of quality assurance standards for manufacturing and service industries. Dixon Projects Director of Project Management, Christian Grapel, recently visited the German Solarlux campus, and the focus on quality was evident. "The facility is a testament to the company itself. Nearly every stage has seven-plus quality measures that are checked and confirmed before moving onto the next step," he recalls. "I definitely have complete confidence in suggesting NanaWall products to clients after seeing how much thought and attention to detail is given to each and every unit that is shipped out."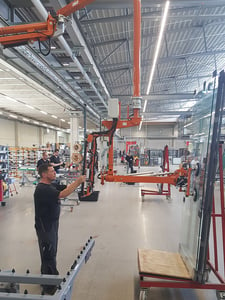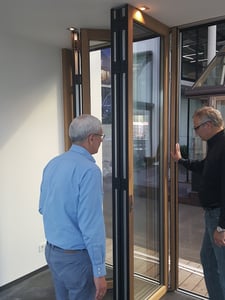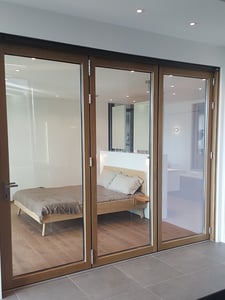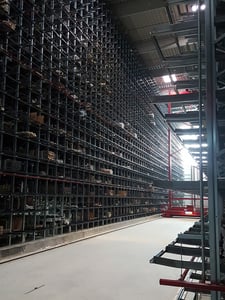 The benefits of extra-wide foldable glass doors for tenants and homeowners are, quite literally, clear. "If you sit down with five different clients or tenants, the No. 1 thing on their wish list is that inside-outside feel," notes Isaac Orr, Dixon's Associate Director of Project Management. "It makes you feel like you're in San Diego or the Hamptons."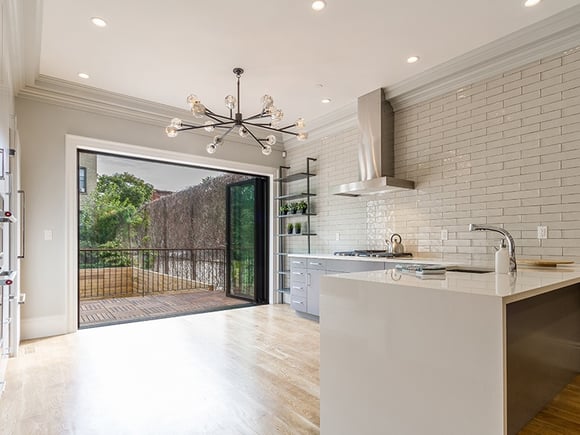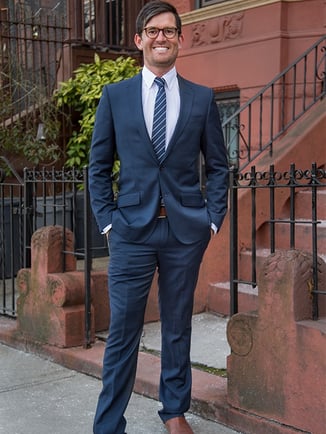 Carney emphatically agrees. "Tenants are in love with the NanaWalls. They absolutely love them," he says. "If you completely open up the parlor floor, you get this massive loft-like living experience while living in a townhouse, and townhouses, in particular, can suffer from a lack of light."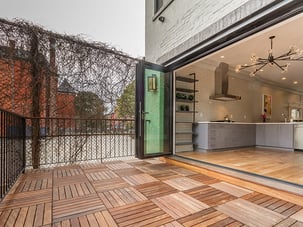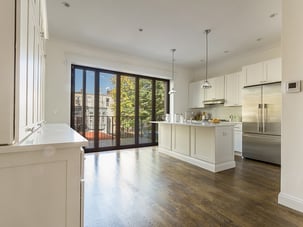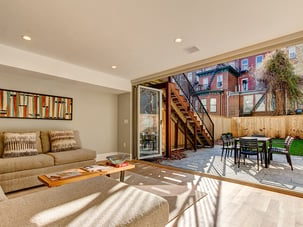 "Whenever we show clients or tenants pictures of these products they always say, 'Oh, I've seen them in a magazine, and I love it,' or 'My friend was telling me about them,'" notes Cohen. "People are aware that these operable glass walls exist, and they like the idea of creating that awesome indoor/outdoor feel in their own homes."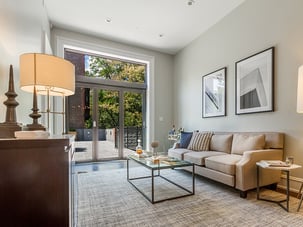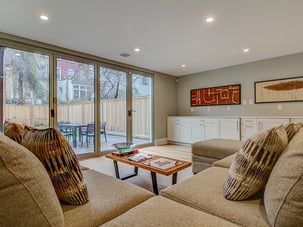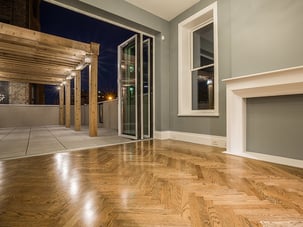 The awareness is born out of NanaWall's success. According to Nana, the firm topped a quarter of a million panels installed in North America alone a few years ago, and the product line keeps growing thanks to the unique needs of different building types, tastes and climates. "Each of our systems fills different requirements," says Nana. "We have hurricane systems, systems for high-rises, systems for sound, for aesthetics. We have wood, aluminum, clad. So, we have a lot of options."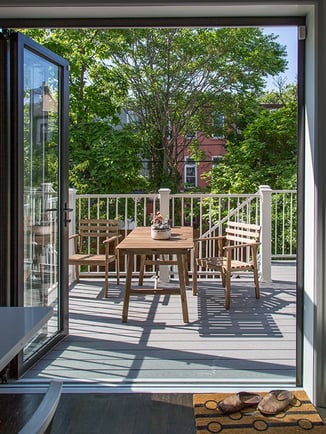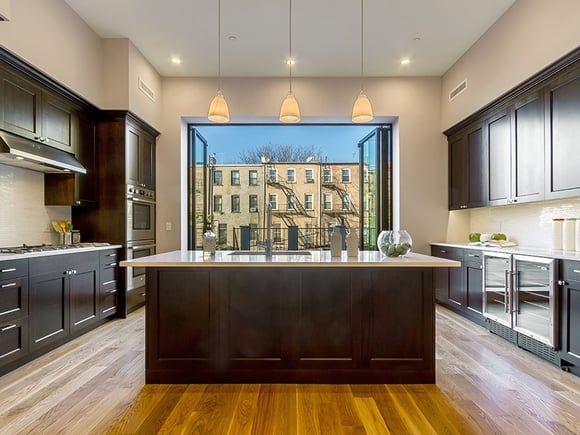 NanaWalls are so popular, in fact, that they've become practically standard in Dixon Leasing's premium rental homes as well as many homes built by Dixon Projects, a subsidiary offering design, construction and project management services to private clients. "It adds value to the home. Whether that's for a tenant or a Dixon Projects home, it's definitely a value-added component," says Carney.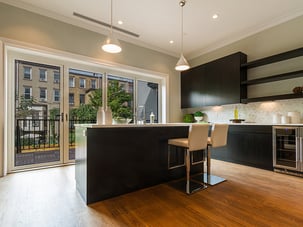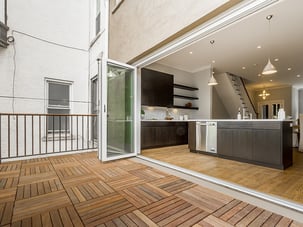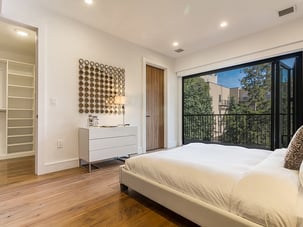 In fact, that added value is an integral part of Dixon's business model. "Our goal after we've purchased a house is to renovate it to such a standard that we can get rental rates far higher than our competitors," points out Orr. "To do that we have to have special features that they are simply not offering. NanaWall helps us to achieve our goals by completely transforming rooms."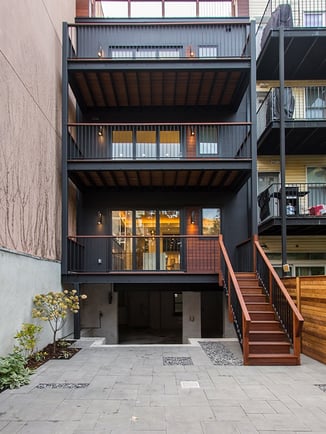 And that transformation comes at a price tag that is surprisingly affordable given the products' high quality. "One of the great things about NanaWalls is the huge range of standard selections that allow our team to put in a NanaWall that's completely custom-looking for the house, but is actually part of NanaWall's standard portfolio," explains Orr. "That's fantastic when you want to get a high return on investment."

---
Many great Dixon Leasing homes featuring NanaWall installations.

Lincoln Place, Park Slope
Universally admired by the Dixon staff, the NanaWall kitchen installation at this Brooklyn brownstone is truly unique. Here, a floor-to-ceiling NanaWall door meets a half-height NanaWall that runs atop the kitchen cabinet abutting the exterior. With the addition of an outdoor shelf that matches the interior countertop material, the ultimate in indoor-outdoor living and entertaining is achieved. "When you open that up, you've got this pass through and bar area above your kitchen cabinet line. People love that," notes Cohen.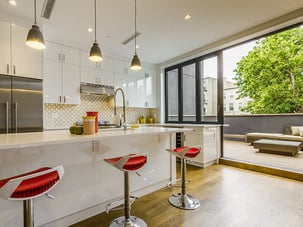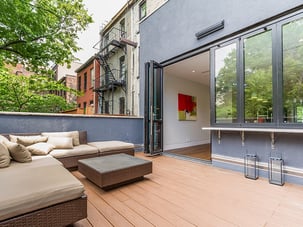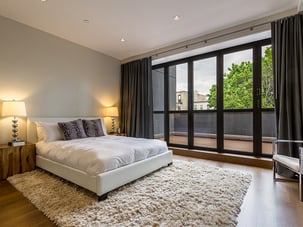 NanaWalls grace the upper two floors of the house as well. In the master, NanaWalls open to a sizeable terrace, while the top bedroom floor features another unique installation. Here, where there's no additional outdoor space, a fixed wall of glass runs along the bottom of the opening, while above, half-height NanaWalls open completely. This distinctive interpretation runs through both the bedroom and en suite bathroom creating an open and airy retreat.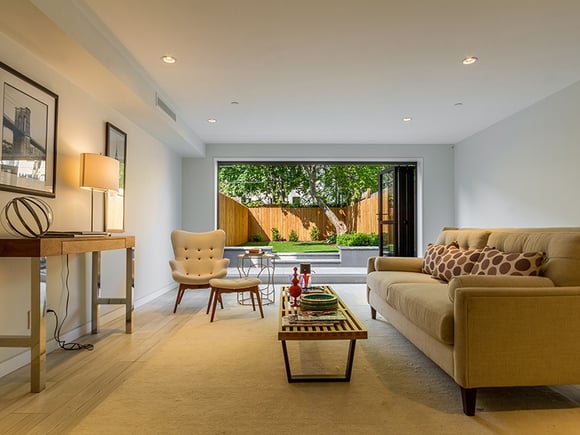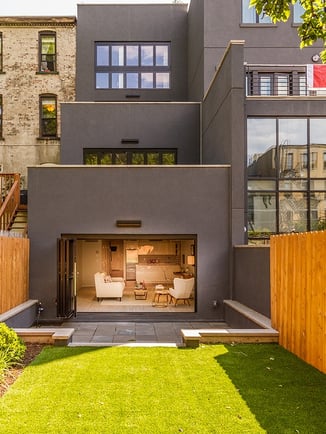 Boulevard East, Weehawken
Perched high over Port Imperial in Weehawken, this stunning five-bedroom, four-and-a-half-bathroom home takes full advantage of Manhattan skyline views on every floor. The second-level family room and top-floor master suite feature huge terraces accessed by full-width, full-height NanaWalls that capture every inch of the world-famous vistas. As Grapel points out, "Where a typical front façade and windows would partially obstruct the skyline, the NanaWall systems permits you the entirety of the unbelievable view."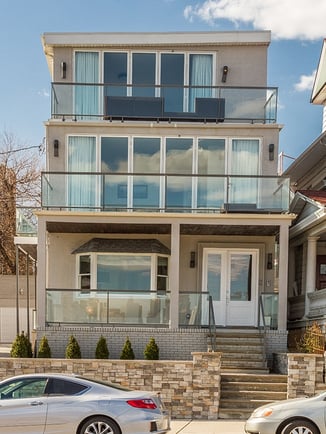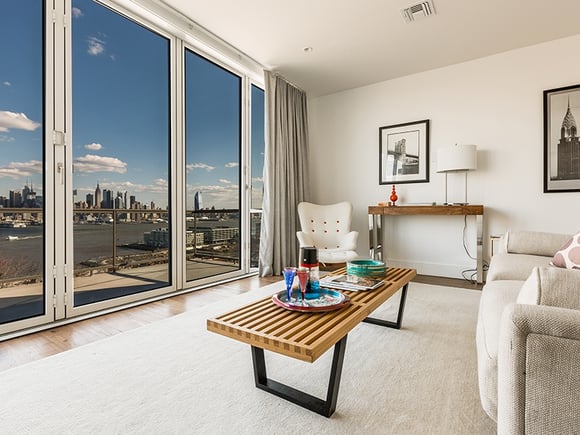 Mercer Street, Jersey City
In this classic red-brick row house in the Van Vorst Park section of Jersey City, another pass-through NanaWall installation graces the stunning kitchen bathing the entire space with terrace, backyard and neighborhood views. "It's like an indoor-outdoor center island. It's awesome," says Orr.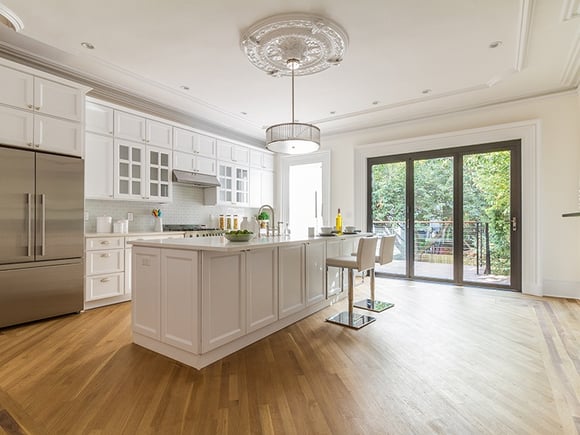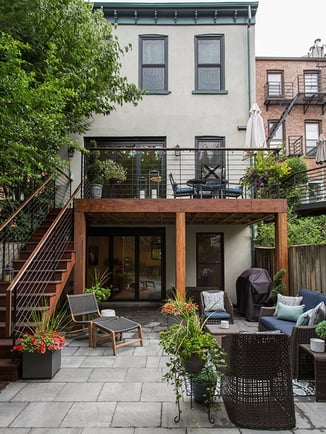 On the garden level, a large family room is outfitted with a full-width NanaWall that leads to a paved terrace, literally doubling the entertaining and lounging space with the lush backyard just beyond
---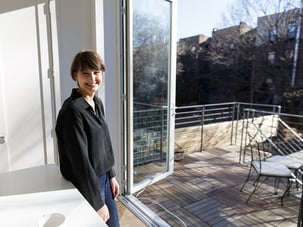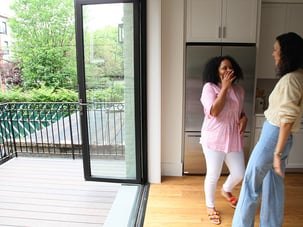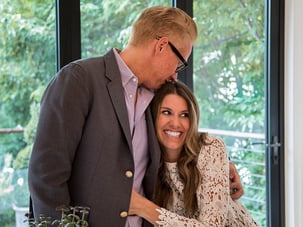 Ultimately, the real value of NanaWall products comes from how they benefit homes and the people who live in them. Whether capturing world-class views, catering to effortless outdoor entertaining, or opening up rooms that might otherwise be dark and drab, NanaWalls change how people live. "When I observe a house a few months in, the tenants have bought themselves great outdoor furniture that matches inside of the house," says Orr. "The NanaWall transforms the home, and therefore, transforms our tenants' lives."

Experience NanaWall for yourself and virtually tour Dixon's portfolio of homes.