A corner townhouse in an exceptional Victorian-era row receives a painstaking overhaul that elevates it from a collection of shoddy apartments to an elegant home suitable for luxurious modern living.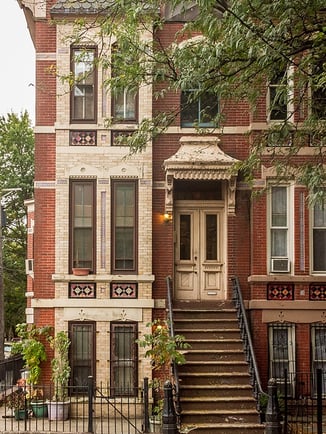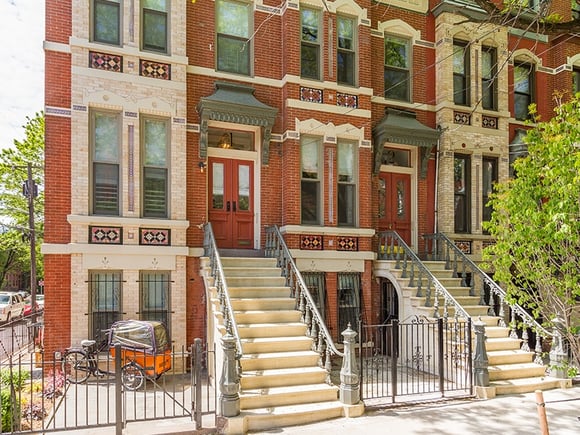 Located at the corner of Wayne and Barrow Streets in Jersey City's Van Vorst Park Historic District, Hampton Court Terrace is known for its Gothic Revival Style and ample British influences, thanks to the English origins of the Paulmier family, Hampton Court's original builders and owners. Commonly known as row houses or townhouses in the U.S., this type of side-by-side residence is called a "terrace house" in England, and the name "Hampton Court" likely references the London castle, Hampton Court on the Thames.c
Built around 1880, the home's intricate styling stands out against the more uniform brownstones that fill the neighboring streets. The Van Vorst Park National Register of Historic Places report describes the homes as "detailed in brick with decorative tile panels, masonry lintels and sills, gables and mansard roofs with dormers. The quality of these buildings is unique and their immediate appearance conveys a story-book quality." Hampton Court's distinctive presence is further emphasized by the homes' consecutive addresses — Nos. 1 through 7 — rarely found on American houses on the same side of the street.

Years of overall neglect and a series of poorly conceived subdivisions left the house at No. 1 Hampton Court Terrace a decrepit, crumbling mess — a far cry from its original grandeur which the Evening Journal of Jersey City once described as the "handsomest and most unique buildings in the city."
Dixon acquired the property in 2013 and has carefully restored the home, top to bottom, creating an elegant five-bedroom, three-and-a-half-bathroom showplace in the heart of Jersey City.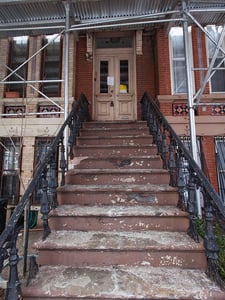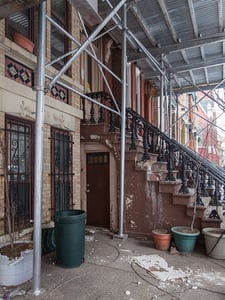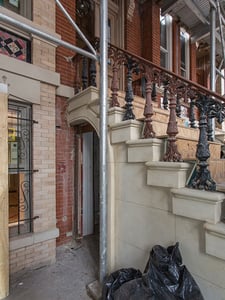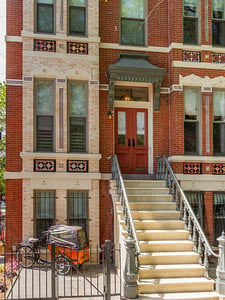 Much of the hard work was focused on the home's signature ornate exteriors where the façade had fallen into disrepair. A gorgeous bay window had been removed, the front stoop sat chipped, railings were rusted and newel posts were worn and missing their toppers. Dixon repaired and replaced ironwork both along the railings and the roof cresting and pinnacles. Mansard roofs received new slate and copper seams. The bay window was restored, the stoop was carefully reconstructed, and the historic tilework throughout the façade was replicated and replaced.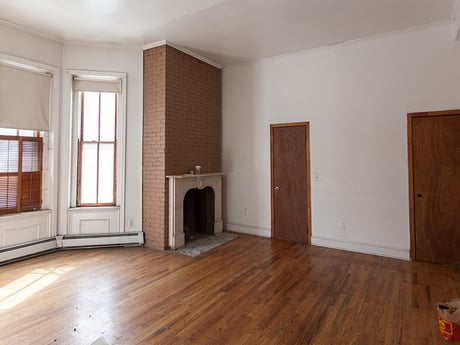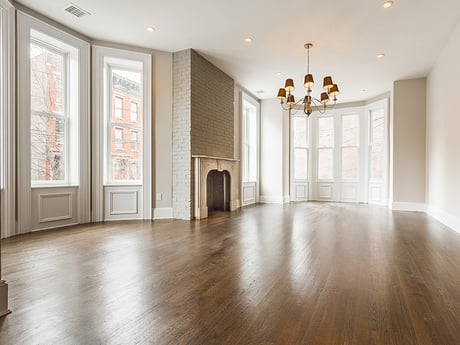 The grand parlor floor, which had been chopped in half to add a bedroom, has been opened back up to a create a full-floor entertaining and lounging space which rightly returns the grand marble fireplace to its position as centerpiece of the level.
At the front of the parlor and garden levels, an ill-conceived spiral staircase had been added, but was falling apart. In order to create distinct levels for dining and living rooms, the treacherous stair was removed and adjacent fireplaces restored.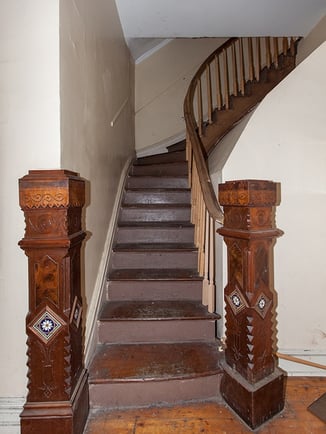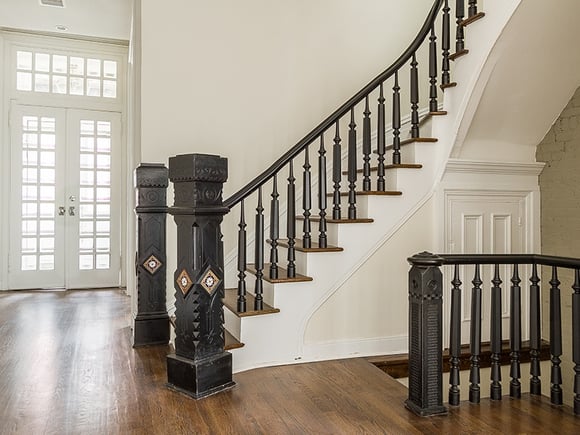 The home's lavish central stair, meanwhile, was a major point of restoration. The handsome inlaid and carved newel posts were refinished, broken spindles carefully matched and tread boards replaced, all stained a deep brown to provide a stunning visual contrast.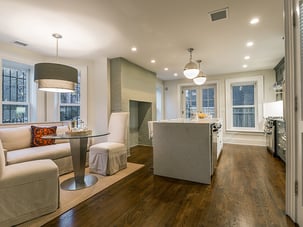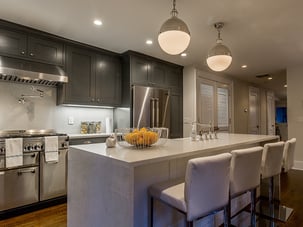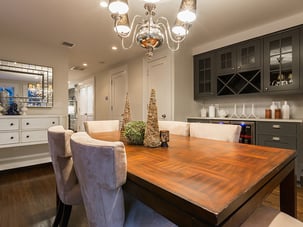 Dividing the stately home into small, separate units meant that unsightly kitchens were shoehorned into hallways and bay window spaces. After renovation, however, the entire garden level of the home has been transformed into the perfect modern chef's kitchen with adjoining sitting area and formal dining room.
In the kitchen, a massive Caesarstone waterfall island and stainless steel AGA appliances with retro styling provide the perfect setting for culinary creations, and a nearby closet conceals a full-size washer and dryer plus a convenient utility sink. A nearby bay window nook provides the perfect setting for morning coffee, and the large dining room is served by a custom bar outfitted with two wine refrigerators.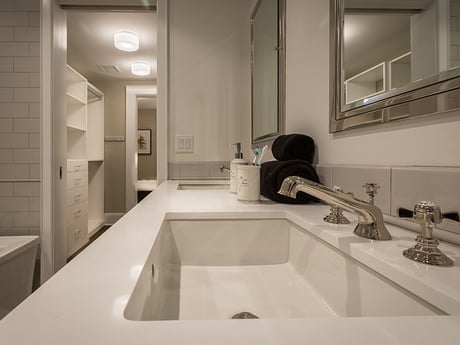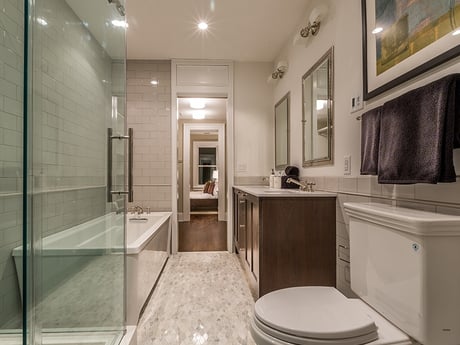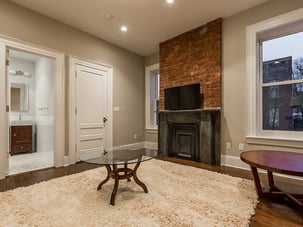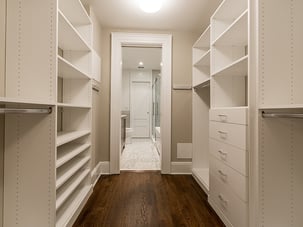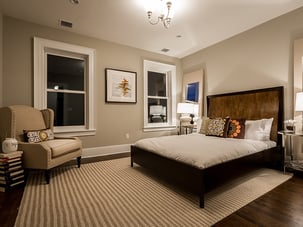 Bathrooms, once mediocre and old-fashioned, have been given the five-star Dixon treatment with ample use of marble and glass alongside brushed nickel fixtures, giving each an updated look that blends seamlessly into the home's historic bones.
In bedrooms, dated ceiling fans and fixtures were replaced with elegant custom and recessed lighting. And throughout the home, unsightly and cumbersome baseboard heaters that detracted from the home's elegant lines and millwork were removed and replaced by central heat and air.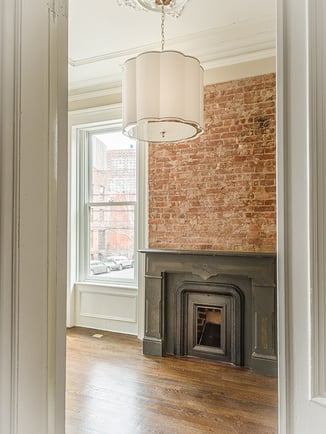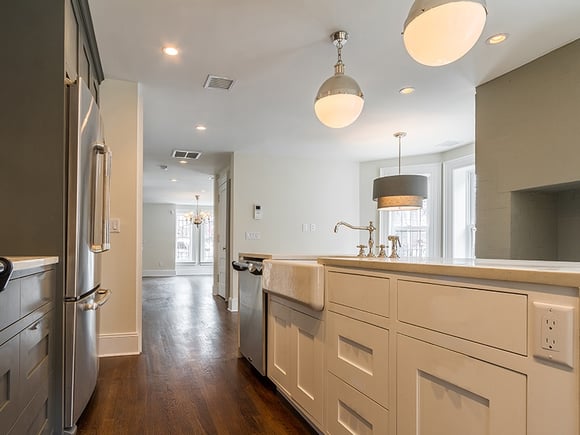 After its thorough renovation, Hampton Court once again takes its place among Jersey City's most elegant and refined homes.