Whether you're moving into a brand-new space or you've outgrown your current one, understanding the time, preparation, and nitty-gritty details that go into planning a renovation is crucial. To ensure a smooth design process, you may be asking yourself, "Should I hire an Interior Designer?" In addition to possessing the keen ability to apply your personal style to the proportions of your desired space, Interior Designers offer a wide range of knowledge when it comes to planning, code regulations, and budgeting. Below, you'll learn more about the "why" behind hiring a professional Interior Designer and how they can save you time, money, and headaches in the long run.

How does an Interior Designer add value?
#1 Resources and contacts
When hiring a professional Interior Designer, it's important to realize that a high-quality experience and high-quality products go hand in hand. Rooted in the procurement industry, an Interior Designer can offer you access to strong vendor relationships where you can benefit from better rates and trade discounts otherwise not available. In addition to assisting you with sourcing and procuring materials and appliances, they'll be able to streamline the logistics process, which is a critical step to ensure your project remains on schedule and avoids costly delays. At Dixon Projects, our in-house Interior Designers have an expansive network of trade specialists and vendors, where they can collaborate to iron out all of the material aspects of a renovation.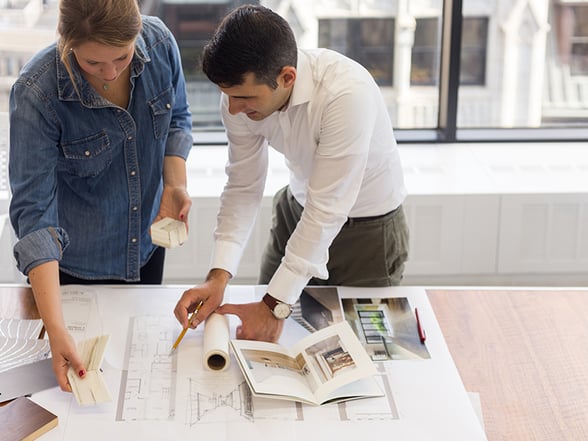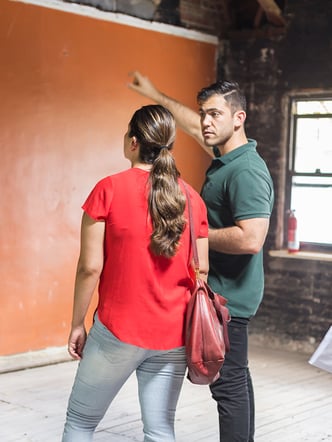 Beyond a stylistic eye and creative vision, an Interior Designer is a trained professional who can provide you with confidence in the feasibility of your design concept, while communicating with contractors to work around any complicated mechanics pertaining to your renovation. Understanding the same renovation jargon as contractors is crucial to ensure an organized approach to any potential changes throughout your project, and this benefit is particularly helpful when trying to come up with solutions that you may not have known were possible.

#2 Budget optimization
Accurately assessing quantity, quality, and pricing is a necessary aspect of any interior design project, especially when you're trying to stay within your budget. An Interior Designer is well versed in each of these areas. They'll be able to advise you on quality control, where to splurge and where to cutback to help you save money and maximize your budget. For your convenience, we've provided a few general tips below.

Your couch: Investing in a high-quality couch with durable fabric goes a long way, not to mention you'll avoid the headache of replacing your couch every few years. To save, you could spend less on matching end tables, which likely won't experience as much use.

Millwork and hard surfaces: Ideally, you'll want to splurge on these built-in features by going custom if you can as they'll likely experience significant wear and tear through daily use. Custom features such as archways, wainscoting, and crown molding will also increase your property's value. Depending of your location, the Landmarks Preservation Commission (LPC) may protect these types of elements, which could potentially limit your options. At Dixon Projects, our in-house Interior Designers have extensive experience handling these types of projects, but as a general measure, you should always check to see if you'll have to adhere to LPC guidelines. If you're located in NYC, you can use the Searchable City Map to see how your home is classified. You can also visit the LPC Searchable Database to learn more about existing and forthcoming historic districts in NYC.

Select kitchen appliances: You don't need to splurge on all appliances. For instance, you'll want to maximize your investment by selecting a reliable fridge, but you can cut back by choosing a less expensive range hood, particularly if it's going to be concealed.

Cabinetry: Splurge wherever you can here if possible. Consider your new cabinetry as a long-term investment. If you invest in quality cabinetry and maintain the hardware properly, they'll likely last you at least 20 years. No matter your personal style, you don't have to sacrifice your design concept just to stay within your budget. A seasoned Interior Designer should specialize in budget optimization, providing you with the guidance necessary to make the best decisions possible.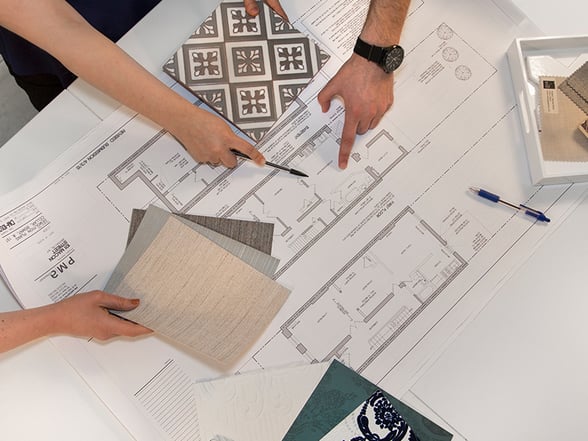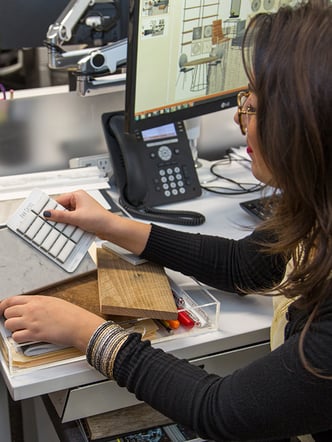 #3 Problem solving
Before construction begins, it's best to undertake as much planning as possible to reduce delays and unforeseen cost implications. However, every renovation has it quirks and depending on the scope of your work, some decisions cannot be addressed until demolition is underway. Because of this, it becomes a great benefit to have an active Interior Designer on site, dedicated to overseeing quality control and problem solving throughout the process. A professional Interior Designer will understand how to navigate any changes in your project, so that if unforeseen issues do arise, they can work with the correct parties involved to remain on schedule and ensure your design scheme is executed as planned.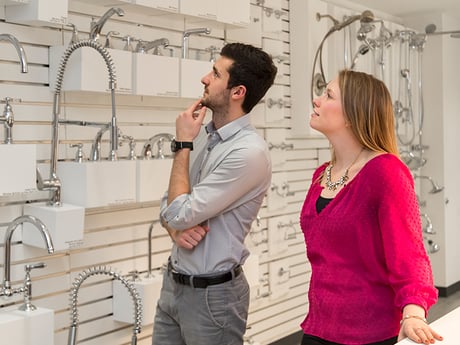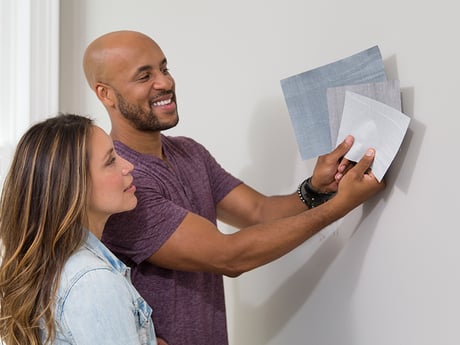 Not every technical element of the construction process will interfere with your design concept. A professional Interior Designer adds value and optimizes time by handling the less intrusive details simultaneously, while construction is still in progress. This skill is particularly needed to communicate with contractors about where to leave space for custom items like lighting or cabinetry. This approach minimizes the chance of backtracking construction work like drilling holes or removing pipes, which can cause costly setbacks during your renovation. We've provided a real-life example of this approach below.

The Renovation at Ogden Avenue
When designing a home that has a vast open-concept floorplan with several large windows, you may run into challenges when determining the best practice for installing your homes heating, ventilation, and air conditioning (HVAC) system.
Our team at Dixon Projects encountered an unforeseen mechanical issue at Ogden Avenue, causing an immediate change in the original plan for HVAC installation. Initially, the team planned to install wall-mounted Mitsubishi units to heat and cool the home, but then decided that a ducted system would be more effective. In order to achieve this change in construction, HVAC ducts were installed into the kitchen ceiling, causing a last-minute disruption to the existing design concept.
Faced with this unsuspected challenge, the Interior Design team collaborated with contractors to create a decorative tray ceiling, by adding architectural soffits to conceal the HVAC ducts. They then wallpapered the remainder of the ceiling to create a purposeful and brand-new design element—one that they've never done before! Once the tray ceiling was in place, Interior Designer Marybeth Narine directed contractors to leave space beneath the soffits for recessed lighting installation, making sure that all lights were rearranged accordingly to ensure the best use of space.
Had there not been an Interior Designer on site, the team would have had to sacrifice many of the homes unique features. An exposed HVAC system would have disrupted the proposal for an uninterrupted open-concept floorplan, potentially obstructing the beautiful New York City views that the home had initially been designed to accommodate.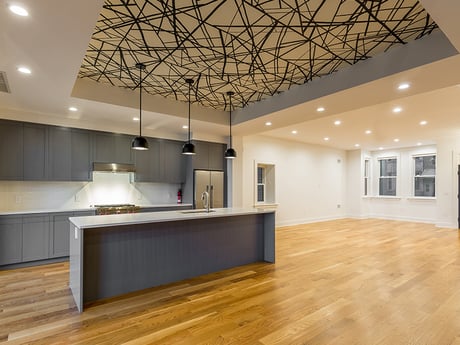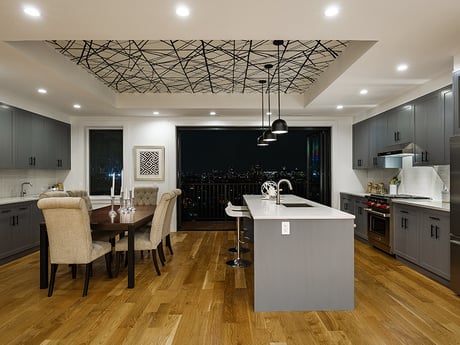 When should I hire an Interior Designer?
The sooner the better.
The earlier you bring on an Interior Designer the smoother your renovation process will be throughout its duration – they can even come on before you've closed on a new home. Bringing on an Interior Designer as soon in the process as possible will help you assess your desired space and its feasibility against your design wants and needs. They'll collaborate from the very beginning with contractors and architects to streamline the process and ensure your design scheme will remain cohesive throughout each room. This will clarify communication and coordination between the designer, architect, and contractor, ultimately making sure that all the nitty-gritty details of your project are accounted for from the onset.
An Interior Designer is especially helpful if you don't have a scope of work in mind. Rather than exhausting yourself with endless research, an Interior Designer can cut time by assessing the feasibility of your vision, drafting mood boards, and providing feedback on potential opportunities and limitations.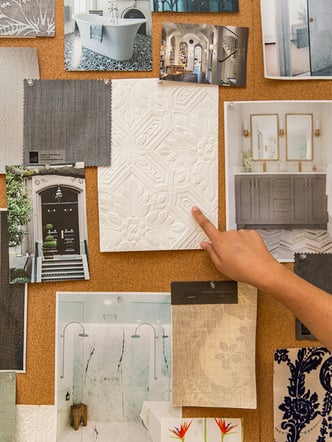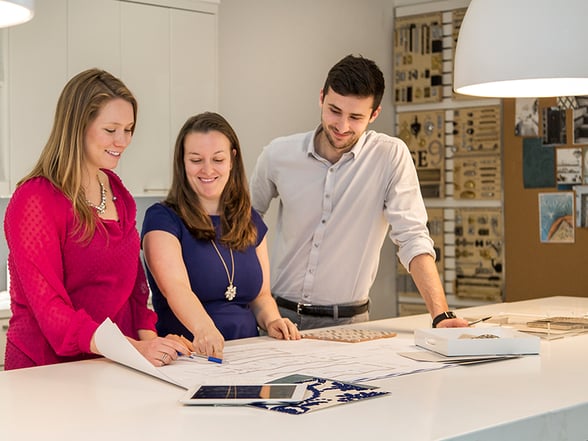 Are there instances when an Interior Designer is required?
If you're designing a public or shared space like a condo, co-op, or a commercial property, hiring an interior design professional is strongly recommended. Several compliance's such as the American Disability Act (ADA), in addition to permitting and zoning requirements are unavoidable during commercial renovations and most condo/co-op spaces have stringent guidelines as well.
If you're renovating a condo/co-op, you'll need to gain approval from your building board, who may ask several questions that your architect and contractor may not know the answers to—this is where an Interior Designer would be beneficial. Should you choose not to hire an interior design professional, you run the risk of committing building code violations, resulting in stop-work orders and hefty fines. Similarly, while an architect or project manager may be able to advise you on certain codes and regulations, adding an Interior Designer to the mix ensures your design concept won't be compromised during the demolition and construction phase of your project.
Your home is a reflection of who you are, and what you love. We hope that you've gained some insight behind the value of a professional Interior Designer and when you should bring one on board for your next project.