Today, we open the decrepit doors of a charred church and its accompanying parsonage on Mercer Street in Downtown Jersey City to witness the first stages of its conversion.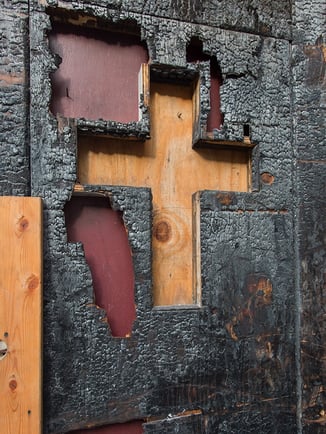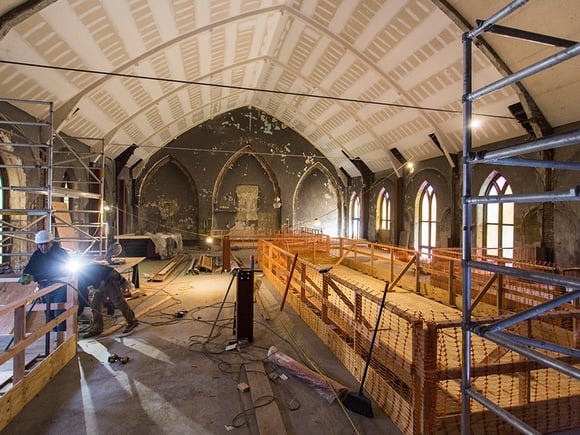 Once a lively gathering place for reverent Jersey City residents, the Mercer Street church holds a storied past that led to its current situation. The church passed through a variety of owners in its early days before succumbing to a fire in 2007. In 2013, Dixon Advisory USA purchased the property and began planning a dramatic transformation.
Behind the noble yet neglected exterior of the church, a new chapter has begun to take shape. Spray paint lines on the floor create the impression of life-sized floor plans throughout, the sound of hammers at work fills the air, and morning light peeks through stained glass windows to illuminate dust-covered walls and exposed steel beams in red and yellow hues. The entirety of the church has been stripped of its fragile features, offering room for piles of fresh wood beams soon to become the framework of this church's future.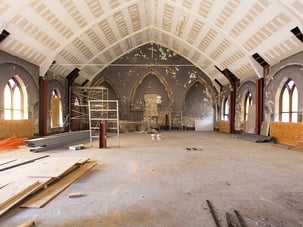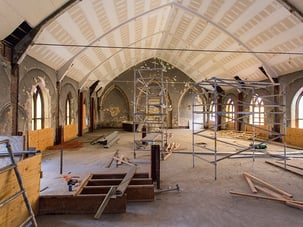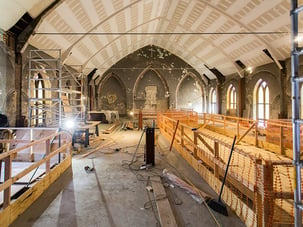 Scaffolding leads to the second floor where segments of concrete flooring are being removed to make way for a brand-new elevator shaft and stairwell. Up above, holes in the sky-high ceiling are repaired as the team prepares to split this soaring space into two levels to accommodate additional units. The Dixon Projects team is fully utilizing the available space to breathe new life into this derelict building.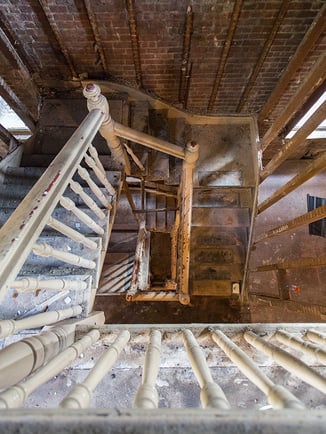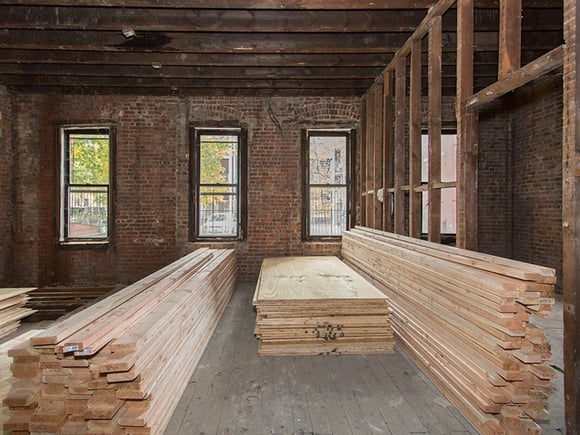 Just next door, a barren three-story parsonage has been cleared of crumbling interior walls, dingy appliances, and mold-ridden cabinetry. While dry-rotted joists and puddles of water from the previous night's rainfall remain, all the new lumber needed for the home awaits in piles. Decaying bricks and mortar, peeling layers of paint, and boarded-up windows tarnish this home's former glory, but the team has now begun to assemble brand-new timber framing, laying the groundwork for two luxurious units complete with outdoor space, high-end finishes, and a restored exterior.