You CAN turn a non-functioning fireplace into something unique and spectacular. We'll show you how.
Historically fireplaces were used for domestic purposes such as heating water, cooking, or bringing light to an otherwise dark room. Today, when we think of fireplaces, we think mostly in terms of ambiance and aesthetics: cold winter evenings, frosted windows, cozy couches, drinks, and family time. However, in many historic homes, the fireplaces that once illuminated rooms on long winter nights are no longer functional. But, that doesn't mean that the space itself should remain useless. Quite the opposite! Instead of leaving the space empty, we've compiled seven ways that you can turn a non-functioning fireplace into something unique and spectacular.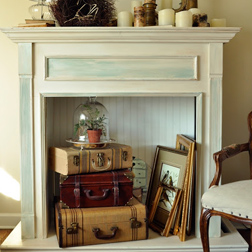 Vintage Display Area

What better way to display a collection of vintage finds than a fireplace that's no longer in use? In Jennifer's living room, with a backdrop of whitewashed wood paneling, stacked suitcases complimented by frames in varying sizes lends a feeling of whimsical nostalgia. Read more on Jennifer Rizzo's blog.
---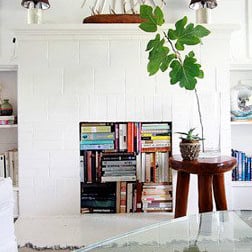 Book Nook
For those of us who simply can't stop buying books or who don't have enough space to showcase them, the fireplace turned book nook (like AB Chao's, above) is not only a superb idea but gives the space a sense of modern day elegance. For more images on fireplaces as book nooks visit Apartment Therapy.
---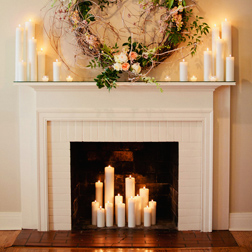 Candles in the Fireplace
Pillar candles set inside a fireplace are a wonderful alternative to traditional fires. For the wedding of Lindsay and Jimmy, different sized candles were used to give the space a feeling of depth and breadth lending the room a sense of romance and warmth. See more images on the Borrowed & Blue blog.
---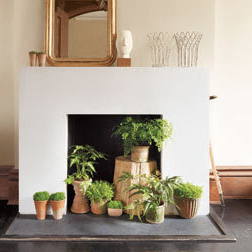 Indoor Garden
Group together various low light plants to create a beautiful green space all year long, as Thomas Loof of Real Simple did in the photo above. Vary the heights and style of leaves to give the space a more textured look. For more ideas on dressing up an unused fireplace, visit Real Simple Home.
---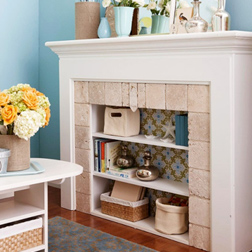 Fireplace as Storage Space
Adding shelves to an unused fireplace is one of the more clever ways of creating more space in a tiny New York apartment. Here the wallpaper lining the back of the fireplace offsets the concrete and gives the room playful and airy feeling. Read more about this fireplace on Freshhome.com.
---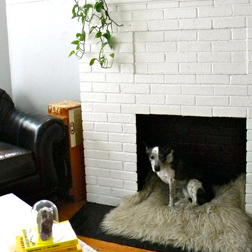 Pet Bed
The clever idea of using the empty nook to create the quintessential pet alcove comes to us from the owners of Chicago's Vintage Bazaar Pop-Up Market, via Dwell.com. Make sure you have thoroughly cleaned the fireplace and there is no residue of soot or ash for your four-legged friend to breath in or track about.
---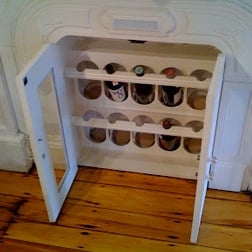 Wine Storage
What a unique idea for a fireplace: a wine cellar! Alissa's adorable apartment, featured on Designwatcher, highlights how small spaces can have a big impact. In this example, she's found room to store her ten favorite bottles of red out of the way but within easy reach.
Just because a fireplace is no longer functioning, doesn't mean it can't be functional. Dixon Leasing preserves original fireplace mantels to invoke feelings of nostalgia in otherwise ultramodern homes. Pairing new accents with old spaces invites an intricate blend of old-world charm and modern luxury to shine through to the very last inch (or detail).