A free-spirited mom, foodie father and creative kid live a life filled with friends, family and adventure in the heart of Bedford-Stuyvesant.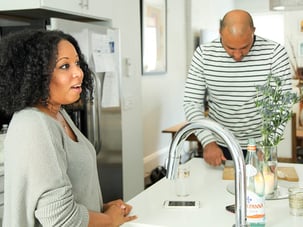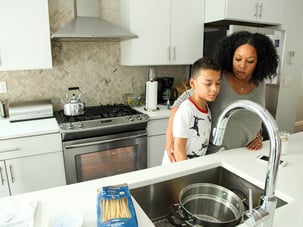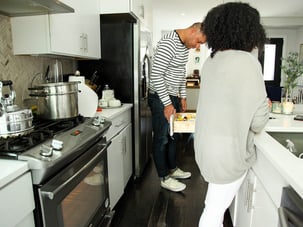 To arrive at the home of Naima and Joe is to feel immediately welcomed and relaxed. Music, food and cocktails appear, seemingly effortlessly, as tales of recent travels and local food expeditions weave their way into lively conversation. Their son, Jaden, a flawlessly polite 10-year-old, happily joins the chatter to share stories about school or his upcoming comic book project, Kid Brooklyn.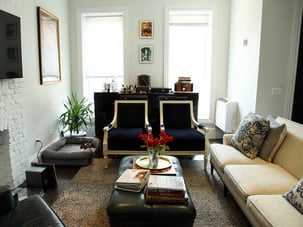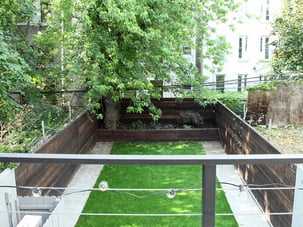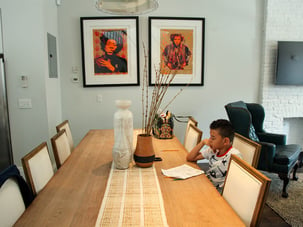 The current backdrop for the family's warm gatherings is the three-story, four-bedroom Quincy Avenue townhome the couple has rented for more than a year, but one might best describe the couple as accidental renters. When they received an offer they couldn't refuse on their former home — a Clinton Hill brownstone — the longtime homeowners found themselves in the position to rent for the first time in their relationship. As Naima tells it, "We're backwards — we've never rented. Most people rent young, but we've been owning since we were in our early 20s."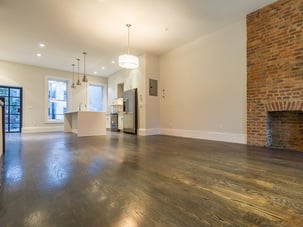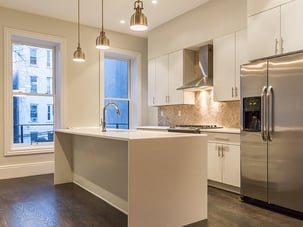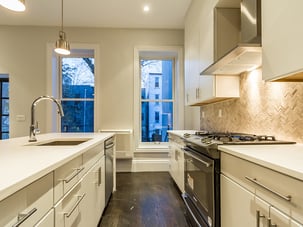 Gut renovating their Italianate brownstone on St. James Place had been a labor of love, and while the family hadn't been entirely focused on selling, the timing of the unexpected offer seemed right. "We were kind of toying with the idea. We were thinking about 'pioneering' again and going through another remodeling process," explains Joe. "We thought it was an opportunity for us to sell, analyze the market for a little while and dive back in when we found something we really loved." At the time, Jaden was also transitioning from public school to a prestigious private STEM school in Red Hook, so renting gave the family time to test the commute and plan where best to plant more permanent roots.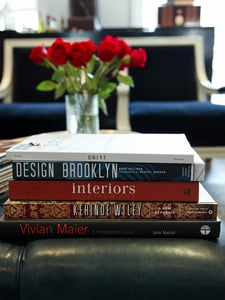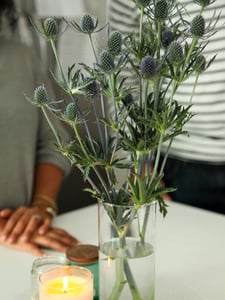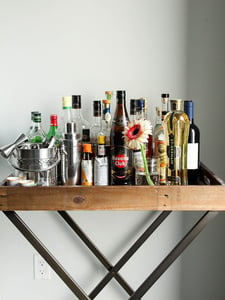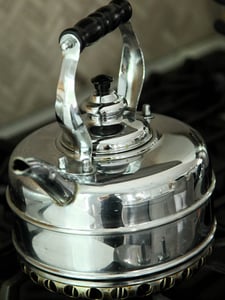 Having renovated their former home to their exacting specifications, and given Naima's long history in real estate investment, finding a rental home that suited their tastes and lifestyle was crucial. At first, the couple considered flipping the script on townhouse living and pursued a high-end Williamsburg condo in a doorman building with a swimming pool and phenomenal views. "We were committed," recounts Naima. "And then the closer we got, I kept thinking, 'We'll have to put our family in hotels now!'" This was ultimately a deal breaker for the hospitable duo who regularly host friends and family for weeks at a time.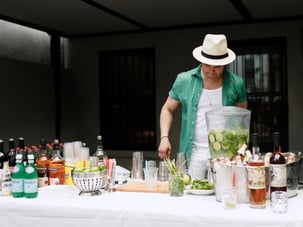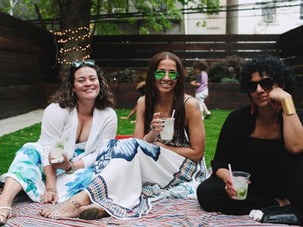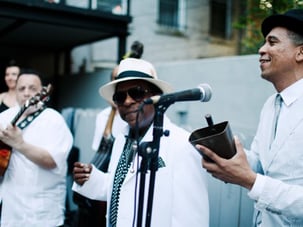 "We have to have room to host and to have parties and to have friends over eating. This is our life. This is who we are. This is our personality," Naima explains, effectively putting an end to their short-lived dream of condo living. Back on the townhouse trail, it wasn't long before the Dixon name came to their attention. "As we started looking at properties, we came across a lot of Dixon homes. We saw how Dixon renovated," says Joe. Naima wholeheartedly agrees, "It was our only choice. It was Dixon or bust. We were not going to rent any property unless it was a Dixon property!"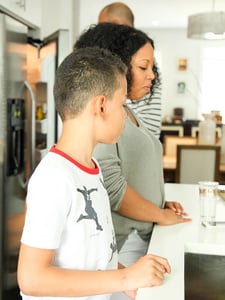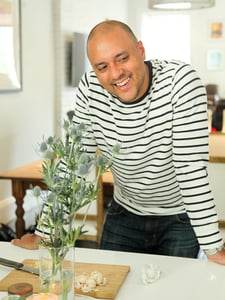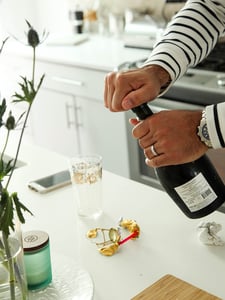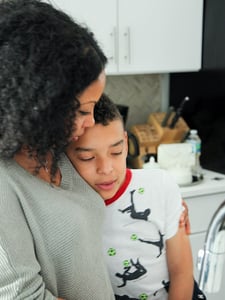 Naima — a native of Trinidad and Tobago who moved to New York to attend college — and Joe — a born-and-bred Queens native with a Jamaican mother and Puerto Rican father — met in Miami at a P Diddy (then Puff Daddy) party 20 years ago. Joe was on a business trip, while Naima was enjoying Miami's famous Caribbean carnival events. They've been inseparable since.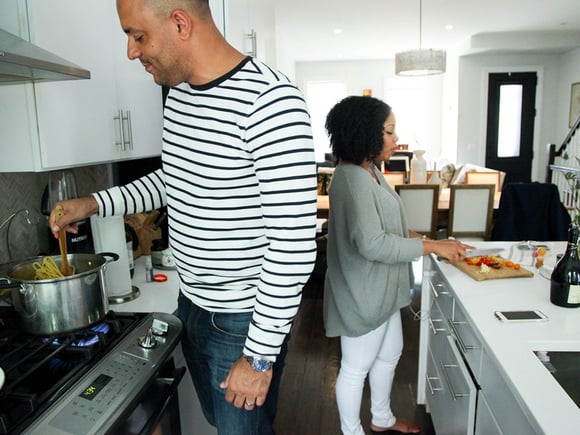 Bound together by a shared wanderlust, the couple takes frequent family vacations, which are beautifully documented on Naima's lifestyle blog, The Adventurista, and on Instagram. Recent excursions have included stays in Port Antonio, Jamaica; a European tour of Antwerp, Paris and London; and the couple's first trip without Jaden, a joint-birthday getaway to Paris (the couple's birthdays are just days apart).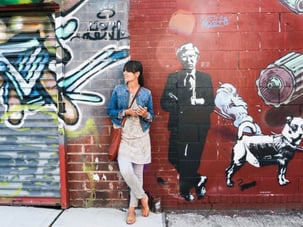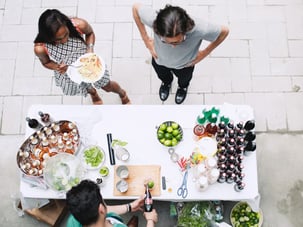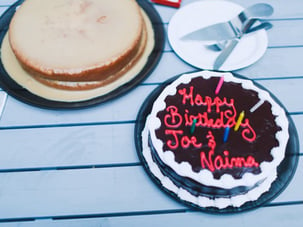 Their travel schedule shows no signs of slowing, either. Jaden's study of "The Odyssey" and "The Iliad" in school has prompted the family to plan a trek through Greece this month with stops in Athens and Santorini. The newly opened Cuba, and perhaps St. Bart's, are also in the offing before year's end. In between trips lies a summer filled with extended visits from friends and family from around the world: Naima's Trinidadian high school friends and Belgian niece and Joe's Jamaican cousin are all expected at Quincy Avenue over the next few months.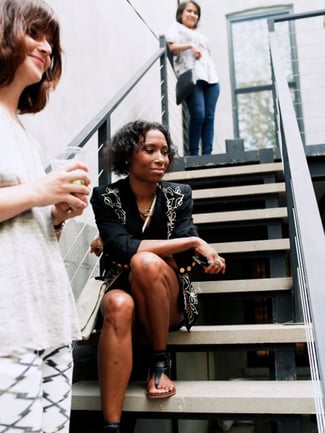 Even when they stay local, this family embraces a "staycation" mentality, planning adventures around the neighborhood, up the Hudson Valley or out to the Hamptons. Joe and Jaden have begun a ritual of father-son Sunday brunches, which recently took them to The Smith in Manhattan followed by shoe shopping. While the shopping may be a nod to Jaden's passion for fashion and his former career as a successful young model, the brunch is Joe's admitted effort to mold his son into a foodie. Weekends also mean date nights for Naima and Joe, with visits to neighborhood spots like Lover's Rock, Peaches Hot House, Saraghina and Oaxaca.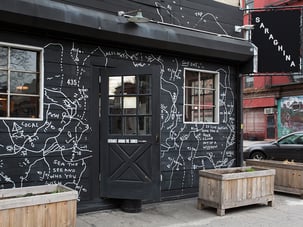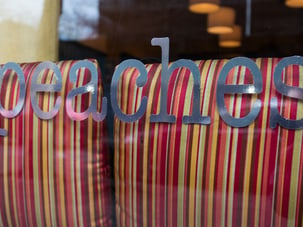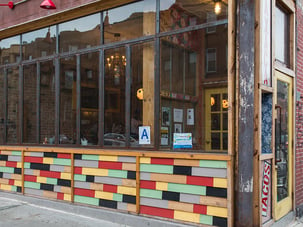 When not sampling the abundant cuisine of Brooklyn, the family cooks in the sunny marble kitchen at Quincy Avenue. Pancake battles between Joe and Naima, with Jaden as the discerning judge, are surprisingly elaborate and fiercely competitive. Out on the nearby deck, one might find Joe's specialties: jerk chicken on the grill or brisket in the smoker.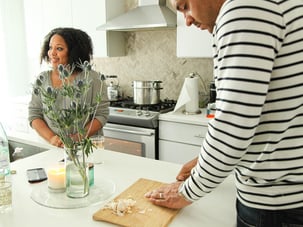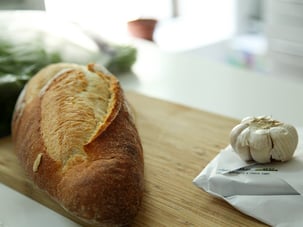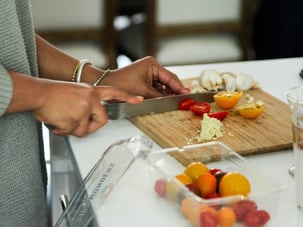 Unlike their former brownstone, which placed the kitchen at the garden level with living spaces on the parlor floor above, the family is enjoying the convenience of the Quincy floor plan which places living, dining and kitchen spaces together, with adjacent outdoor space. "I'd be alone in the kitchen, and they'd be upstairs in our old house," recounts Naima, "so this whole concept of open plan is really good for us."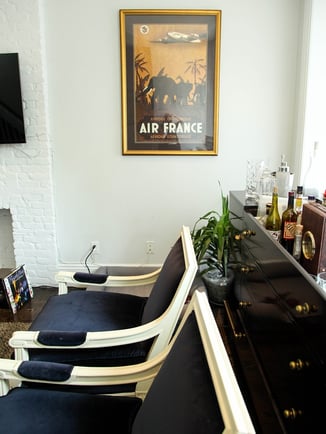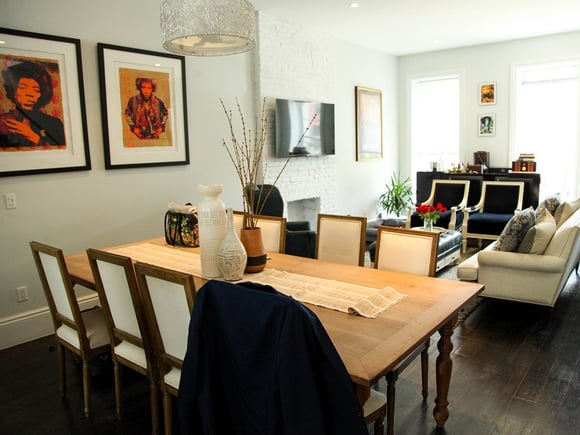 Upstairs, two large bedrooms accommodate the family. According to Joe, this home is Jaden's favorite, due in no small part to his first-ever en suite bathroom and the two large closets that house his dapper wardrobe. Down the hall, the master suite also includes a large en suite bathroom and a massive walk-in closet, where one finds Joe's meticulously organized wardrobe situated alongside Naima's more laissez-faire arrangement. This upper floor is lit by a lovely skylight — a favorite of Naima's — and includes a washer-dryer to conveniently attend to this fashionable family's laundry needs.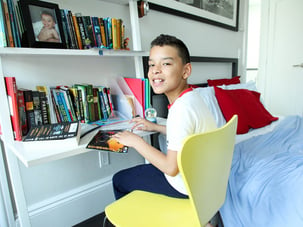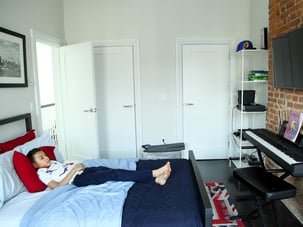 On the garden level, two more bedrooms, each with en suite bathrooms, serve as a home office and guest quarters, and storage space is abundant with four more closets along the hallway here and a massive cellar below. The home's spacious backyard, situated under a massive shady tree, is frequently filled with laughter and friends, whether it's Jaden and his school chums playing soccer or a lively Cuban-themed birthday party complete with a live band.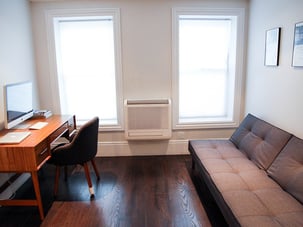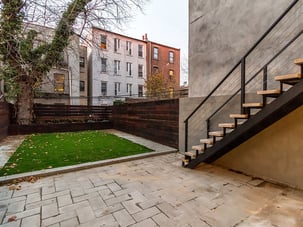 The family's creative pursuits are nearly as numerous as their vacation destinations. Joe owns Hero, a marketing company in the media and technology space. Together, he and Jaden have created the Brooklyn Kid comic, starring Jaden and his friends as eco-warriors solving environmental crime throughout the borough.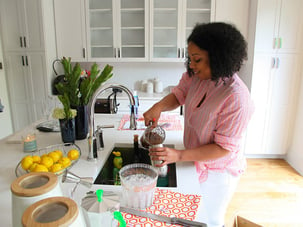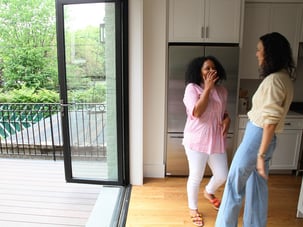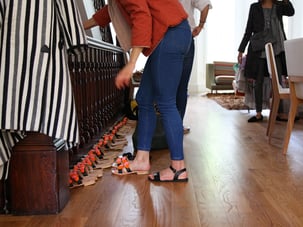 And, Naima, in an effort to explore her passions after putting aside full-time work for motherhood, started her The Adventurista blog, which has grown and evolved from a "mommy blog" to a coveted lifestyle guide, thanks to her innate desire to explore and connect. "One of the things I started are these really cool curated events to bring moms together," she shares.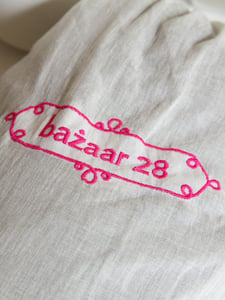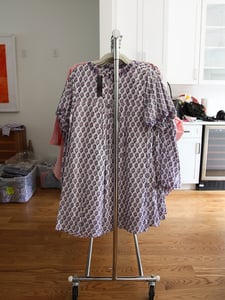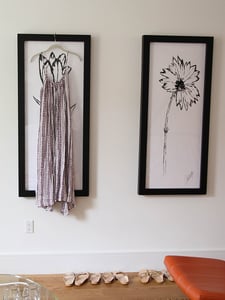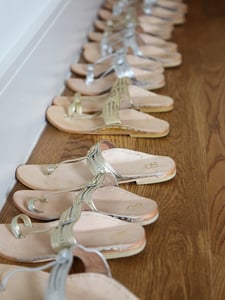 In that spirit, she recently collaborated with Dixon to host a trunk show event at one of the firm's available properties, creating a unique opportunity to drive buzz for both the Dixon brand as well as the fashions of designer Bazaar 28. The "Jaipur to Brooklyn" event featured a to-die-for signature cocktail — cardamom- and cinnamon-infused tea, simple syrup, gin and prosecco — and breezy resort wear designs in an elegantly relaxed townhouse setting just blocks from the Quincy home.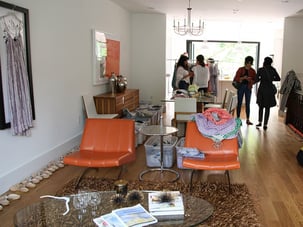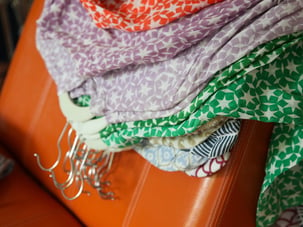 Looking forward, Naima says, "I think the next step for me is a book, a visual city guide." Based on the beautiful photography found throughout her blog and Instagram, that seems like a natural next step, especially for a woman who credits New York City's challenging nature for her motivation and desire to push forward, both in life and in business. "I like the feeling of not always being comfortable, because I'm not there yet. I'm not where I want to be."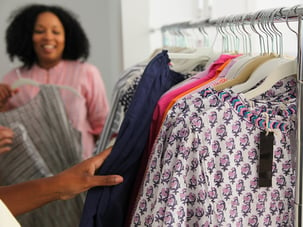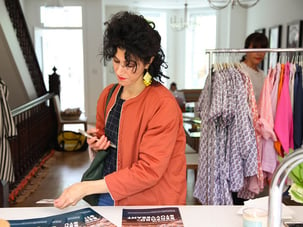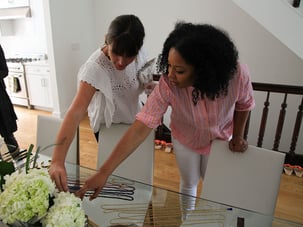 And, of course, the patient quest for their next townhouse purchase and renovation looms ahead. But, for now, the family is abundantly content in their first rental home, constantly surrounded by family and friends, and eagerly planning their next adventure.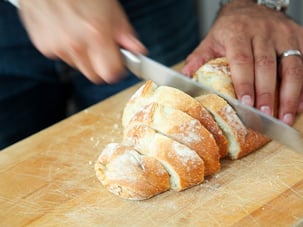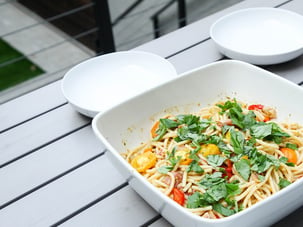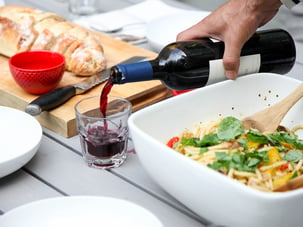 A delicious meal — sautéed tomatoes, pancetta and garlic over bucatini pasta, a crusty loaf and a hearty red wine — is laid out before us on the deck.

As the sun begins to set over the leafy backyard, Naima exclaims, "Isn't it a joy to have a conversation over a meal?" which seems to sum up not just our visit, but the way of life for this convivial Brooklyn family.
VIEW THE FLOORPLANS FOR QUINCY STREET: