A nomadic family throws caution to the wind to start a new business and a new life in the U.S.—and puts down roots in a tree-lined Brooklyn enclave.
When Sydney, Australia-based couple Meg and Simon set out to start their business, they knew they wanted to create the biggest photography marketplace not just in Australia, but in the world. That quickly precipitated a move to where most major brands and advertising agencies are situated — New York City. Today, after several years of hard work, the couple has grown ImageBrief into a massive network connecting thousands of agencies, brands and publishers to tens of thousands of talented photographers.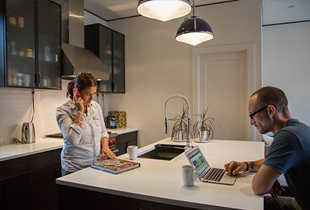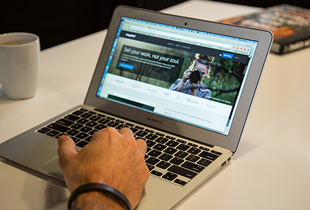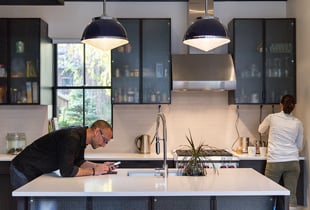 And, as if launching a business weren't challenging enough, Meg and Simon have done so while scouring New York's myriad neighborhoods and complicated real estate market in search of their perfect American home—something every New Yorker knows can be akin to a full-time job in and of itself.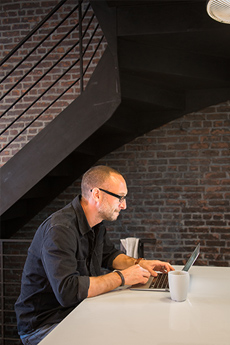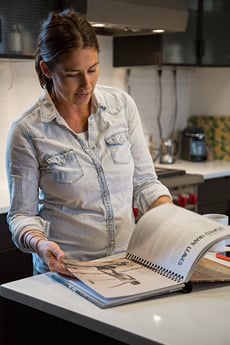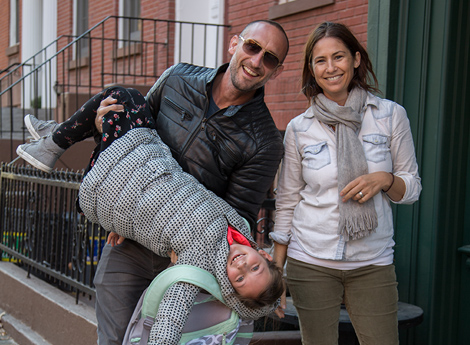 In a Cobble Hill, Brooklyn townhouse once occupied by an antique shop (the adjacent corner home on Kane Street, a former butcher shop, is currently under renovation by Dixon), Meg, Simon, their 17-year-old son and 8-year-old daughter have finally found the space, design aesthetics and neighborhood feel that fit their personalities and lifestyle.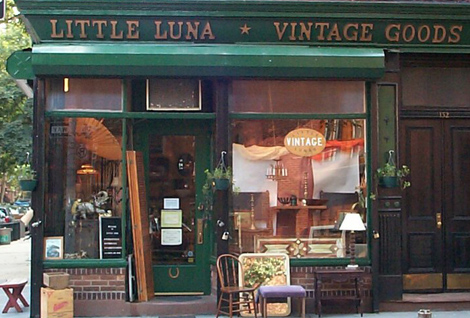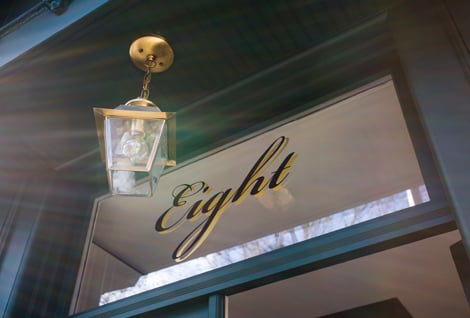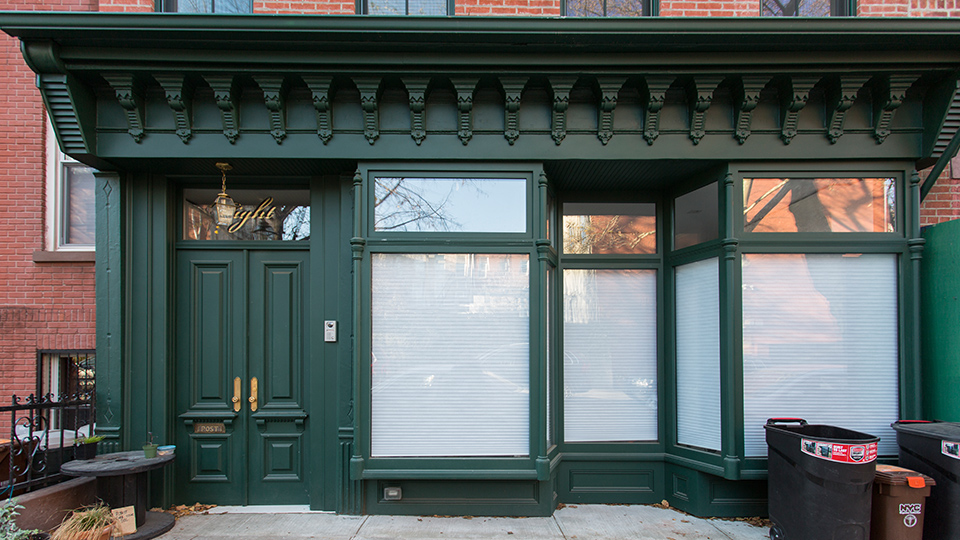 Back in 2011, Simon was working with Meg, a former photo editor, on their business concept when he suffered a near-fatal stroke. He recovered, but that scare sealed their resolve to launch headlong into the venture. Within a year and a half, they'd secured initial financing for their startup and found themselves in New York City just two weeks after Hurricane Sandy had passed through.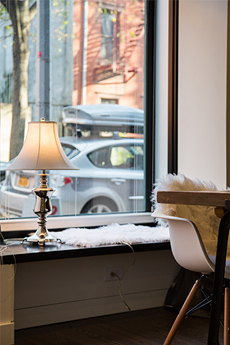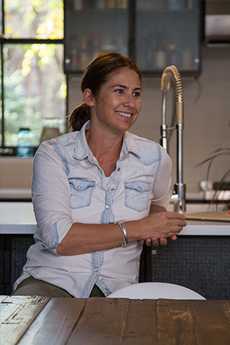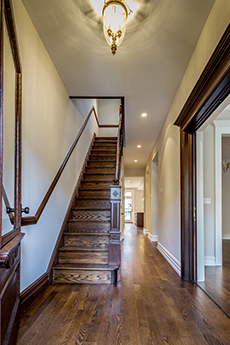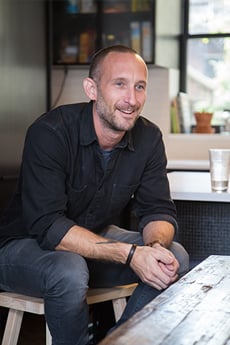 During their first month in the city, the family shared a single room at the Ace Hotel in the NoMad neighborhood of Manhattan. While quarters were cramped, Meg and Simon fell in love immediately with the hotel's eclectic design scheme —industrial metalwork and rustic, utilitarian pieces surrounded by exposed wood and brick all set within 100-year-old bones. After spending the next two-and-a-half years enduring several apartments in the West Village, Hell's Kitchen and Tribeca plagued by clanging radiator pipes, cramped bathrooms, noisy neighborhoods and a general lack of space, the family eased into the idea of residing in Brooklyn.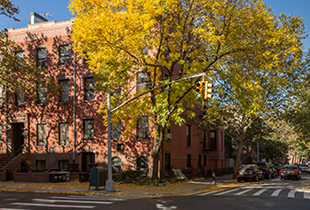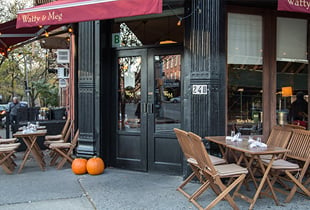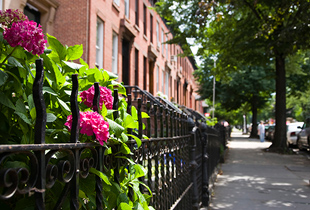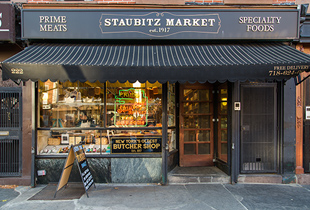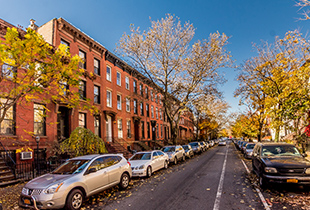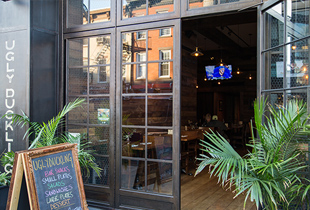 "I tried to convince Meg and the kids when we first got here to come live in Brooklyn," notes Simon. But Meg and their son had a specific vision that moving halfway around the world to New York meant living in Manhattan. "We had in our heads that the lights would be on and Broadway theaters would be at the end of our street," she explains.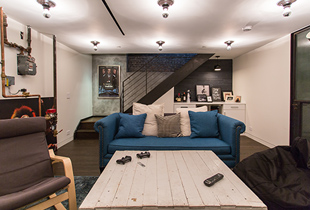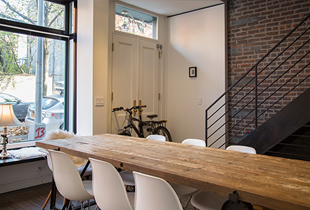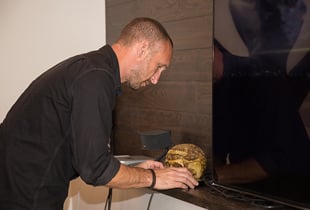 Early on in their search for a more permanent home, the couple decided they wanted their children to attend Cobble Hill's heralded P.S. 29. As fate and luck would have it, they connected with Dixon Leasing and got a lead on the Cheever Place townhouse when it was still in the very early stages of renovation. "I couldn't believe it. It was right over the road from the school we wanted," Simon recounts.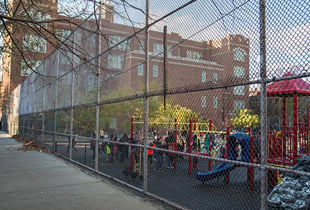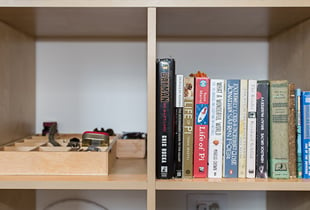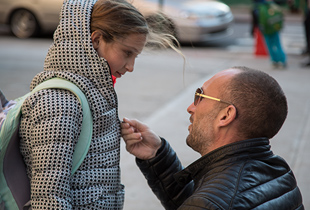 And if the exact match to their desired location weren't enough, the design plan already in place for the historic home immediately resonated with Meg and Simon and recalled the Ace Hotel vibe they'd fallen in love with.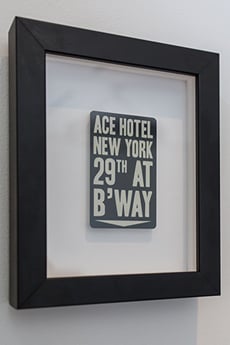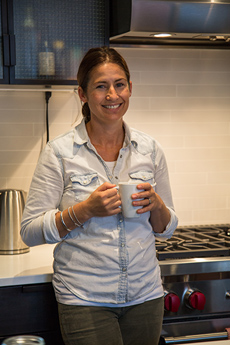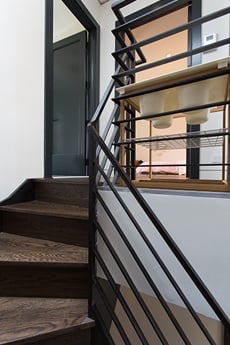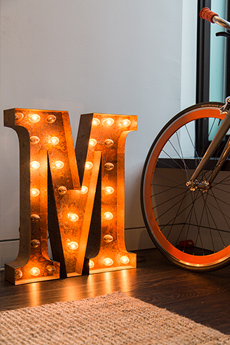 "There's only so much you can do with a rental property. Coming in here, not only did we know it was going to be new, we also knew it was going to be finished amazingly. When we saw the look book of what it was going to feel like, I said, 'that's how I would do my own house,'" says Meg. No small praise from someone who makes a living immersed in gorgeous images all day.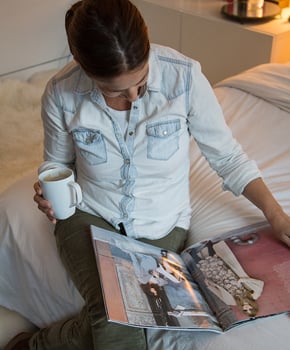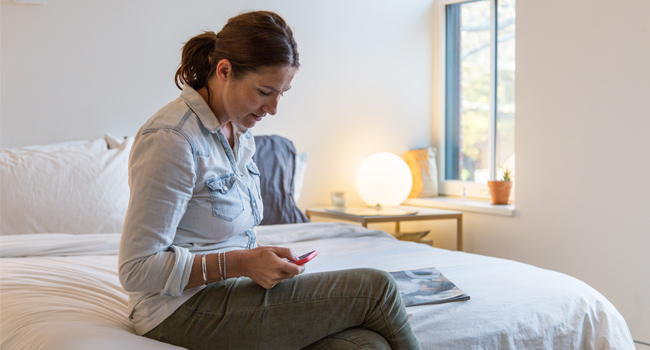 The home's interior aesthetic — informed by early 20th century French modernists such as Le Corbusier, Pierre Chareau and Jean Prouvé is at once modern, industrial and masculine, topped by soaring ceilings and anchored by wide plank floors from Madera Trade. Thoughtful design details throughout the home delight the family, such as the etched transom window that throws a shadow of the house's number in script on the adjacent wall, the custom made blackened steel staircase that provides a nest from which their shy daughter can communicate with visiting company in the equally stunning blackened steel and wire glass kitchen below and the unique shadow reveal treatment where the walls meet the ceiling. Meanwhile, practical conveniences like the ample power outlets, task lighting, and perhaps most of all, the heated bathroom floors, are amenities that make daily life in the home a joy.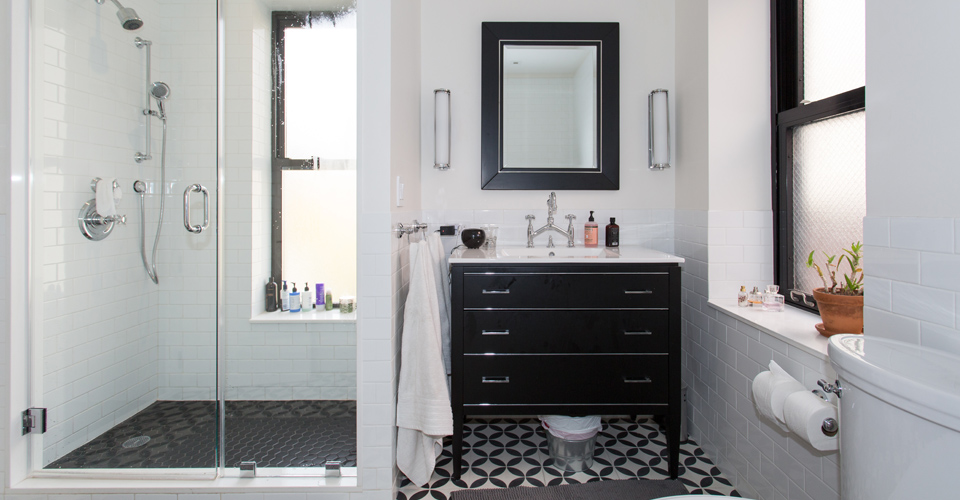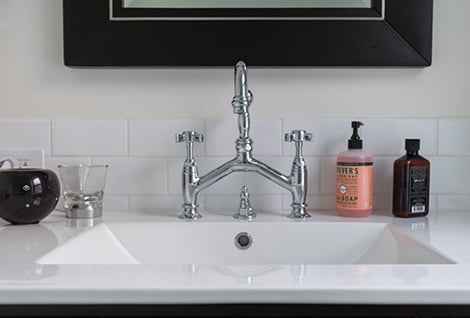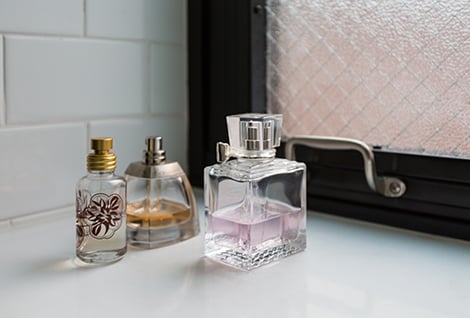 Once the family settled in Cheever Place, they attracted immediate attention from curious neighbors who'd been anxiously waiting to see the results of the home's extensive renovation. Simon recalls a moment, just two nights after moving in, when a woman in a restaurant overheard their accents and leaned in to ask, "Are you the Aussies who've moved into Cheever Place?"
"It's nice. It's that community feel you don't get in Tribeca," he laughs.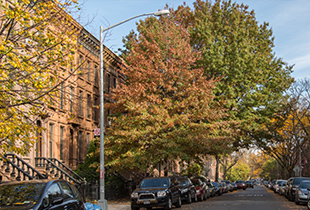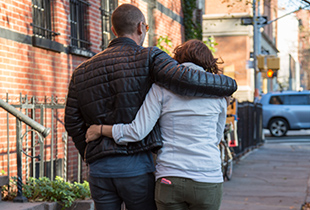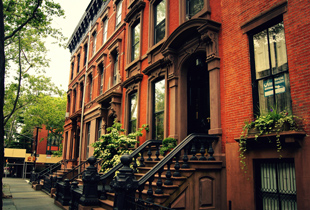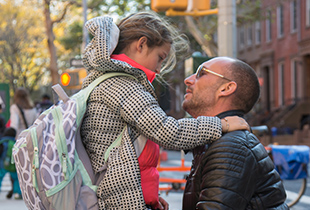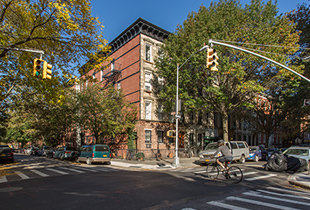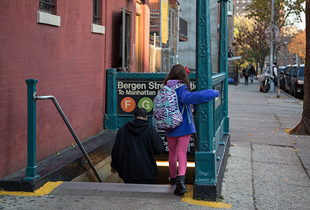 The townhome's unique storefront window — an architectural detail preserved by virtue of the home's location within the Cobble Hill Historic District — plays a key role in enhancing the family's relationship with their neighborhood and neighbors. While they'd been initially leery about the street-level window, the family soon asked that the opaque film covering the lower portion for privacy be removed. Dixon replaced the film with top-down/bottom-up shades that can be adjusted to filter sunlight and provide privacy as light and mood dictate.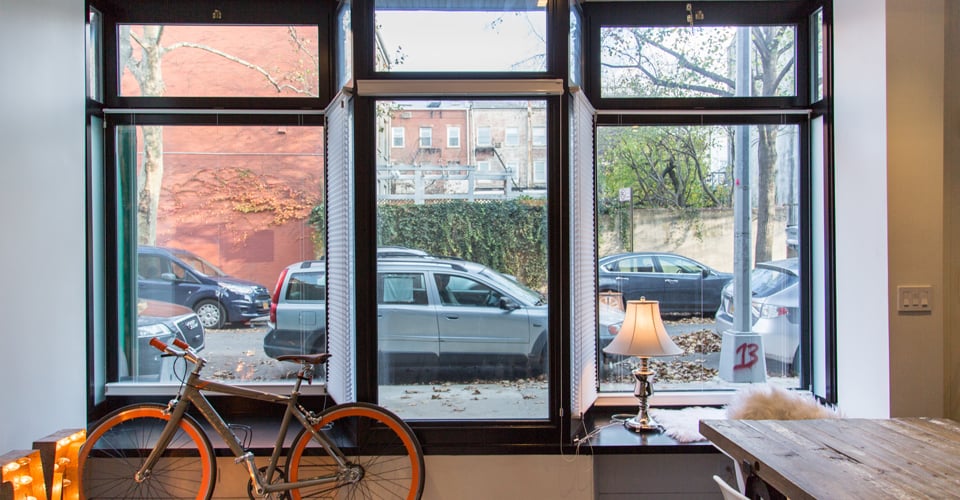 Whether it's decorated with spider webs for the neighborhood's lively Halloween scene or providing sunlight and a lovely view to Meg while she works from home, the storefront window has become a beloved focal point for the family.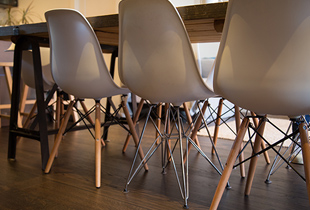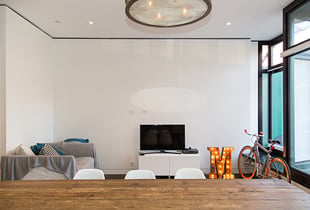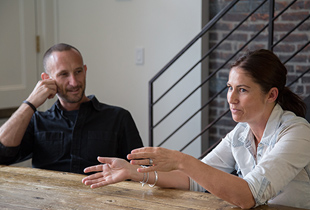 Just inside the storefront window sits the family's rustic, oversized dining table, a piece that seems so perfectly well-suited for the Cheever Place home, you'd never guess it was actually purchased while they resided in Manhattan and initially served as a workspace for their burgeoning business before assuming its current duties as home to regular family meals. "As 'Brady Bunch' as it sounds, we do actually eat dinner together every day," notes Meg. And it's no wonder with such a nicely outfitted, professional kitchen at their service.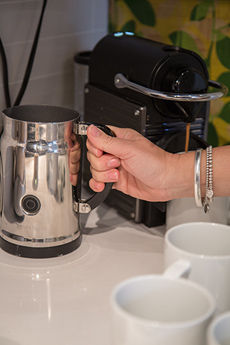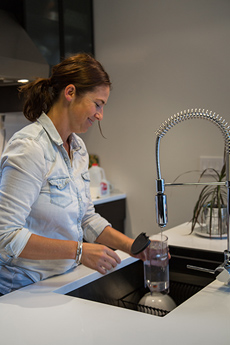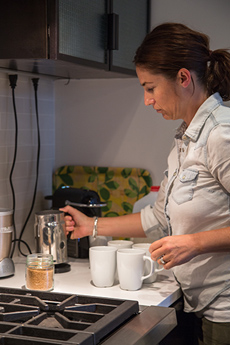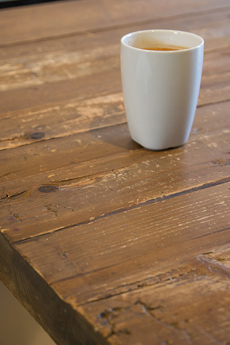 Downstairs in what was formerly a damp and dark cellar, the family room, or "man cave" as Meg half-jokingly refers to it, has grown to be one of the family's favorite spots. "I never thought we'd use it," Meg recalls thinking when they first moved in given its lack of natural light, but it's become the central location for watching movies, playing music and hanging out as a family.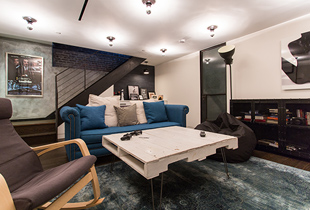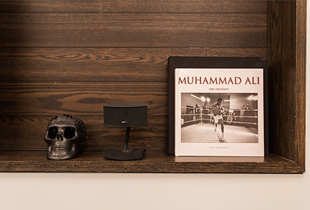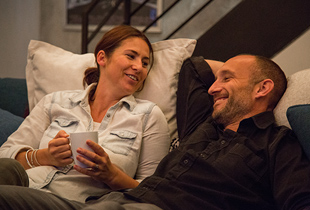 While the windowed upper floors allow the family to consider life outside the home, the warm and inviting downstairs space, which Dixon created by excavating nearly three feet of soil during the home's extensive renovation in order to make habitable, is where life is directed inward. A wet bar/kitchenette tucked beneath the stairs make settling in for a family night that much easier.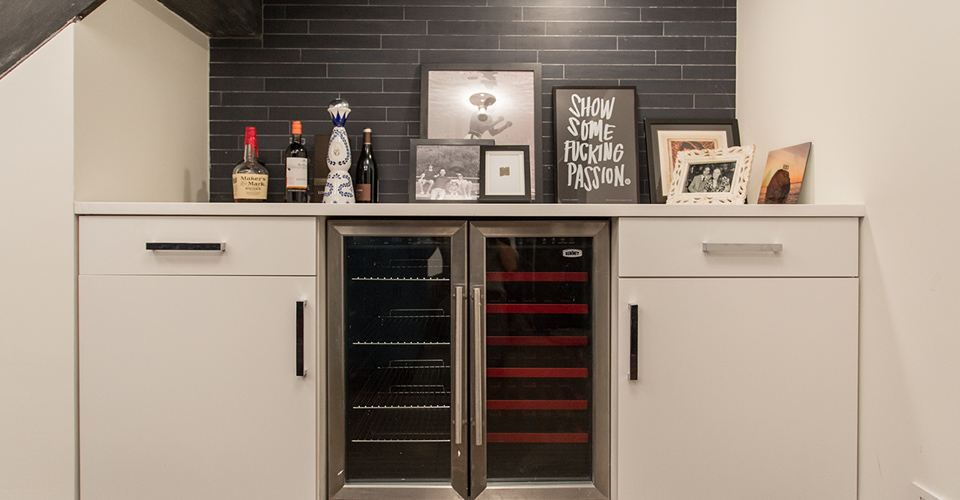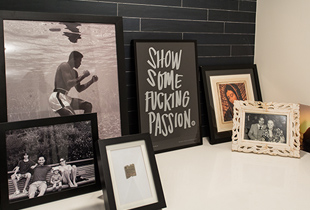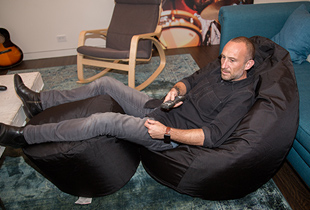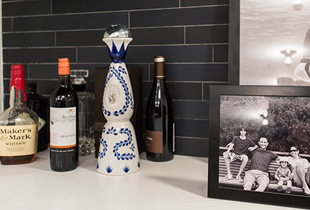 Meg and Simon's spacious master suite occupies the whole second level of the home with a large bedroom, a dressing area/walk-in closet and a windowed en-suite bathroom.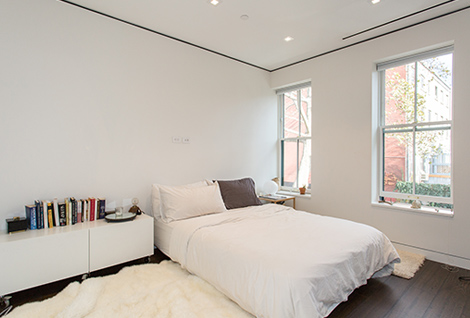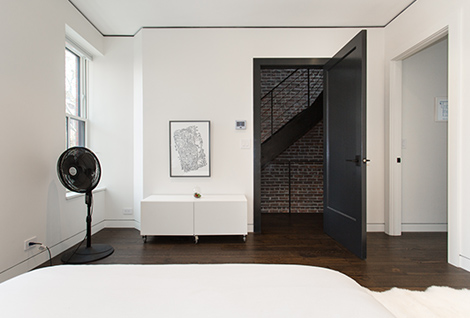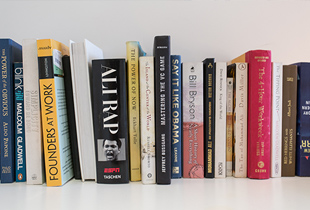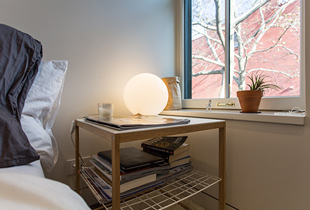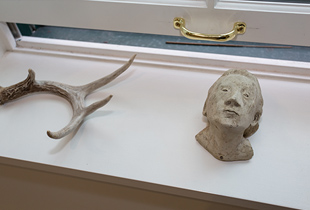 Meanwhile, the children occupy what their parents refer to as "the penthouse" on the home's top floor. For the first time since leaving Australia, they each have spacious bedrooms with large closets and gorgeous treetop views plus their own bathroom to share.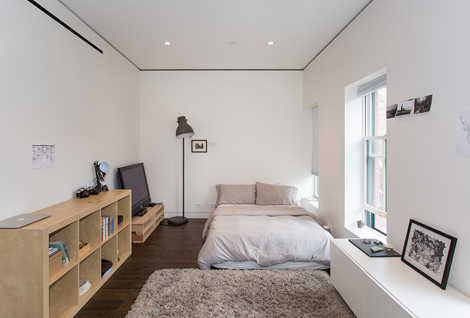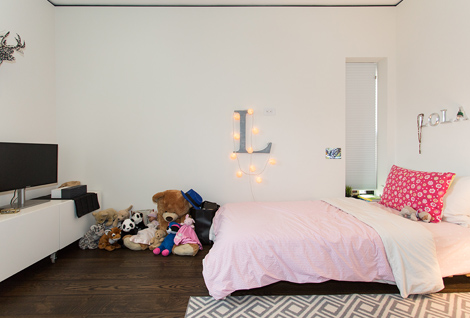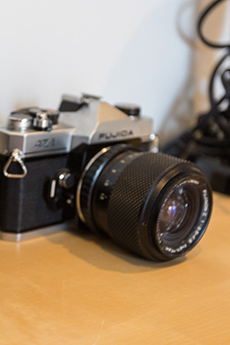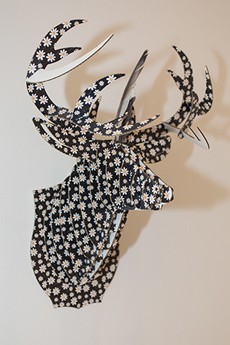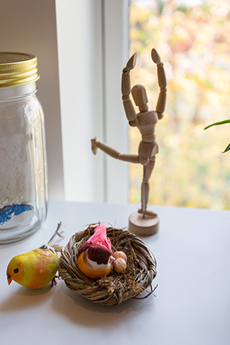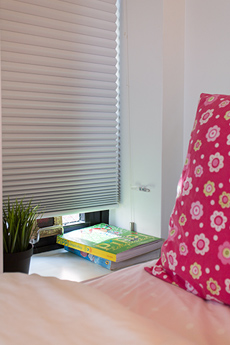 The family has reveled in discovering their Cobble Hill neighborhood, exploring Court Street and visiting local shops and restaurants. Dinner favorites include Lucali for pizza, Argentinian restaurant Libertador, Thai spot Pok Pok and Japanese restaurant Hibino, which is so adored by the couple that they sometimes find it difficult to tear themselves away to try newer venues. Weekends include basketball on the outdoor courts at P.S. 29, Mooburger for family-friendly meals and plenty of quality time spent together at home, something they rarely enjoyed in the less inviting confines of their previous Manhattan apartments.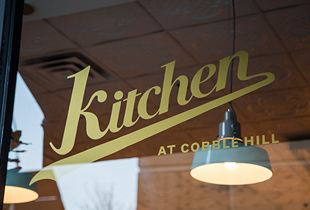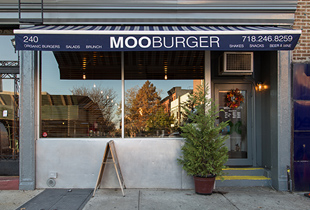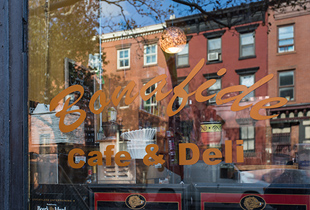 In their home's foyer, hangs the framed key card from their time at the Ace Hotel, standing not only as a memento of the stress of starting their business and moving to the States, but also as a reminder of the style of home they ultimately hoped to find. With the children happily situated in school and the family at home in a space and neighborhood ideally suited to their needs, it seems the once-nomadic family is ready to put down roots and stay put.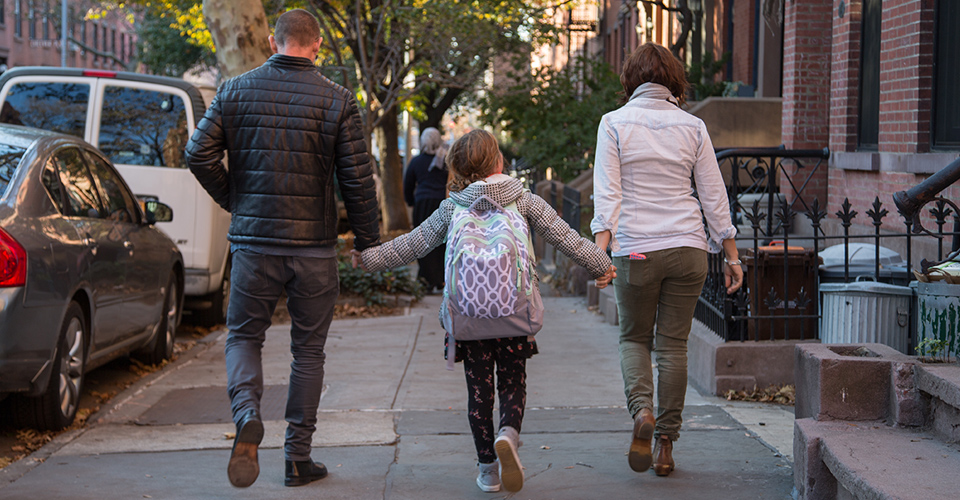 View the floor plans for Cheever Place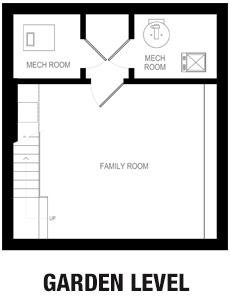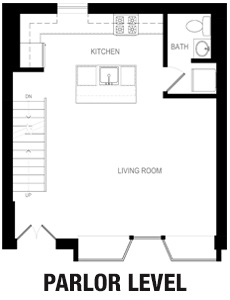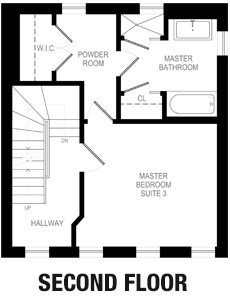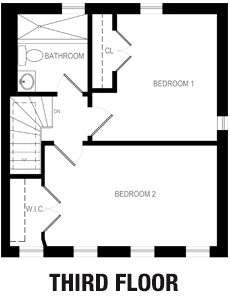 Ready to find your perfect Brooklyn home?