New York Giants guard Justin Pugh and friends create the perfect bachelor pad high on the Jersey City Palisades.
After solid playing at Syracuse University, pro football player Justin Pugh gained widespread notice when he was selected in the first round of the 2013 NFL draft. His popularity was boosted, in no small part, by a heartwarming viral video of the moment the New York Giants informed him he'd be drafted in the 19th spot.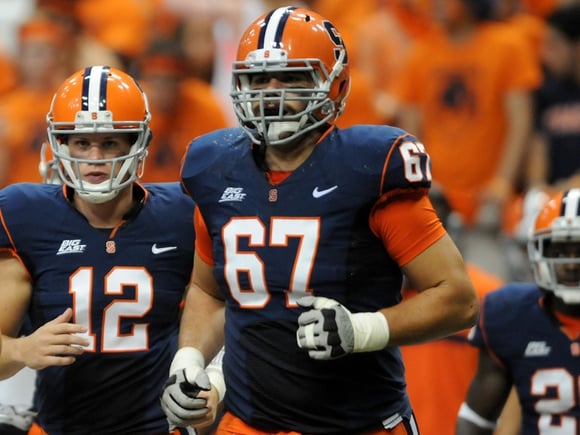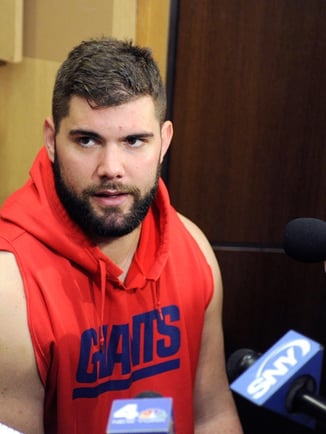 Surrounded by dozens of friends and family members in Justin's hometown of Holland, Pennsylvania, the video ends with screams of joy and an epic dogpile — despite the fact that it was filmed in the heart of Philadelphia Eagles territory, where the New York Giants are despised division rivals.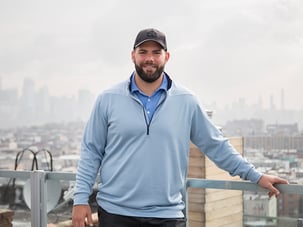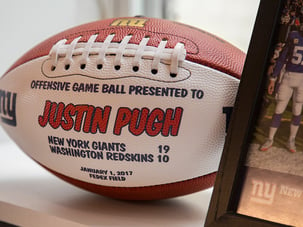 The happiness and support shown by Justin's closest friends, despite their lifelong devotion to the Eagles, is emblematic of how strongly they've stood together since childhood. "I grew up with the same kids since I was in first or second grade. There's eight of us and five of us all live up here in New York: three live in this house, two more live in the city. Somehow, we all migrated north to New York from Philadelphia," he says from the living room of his Ogden Avenue home.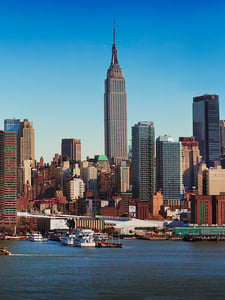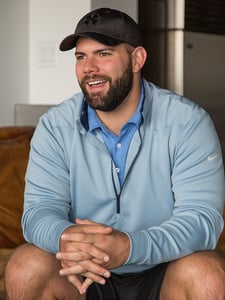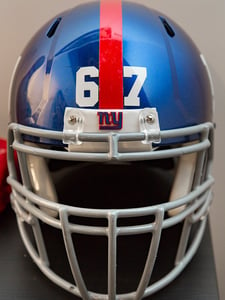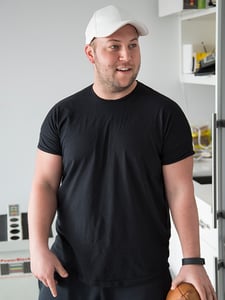 Justin had been living in Hoboken's Maxwell Place with longtime friend Mike Perkiss — who says he's known Justin "since I was bigger than him" — but the two were quickly outgrowing their two-bedroom pad.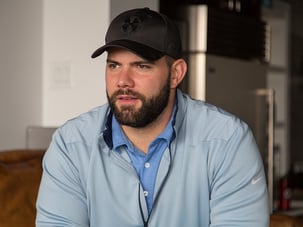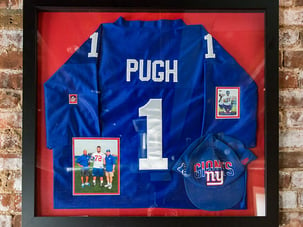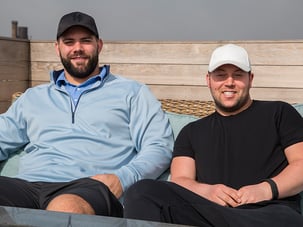 "I wanted a single-family home, and I wanted a garage," explains Justin. During their new home search, the pair's friend Evan, who planned to join them as a roommate, was the first to come across Dixon Leasing thanks to an impressive Weehawken listing.
While touring that home, their Dixon contact Ingrid Firmin recommended that the guys take a look at a premier property on Ogden Avenue, which brought the group to the impressive, five-bedroom home perched on the Palisades. "It was perfect for us," Justin explains. "We have the pool on the roof, a movie theater, and a two-car garage. It was everything we were looking for."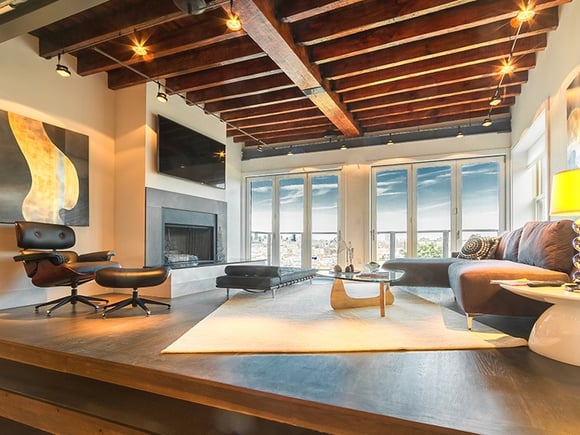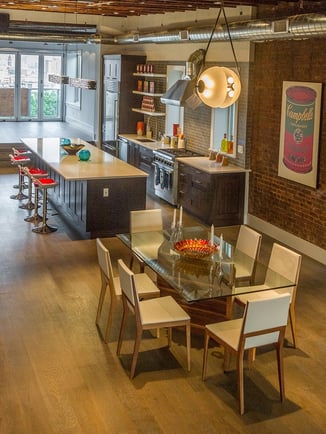 The 2015 renovation of the Ogden Avenue home was one of Dixon's most elaborate undertakings, requiring not only a complete reconfiguration of the run-down interior spaces, but also substantial work on the home's cellar and rooftop levels.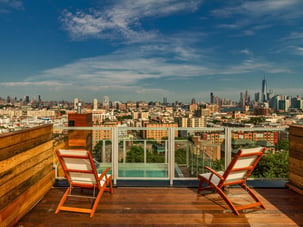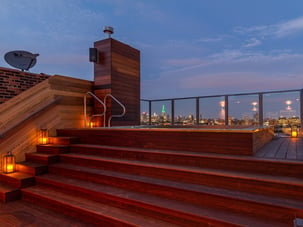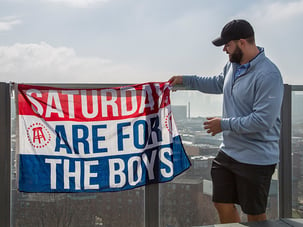 With spectacular wide-open Manhattan views one of the lot's very best assets, the Dixon team focused on maximizing exposures and outdoor space throughout the reimagined home. The addition of a penthouse-level swimming pool was central to their vision, but retrofitting the 135-year-old building to accommodate that vision started from the ground up. From the ground to the rooftop, steel supports were added throughout the structure to accommodate the pool's weight. Once in place, a crane was used to hoist the 10-foot by 12-foot stainless steel pool/hot tub into position. Outfitted with a Badu SwimJet system and 16 additional hot tub jets, the combination unit functions as both a cool summer swim spot and relaxing Jacuzzi tub.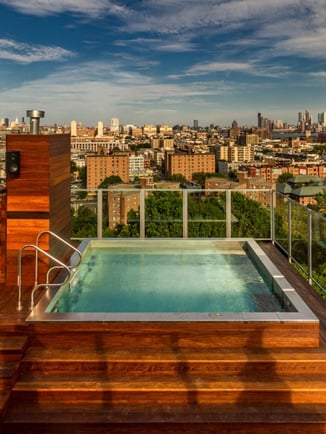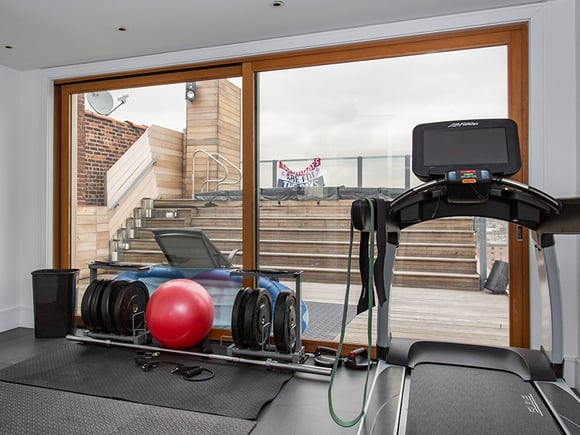 To make the most of the newly created outdoor destination, the pool is surrounded by handsome IPE decking and a penthouse entertainment area that features a kitchenette and full bathroom. With plenty of space available, Justin and his fitness-minded roommates currently use the area as a convenient home gym. Another large sundeck was added on top of the penthouse to ensure ample space for outdoor relaxation and entertainment.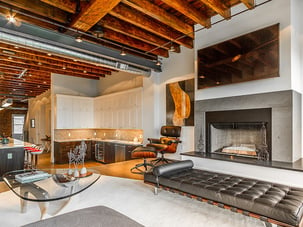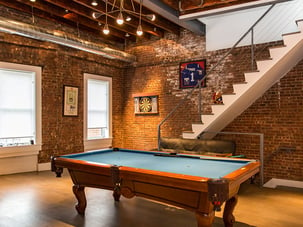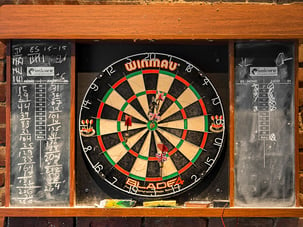 The home's main living spaces on the second floor were specially built to amplify light and views with a floor plan that accommodates everything from chill hangouts to large, lively gatherings. With a completely open plan, the front of the space features a row of windows which surround the guys' ad hoc rec room, complete with a pool table and dart board.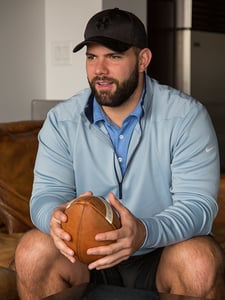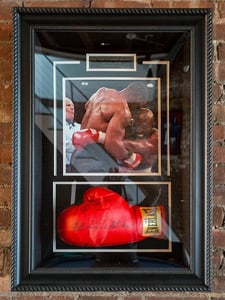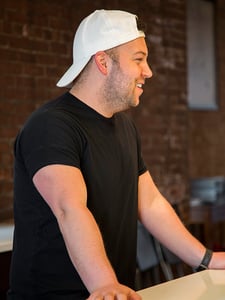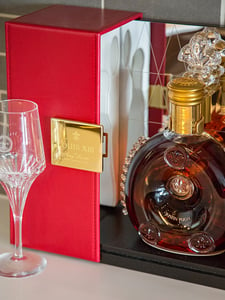 "I'm the best in the house!" Justin says as we walk past the pool table.
"We go back and forth," Mike later clarifies. "He's beaten me 10 games in row now, but before that I beat him seven games in a row. He's currently on a hot streak."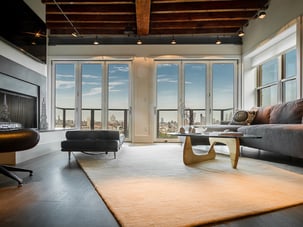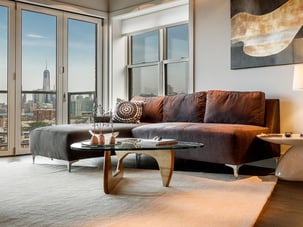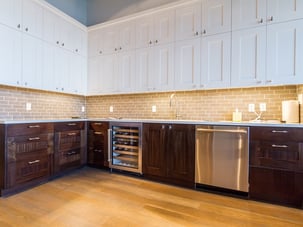 At the rear of this floor, full-width folding glass doors open onto a balcony with sweeping views that skim over Hoboken and the Hudson River to the New York City skyline beyond. From here, all of Manhattan, from the George Washington Bridge to the Statue of Liberty, lies at your feet. Just inside from the postcard views, a raised living space becomes the perfect spot for Sunday football viewing with ample leather seating and an oversized remote-controlled gas fireplace, which is topped by a massive, curved television.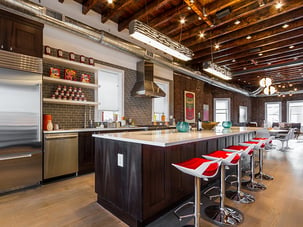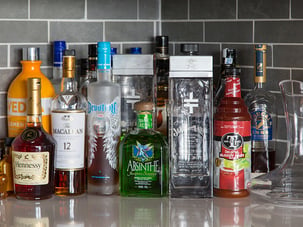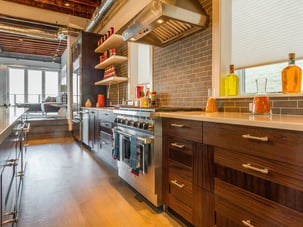 The well-equipped wet bar and gourmet kitchen ensures that refreshments and snacks are within easy reach. In the kitchen, a Wolf range, Sub-Zero refrigerator and dishwasher are tucked alongside a substantial 15-foot-long island. The corner wet bar is outfitted with another dishwasher and a Sub-Zero wine cooler. Here, a personalized bottle of Rémy Martin Louis XIII — an extravagant team gift from Giants defensive end Olivier Vernon — seems perfectly at home.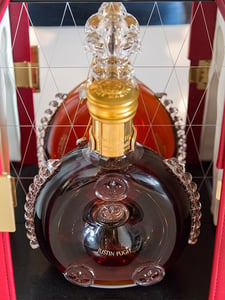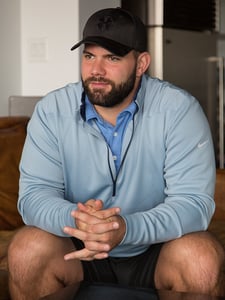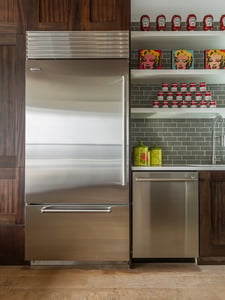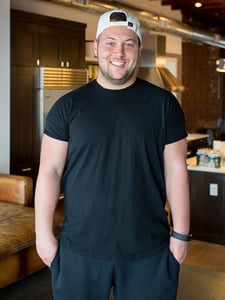 Mike, the primary cook in the house, uses the kitchen regularly to prepare meals for Justin and himself — no easy task considering the daily caloric needs of the 6-foot-4 offensive linesman. "We go to Kings Food Market in Hoboken or Whole Foods up in Edgewater, almost every single day. We probably eat filet about two nights a week. We have vegetables and potatoes every day," Mike says. "I wake up around 8 a.m. drink coffee, sit here and work, and then Justin will text me 'BFAST,'" which is Mike's cue to whip up breakfast, which is typically eggs.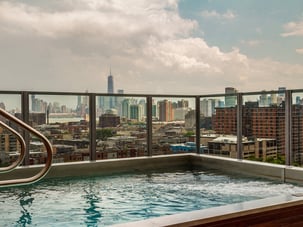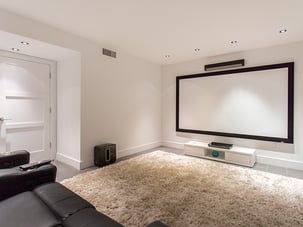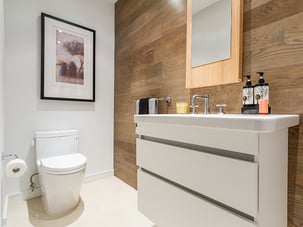 Raising a pool onto the roof wasn't the only challenge the home presented. The Dixon team also spent nearly three months excavating solid granite at the ground level to create garden-floor living spaces with comfortable ceiling heights. In addition to the two-car garage, mechanicals and storage spaces, this floor houses Mike's large bedroom suite, a laundry room, powder room and a cozy movie theater with a projector and plush reclining seats.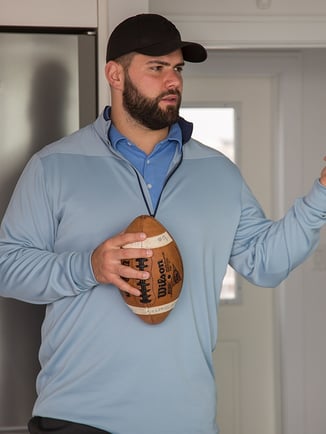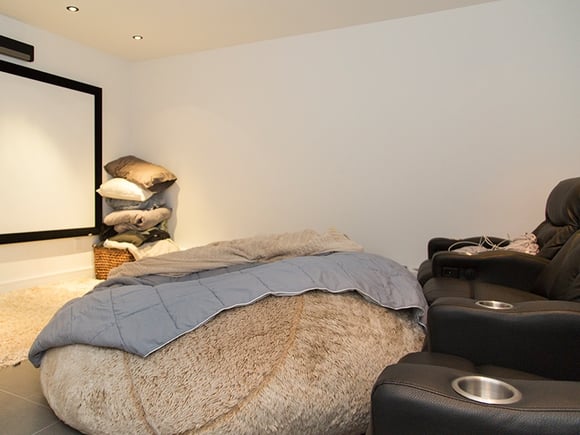 Justin points to the cinema space as one of the most used rooms in the house, a favorite spot for the guys to get together and watch "Homeland" and other favorites. Thanks to the addition of a massive Lovesac, the media room serves as an irresistible nap room as well. "The movie theater's probably my favorite," Mike explains. "I mean, I've had pools before and obviously there's nothing like this view, but I've never had a movie theater where it gets pitch black and you can just sleep."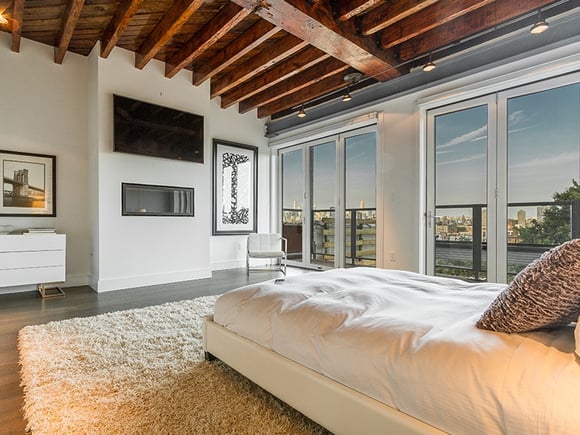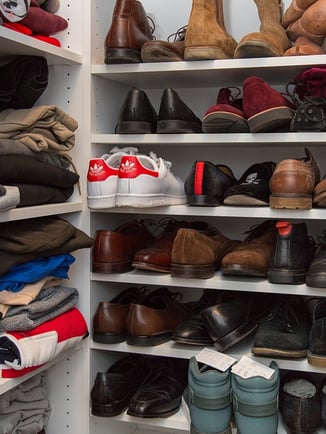 Above the garden level, the traditional parlor floor has been transformed into private quarters with four more bedrooms, including Justin's stunning master suite. Lined by folding glass doors and the same breathtaking Manhattan views that grace the upstairs living space, the suite beckons eastern and southern light while a gas fireplace and beamed ceilings add to the ambiance. Two large walk-in closets house Justin's enviable sneaker collection and wardrobe, and the luxe en-suite bath boasts a glass shower, separate soaking tub and more city views thanks to the large picture window opening to the bedroom. Another lavish bedroom suite, occupied by Evan, is situated on this floor, and two more large bedrooms are set near another extra-large bathroom — one used by another hometown friend and roommate, Jake Lerner, the other acting as a guestroom for the group's many visiting friends and family members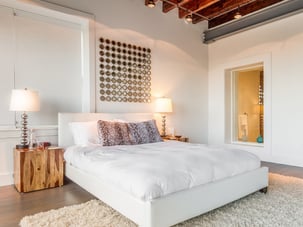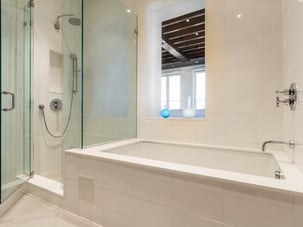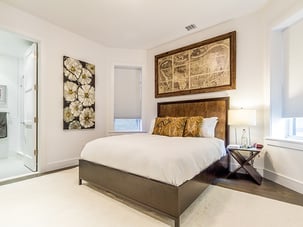 Aside from the garage and pool, Justin's a big fan of the home's elevator which carries passengers all the way from the garden level to the penthouse. "The elevator's great. I don't walk up the stairs normally; I'm almost strictly an elevator-only guy," he says.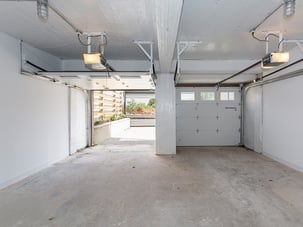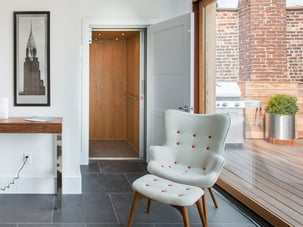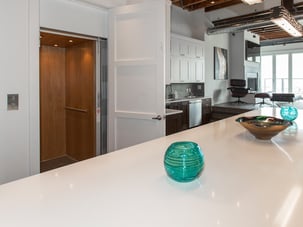 In addition to ticking off a wish list of features and amenities, the home's rustic design scheme had the right look for a group of guys in their 20s. "I love the feel of the house. The exposed brick, the rafters - it has a raw feel. And the way we set it up, with the pool table and the dart board and the weight room upstairs — it definitely has that bachelor pad feel to it."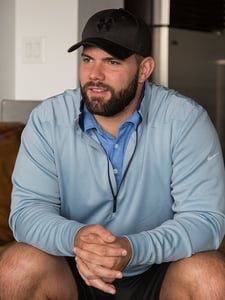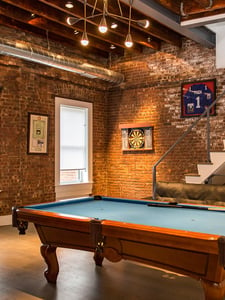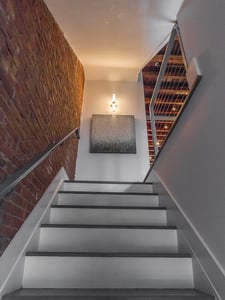 Another plus for the entire group is the home's location between the Holland and Lincoln tunnels, and away from Hoboken's dense traffic. That means it's equally ideal for accessing Manhattan or the Giants training facility and stadium in East Rutherford. "It's a perfect location, which is another huge plus. It's 15 minutes to the training facility," Justin says.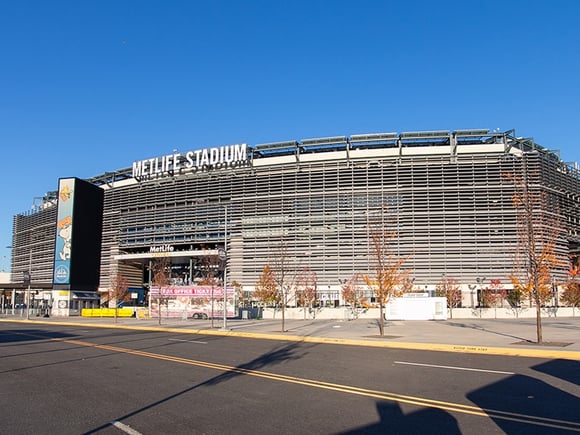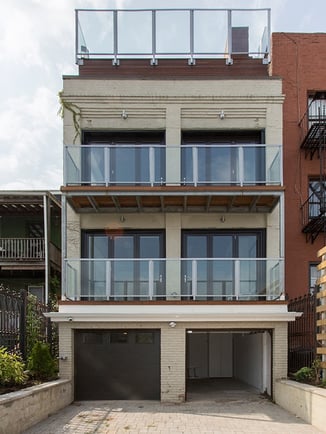 Occupied by Justin, Mike, Evan and Jake for about a year now, the Ogden home has become a regular hangout and destination for post-game relaxation, lively poolside barbecues and friends' birthday parties. "We always have people over. It's the spot to come to," says Justin. "It's the central location to hang out before we go out at night. Or, if there's a big game on, everyone will come over."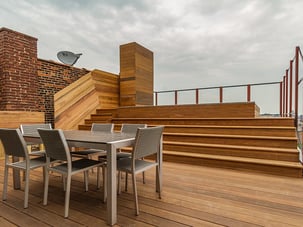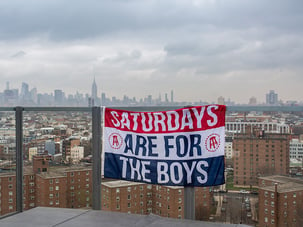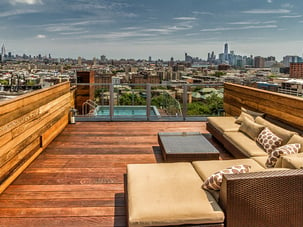 Justin's also started an annual tradition of hosting a Thanksgiving Eve celebration. "I have a party ever year. My teammates come from all different places, and they obviously can't go home because we're playing that week," Justin explains. "So, we get it catered. We had about 30 people over last year. Some of the neighbors came over in addition to my teammates and friends. We had a good night. It was fun."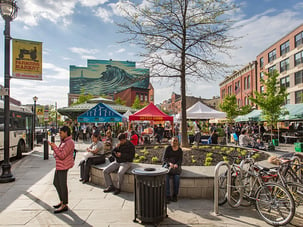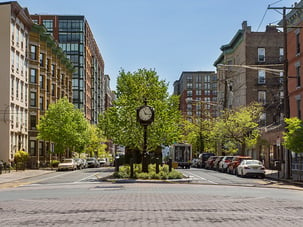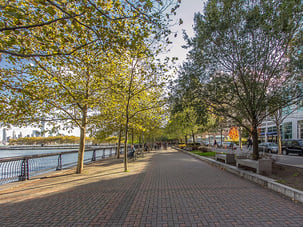 Speaking of neighbors, with all the revelry in a house made to entertain, do neighbors ever get annoyed? "No, they love us! They come over sometimes," Mike says. "The first night we were here, we were outside on the roof and our neighbors were up on their roof as well, so they just came over. The first time we met them was just an hour after we moved in."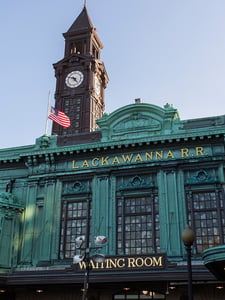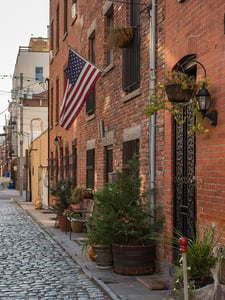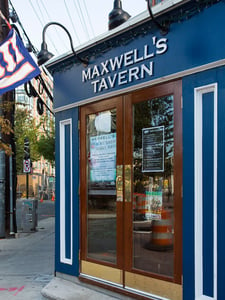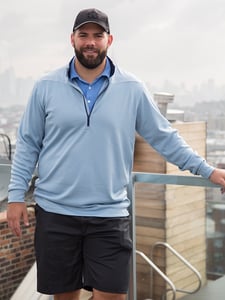 In fact, the neighborhood itself is the feature of the home that's grown most on Justin. In stark contrast to his menacing approach on the field, Justin's a big guy with an equally big heart. He greets everyone with a warm smile and an easy laugh, so it's no surprise he's connected with the folks on the block. "The Mayor of Jersey City lives on this street. Our direct next door neighbor sells used vinyl. The next neighbor down is a firefighter and he makes his own beer, so he's brought it over a few times," he says. "Next door to the left is an apartment building, and I've become friendly with one of the guys that lives there. He's like 71-years-old. He's a good guy."

Justin's generous spirit is also reflected in his desire to help his community and connect with kids. The cornerstone of his efforts is his annual Pugh Crew summer kickoff, which is held in both his hometown and the New York area. "Last year we had 270 kids. It's great to get the kids out, get them running around, and then talk to them about goal setting and dreaming," Justin explains. "As you get older you're always taught to drop expectations and make everything realistic. But if you don't try to become the president or an astronaut or something, then who's going to become that?"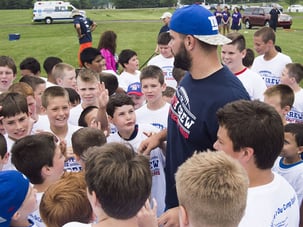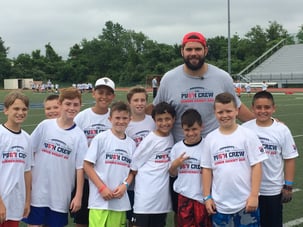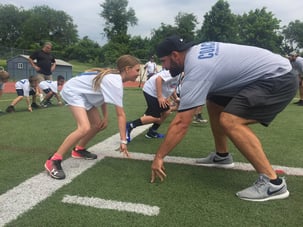 When the guys do venture out of the house, local Jersey City and Hoboken spots are regular destinations. "We'll go down to the main part of downtown Jersey City, to
South House
and
Barcade
, but we're also super-close to Hoboken, so we can just hop down there too."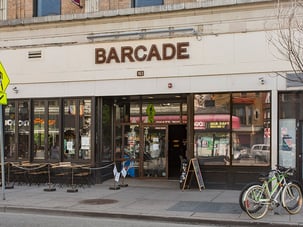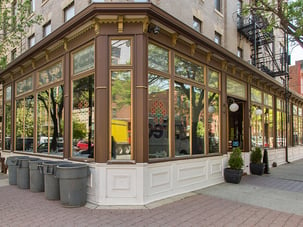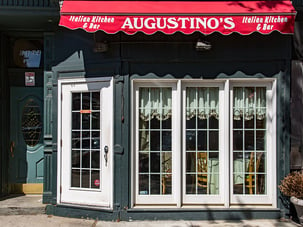 Mike adds, "We go to Dino & Harry's a lot, and Augustino's. We love it there."
Two more of the original eight Philly friends live in the Financial District, making it easy to connect there for nights out in Manhattan as well.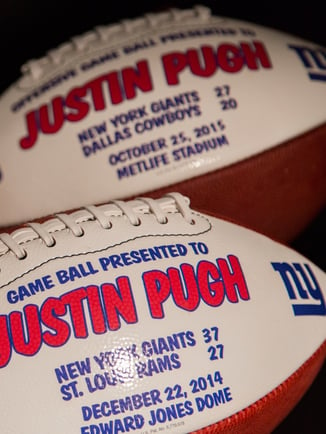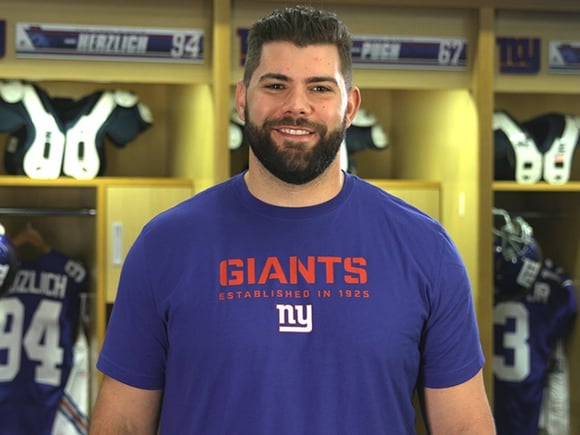 As Justin enters the last year of his contract with the Giants, what comes next — both within the NFL and after his football career — is top of mind. "The NFL stands for 'Not for Long.' You always have to be prepared for what's after football," Justin says matter-of-factly. "I've thought about getting into broadcasting. I've done a lot of broadcasting stuff and I'm doing my own radio show this year, so, that could be a possibility."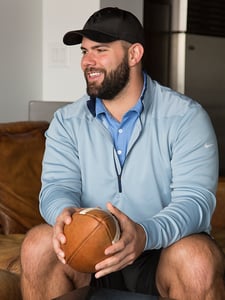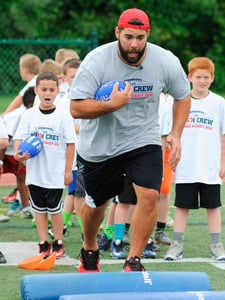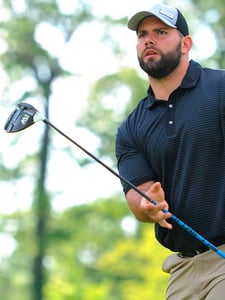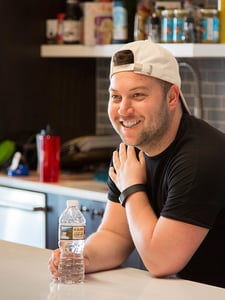 "Hopefully, football will provide enough so that I could just be a high school football coach. I enjoy working with kids, but I don't like the rigors of coaching in the NFL or coaching at the collegiate level. I want to be that volunteer coach that shows up just for the games and practices and gets the kids riled up. They'll say, 'Ah, that guy's washed up! He used to play in the NFL, but now he's our coach,'" he says with a laugh.
"So, that's sort of my plan. Find something I love and do a lot of golfing."
As far as what happens next year, Mike hopes Justin stays in New York, but he's willing to go along for the ride wherever he ends up. "He needs his friends - not just him. We have a text group with our eight friends and it goes off all the time, 24/7. Everyone needs everyone, so, if he's not here, I'll probably go where he goes."
"I love it in New York City," Justin says. "We'll have to see what happens. I'm hoping to stay, but at the same time I know it's a business."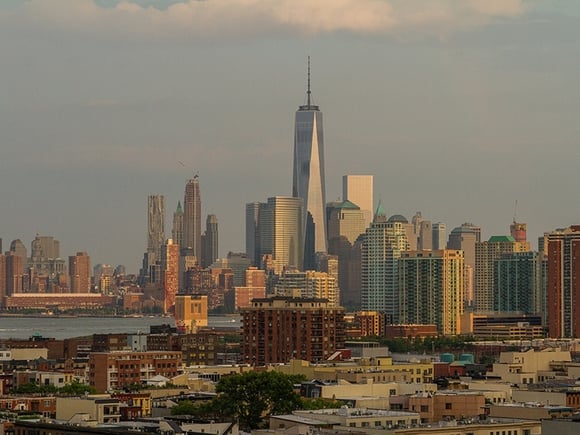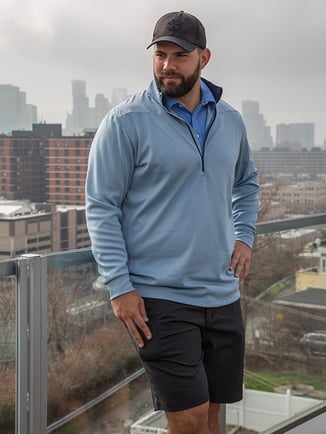 As a tight-knit group of longtime friends and roommates — including one who's reached major celebrity status — comparisons to the TV show "Entourage" are inevitable and not entirely unwelcomed.
"Everyone says that. We're used to it by now," says Mike.
"But we've evolved," Justin laughs. "We thought we were 'Entourage,' but we've turned into 'Old School.' We have the old guy from next door who always comes over and we're always hanging out here."
VIEW THE FLOORPLANS FOR OGDEN AVENUE: