Did you know that, in addition to being tied to the return of warm weather, the ritual of spring cleaning is also associated with Jewish and Catholic traditions of preparing for Passover and Easter?
No matter your motivation, springtime is a great time for straightening up, cleaning out and clearing off. Here are a few tips and tricks to help ease the process.
---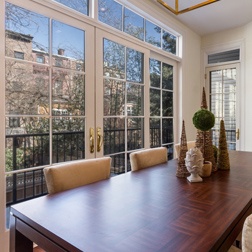 For Windows & Screens
Now that the weather's warming up and greenery is returning, you'll actually want to see out of those windows. If you have double-hung windows that tilt indoors for cleaning, you're in luck. If not, never lean out of windows to clean them. Instead, use sturdy ladders outdoors or contact your super or management company. Those residing in high-rises are at the mercy of their building's cleaning schedule, but that doesn't mean you can't tackle the insides. Cleaning solutions and methods run the gamut from Windex and paper towels to vinegar and newspapers. Personally, we prefer a mix of vinegar and water applied with a sponge/squeegee tool and dried to streak-free perfection with a microfiber cloth. If you have screens and no way to wash them outdoors, take them to the shower for gentle sponging and rinsing.


---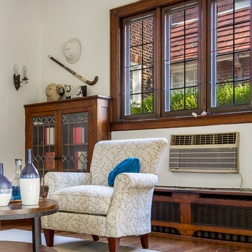 Air Conditioners & Fans
The return of spring means you'll be firing up the AC and fans before you know it, both of which function far better when they're clean. BrightNest offers a thorough list of instructions for cleaning your window air conditioner, but be sure to unplug and check that it's secure in or out of the window first. For cleaning ceiling fans, a special vacuum extension is ideal, but short of that specialty equipment, Quick & Dirty Tips offers an ingenious solution using a pillowcase of all things. For your trusty oscillating fans, you can unclip the cage and carefully remove the fan blades, taking the parts to the sink for a thorough scrubbing. Be sure to completely air dry before reassembling.
---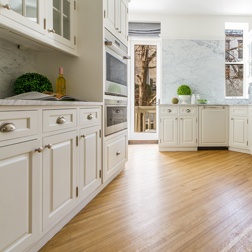 For Cabinets & Woodwork
You probably clean your countertops daily, but when was the last time you gave your cabinets a good scrub? Cooking grease and splatters, not to mention plain ol' dust, can collect on cabinetry taking their natural woodgrain or lacquer from dazzling to dull in no time. While there aren't any short cuts to this job, a bottle of Murphy's Oil Soap or Parker & Bailey's Cabinet Cream will help cut grime while protecting the wood. While you're at it, give those wooden baseboards and moldings a once over too, would ya?
---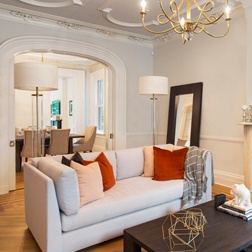 For Upholstery
Whether you have furry friends or not, a long winter spent curled up on the couch can leave upholstery looking dingy. The first step in spiffing up your sofa is to pop the upholstery attachment on your vacuum cleaner and suck up as much surface dust, dirt and hair as you can. Be sure to vacuum under and around cushions (bonus for finding loose change and other valuables) and along the sides and back. If your covers are washable, take a trip to the washing machine being extra careful to take heed of water temperature and drying instructions. If your upholstery can't be laundered, a microfiber cloth dampened with plain warm water does a great job of brighten up your seating surfaces.
---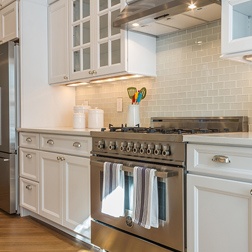 For Appliances
Your hardworking appliances need a thorough cleaning from time to time, even the ones that are used for cleaning themselves! For the dishwasher, start by cleaning the filter (if your model has one) and checking around the machine for any stuck-on food. Next, according to those smarties at Consumer Reports, you'll want to run the machine through a normal cycle with a bowl of vinegar inside to dispense with funk and filth. If your laundry is beginning to smell worse than before you washed it, it's probably time to wash your washing machine. Check out your manufacturer's instructions or follow these front-loader and top-loader tips. Turns out that vinegar and baking soda are also the secret ingredients for cleaning your grungy oven without harsh chemicals and fumes.


Here's to a sparkling spring, inside and out!
---
Now that you can check spring cleaning off of your to-do list it's time to reward yourself. What better way then making some fun spring break plans? Check out our Top 5: Spring Break on a Budget ideas.