The number of Americans living in multigenerational households is at its highest point ever, and homes are being designed with this important trend in mind.
According to recent data from The Pew Research Center, a record 64 million Americans currently reside in homes housing two or more generations of related adults. That can include middle-aged parents living with their young adult children, elderly parents living with their children and grandchildren or any combination. (Adult college students living at home were not counted in the Pew study).
Somewhat surprisingly, despite economic growth following the 2008 financial crisis, the Pew study has found that multigeneration living has continued to grow in recent years. Twenty percent of all Americans now live in these type of family households compared to 17 percent in 2009.
Population distribution by age, growing longevity and racial diversity all play important roles in this trend. In fact, today's middle-aged Americans have earned the nickname "the sandwich generation" due to their responsibilities to both aging parents and children. According to a separate Pew study, 47 percent of adults in their 40s and 50s have both a living parent over age 65 and children receiving financial support. About 15 percent of middle-age adults are providing financial support for both their parents and children.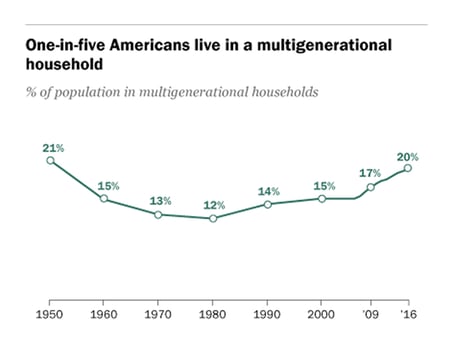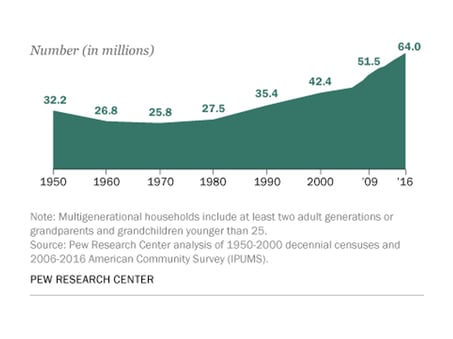 (via The Pew Research Center)
Age and race are found to be key indicators of living in a multigenerational household. Young adults ages 25 to 29 are more likely than other age groups to live in these types of homes. And while rates of multigenerational living grew across all race and ethnicities, non-white families are most likely to cohabitate.
It's clear that bringing families under one roof can have tremendous benefits to both welfare and budget. Older adults can contribute to childcare while younger adults work outside the home. Household chores can be distributed, while overall expenses, like rent and utilities, are condensed. And research has shown multigenerational living can also boost school performance and longevity.
As multigenerational household composition has been marching steadily upward since the 1980s, builders and designers are taking note. Among its top design trends for multigenerational housing, Professional Builder magazine includes multiple bedroom suites (especially first-floor suites), lower-level living areas, separate entrances and private spaces for each generation. And, in Dixon Leasing homes, many fully renovated by Dixon Projects, features that make multigenerational living easy are prioritized.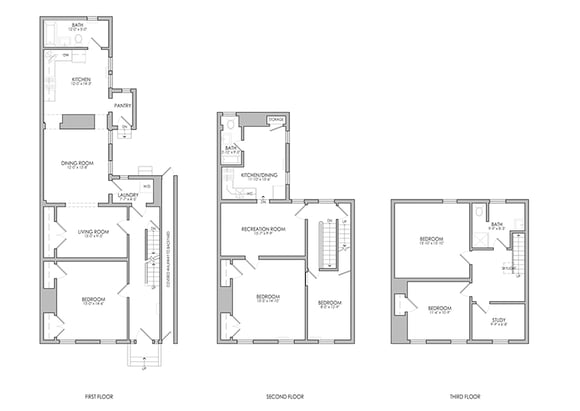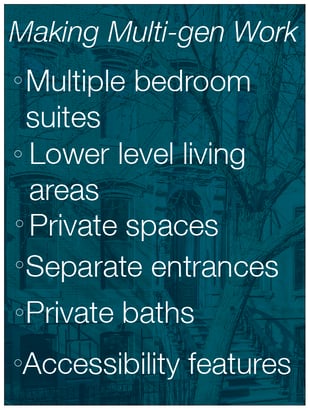 Bedrooms are maximized and often include private baths and proximity to separate entrances. Basement levels often function as additional living room areas outfitted with wet bars and easy outdoor access. Accessibility features are also prioritized, including adding elevators to multi-story homes wherever size and structure allows, and incorporating wider hallways, doors and NanaWall features when possible.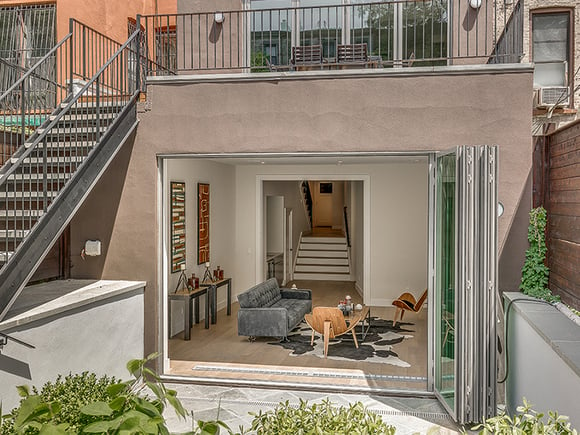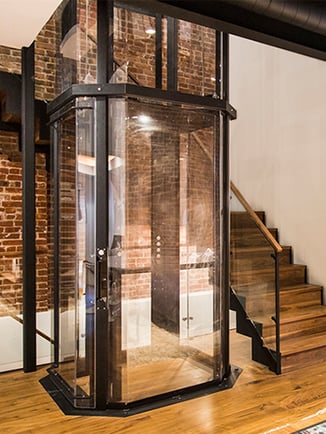 It's no surprise then that among the Dixon Leasing portfolio, we have several multigenerational tenants, including
the Barnes family who we recently featured in our newsletter
. Whether you're looking for a home to accommodate your multigenerational family or your tight-knit group of roommates, we'd love to help you find the perfect nest.