A crafty Brooklynite taps into an undiscovered talent while renovating her historic home, and just a few years later she's lighting up rooms from Manhattan to Melbourne.
"Every single piece I make is different," says lighting designer Michelle James. "Every time I do this, I'm starting fresh. There's just no other way to do what I do."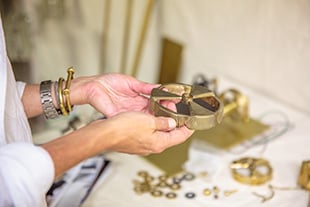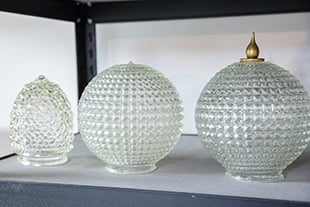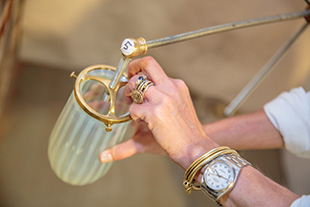 Michelle actually never intended to be a lighting designer in the first place. Back in 2008, when she and her husband were renovating their 1899 brownstone in the Carroll Gardens neighborhood of Brooklyn, Michelle searched long and hard to find lighting fixtures that matched both the historic home and her contemporary aesthetic tastes, but couldn't locate anything that she loved. Scouring the Internet and taking matters into her own hands, Michelle bought a few vintage glass globes whose style she adored and came up with her own design for how to mount them, hiring a local craftsman to custom-build each piece.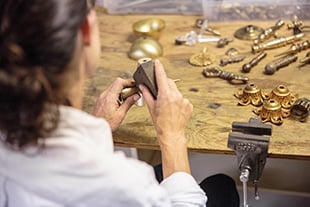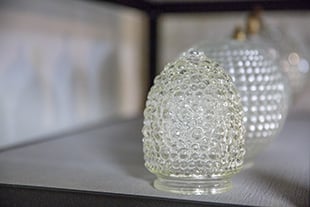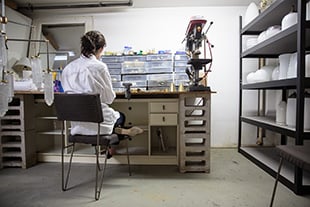 Friends and houseguests constantly marveled at the couple's beautiful lighting fixtures, wondering where they could get their own. "Then, in 2010, a friend of mine was doing the BKLYN Designs show with her furniture line," says Michelle. "She asked if she could use one of my light fixtures in her booth, so I said 'why not?'" Michelle took one of the pieces out of her own home and hung it over her friends' furniture at the show. "The response was overwhelming," she says. "People were blogging about it, buyers were interested. That's how it started."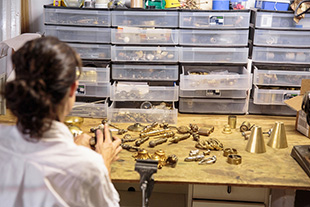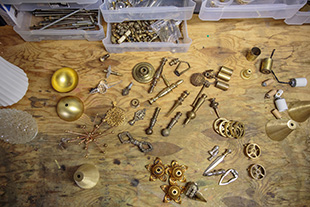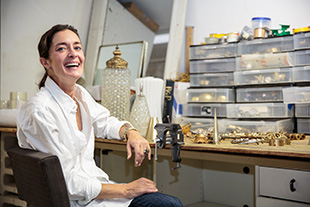 Michelle, who previously worked as a hair stylist, personal shopper and fashion stylist for TV shows like Live with Regis and Kelly,had never really considered a career in lighting design. But soon after the design show, a friend who owned a high-end women's clothing store on Atlantic Avenue came calling, asking if she could display Michelle's lighting at her boutique. "Then there was more interest from blogs, more people coming in and asking about them," Michelle recalls. "And from that it turned into a business."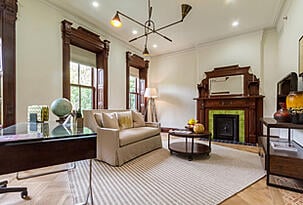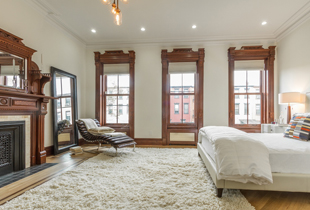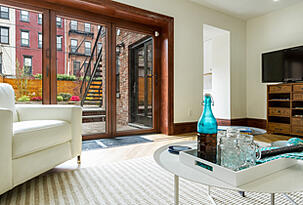 Since then, Michelle has custom-designed lighting for retail stores in Australia, a hotel in Norway, and most recently, a restored nineteenth-century home at Polhemus Place in Park Slope, not far from her own Brooklyn home. Because Michelle's work is based on individual vintage glass globes that she sources herself, every piece she sells is custom-made. Once she has the specs of the space where the piece will live, Michelle creates a to-scale model using threaded steel rods, onto which she mounts various pieces of glass, experimenting with different shapes, sizes and texture until she finds the perfect match.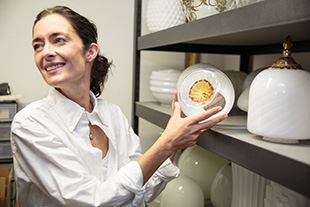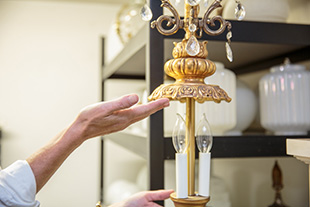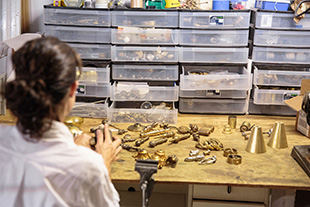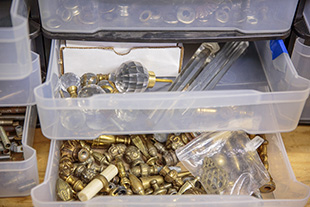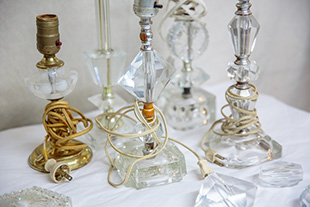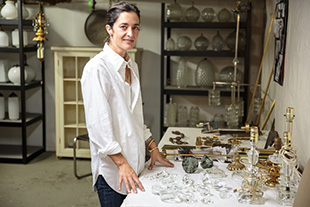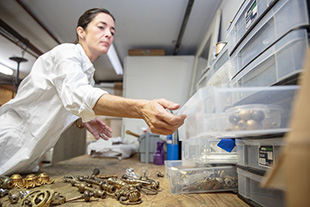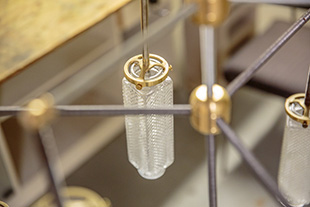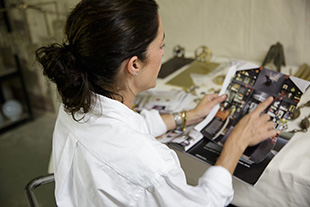 "I'm a hands-on person, and given that every piece of glass is different, I need to actually make it," says Michelle. "I can't just draw something up. I have to build it in order to see how it's going to fit together. I have to tinker."
Once the client has approved her design, Michelle works with her craftsman, who builds a brass base following her model, places the globes on top, and chooses a finish—such as polished nickel, chrome or antique brass—to suit the client's taste and the space.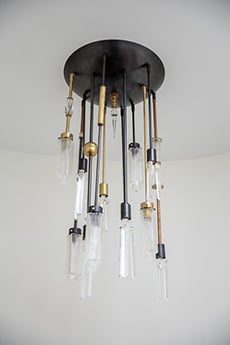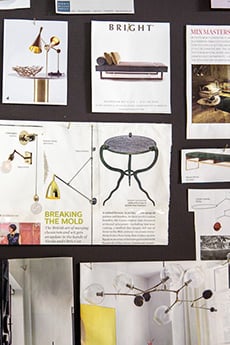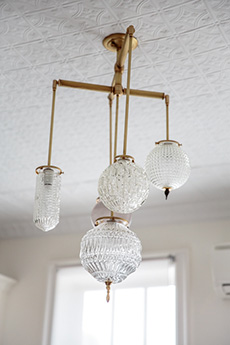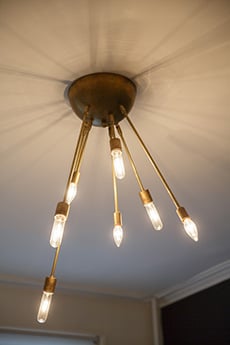 For the stately entryway at Polhemus, Michelle designed a drop pendant lighting fixture, sourcing three repurposed glass globes that she calls "Chrysler pendants" for their oblong shape and layered crown resembling Manhattan's famed Chrysler Building. The elegant rectangles, reaching down from the ceiling, serve as a graceful welcome to the foyer of this historic single-family home. In the adjacent living room, Michelle got a bit more playful, mixing and matching five globes from different decades—the 1920s through to the '70s —for a design that sets a more laidback and artful ambiance. The piece blends in with the brownstone's historic details while adding a touch of modern elegance—exactly the fix Michelle was looking for in her own home six years ago.
These days, lighting design has become a full-time job for Michelle, based solely on word-of-mouth and online buzz. She's done work for venues ranging from a social club in Las Vegas' Cosmopolitan Hotel to a small boutique hotel in England. Recently she moved into a new studio workspace in Red Hook to accommodate her materials and ever-growing collection of glass globes. The only thing left on her to-do list is actually visiting all of the venues her work now illuminates. "I always say eventually I'm going to have to take a big trip," says Michelle "so that I can see where all of my pieces are living!"