The Metropolitan Transit Authority's Arts & Design program was created in the 1980s to oversee the selection of artists and installation of permanent artworks in subway and commuter rail stations across the city. Since that time, it's become the largest, site-specific public art program in the world and makes commuting for nearly 9 million New Yorkers just a little bit brighter.
We recently highlighted our favorite Manhattan subway station art, and now it's time to turn our attention to Brooklyn, which boasts more subway stations than any other borough. From colorfully modern to delightfully cinematic, there are great works of art to be found in Brooklyn's underground. Here are a few of our favorites.
"Masstransiscope" — Between Dekalb Avenue and Manhattan, Downtown Brooklyn
Hidden inside a long-abandoned Myrtle Avenue subway station is a 20-second animated movie, of sorts, that has delighted straphangers for decades. Dubbed Masstransiscope, the work is a 300-foot long series of paintings within an illuminated enclosure featuring 228 vertical slits. The movement of the train past the work of art brings the individual images alive to depict dancing strings, unfolding rectangles, a rocket ship and more. Created in 1980 by artist Bill Brand, the work has been restored twice in the last decade, most recently in 2013, and continues to be a favorite of commuters both young and old. To best view Masstransiscope, board a Manhattan-bound B or Q train and face right just past Dekalb Avenue.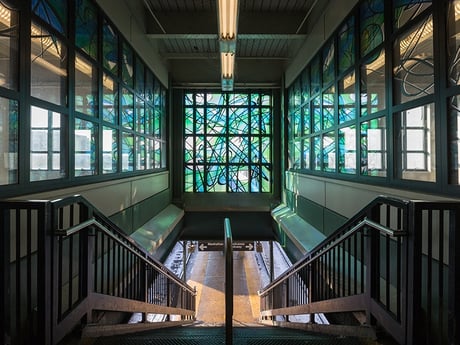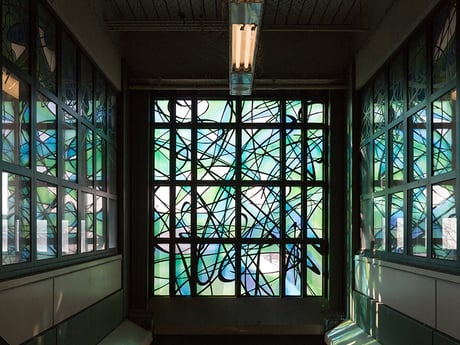 "Crescendo" — East 105th Street, Canarsie
From the outside, the East 105th Street station, the penultimate stop on the L train, is a rather modest structure, but entering this above-ground station feels like arriving at a modern cathedral thanks to the remarkable work of artist Michael Ingui. Large panels of blue green laminated glass that hang over the stairway and platform seem to undulate in rhythm with the passing trains, creating an atmosphere that's both kinetic and calming. Created in conjunction with architectural glass firm Franz Mayer of Munich, the piece was installed as part of the 2007 station renovation and won a 2008 Building Brooklyn Award. Inspired to visit? This section of the L train — from Bedford Avenue to Rockaway Parkway — will continue to run throughout the L-train shutdown which stops train travel west of Bedford beginning in 2019.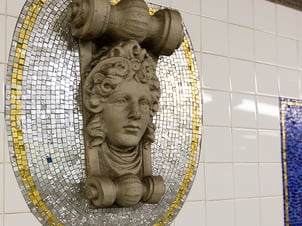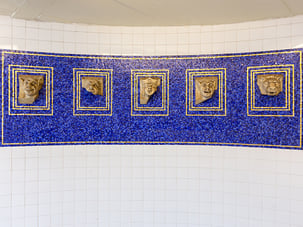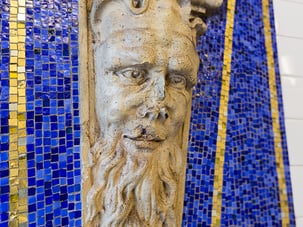 Brooklyn Museum Architectural Artifacts — Eastern Parkway/Brooklyn Museum, Prospect Park
Too busy for an actual trip inside the Brooklyn Museum? No worries. Entering and exiting the Eastern Parkway/Brooklyn Museum 2/3 train station is like a mini-trip inside the institution thanks to artifacts installed during the station's 2003 renovation. The Brooklyn Museum has long served as a repository for important architectural art salvage, and 78 of its finest pieces have been installed along this station's walls and corridors. The project, a collaboration between the Brooklyn Museum and the MTA's Arts for Transit program, includes busts, plaques, gargoyles and other elements framed in gorgeous blue and gold tile mosaics.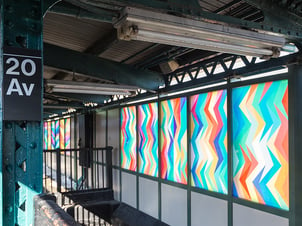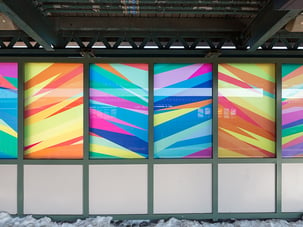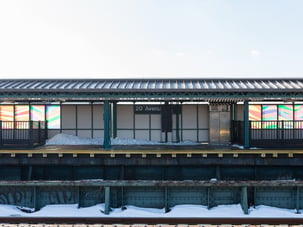 "Kaleidoscope" — 20th Avenue, Bensonhurst
Forty laminated glass panels filled with bold colors in sharp diagonals decorate the elevated platforms of Bensonhurst's 20th Avenue D-train station. Created by Odili Donald Odita, an African-American artist known for his large, colorful paintings and wallscapes, the project's many colors and shapes are meant to convey the many diverse elements that create a community. Visible from both the platforms and the streets below, the pieces have a street art quality, and not unlike Ingui's Crescendo, the installation has a stained-glass effect which plays with the changing light throughout the day and night.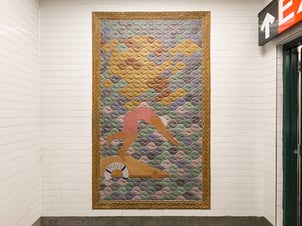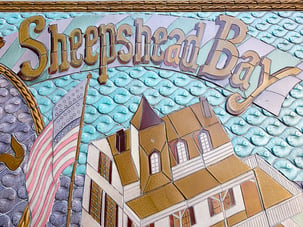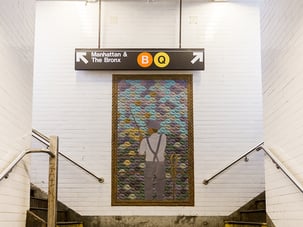 "Postcards from Sheepshead Bay" — Sheepshead Bay
Ceramic artist and potter DeBorah Goletz captured true Coney Island/Brighton Beach nostalgia in her 1998 series of murals that decorate the Sheepshead Bay station serving the B and Q trains. Outside, you'll find an interactive "Greetings from Sheephead Bay" postcard installation where visitors can become part of the artwork through cutouts like the popular boardwalk attraction. Other depictions include turn-of-the-century sunbathers, a swimmer, a fisherman and more. For the record, the region's name has nothing to do with sheep, but actually refers to a species of fish. Appropriately, each vignette here incudes a background of interlocking sheepshead, which when viewed at a distance, are reminiscent of the rippling surface of water — completely appropriate for this bayside-themed station.


To learn more about our city's amazing transit system, head to the New York Transit Museum, also in Brooklyn, at the corner of Boerum Place and Schermerhorn Street.