Where the cocktails are bottomless and the possibilities are endless.
Brunch is either the kickoff to a great weekend or a cure for what ails you as that great weekend comes to a close. We're also big fans of the delicious food, the good friends and, let's be honest, the socially acceptable day-drinking. So, if you're dying to declare, "It's 5 o'clock somewhere!" this weekend, check out these 12 BK brunch spots serving bottomless drink specials.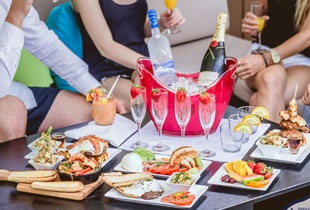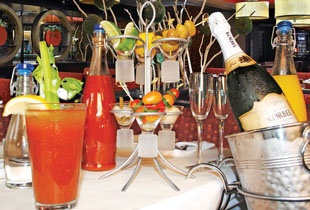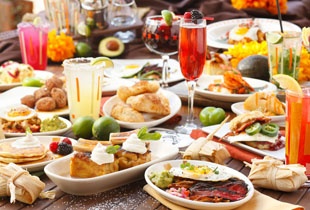 1. Baby's All Right – 146 Broadway, South Williamsburg
This music venue with a Bangkok vibe puts out a surprisingly delicious "American brunch" on weekends. $29.99 buys you an entrée plus unlimited Bloody Marys, mimosas or greyhounds. Pork belly benedict and massive slabs of fluffy French toast? Yes, please!
2. Bizarre – 12 Jefferson St., Bushwick
At Bizarre you'll find burlesque by night and brunch by day. Choose from a prix fixe brunch with a mimosa for $16, or add bottomless mimosas (for two hours) to any meal, also $16. Come for the mimosas, stay for the out-of-this-world eggs Benedict.
3. Giovanni's Brooklyn Eats – 1657 Eighth Ave., South Slope
Old world Italian meets brunch at Giovanni's. The $18.95 brunch includes unlimited mimosas or Bloody Marys with your choice of antipasti and secondi. Large portions and an amazing selection, including ricotta fritters and challah French toast, will get your mind (and stomach), right for the weekend.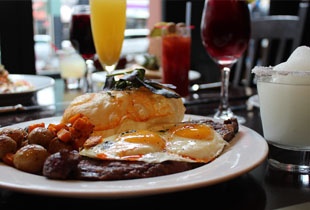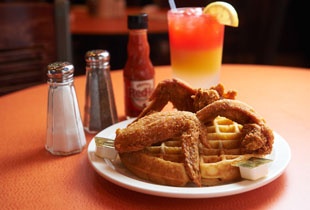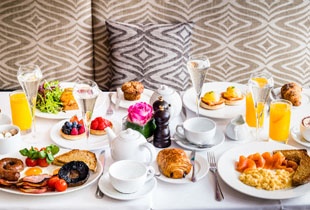 4. J'eatjet? – 685 Fifth Ave., South Slope
South Slopers rave about the French toast dippers and "The Cure" — a formidable collection of brunch favorites including pancakes, bacon, sausage gravy, eggs and potatoes. Add $10 unlimited mimosas to really cure what ails you, but remember to hit up the ATM before you arrive. J'eatjet? is a cash-only establishment.
5. Le P'tit Paris Bistro – 256 Prospect Park W, Windsor Terrace
For $16.99, you'll enjoy an entrée plus unlimited mimosas, Bellinis, sangria or wine at this cozy bistro known for impeccable service. Standouts on the small, but varied, brunch menu include the eggs Florentine and hanger steak sandwiches.
6. Milk & Roses – 1110 Manhattan Ave., Greenpoint
This charming Greenpoint favorite features a library vibe inside and an idyllic back garden outside. The $24 weekend prix fixe menu includes a breakfast or sandwich entree and unlimited mimosas. Top off your delicious brunch with a chocolate croissant — it's a weekend choice you won't regret.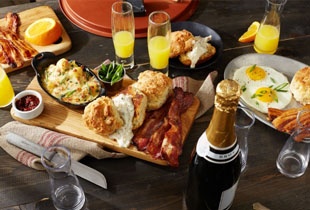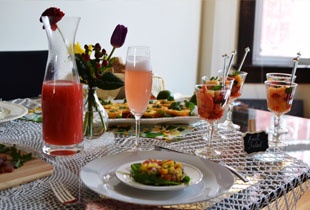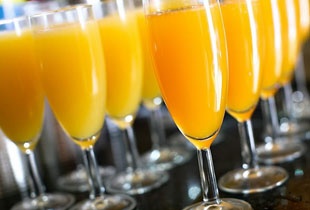 7. Piquant – 259 Flatbush Ave., Prospect Heights
Billed as "modern cuisine of the American Southwest," Piquant's brunch menu is spot-on. The eggs San Salvador and steak sandwich put a Latin twist on traditional brunch favorites, while the $15 prix fixe price — plus $10 for 90 minutes of unlimited Bloody Marys, mimosas or sangria — is easy on the wallet.
8. Randolph Brooklyn – 104 S. Fourth St., South Williamsburg
Offering pitchers instead of drinks by the glass is an excellent way to win over a choosy Brooklyn brunch crowd. At Randolph, pick from bottomless pitchers of punch, Bloody Marys, mimosas or beer along with a hearty entrée for only $34. One caveat: every member of your group must pay the bottomless brunch price, even if they don't imbibe.
9. Rustik Tavern – 471 Dekalb Ave., Clinton Hill
If chicken and waffles is your jam, Rustik Tavern is the brunch spot for you. For $30, you'll receive a brunch entrée plus 90 minutes of unlimited champagne, mimosas, Bloody Marys, screwdrivers or Bellinis. Head to the gorgeous outdoor space as weather permits.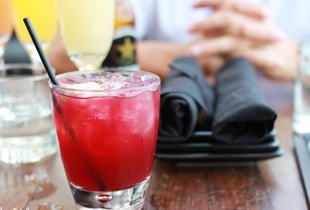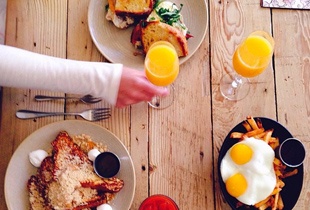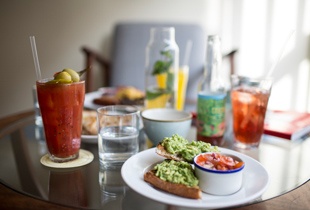 10. Scottadito Osteria Toscana – 788A Union St., Park Slope
Scottadito, specializing in Tuscan cuisine, is a delight for all five senses featuring a cozy fireplace and an airy atrium outfitted in exposed brick and reclaimed wood. The $19.95 brunch special features unlimited mimosas or champagne plus a brunch entrée. Reservations are recommended.
11. The V-Spot – 156 Fifth Ave., Park Slope
With menus often focused on eggs and smoked meats, brunch specials can be challenging for vegans to find. The V-Spot solves that dilemma by providing vegan pancakes, chilaquiles, tofu scrambles and more (many gluten free). $10 gets you bottomless mimosas along with your vegan fare. Cash only.
12. Verde on Smith – 216 Smith St., Cobble Hill
Located on Cobble Hill's Smith Street restaurant row, Verde offers unlimited Bellinis and mimosas for two hours, along with brunch, for $18.95 per person. Clink those champagne flutes over classic steak and eggs, scrumptious banana Nutella crepes or a fantastic burger while enjoying Verde's attractive indoor and outdoor spaces.
Wherever you land for your weekend food and libations, remember to brunch responsibly. After all, you don't want to end up the next "belligerent bruncher" of New York City.