A derelict diamond in the rough becomes a moody, modern masterpiece in Harlem's revered Striver's Row.
The Striver's Row area has become one of Dixon's favorite historic districts in New York City. We delved deep into the history of these beautiful blockfronts before and showcased the transformation of two Dixon Leasing homes in the district's Price-Luce-designed blocks: 233 West 138th Street and 261 West 138th Street.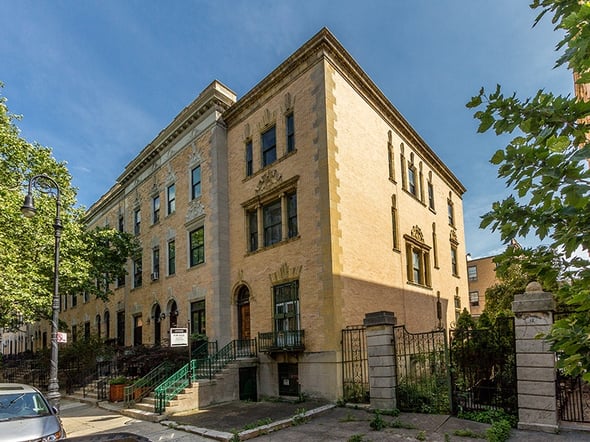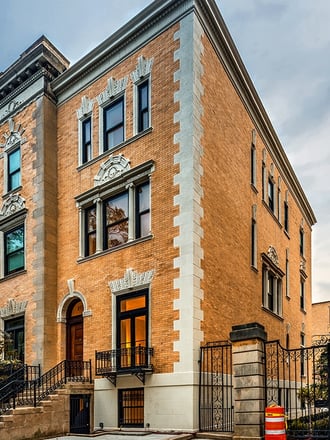 The home at West 139th Street, however, stands out among these buff brick beauties primarily because of its end-unit position, which not only makes it a bit wider than its neighbors, but also graces the home with windows on three exposures. "Between the huge
skybox
we added to the roof and all of the side-wall windows, there's not a dark room in this house," explains Associate Director of Interior Design,
Nicolette Taormina
.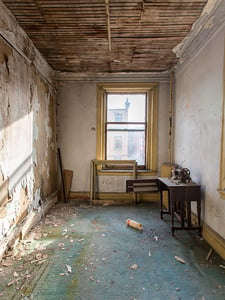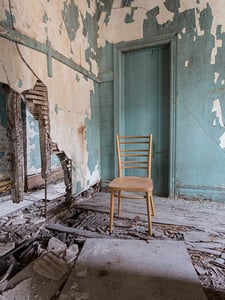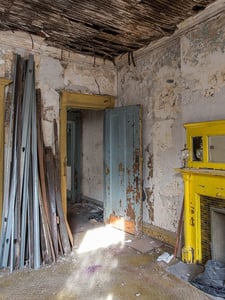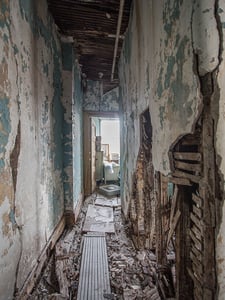 But the bright, sophisticated showplace we see today is a far cry from the state in which the home was acquired. "This was a terrifying house," recalls Nicolette. "It was probably in the worst condition I've seen in any of our properties, and it was full of trash, just jam-packed."
Interior Designer Marybeth O'Haire agrees, "This one was really horrendous, but at the same time, there was something really beautiful about the way it was so rundown. The before photographs are actually quite stunning."

For the first 20 or so years of its existence, West 139th Street, like most Striver's Row houses, was occupied by residents who leased their homes from the Equitable Insurance Company. Equitable had taken possession of all King Model Homes when they went into foreclosure in 1895, and the firm was exceptionally discerning about who they would sell to for years. During this period, the home's occupants were mostly lodgers who worked as laborers, clerks, waitresses and household servants.
By 1919, the Equitable finally allowed African Americans to purchase King homes, and the following year, our subject was bought by Dr. Gertrude Elizabeth Curtis McPherson. A 1904 graduate of the New York College of Dental and Oral Surgery, Dr. McPherson was the first black woman ever to pass the New York State Board of Dentistry. She bought the house as an investment property and held it until 1944. Throughout this time, it functioned as a rooming house for up to 20 lodgers at a time.
In 1946, the home was acquired and kept for nearly 60 years by a family that appears to have resided predominantly in the Midwest, particularly during the last few decades, which may explain the derelict state of the home by the time it was acquired by Dixon in 2015.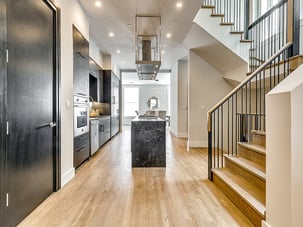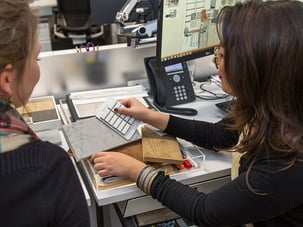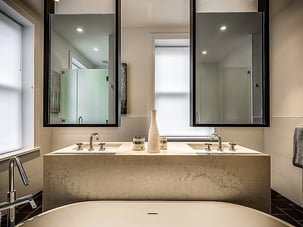 In need of a complete structural rehabilitation with no salvageable historical details inside, the Dixon Projects team was presented with a unique opportunity to begin with a blank slate. "The other Striver's Row homes are very traditional because we've kept the existing wall locations, moldings and fireplaces. This one got to have its own personality," explains Marybeth. "The design here is modern, but a bit moody. We played with blacks and whites and that stark contrast, along with really modern lighting."
That dramatic color scheme works, in large part, because of the sunny exposures to the north, south and west. In a dimmer townhouse, these dark tones might have felt gloomy, but here, they add drama and interest throughout the clean, contemporary spaces.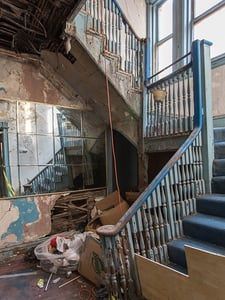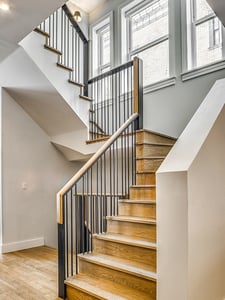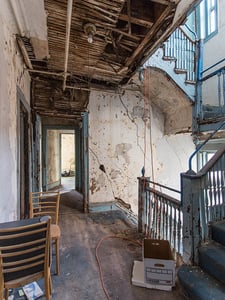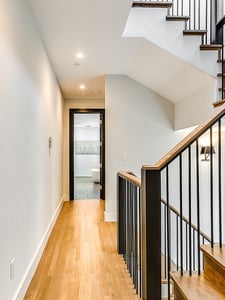 The central staircase plays a major role in ushering sunlight throughout, but it also presented a bit of an architectural challenge. While it sits in roughly the same location as the original staircase, because it now ascends all the way to a completely new roof deck, it had to be bumped out from the western wall so as not to block the third-story windows. "Stepping the staircase away from the windows was a construction challenge, structurally. There were a number of revisions along the way, but ultimately, it's one of my favorite things in the home," says Nicolette.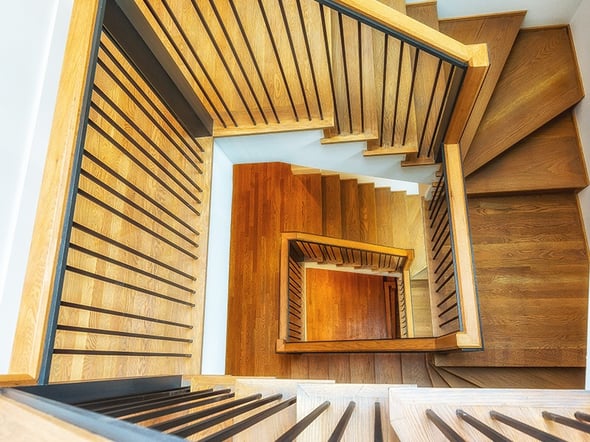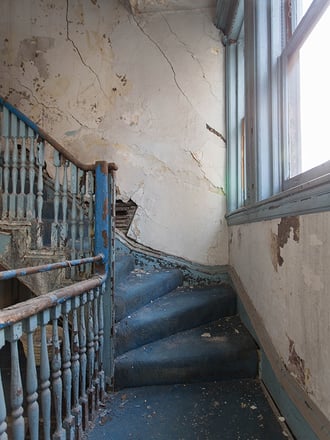 In its final iteration, the staircase feels substantial, but airy, with black spindles that complement the black finishes found elsewhere. "The staircase turned out really nice," Marybeth concurs. "It has a custom handrail with a wood cap feature, and we did wood risers and treads in a matching oak."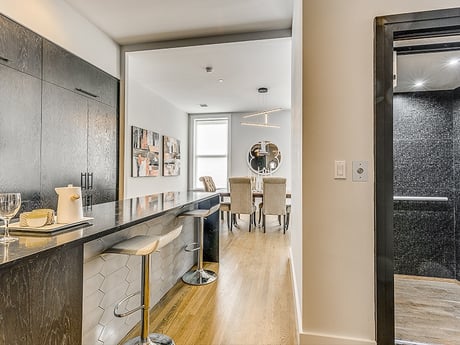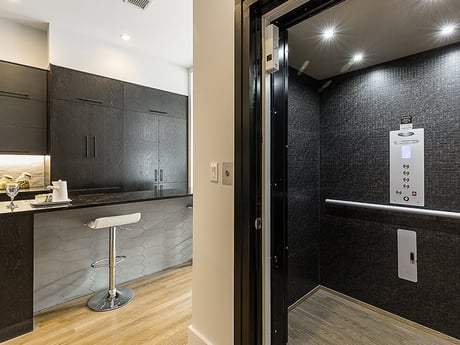 Another unique addition permitted by the home's wide footprint and structural do-over is the brand-new elevator — a Striver's Row rarity — which runs from the garden level to the third floor. Textured wallpaper in the home's signature black, reminiscent of mosaic tile, lines the large cab. "It's really fun and dramatic. I was worried about it feeling too dark, but it works quite well in there," says Marybeth.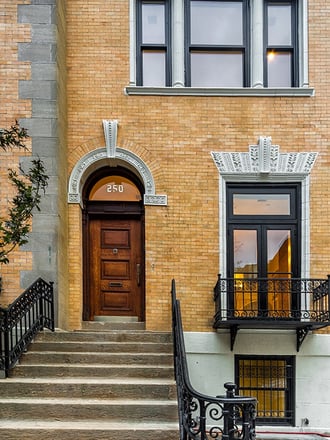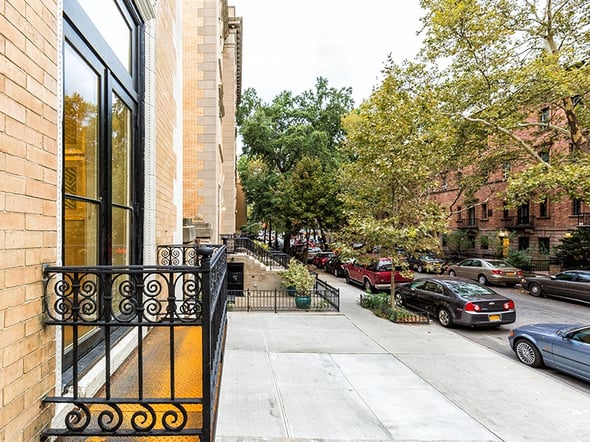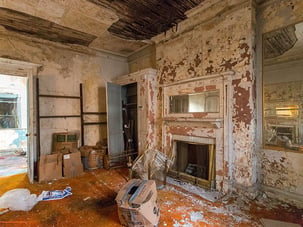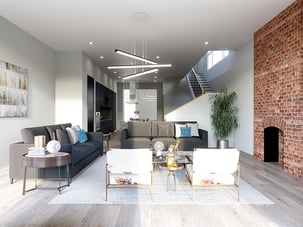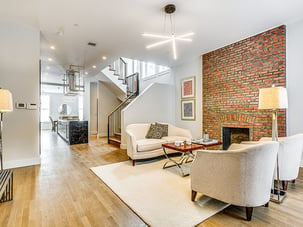 The welcoming parlor floor begins with a bright living room decorated with a Price-Luce trademark Juliet balcony, plus a fireplace set in a stunning expanse of exposed brick. The choice to leave the wall exposed was an onsite decision dictated by the pristine state of the brick hidden under crumbling plaster. "It was the most beautiful brick that we've ever encountered, in my opinion. It was in beautiful condition," explains Marybeth.
Inside the fireplace is a tin lining salvaged from another fireplace that once stood on one of the upper floors – marking one of the very few original elements to be retained.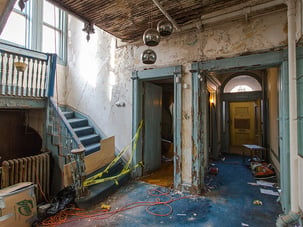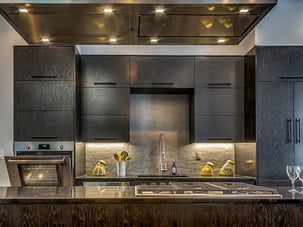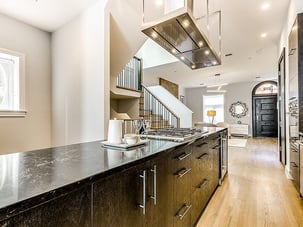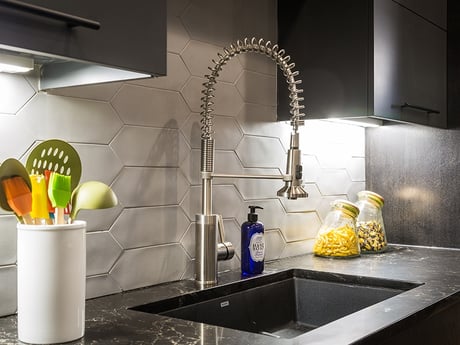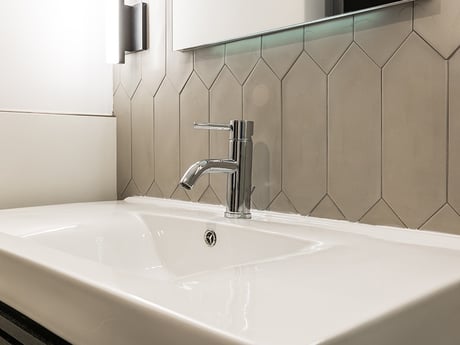 At the center of the parlor level is a breathtaking chef's kitchen decorated with textural finishes in bold black and gray. The long waterfall island is constructed from rich Vanilla Noir Caesarstone, while the white oak custom cabinetry boasts liberal coats of dark stain which highlight the visible grain. Elongated hexagonal gray porcelain tile brings an almost metallic look to the backsplash and island kick panel. This same tile, oriented vertically, can be found in the bathrooms on the garden level below.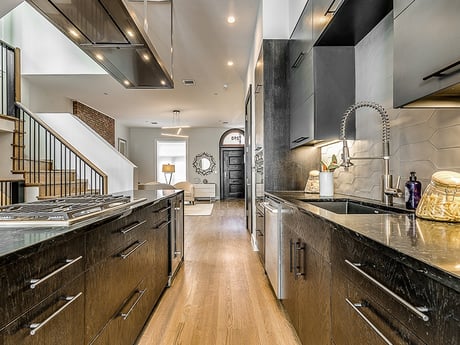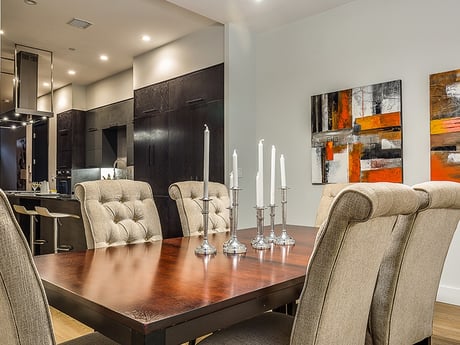 Here, high-end, ultra-modern appliances were selected to fit their sleek surroundings. Bertazzoni wall ovens and an island cooktop are joined by a Fisher + Paykel refrigerator and dishwasher drawers, plus a Summit wine cooler. Overhead, an open-vented hood by Italian company, Futuro Futuro, adds functionality and an elegant sculptural quality.
At the rear of the parlor floor, a sunny formal dining room is situated in what was once a thatch of broken lath and plaster. Custom lighting by Sonneman Design, here and in the living room, ties the two spaces together. "The parlor floor light fixtures are really fun. Very minimalistic and great statement pieces," describes Marybeth.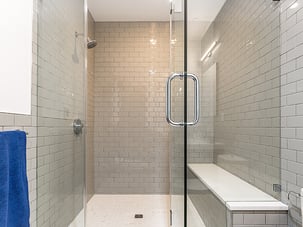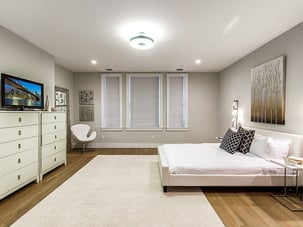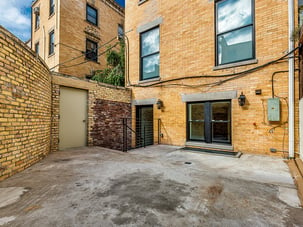 On the garden level below, residents enjoy a large bedroom suite with a gray-and-black en suite bathroom, custom closet and a separate front entry. A large laundry room with a utility sink is perfectly positioned across from the elevator, and a spacious rec room is an ideal family room outfitted with a well-equipped wet bar. Thanks to Striver's Row's highly desirable rear alley design, this home also boasts an oversized gated parking area just outside, a precious amenity in Manhattan.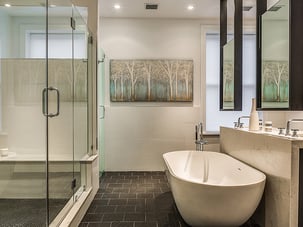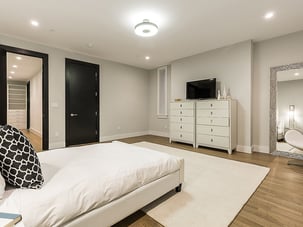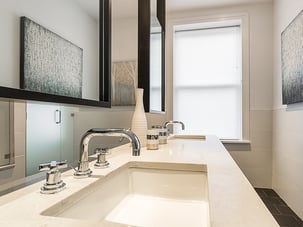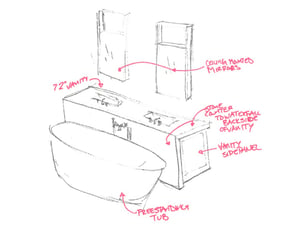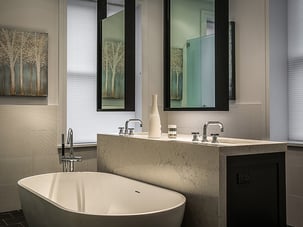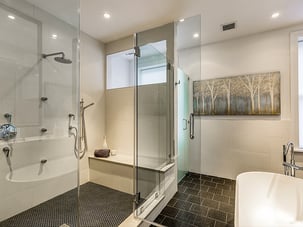 Moving upwards, Dixon has transformed the entire second floor of this historic townhouse into a private full floor master suite. An oversized bedroom overlooks treetop views towards the front, while the rear houses an enviable en suite master bathroom that has to be seen to be believed. With an oversized footprint adorned by three large windows, the spa-like sanctuary called for an innovative approach. Rather than pushing cabinetry against the windowed wall, it's been placed toward the center of the room with distinctive mirrors that drop from the ceiling. Here, the substantial, custom vanity acts as a furniture piece topped in Noble Grey Caesarstone that waterfalls over the rear.
A 70-inch freestanding bathtub is situated on the other side of the vanity, while the huge walk-in shower boasts two benches, rain and handheld showerheads, plus body sprayers. A separate, windowed toilet room features a frosted glass door and a clerestory window that allows for ample sunlight to flood the space. "This bathroom is very luxurious. It's really my favorite part of the home," says Marybeth. "It feels like an escape, and I hope that's what its residents use it as."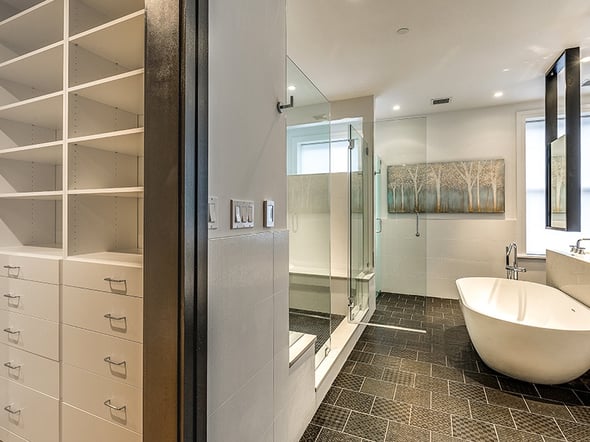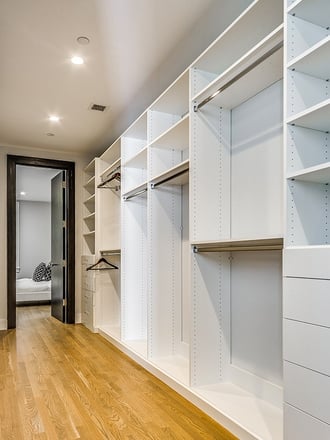 An enormous, fully-outfitted master closet runs between the master bedroom and bathroom. Offering plenty of space for wardrobe and storage, this pass-through closet also provides a discreet means of moving through the suite without entering the outside stair hall.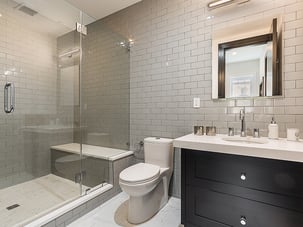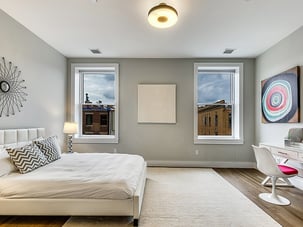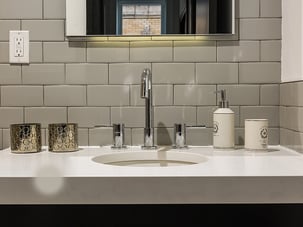 Above the master suite, two large bedrooms decorate the front and rear of the top level. Each boasts multiple windows and Dixon's signature custom closets. Mirror image gray-and-white bathrooms, one en suite and one in the hall, are lined with gleaming subway and mosaic tile. Both also feature custom black vanities and bench showers reminiscent of the striking master bath.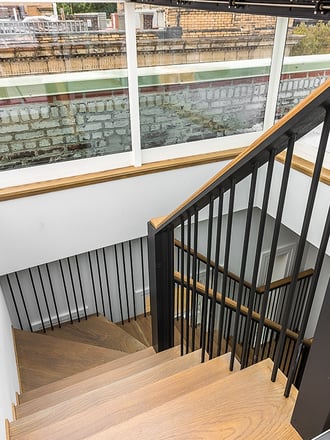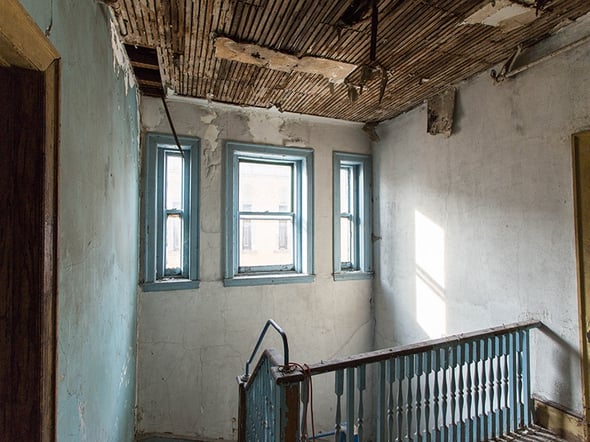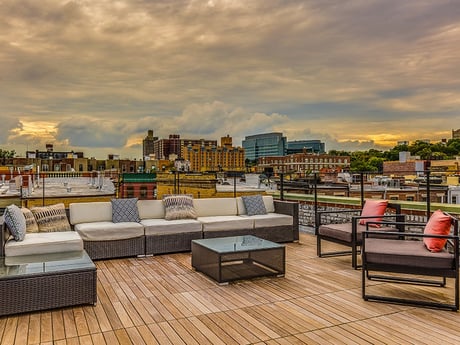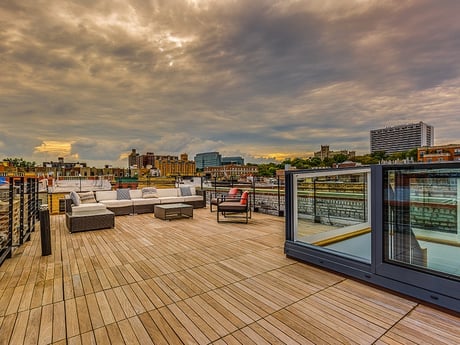 At the top of the stair, a huge skybox opens up to the home's stunning and expansive roof deck. Complete with sprawling views that skim over Harlem to the cliffs of St. Nicholas Park and the castle-like City College of New York, guests and residents will enjoy breathtaking rooftop living for the very first time in the home's 125-year history.

An entirely fresh and sophisticated reinterpretation of Striver's Row living, West 139th Street feels dramatic and gracious throughout thanks to the ample use of visible textures and bold color choices. "While historic homes have a rich character, modern interiors can end up feeling bland or boring. It can be hard to keep them exciting," explains Nicolette. "This home, however, more than overcame that challenge."

VIEW THE FLOORPLANS FOR WEST 139TH STREET: