In our review of outstanding Manhattan subway station art, we briefly touched upon three Harlem stations that beautifully illustrate the key figures of the neighborhood in stunning mosaic murals. Each deserves a deeper look, and 125th Street 2/3-line station's murals by Faith Ringgold do a particularly wonderful job of connecting the icons of bygone eras with the enduring institutions in which they wielded influence.
Below, we take flight into "Flying Home: Harlem Heroes and Heroines," Ringgold's 1996 work influenced by the Lionel Hampton tune of the same name.
The Performers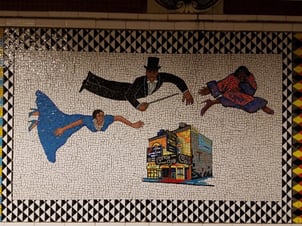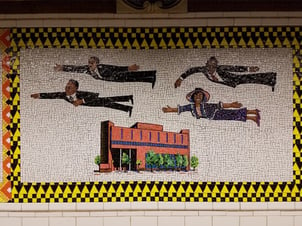 Harlem's heritage is deeply rooted in the singers, bandleaders and actors who have lived and performed in the neighborhood throughout the years. In three panels, influential entertainers are shown near the venues they frequented. Clustered around the world-famous Apollo Theater — which still operates just a block-and-a-half west of the subway station — we find gifted singer Dinah Washington (1924-1963), cabaret performer Florence Mills (1896-1927), Apollo amateur night founder Ralph Cooper (1908-1992), jazz legend Billie Holiday (1915-1959) and influential pop vocal group the Ink Spots.
Although it was demolished in 1959, the Harlem Opera House stood just one block from the 125th Street station and was an influential entertainment center for nearly 60 years. The first New York City opera house built by impresario Oscar Hammerstein, here, we find it protected by singer Marian Anderson (1897-1993) and Paul Robeson (1898-1976), a prominent Harlem Renaissance singer and actor who began his young adulthood as a decorated Rutgers scholar and athlete, and entered the NFL while also earning his law degree from Columbia. He was also a significant, if controversial, social activist in his later years.
In the next panel, the original Cotton Club, which stood on the corner of 142nd Street and Lenox Avenue, is presided over by regulars, including bandleader Duke Ellington (1899-1974), the infamous Josephine Baker (1906-1975) and "Empress of the Blues" Bessie Smith (1894-1937).
The Writers

The Harlem Renaissance — the prolific and influential period of art, literature and thought in the 1920s — was especially well known for its many writers.
Although housed in a modern building on the corner of Lenox Avenue and West 135th Street, The Schomburg Center for Research in Black Culture, a branch of the New York Public Library, has roots that began in the adjacent landmarked building more than a century ago. In the "Flying Home" mural, the modern façade is flanked by African American literary greats, including the poet and novelist Countee Cullen (1903-1946), for whom this NYPL branch was once named; poet and social activist Langston Hughes (1902-1967); novelist and social critic James Baldwin (1924-1987) who experienced a recent resurgence thanks the 2016 Academy Award-nominated documentary "I Am Not Your Negro"; and novelist and anthropologist Zora Neale Hurston (1891-1960), whose 1931 manuscript "Barracoon: The Story of the Last 'Black Cargo," is being published for the first time this year.
The Artists

Harlem's visual artists may have been outshined by their performing arts and literary brethren, but here, they're giving equal billing flanking the neighborhood's Studio Museum of Harlem. Sculptor Augusta Savage (1892-1962), painter Jacob Lawrence (1917-2000), mixed-media artist Romare Bearden (1911-1988), abstract painter Norman Lewis (1909-1979) and illustrator Aaron Douglas (1899-1979) each made important contributions to depicting race, segregation and the black experience in America.
The Athletes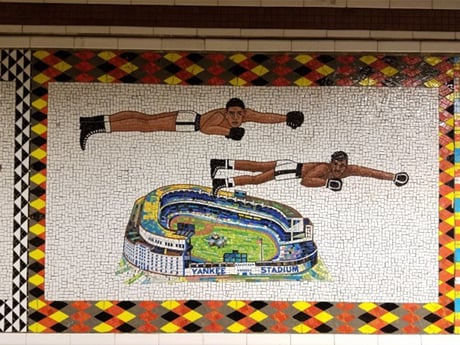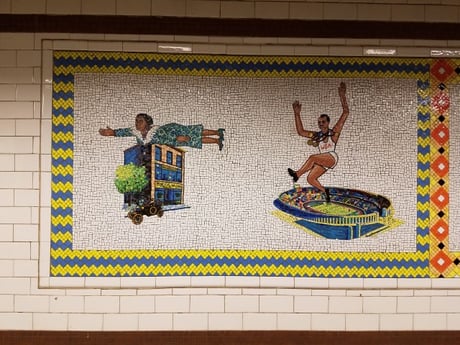 Prominent black athletes have long been an important part of American culture, but the 125th Street murals do a somewhat slapdash job with their depiction. In a move that can only be called incongruous, boxers Joe "Brown Bomber" Louis (1914-1981) and Sugar Ray Robinson (1921-1989) fly above the previous iteration of Yankee Stadium.
In the next panel, Olympian Jesse Owens (1913-1980) is shown leaping, rather than floating like the other figures throughout the station. Rather than sharing the panel with another sports figure, he's depicted next to Madame C.J. Walker (1867-1919), an intrepid entrepreneur. Called the first female self-made millionaire in the U.S., Walker was one of the most successful African-American business owners ever and an important social activist who served on the board of the NAACP. By all rights, she should've been placed with the prominent African Americans below.
Leaders and Influencers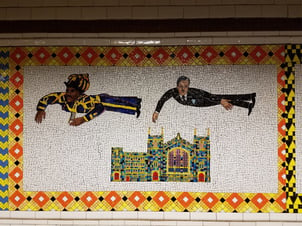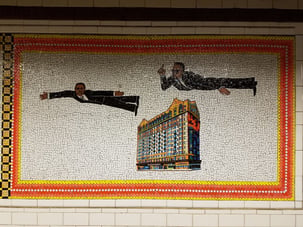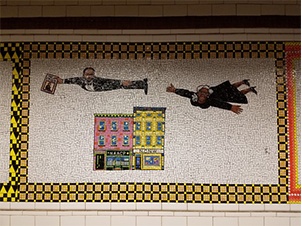 Familiar names among the streets and parks of Harlem occupy the murals devoted to important religious, political and social leaders. Marcus Garvey (1887-1940), known for his Pan-Africanism, and Adam Clayton Powell Jr., a pastor and U.S. congressman, float over a depiction of the gothic Abyssinian Baptist Church, which was formed by Powell's father.

Slain human rights activists Martin Luther King Jr. (1929-1968) and Malcolm X (1925-1965) rise above Hotel Theresa, a center for African-American life in the 1940s and 1950s. Known as "The Waldorf of Harlem," the hotel accepted black guests in a time when other prominent venues were strictly segregated. Malcom X founded his Organization of Afro-American Unity at the Theresa, which still stands today.

W.E.B. DuBois (1868-1963), Pan-Africanist and co-founder of the National Association for the Advancement of Colored People (NAACP), and social activist Mary McLeod Bethune (1875-1955), founder of the National Council of Negro Women (NCNW), are depicted alongside the organizations they led.