For anyone interested in architecture, the destruction of the New York City's original Pennsylvania Station is a heartbreaking moment in history.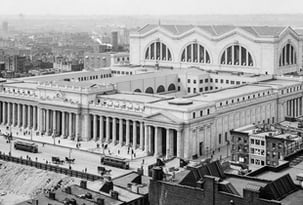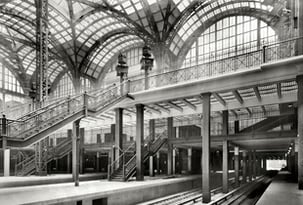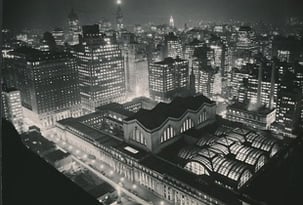 Looking back, one can hardly imagine why its pink granite exterior, grand waiting hall and stunning vaulted glass concourse would be mowed down to make way for what is today's less-than-majestic Penn Station and Madison Square Garden. However, we might do well to view the demolition of old Penn Station as a sacrificial lamb, as it was the uproar caused by that act that gave rise to the historic preservation movement as we know it, not only in New York, but across the country.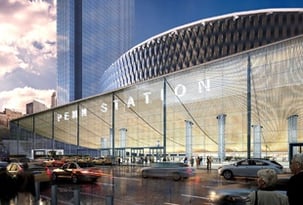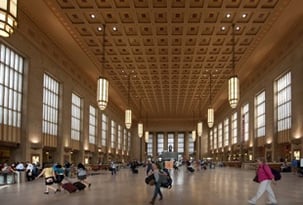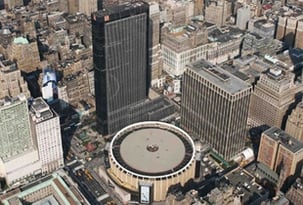 Today, there are 138 historic districts and district extensions across the five boroughs and dozens in the surrounding New Jersey area. Unlike landmarking, which protects individual buildings of note, historic districts cover large swaths of structures, which in turn, safeguards the cohesiveness of entire neighborhoods, maintaining inviting streetscapes and livable spaces that exist at human scale.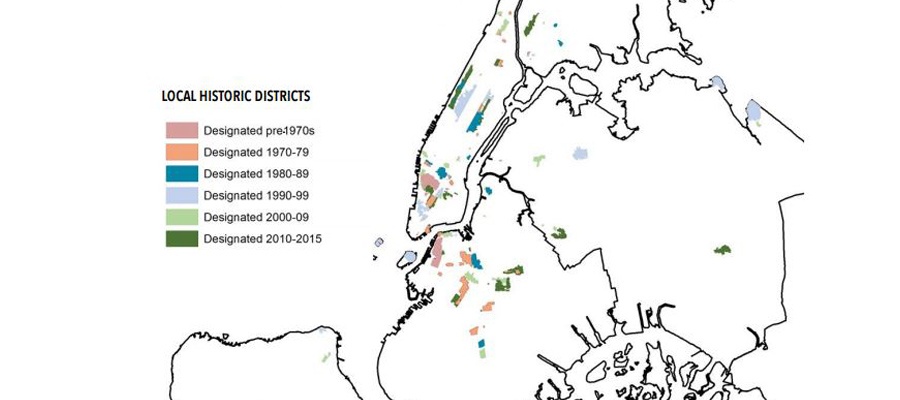 At the core of historic preservation is, of course, a deep appreciation for the past and that which cannot be recreated. For former Jersey City Landmarks Conservancy president John Hallanan, that means maintaining structures as visual record of the lives of those who went before us, "I always come back to a quote by Lewis Mumford. He said that great cities are places where time is made visible."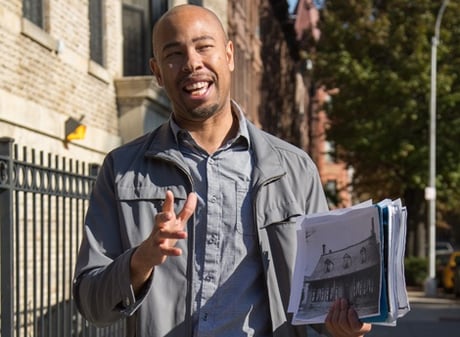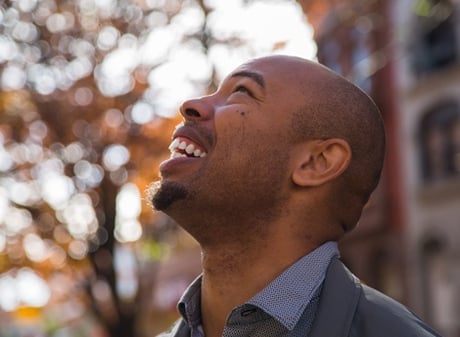 Noted Bedford-Stuyvesant historian and preservationist Morgan Munsey agrees and worries about what it means to lose an entire neighborhood's past. "The history of this neighborhood, a lot of it has been lost," says Munsey about Bed-Stuy.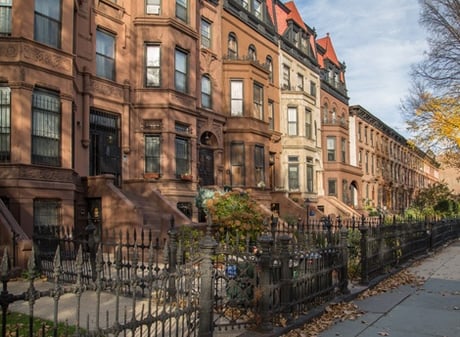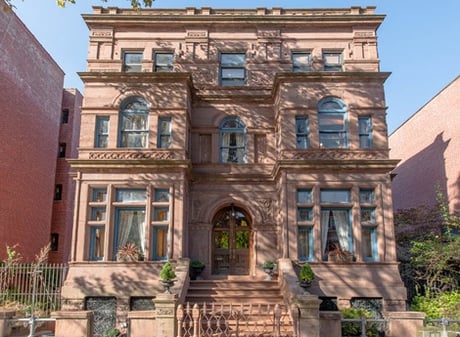 "You would never know that Woolworth lived on Jefferson Avenue or that President Cleveland, when he cut the ribbon at Grand Army Plaza, stayed at the Kelley Mansion on Hancock Street. Most people just know the neighborhood from rap culture today, which is great also, but it's good to know it's more than Jay Z."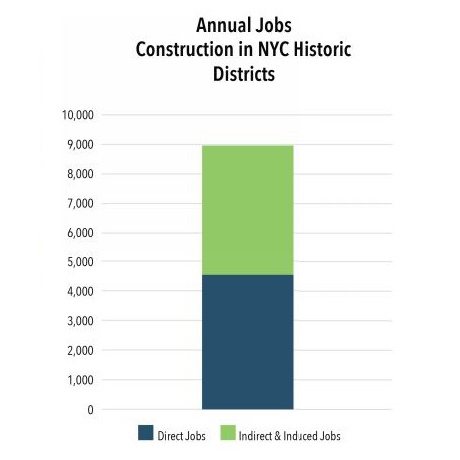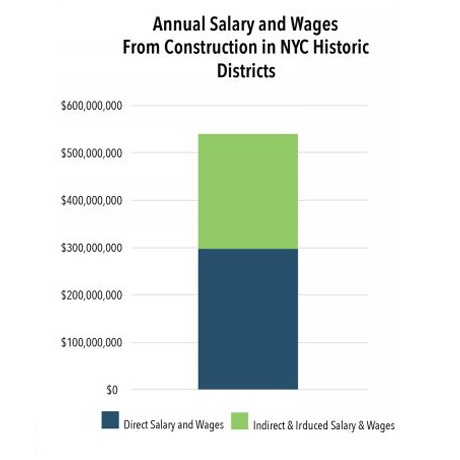 Beyond an appreciation of the past, historic districts drive dollar value. According to a recent New York Landmarks Conservancy report, the labor-intensive process of restoring historic buildings creates jobs for 9,000 New Yorkers with payrolls of $500 million annually. Historic districts, for the most part, also tend to raise property values, not only within the districts themselves, but also in the neighborhoods that border the districts.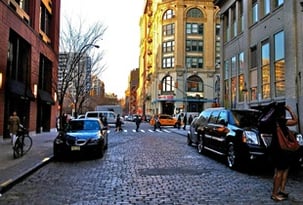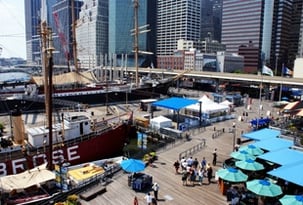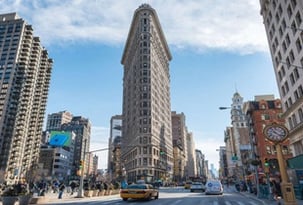 Lastly, the historical elements of our fair city drive a fair amount of revenue in the form of tourism dollars, with historic districts like SoHo, South Street Seaport and the Ladies' Mile near Madison Square Park drawing significant visitor attention.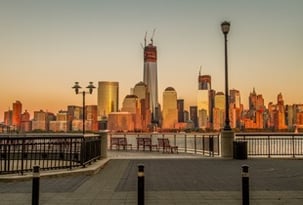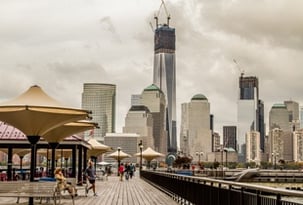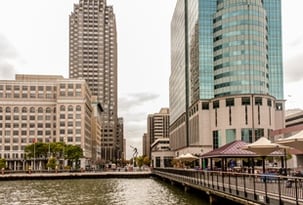 It's no surprise, then, that historic districts can revitalize neighborhoods and even entire cities. Hallanan points out, "In Jersey City, people often talk about the development of the waterfront as being a major catalyst for the city's regeneration, but I would take it a step further.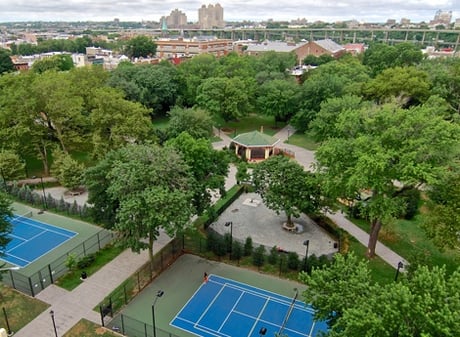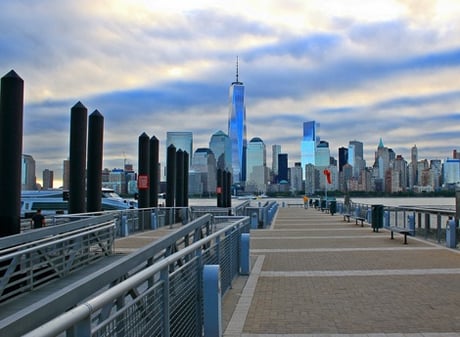 Before they started building skyscrapers on the waterfront, they started reinvesting in the brownstones. Hamilton Park, Paulus Hook, Harsimus Cove, Van Vorst Park — these are the four historic districts that make up a great deal of downtown's acreage, so I would say these are great examples of how historic preservation helped to be a catalyst for urban regeneration."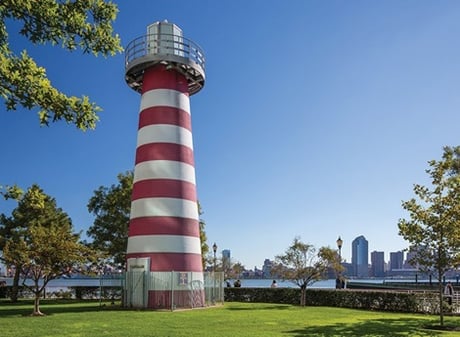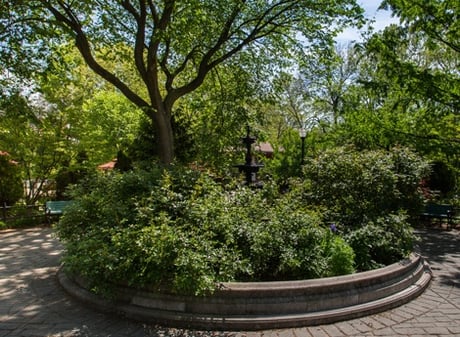 Perhaps those who fear that historic districts are taking over the city and hamstringing property owners should note that less than 5 percent of New York City's lot area is protected by the Landmarks Preservation Commission. Also noteworthy is the fact that 95 percent of the 13,000 applications that LPC receives annually are resolved at the staff level, and less than half a percent are denied.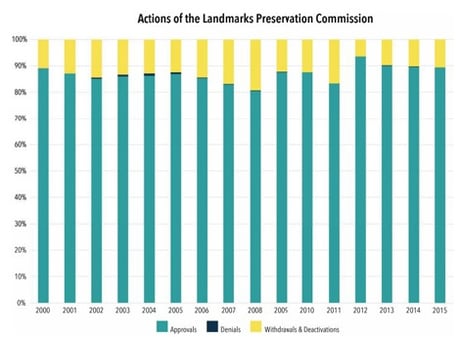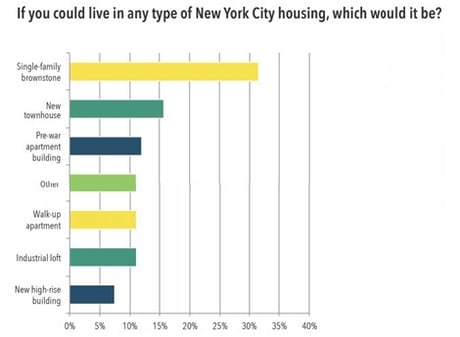 Ultimately, preservation should be about embracing the past with an eye decidedly set on the future. "There's this perception that people who are historic preservationists are somehow opposed to change, and that's wrong," says Hallanan. "I believe that change should be managed in a way that is most beneficial. And I think it is most beneficial when we preserve the best of our past and our history, and we advocate for the highest quality architecture in our present and for our future."

While historic district regulations are primarily concerned with exterior features of a structure, especially those visible from the street, Dixon believes in a holistic approach to renovating homes — retaining architectural elements, both inside and out, and aligning them with modern lifestyles. These recent renovations in historic districts demonstrate that approach.

266 Clermont Avenue, Brooklyn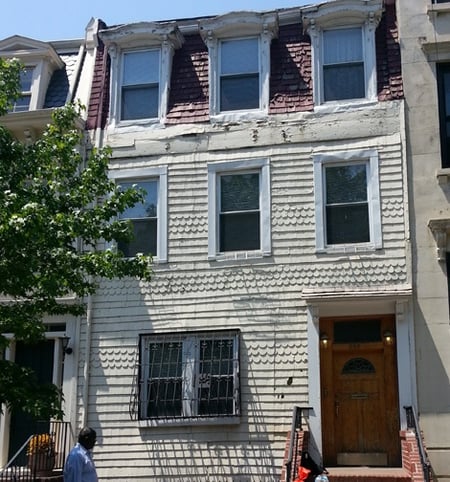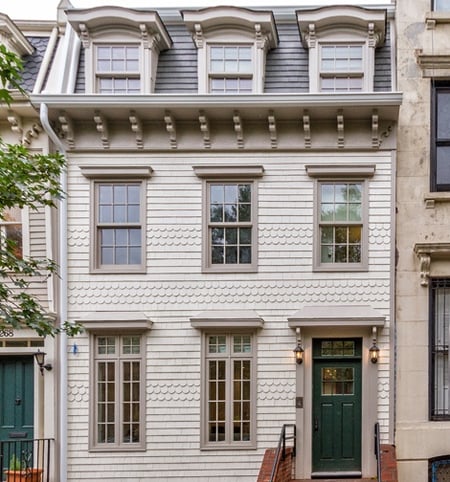 Set in Brooklyn's Fort Greene Historic District, 266 Clermont is notable for its ornate shaker shingle façade, unusual in a city known for brick and brownstone townhouses. From the mansard roof to street level, an immense amount of work went into updating it according to the Landmarks Preservation Commission's exacting specifications.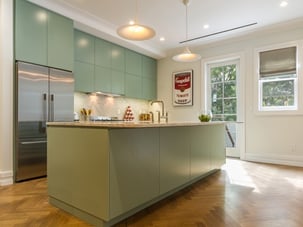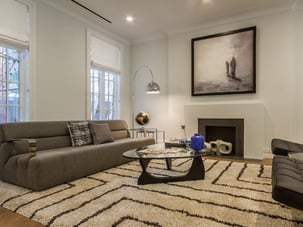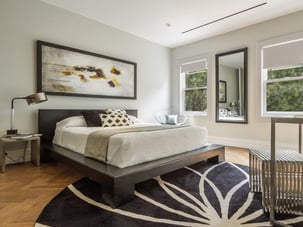 "We had to carefully remove each shaker shingle, sand it down, double prime it or find an exact replica, and place it back on the façade," notes Dixon Project Manager, Patrick Sullivan. "We also had to custom make the trim around every window and custom-make the entire cornice to match the historical cornice as shown in the tax photo." Despite the arduous, painstaking process, Sullivan points to the façade as his favorite feature. "It's awesome. It sets the house apart from the typical brownstone or brick town houses in the area."
272 Lafayette Avenue, Brooklyn
At this Italianate row house in the Clinton Hill Historic District, Dixon waded through layers of paint, neglected plaster and poorly executed updates, to elevate a run-down two-unit building to its former glory as a grand single-family. "The plasterwork was retained, and replicated to match in areas, throughout the parlor level and looks tremendous," notes Dixon Project Manager, Scott Cohen.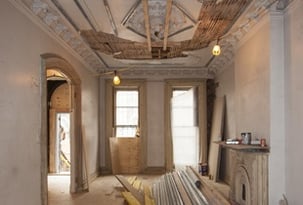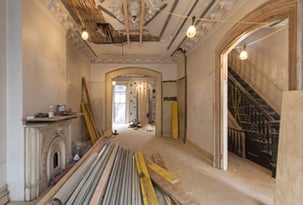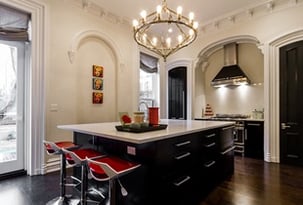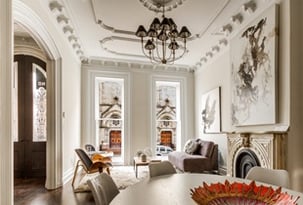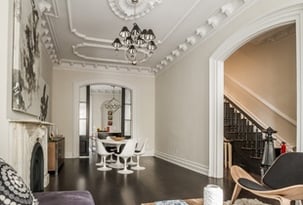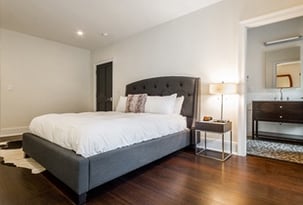 While the interior renovation is stunning, the addition of a rooftop penthouse level and Jacuzzi tub proved most challenging, in terms of LPC compliance. Details and materials used for the penthouse required careful consideration and clearance, and LPC guidelines also dictated the location of the hot tub at the rear of the roof, which altered the original planned flow of the roof deck space. Despite these challenges, 272 Lafayette is now a truly grand residence that elegantly combines old and new.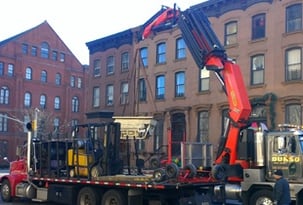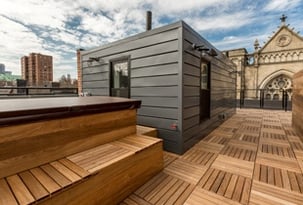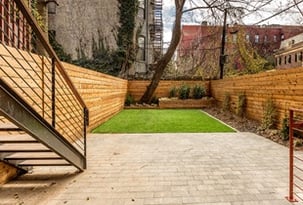 10 Polhemus Place, Brooklyn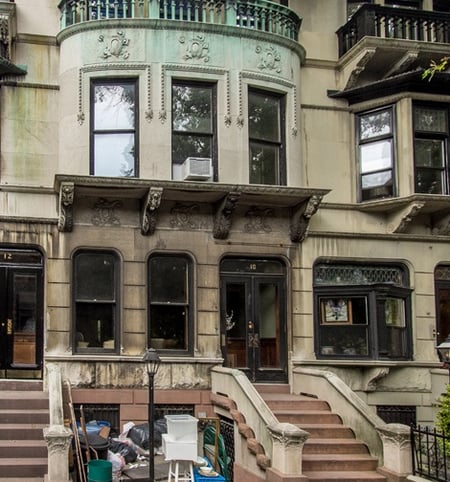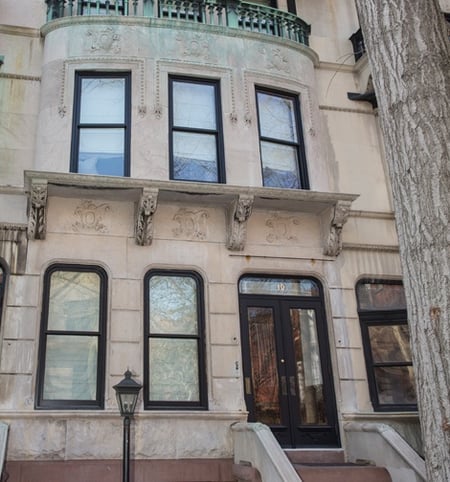 10 Polhemus Place, and its related neighbors at No. 8 and No. 12, are described in the Park Slope Historic District Designation Report as "three elegant town houses, quite unusual in their use of architectural elements and in their originality. They were the vanguard of design for 1896."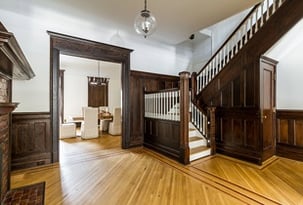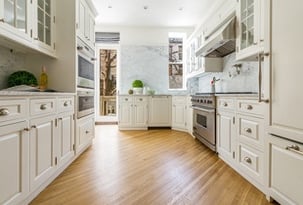 These three houses were constructed to appear as a single residence, with No.10's façade serving as the ornate focal point. It was that same façade, more than a century later, that received a notable amount of Dixon's attention. The limestone and copper details, oxidized and gray with city grime, were revived through days of carefully executed fine brushwork. Interior restoration salvaged and revived a grand staircase, unusual fireplaces and stunning stained glass skylights.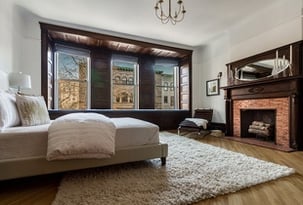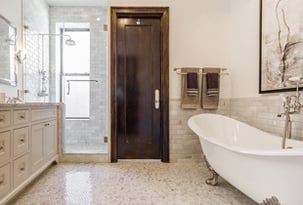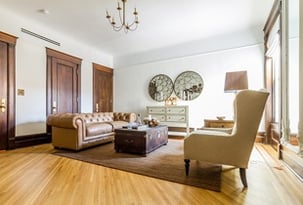 132 Kane Street/8 Cheever Place, Brooklyn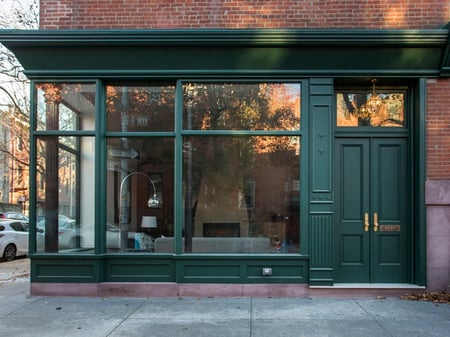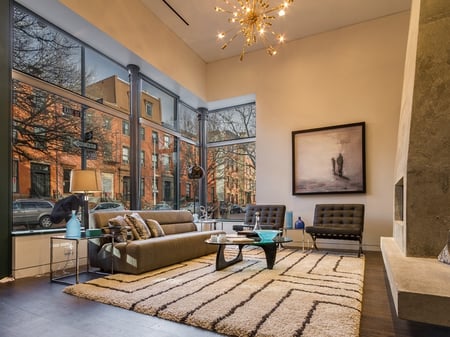 Occupied and owned by the same family for nearly 70 years, the storefronts at the corner of Kane Street and Cheever Place in the Cobble Hill Historic District had served as a butcher shop, candle store and vintage boutique at various points throughout the 20th century, while the upper floors became a maze of poorly updated rental units.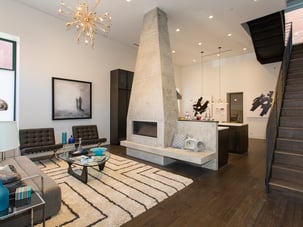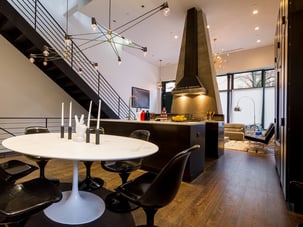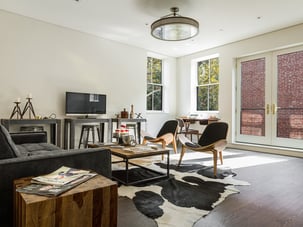 The challenge was to construct two comfortably modern homes while retaining the massive storefront windows, as dictated by the LPC. As it turned out, the restored windows became one of favorite features of Cheever Place residents Meg and Simon; they even asked for the added privacy film to be removed so they could fully embrace their sunny street-level view. Meanwhile, at neighboring Kane Street, a bold poured-concrete fireplace serves both as a privacy screen for the inner kitchen and dining area and a perch from which to enjoy the neighborhood views.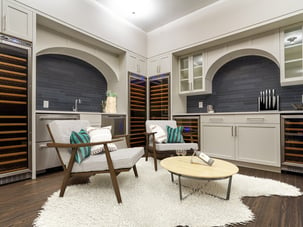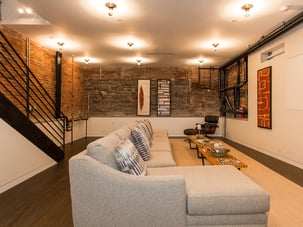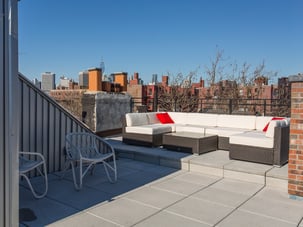 261 West 138th Street, Harlem

The homes of Striver's Row have been notable for being well-maintained as far back as the original 1967 historic district designation report which notes the neighborhood "appears much the same as it did when it was built more than 70 years ago, in 1891." It's no surprise then, that the buff brick and Indiana limestone exterior required minimal attention when Dixon acquired the property, according to Project Manager Megan Eisenberg.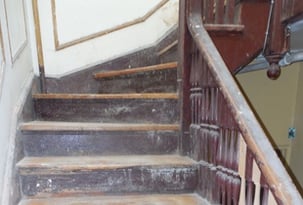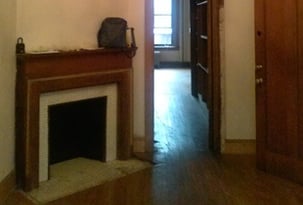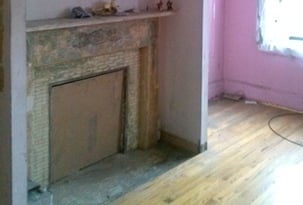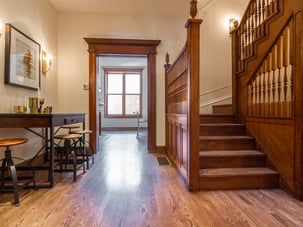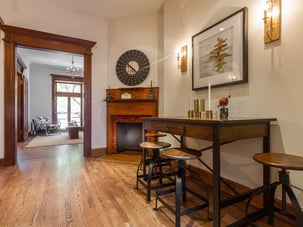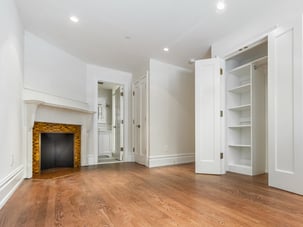 The interior of the home, meanwhile, demonstrates the skill and research necessary to create historically accurate renovations. Eisenberg attended Striver's Row house tours and integrated her findings into the parlor's floor, set on the diagonal as was customary during the era. The room's fireplace is also an achievement, completely restored using original tile sizes and colors, recreated when necessary by Artistic Tile.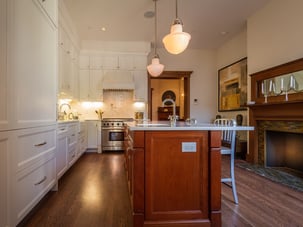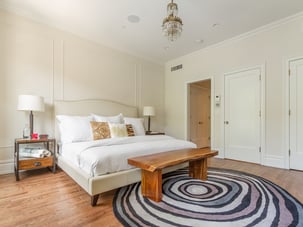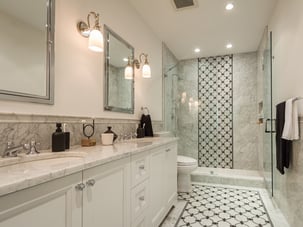 237B Montgomery Street, Jersey City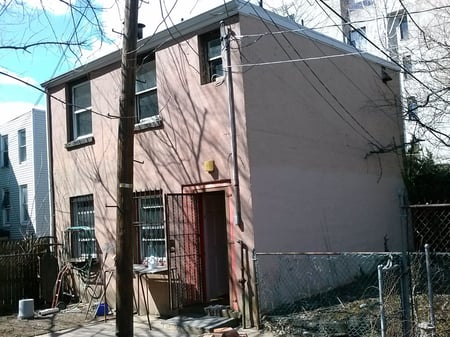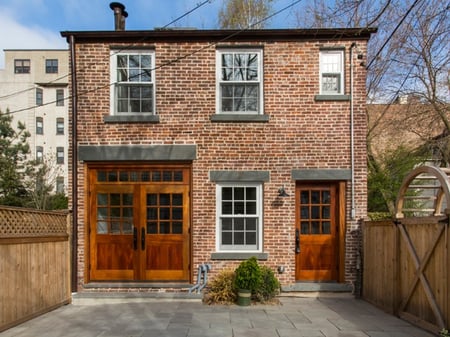 Set in the heart of the Van Vorst Park Historic District — one of five such districts in Jersey City — 237B was a late 19th century carriage house that had fallen into severe disrepair. In a full exterior renovation, stucco was completely stripped to reveal original brick underneath. This intensive process also led the Dixon team to the location of the original carriage door opening, long ago replaced with windows.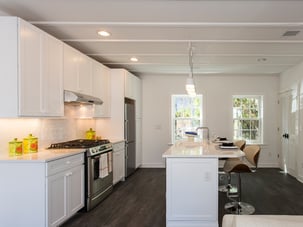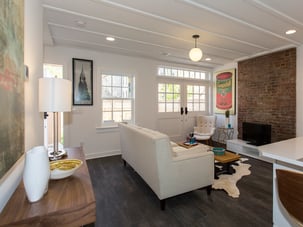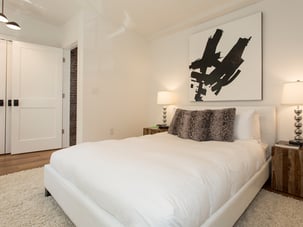 Custom mahogany doors were fabricated and reintroduced to the home to restore its authentic carriage house bones and create a beautiful, airy living space within. The addition of new fencing, pavers and lawn completed this restoration which recently earned Dixon recognition from the Jersey City Landmarks Conservancy.