Since Dixon acquired and renovated its first New York area luxury property in 2011, the team has consistently added coveted amenities and outdoor spaces, and employed high-end custom finishes, whenever and wherever possible. The result is a look, feel and livability that's quickly become recognizable as "The Dixon Difference."
From roof decks and cellar spaces to appliances and services, here's what it takes to create the Dixon Difference.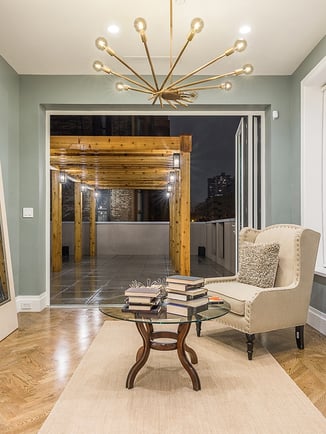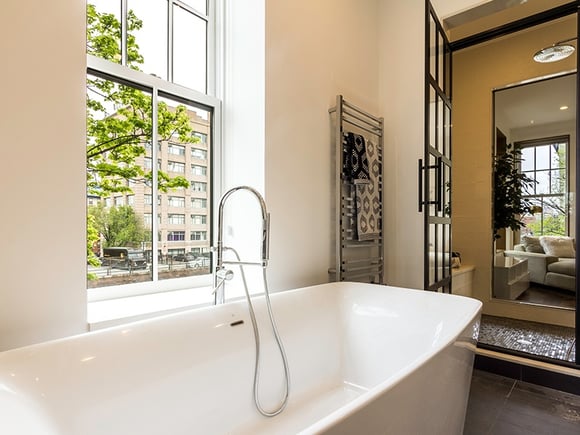 Outdoor Spaces
As a rule, Dixon is devoted to incorporating or improving outdoor spaces in the homes it acquires for renovation. That means adding roof decks and balconies where zoning allows, creating lush yards and inviting all that beautiful outdoor work indoors through the use of gorgeous NanaWall systems.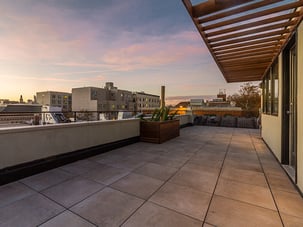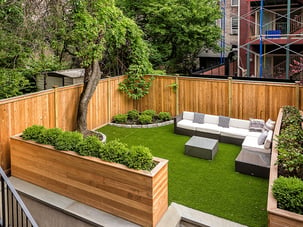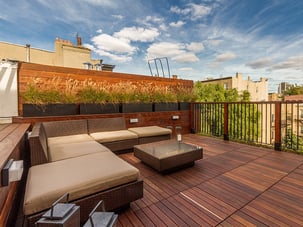 For perhaps the pinnacle of outdoor spaces in the Dixon portfolio, look no further than the spectacular Ogden Avenue home in Jersey City. Here, two different roof decks surround a 10-foot by 12-foot combination pool/hot tub, perfectly positioned to take in breathtaking Manhattan skyline views. Ogden Avenue resident and New York Giants lineman, Justin Pugh, and his roommates have fashioned the nearby penthouse, complete with a wet bar, into a perfect home gym so that even workouts feature panoramic vistas.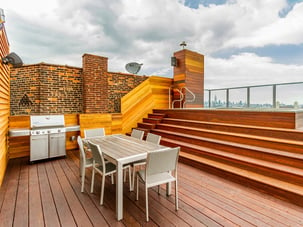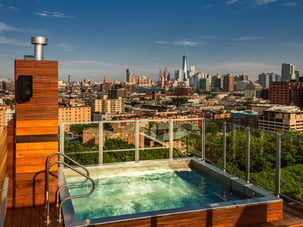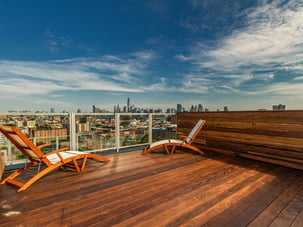 Down at ground level, one of the more challenging — and ultimately most interesting — outdoor spaces among Dixon's homes is located on Bradhurst Avenue in Harlem. Here, a giant outcropping of granite seemed to be in the way of a picture-perfect backyard. But rather than blast away at the formation, the team incorporated the granite into a multi-level Zen garden which includes a sundeck, turf lawn and paved patio. Now, it's hard to imagine the home's glorious backyard without its rocky centerpiece.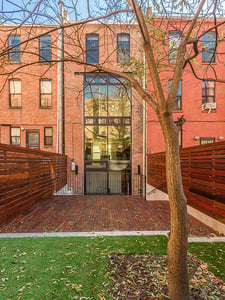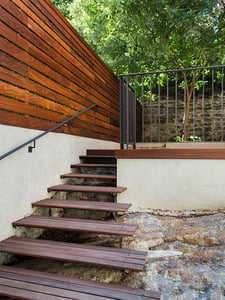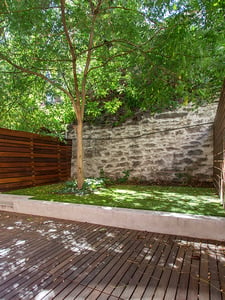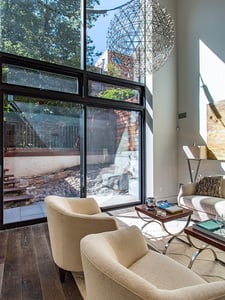 When it comes to maximizing views and outdoor access, there's no better amenity than the fully-opening sliding glass doors of a NanaWall system to create the perfect indoor-outdoor living experience that city dwellers crave. From Erika and Roberto's traditional row house on Mercer Street in Jersey City to Katie and Matthew's modern home on Park Place in Crown Heights, NanaWalls provide unfettered access, air and light — perfect for both grand entertaining and rambunctious little ones alike.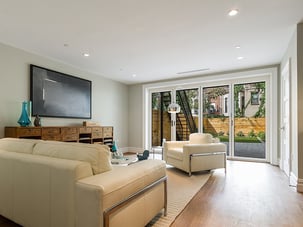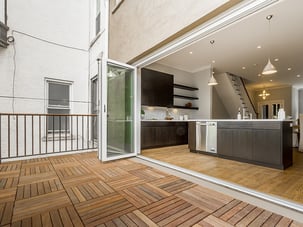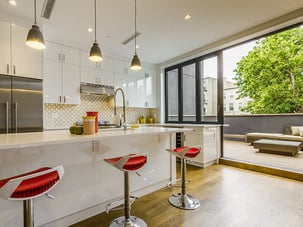 On Lincoln Place in Park Slope, another Dixon home takes the combination of outdoor space and NanaWall systems to the next level by embracing a "more is better" philosophy. Here, three oversized terraces, a large backyard and three NanaWall installations bring outdoor living to nearly every floor. Up top, a huge roof deck looks down to the master bedroom terrace, which is accessed through a folding glass wall. Below that, the parlor level terrace off the kitchen features both a full- and half-height NanaWall, which provides ingenious counter-level access for al fresco dining. Head one floor down to the garden level to find a huge rec room that blends seamlessly into the lush backyard, thanks again to yet another full NanaWall system.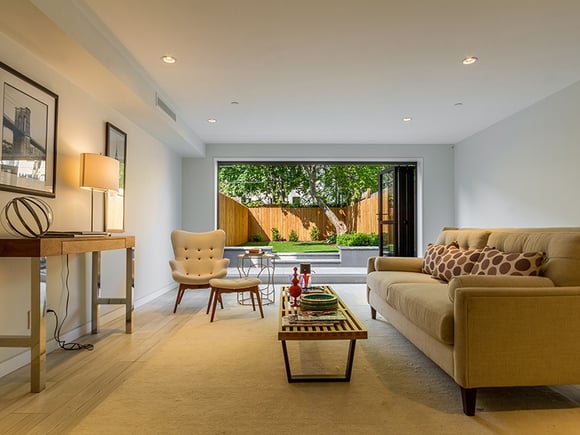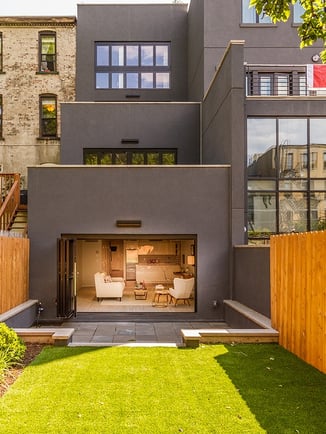 Luxury Amenities
Few things say "luxurious living" in the New York metro area like access to water-filled amenities, such as pools, hot tubs, steam rooms and saunas. The lucky residents of Harlem's Fifth Avenue corner masterwork have access to all four as a result of Dixon's very first cellar-level pool area addition. Here, you can swim laps in the Badu SwimJet pool, take a soak in the adjacent hot tub, or head to the steam room and sauna, separated by a smart cool-off shower. As an added touch of luxury, a fully-stocked wet bar sits nearby to deliver refreshments.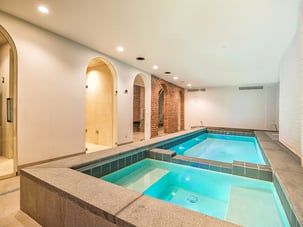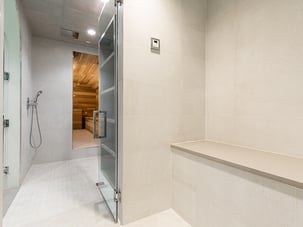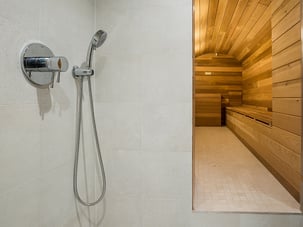 If you'd rather wet your whistle than your toes, another Dixon cellar space, this time on Kane Street in Cobble Hill, Brooklyn has been reinterpreted as the perfect "wine cave." The first step in creating this below-ground wonderland was excavating a daunting four feet down into solid rock to create comfortable 10-foot tall ceilings. Next, the team outfitted the brick-lined cavern with a full wet bar and multiple Sub-Zero wine refrigerators that accommodate an astounding 688 bottles — sommelier not included.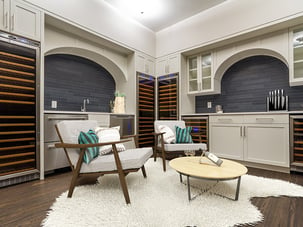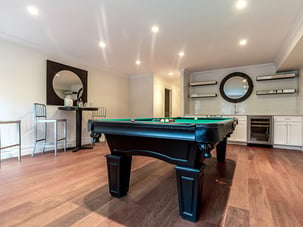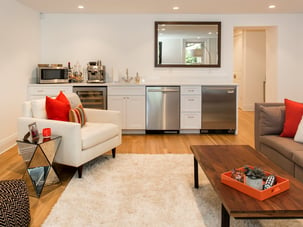 In fact, lavish entertaining is accommodated throughout the Dixon portfolio through the liberal use of wet bars, dry bars and beverage centers. Several properties, including the Fifth Avenue home, include private garages, and wherever possible, elevators are installed to ease movement throughout multi-level residences. Among the most beautiful private elevators in the city is the glass-encased marvel at a Dixon Projects home on Willow Street in Hoboken, which is now for sale through Pure Properties. When it comes to astonishing feats in optimizing space and adding parking, look no further than the beautiful corner residence on Cobble Hill's Hicks Street, where an unheard of two-car stacker doubles parking capacity in the home's private garage.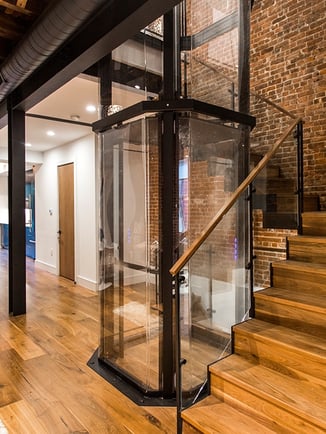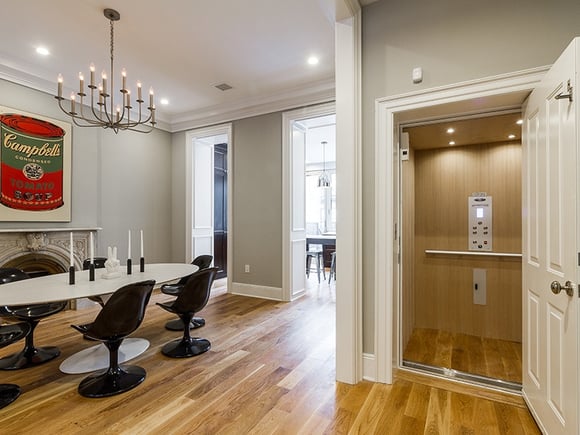 Top-Of-The-Line Finishes

Aside from big additions like outdoor space and swimming pools, small touches and fine finishes go a long way in making mere houses into Dixon homes. For example, light fixtures throughout the portfolio are more than a means to provide illumination, they're carefully considered parts of the overall design scheme. At the soaring double-height space of Bradhurst Avenue in Harlem, giant spheres of twinkling light by Moooi were chosen for both, their massive scale and airy transparency.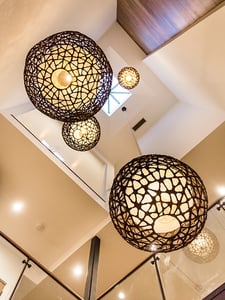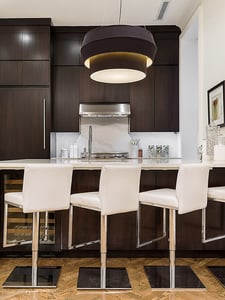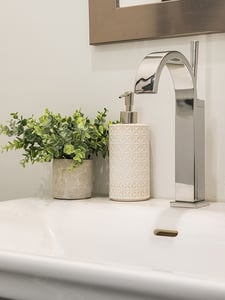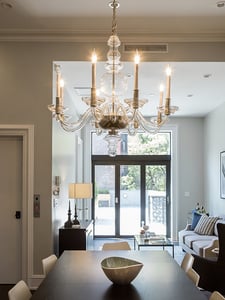 Meanwhile, at the Fifth Avenue property in Harlem, dark light fixtures were purposefully selected to run the length of the parlor floor, creating continuity between the black front doors to the dark-stained kitchen cabinets.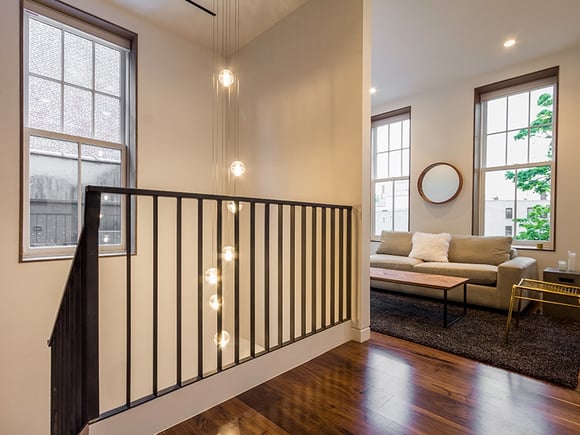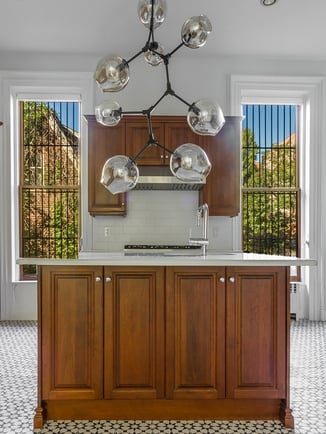 In the heart of the Park Slope Historic District, a grand mansion on Polhemus Place demonstrates Dixon's savvy for both restoring historic details, while integrating stunning modern elements. Here, the team worked with the Landmarks Preservation Commission to ensure the striking limestone exterior was restored to a condition worthy of its stately beauty. Inside, rich original millwork, stained glass and decorative fireplace mantels have been lovingly refurbished, while the kitchen and bathrooms boast new cabinetry, stone and fixtures that are perfectly in sync with their historic surroundings.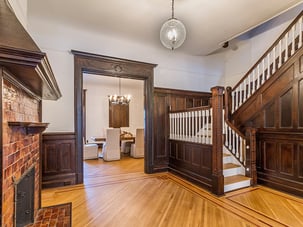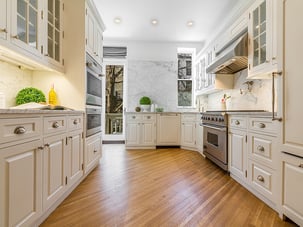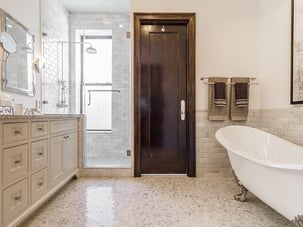 A pair of homes in the Dixon portfolio demonstrates the unsurpassed beauty of reclaimed and repurposed elements and further underscores Dixon's devotion to reducing waste by repurposing and preserving materials. Called "One of the coolest properties in all of North Brooklyn" by real estate blog "6sqft," a rare Williamsburg townhouse on Manhattan Avenue boasts locally sourced hardwood floors that have been laid in a herringbone fashion. These floors line the gorgeous kitchen, living room, and even make thier way up the wall. Exposed wood beams and trim, embedded within brick walls, further illustrate the natural beauty of reclaimed and aged wood.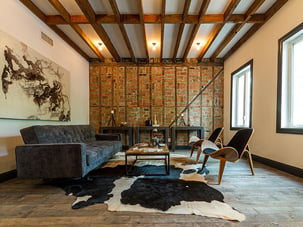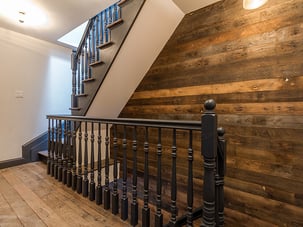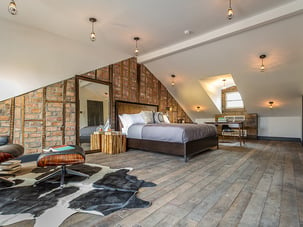 A similar design aesthetic and approach defines the masterful Crown Heights home on Prospect Place, where repurposed floor joists serve as hand rails in the impressive double-height interior and as flower beds in the backyard. Polished poured concrete floors add to the industrial feel, while concealed bike hooks nod to an undeniable Brooklyn vibe.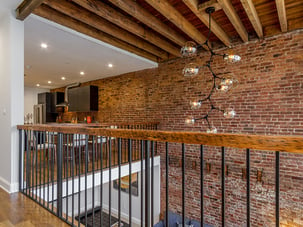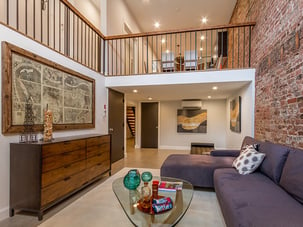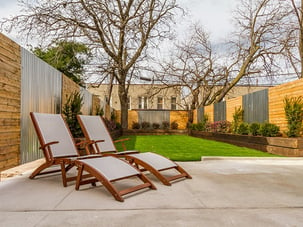 Floors are a canvas where the Dixon Difference frequently comes to light not only in the form of glorious hardwoods, but also through intricate tilework and a liberal use of marble. The adjacent homes on Kane Street and Cheever Street in Cobble Hill provide the perfect example. Here, dark hardwood flooring by Brooklyn-based, Madera Trade, line living spaces and staircases, while an array of chic tile patterns provide interest in each of the nine bathrooms and powder rooms.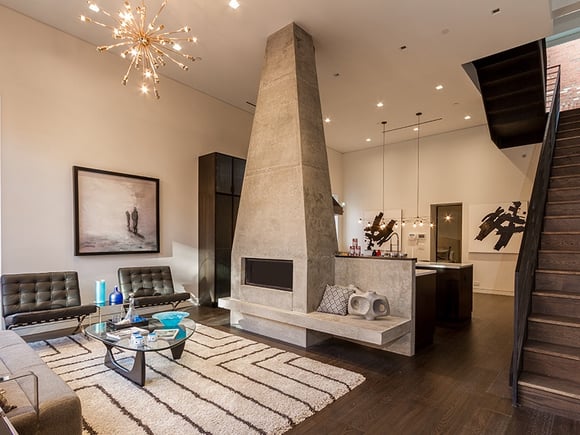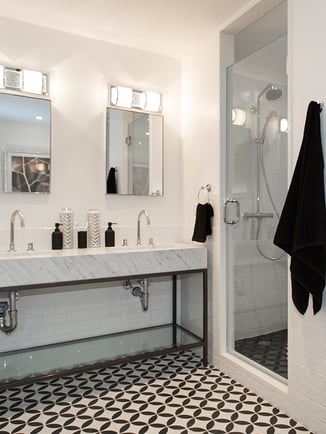 Speaking of floors, radiant heat is another hallmark of Dixon bathrooms, and for Simon and Meg on Cheever Street, it's a standout favorite. "We've never lived in a house with heated floors before, so our favorite room is the bathroom," joked Simon.
Meg agrees and notes that the floors are a beloved destination for her and their daughter on chilly days. "Lola and I have spa days in the bathroom. The candles go on and the floor heating. It's everything," she says.
High-end Appliances

Top-of-the-line, modern appliances are not only handsome additions to properties, but they also provide an ease-of-use that makes living in Dixon homes feel practically effortless.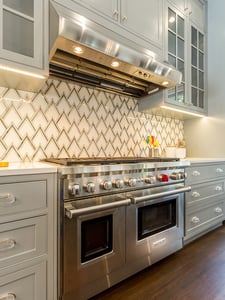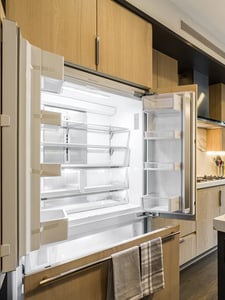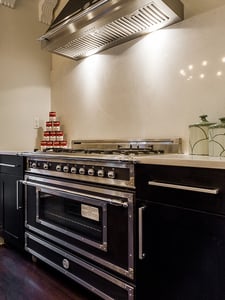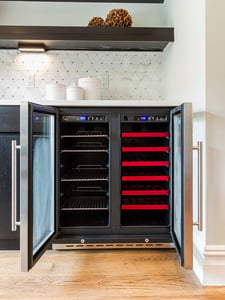 Stunning kitchen spaces, outfitted with appliances that win in both form and function, have become a Dixon signature, and among the finest examples can be found in the Lafayette Avenue townhouse shared by Kristin, Jeff and their three children. Placed at the rear of the parlor floor, between a rear deck and stately pocket doors, the challenge here was to integrate appliances and storage without disturbing the home's ornate details. The solution was to incorporate much of the kitchen's required equipment in a massive Caesarstone island, which houses a Bosch dishwasher and Marvel freezer drawers, plus cabinetry and counter seating under a chic Ralph Lauren chandelier. Adding to the design, the Liebherr refrigerator, is hidden behind a decorative door that matches the pantry on the opposite side of a grand Bertazzoni range and vented hood.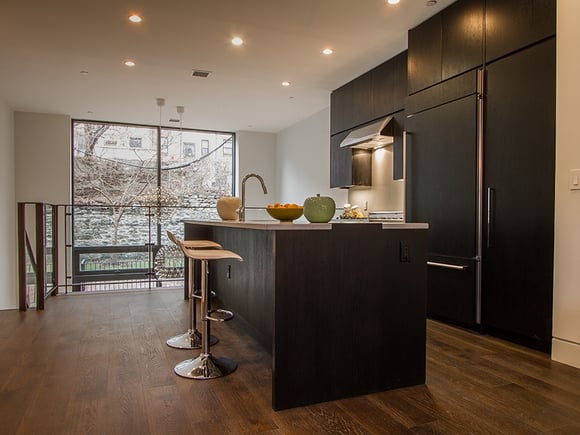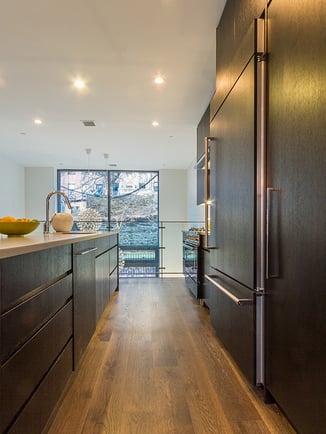 Meanwhile, the Bradhurst Avenue home proves that kitchens don't have to be flashy to be stunning in their own right. Here, the design objective was to maximize the dramatic backyard views by keeping the kitchen sleek and understated. As a result, the island is pivoted to take advantage of light and views, while the floor-to-ceiling dark-stained cabinetry is subdued and lacks hardware that may distract. Integrated appliances, including a KitchenAid refrigerator and Bosch dishwasher, blend seamlessly while the stunning Bertazzoni range provides just the right pop of stainless steel.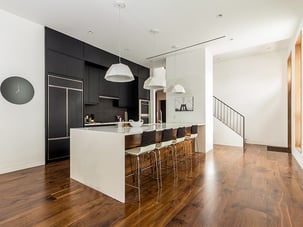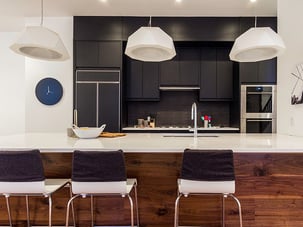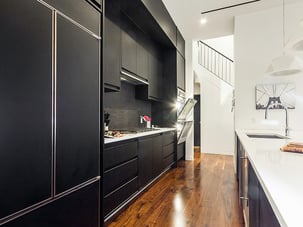 Minimalist modernism is also the name of the game at the Hicks Street property where residents enjoy one of the chicest kitchens in all of Brooklyn. State-of-the-art black steel appliances — a Summit wine cooler, Sub-Zero refrigerator and Wolf wall oven and gas range — are all artfully concealed among coal-black cabinetry. Snow-white countertops, a long island and glossy, sculptural pendant light fixtures provide a striking contrast in this work-of-art kitchen.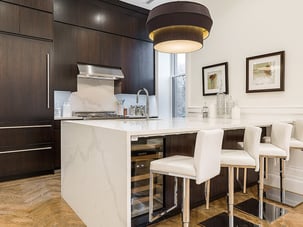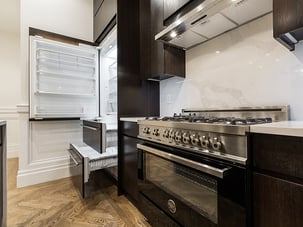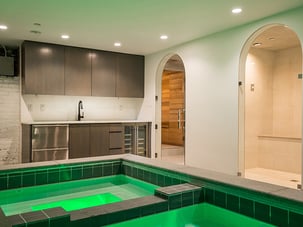 And, if one appliance installation is good, it stands to reason that multiple installations are even better. Take the stunning
Fifth Avenue home
, where integrated dishwasher drawers are found on three levels, and two full refrigerators, two beverage centers and two sets of washer-dryers add convenience and refreshments to every floor.
Elite Services

Last, but certainly not least, the Dixon Difference is maintained by an elite team that ensures homes and yards are safe and well cared for around the clock. Homes that feature outdoor space, landscaping and snow removal come standard.
Mercer Street resident, Roberto
, somewhat incredulous of the services offered by the Dixon team remarked, "So, I get to live in a house,
and
I don't have to do anything?!"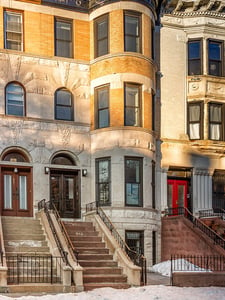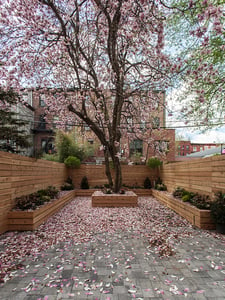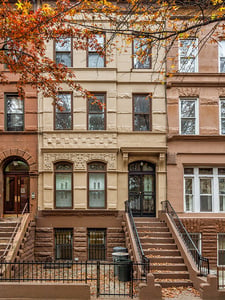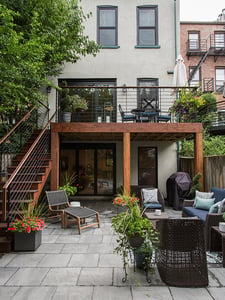 In terms of tenant care, the Dixon team earns high marks for its responsive 24-hour property management. Ogden Avenue resident, Mike Perkiss sums it up by saying, "I can text Dixon Property Manager, Judy Gutierrez, and she'll have someone here within the hour. They're awesome at getting back to us right away."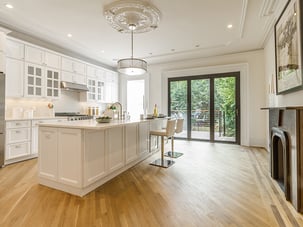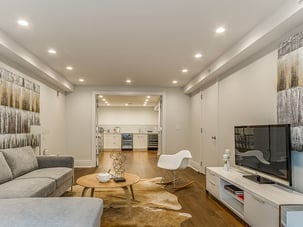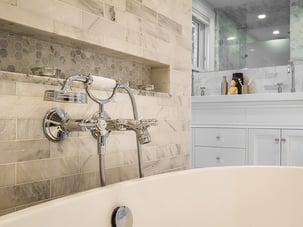 Dixon is committed to continuing its practice of acquiring and renovating one-of-a-kind homes throughout the New York metro area. Through Dixon Projects, the team's full renovation services model is also available to private homeowners and business owners in search of construction, design and project management and everything in between.Explore Dixon Leasing listings or contact Dixon Projects to experience the Dixon Difference for yourself.